How to pack for a China adoption trip
(This post may contain affiliate links. Read my full disclosure.)
If you have chosen international adoption to build your family, you'll most likely have to travel outside the USA to meet your new child. Here are some tips that will hopefully help you out.
Disclaimer: I'm a seasoned traveler. If you're not, then take my tips with a grain of salt. If you really think you need a separate suitcase for food and two tubs of Clorox Wipes, don't let my recommendations sway you from what you feel most comfortable with.
I operate under three basic packing principles:
1.   Less is more.
2.   You're going to another country, not the moon. There will be stores.
3.   The only things you need are the documents needed to complete your adoption, a place to crash while you're doing it and a ticket home. It really boils down to that.
More Disclaimer Stuff: I've only adopted from China and both of my adoption trips have been in summer. It is blazing hot every-fricken-where in China in the summer. Also, I've only adopted toddler boys in diapers who are off the bottle.
Still with me? Good. Here we go: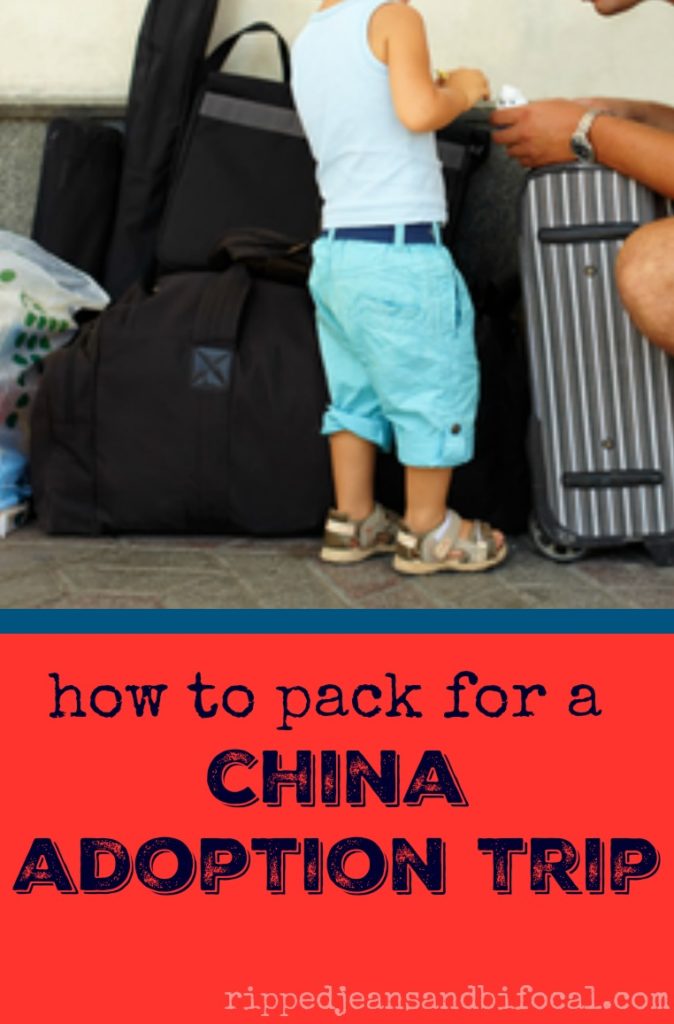 1. Never have more than one checked bag per person.
2. Pack something for everyone in each checked bag. If you have to deal with the ass pain of lost luggage, you might have a shot at clean underwear for all.
3. Pack a soft bag (or two) in your checked luggage.  You might return with more stuff than you left with on an adoption trip (besides the kid, I mean.) If you need it, you have it. If you don't, no big whoop.
4. Packing cubes are awesome. We color coded the cubes so everyone was able to find their stuff easily. This is especially helpful for larger families. It also cuts down on over-packing. Give each family member X number of cubes and tell them "it all has to go in here, yo." Or something like that.
Mine are something like this:
The above is am Amazon affiliate link. If you click it and buy something from Amazon during your session, I'll get lotsa money. Or 39 cents or something…
5. Don't  vacuum seal. You might save space but your weight won't be impacted and, unless you plan to also pack your vacuum seal thingamajiggy, you'll have trouble re-packing your stuff when it's time to come home.
6. Everyone is in control of their own carry-on. Carry-ons should contain a change of clothes (or at least a clean t-shirt and clean underoos) and some form of entertainment. All but the smallest kids can handle a carry-on. Pottery Barn Kids makes great toddler-sized backpacks that are perfect for kid carry-on's.
7. Less is more. You're going to be coming home with an extra person. I mean…duh, but think about it. Can you juggle all the crap you brought with you and a new child and whatever paraphernalia you picked up on the trip while sprinting through the airport trying to make a flight you're late for? Think about it.
8. If you're thinking of taking a stroller, do it. If you're thinking you might need one, then you probably will. We didn't take one on our first adoption trip but bought one about 37 seconds after meeting Zack. We took the double-wide on our second trip. Lesson learned.
9. If you're adopting younger/smaller kids, take an Ergo. Easy to pack and if the kid doesn't like it, it doesn't take up much space.

10.  Pack flip flops…because, comfortable.
"You can't wear flip flops in China…because of the garbage" and, "people pee in the streets of China, so better not wear your flip flops"
Uhhh…how about not stepping in pee or garbage? Seriously, I have been to five cities in China and found them at least as clean as any large U.S. city. And if you see pee in the street? How about not stepping in it? Easy peasy.
11.  For a two-week trip, we packed 6 outfits per adult and 8 outfits per child. It worked.
12. Dry-weave, easy to rinse out clothes in the summer are a must.
13. Shoes – we never packed shoes for the child we were adopting. Both of our children came with shoes. Had they not, there would have been plenty of opportunity to buy them in China. Shoes take up space in the suitcase and it's easy to get a size wrong. Buy there.
14. Diapers: assuming the child you're adopting needs them, pack a handful in various sizes but don't let it take up too much space in your luggage because you can buy what you need there. I found Chinese diapers to be much less absorbent (even the Chinese Huggies or Pampers) so it's a good idea to save some American diapers for the trip home or long days. Take them out of the package and line the perimeter of your suitcase. Diapers are generally very easy to find in China.
15. Don't take a crap-ton of toys. Obviously, if you're traveling with kids on the way over, you'll need something to occupy them.  I recommend electronic entertainment. Or duct tape.  Kidding. Maybe.
I packed a few small things: stacking cups, toy cell phones, inflatable ball and a couple of toy cars. This is enough. It really is. Any kid is more interested in playing with your stuff anyway.
Neither one of my kids was remotely interested in a stuffed animal in China. On our second adoption trip, I snagged two plastic coffee cups from our dinner tray on the flight over. We got a ton of mileage out of those cups. Also, kids who have lived in an institutional setting may not be used to having toys. They'll probably be entertained with the apps on your phone or the top of a water bottle. If that's not enough, you can buy toys there.
16. Style: For myself, I packed mix and match prints and patterns. Because…you know…ketchup, throw-up and Merlot. Comfortable shoes. Don't fret your flat iron. I wore my hair up most of the time we were in China. It was hot and I was busy.
I also took a small makeup bag and a few pieces of jewelry. I feel better when I look "put together" and I like to make an effort when we had to go to our official appointments. Don't be the guy who goes to official appointments in gym shorts and a tank top that shows your pit hair.  You know who you are, dude.
17. You can do laundry in China. You can also wash stuff out in the sink…more reason to pack travel-friendly clothing. Travel pouches of detergent are easy to find or make up your own in snack baggies.  Tide pens and Febreeze are also good to have. It's pretty easy to find travel-sized bottles of Febreeze.
18. All China hotels have shampoo, body, wash, lotion, and toothbrush/toothpaste. Many will have conditioner, razors with shave cream, and other amenities, such as Q-tips.
19. Take what you feel you need to get through the trip. If you leave something behind, don't sweat it. You can buy most stuff in China…I've bought foot powder, cold medicine, baby supplies, and nail polish remover in China. There's always a Waltmart-ish store around.
I recently read someone's blog who talked about how bad Chinese people smelled and that deodorant wasn't sold there. She's crazy. Well, maybe not, but my experience was different. The only smelly people I encountered were Americans in my travel group who'd been sweating all day…and one of them might have been me!
20. Bags are good. I took all sizes of ziplock bags and lots of plastic grocery bags. Stuff them into every available cranny of your luggage space. You can do lots of things with these bags: seal a dirty diaper, steal Cheerios from the breakfast buffet, keep the trash in your hotel room under control.  Apparently, trashcan liners aren't a thing in china.
21. Clorox wipes. Yes, really. Take them out of the plastic tub they come in and stuff them in a ziploc bag. I used to laugh when I saw these on people's "pack for China" lists. I'm the least germophobic mom you'll ever meet but that whole ounce of prevention thing? Yeah. In the adoption trip of 2013, one of my boys had a nasty diaper accident. No, I didn't disinfect  the baby butt, although I thought about it, but it was an effing huge mess and I'm glad I had a way to manage it without involving housekeeping at 8:30 p.m.
22. Medications.  Many people get preventive prescription medications to take with them (antibiotics, scabies cream, etc.).  I'm not a fan of this approach, personally. Your new child will be coming to you with limited medical history and most likely, with medical needs. The last thing you probably want to be doing is playing Web MD.  But that's just me.  Some doctors will write you a Rx for whatever you want, few questions asked.  We've always taken a pretty extensive medical kit that includes a little bit of everything in the over-the-counter department. If you have a headache, a bug bite or cramps…I am a good person to hang out with.
23. Technology:  Talk to your mobile carrier to scope out where your phone will and won't work…and how much it will cost you if you use your normal cell service. Also look into VPNs and wireless routers. Technology changes…talk to someone who has recently adopted from China…or wherever you're going.
24. Eat there, unless….
If you're looking at a packing list that mentions a disposable tablecloth so your kids can play on the floor of the hotel without getting dirty, a set of dishes, packets of oatmeal or macaroni and cheese cups…screw that noise. Seriously. Wherever you're going, they have food. If you're on a special diet, it can probably be accommodated – just ask. We were always able to find Western-style snack food in China. Packing food? Pffft. No.
25. But there's the coffee. We took a box of Starbucks Via and OMG …so glad we did. Truth, there were Starbucks everywhere we went but we generally found coffee in the hotel rooms in China lacking. I'm someone who turns into an evil she-beast if there's not coffee in my hand within 60 seconds of waking.
Enjoy your adoption trip. Enjoy every second, for the amazing opportunity to be in the birth country of your child. No matter how crappy your trip might turn out to be, that still may be your only memory of your child's birth country when they sit on your lap later on and say "tell me about…"
Think in the temporary. Your China adoption trip is not forever. Get through it. If you forgot your deodorant or the hotel breakfast buffet doesn't meet your expectations…deal. Tread water. This is only a small slice of your life.
Pack light. Pack what you absolutely must have and don't worry too much about "what if."  Prepare to have a great, crazy, wonderful, at times stressful and uncomfortable trip. Real life and real bonding begin when you are HOME.
And, if they don't have your exact brand of Pringles or if you forget your eyeliner – you'll be OK.
And one more thing – congratulations!!!!
Thank you for reading! If you know someone who is adopting from China, feel free to share this with them!

Follow Ripped Jeans and Bifocals's board Adoption Ideas on Pinterest.
Now on to the Adoption Talk Linkup!
Today's topic is Anything Goes. Grab a button for your post and join Ashley, Erin, Jenni, Juliana, and me!
New to linking up? We'd love to have you join us, here's how.