(This post may contain affiliate links. Read my full disclosure.)
Trendy. Hip. The "in thing." The word trendy can describe what you drive, what you wear, or how you take your coffee.
I recently saw the word trendy being used synonymously with adopting children from China and it pissed me off. There are lots of reasons behind why we adopted from China but keeping up with what was the in thing to do wasn't one of them.
Speaking of trendy, Pinterest is pretty popular. Everyone is on Pinterest and it's great, right? Pinterest is my go-to place to get ideas on how to repurpose an old chair or how to make hummus. I love Pinterest. And hummus Everyone loves Pinterest but it's not commonly referred to as a website that pisses people off. Leave it to me…
I was surfing Pinterest for food and decorating ideas for Chinese New Year (two of my kids were adopted from China and Chinese New Year is a thing we do.) I wasn't finding exactly what I wanted so I typed in "China adoption" as a search term. I found some blogs and adoption agencies – stuff I expected to see.
I also found pins with these captions:
"How freaking cute is that – I want a little China doll, too!"
"Someday I will save (adopt) a little China girl."
"If I can't have any kids of my own, I totally want one of those little Chinese babies". 
I roll my eyes over these ignorant and misguided (but basically benign) comments about adoption from China. I've learned not to get wrapped around semantics because well-meaning people often use poor word choices when talking about adoption. But, one comment on someone's Pinterest board got under my skin:
"The current wait to adopt a healthy girl from China is 7 years. While not the trendiest option, the greatest need in China is for parents willing to adopt boys with special needs."
Barf.
Trendy? Really?
Reading this made me feel a little sick. Yes, the wait to adopt a healthy baby girl from China is about seven years but the trendy comment shocked me, and I'm pretty hard to shock.
Two little Chinese boys with special needs are asleep in the bedroom down the hall. I don't know if I'd call adopting them "the greatest need in China" but I'm in the "I wanted to be a mom" camp versus the "I'm saving a child" camp. There are thousands of children in China available for adoption but the application process is rigorous. I see our adoptions as a privilege China granted my family and not my good deed for the day.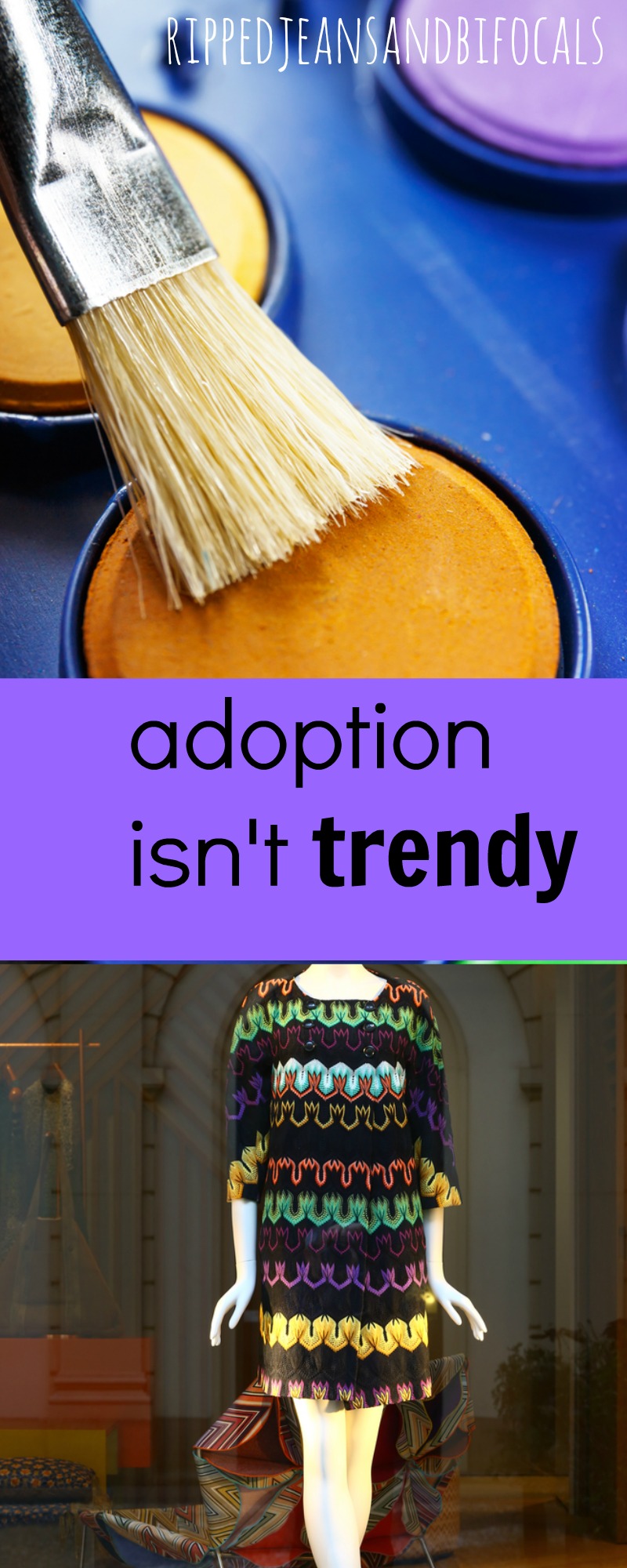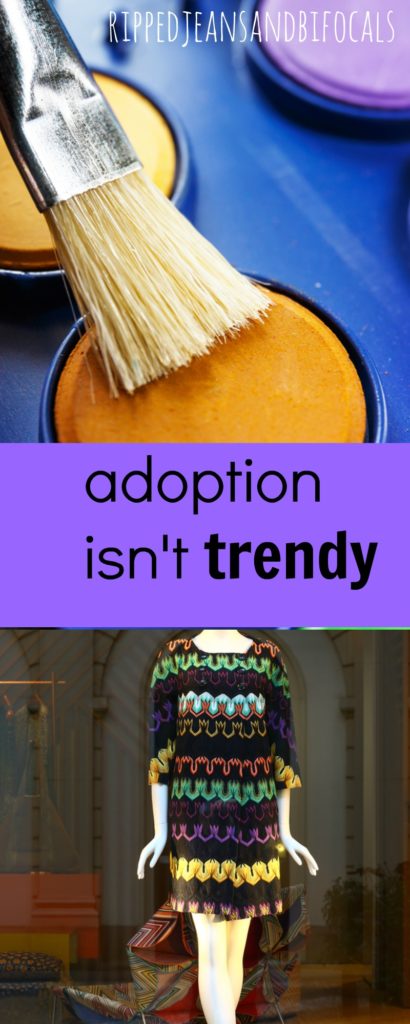 [Tweet "Adoption isn't trendy #adoption #NationalAdoptionMonth"]
Reasons for adopting are personal. Some families adopt because they feel led by a higher power. Some families adopt because they want to provide a home to a waiting child. Some families – like us – adopt because they just want to be parents. I don't question any family's reasons for adopting. Not my beez, but learning that someone's motivation to adopt was because it's cool and trendy? That makes me want to throw up in my mouth a little.
When I think of trendy, I think of teacup-size dogs carried around in somebody's purse, which IMO is kind of dumb, but whatever. No matter how cute and trendy your pint-sized pup is, it's a big responsibility once the "aw" factor wears off. Your trendy pup won't be so cute after it pees on your rug and leaves cutesy poo little teeth marks on the leg of your coffee table.
We shouldn't compare someone's Chihuahua in a Birkin to adopted kids. We sought out adoption because we wanted to be parents. Period. We happened to adopt boys. I never once saw my kids as a less trendy option. My kids aren't accessories or flash-in-the-pan fads. Sometimes I get tired of being a mom, but I'm still a mom. My kids won't go out of style and I can't shove them to the back of the closest just because they're not the in thing of the moment.
Adoption isn't trendy. What's trendy shouldn't drive parenting choices, period. Putting kids on the same playing field as Ugg boots or a Kate Spade bag is wrong. By the way, I think Uggs are the fugliest thing ever and I think Kate Spade bags are ah-mazing.
Maybe I'm getting a little too twisted over word choices. Maybe I could give the Pinterest lady that got me fired up the benefit of the doubt.  Maybe she wanted to educate Pinterest nation on the opportunities to adopt boys from China.  As for me, I confine my attempts to be trendy to my wardrobe choices.  At least I try. I'm still working on that Kate Spade bag. I am considering selling a kidney or skipping lunch for a year.  By the way, that's a joke.  My bag is from Target and I rock it.
I recently saw a woman wearing a tee shirt that said:
"Adoption is the new pregnant."
Double barf. Maybe she meant to be cute. Maybe she was trying to do her part to raise awareness of adoptions. But for me, things like this perpetuate the idea that adoption is trendy and fashionable. Just no.
However you come to parenthood, trendy shouldn't be a word we use to describe having kids. Joyful? Scary? Overwhelming? Exhausting? Rewarding? Poop on the carpet messy?   Yes to all.  I am my kids' mom. This is our life.  What's trendy is not even a factor.
Adoption isn't trendy. My kids aren't accessories. Parenthood isn't trendy.
*November is National Adoption Month. If you know a family formed through adoption go give them a hug. Or at least a high five.
[Tweet "If you know a family formed by adoption, give them a hug. Or at least a high 5. #adoptionrocks"]

A vote on Top Mommy Blogs helps my site a ton. It's super easy & one click helps me to be able to continue to bring you great content. Totally non-spammy…I promise!