Yes, I make my 5-year-old make his own lunch
This shop has been compensated by Collective Bias, Inc. and its advertiser. All opinions are mine alone. #HorizonLunch #CollectiveBias
I make my five-year-old  make his own lunch and you should, too.
I've always been a "night before packer." I try to pregame as much stuff as I can for the next school day: backpacks packed and positioned by the door. Clothes laid out, from underoos to shoes. A few minutes of prep gives some insulation against whatever crazy might happen in the morning. For instance:
Meltdowns.
The old "I can't find my shoes."
Meltdowns over not being able to find shoes (okay, maybe those are my meltdowns.)
Ever since school started in August, I've been packing all the school lunches after dinner. It's not a huge drain on my time but it does take up some of my time…you know? Evenings are hectic (and waiting until the morning to pack lunches is just not an option around here) and if I can hand off five or ten minutes of my usual chores off to someone else?  Well, why wouldn't I?
I taught my five-year-old son, Kyle, to pack his lunch with almost zero assistance in less than a week.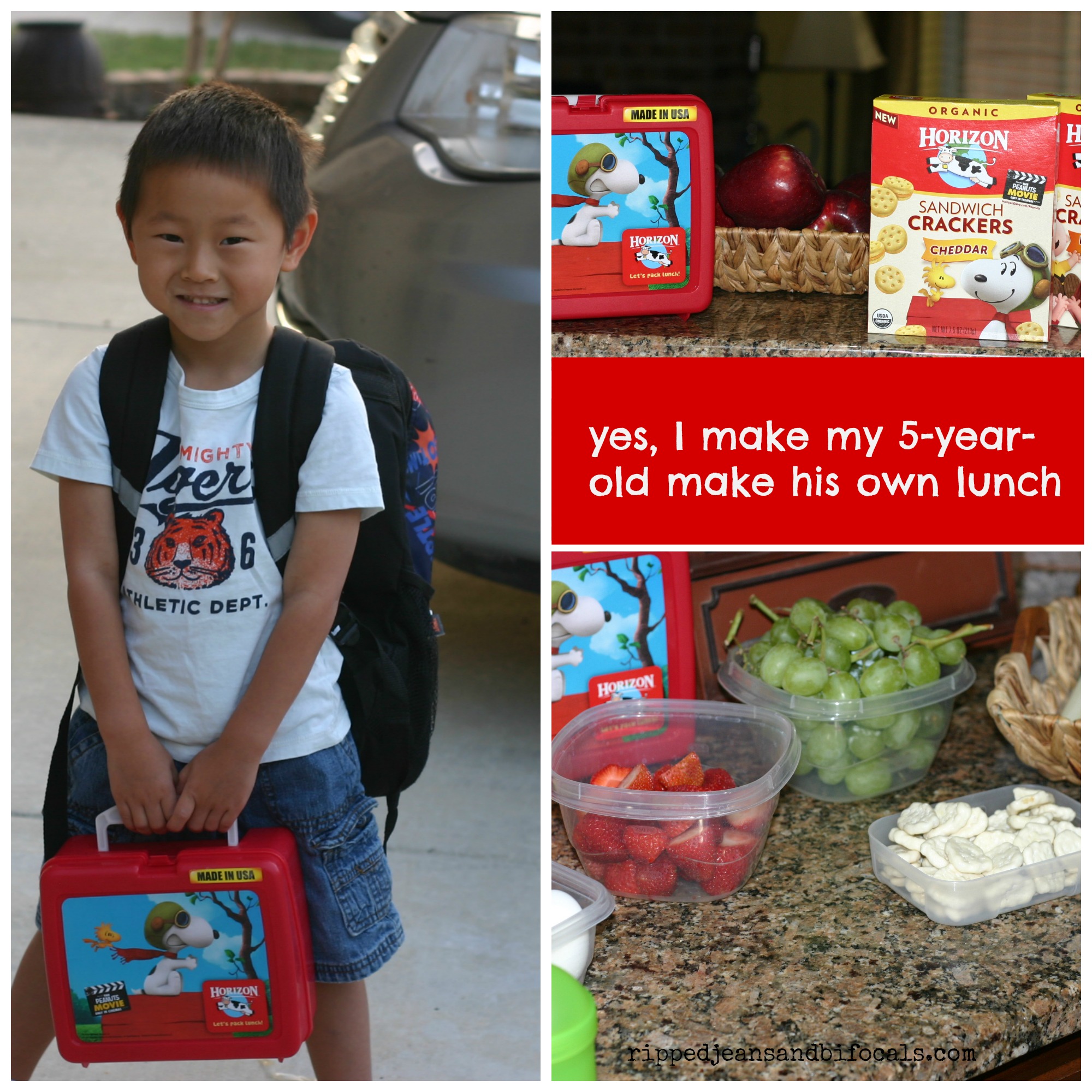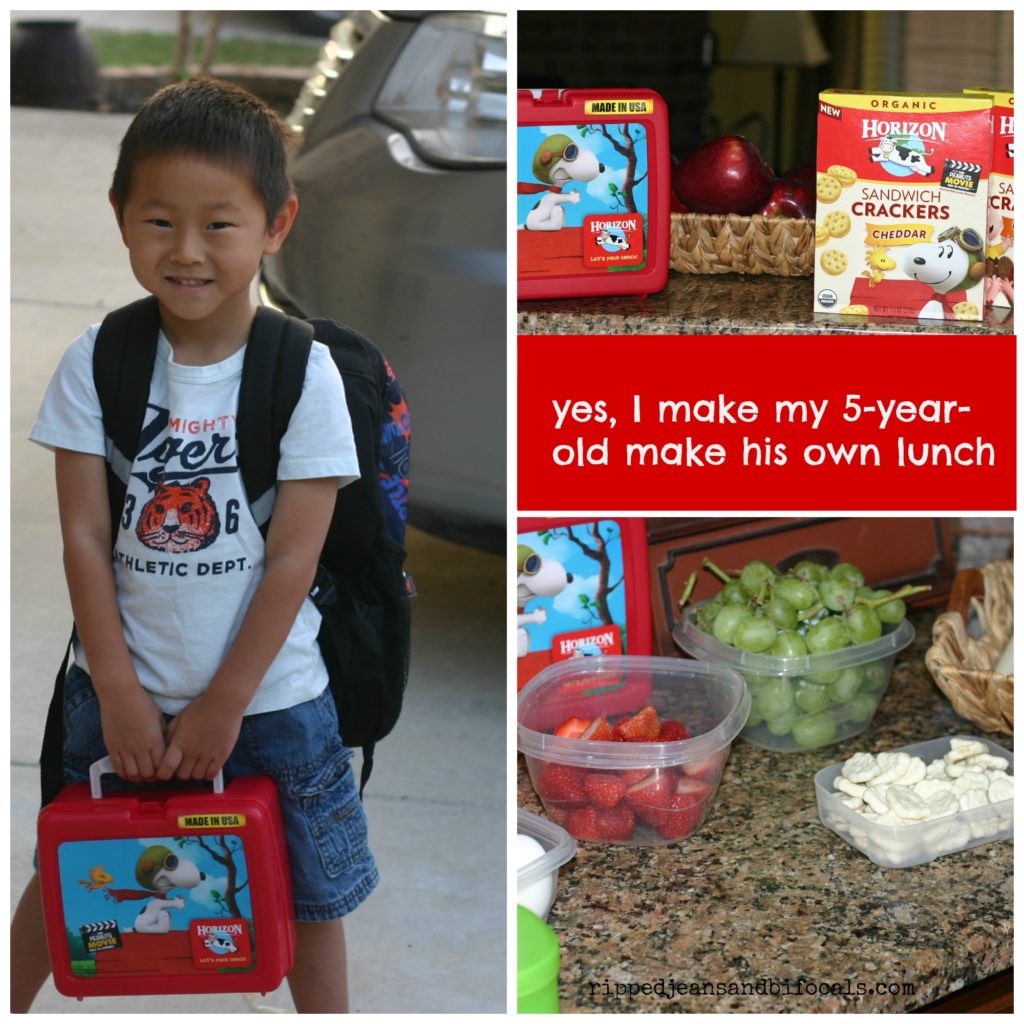 It took a little prep work on my part. I had to get organized and make sure I kept a stock of yummy lunch items on hand. A small child isn't capable of doing that whole "staring in to the fridge trying to come up with something" move…they need a little bit of structure and direction.
My kids hate sandwiches. This baffles me. I took my lunch to school all throughout my elementary years and my mom rotated between PB&J and baloney. But, my kids are not down with sandwiches. I've experimented with different breads, different fillings. Nope. I've bought colorful reusable sandwich containers, in the hope that seeing their sammie packed in a cartoon-themed box might entice my little angels to eat them. Yeah, not happening. I get a mangled, picked apart, half-eaten bread-meat-cheese sculpture returned every afternoon.
I like to feed my kids food I can feel good about, especially Kyle. He had a rough start in life nutritionally (he was severely underweight when we adopted him at age three) and I take some comfort knowing he's not going to know hunger again, ever. I want him to have a lunch that's nutritionally balanced, but most of all, I just want him to eat.
I did a little shopping on Saturday and a little prep work on Sunday. Cheese sticks, hardboiled eggs, yogurt dipped banana chips and a selection of fresh fruit. We also added Horizon® sandwich crackers to the lunch lineup.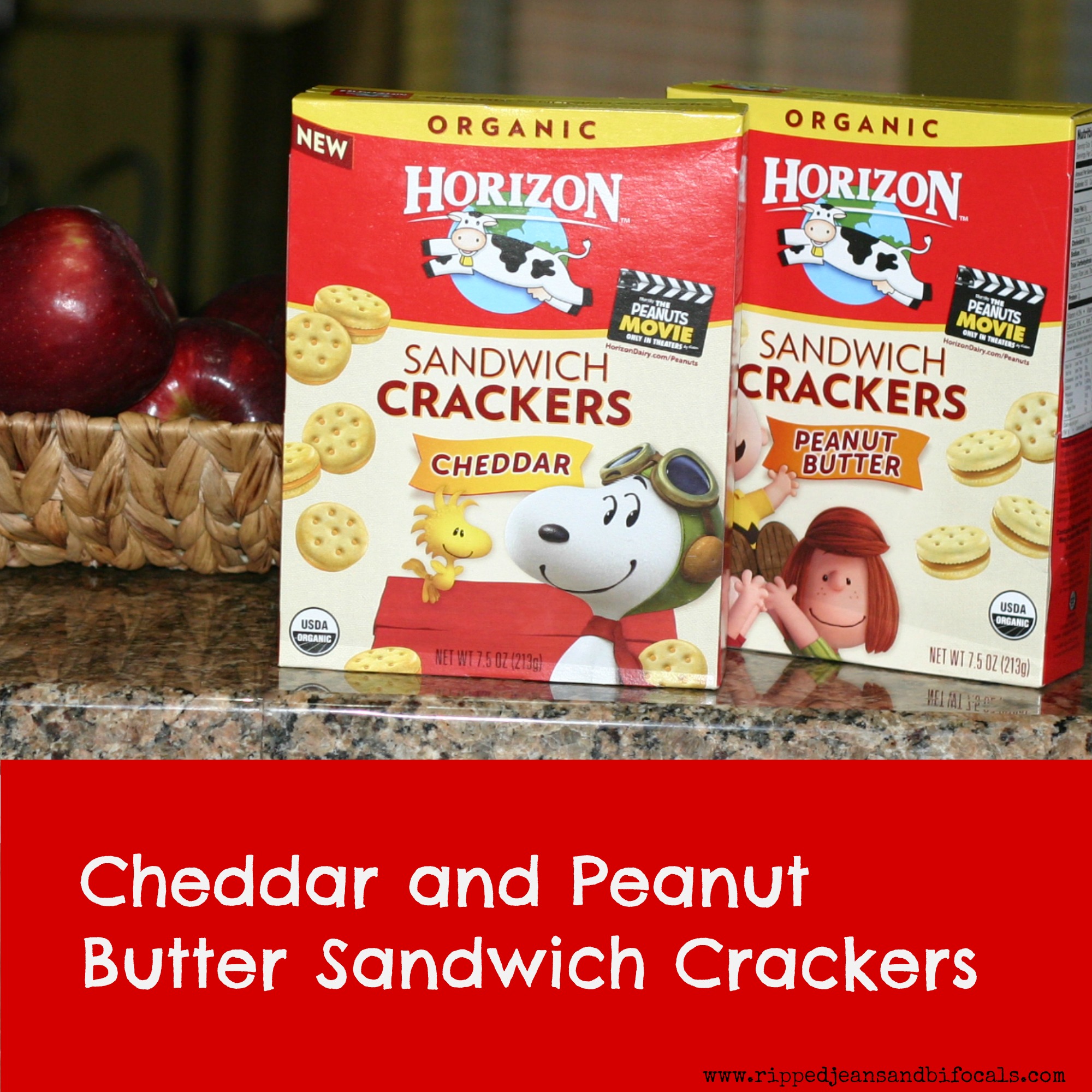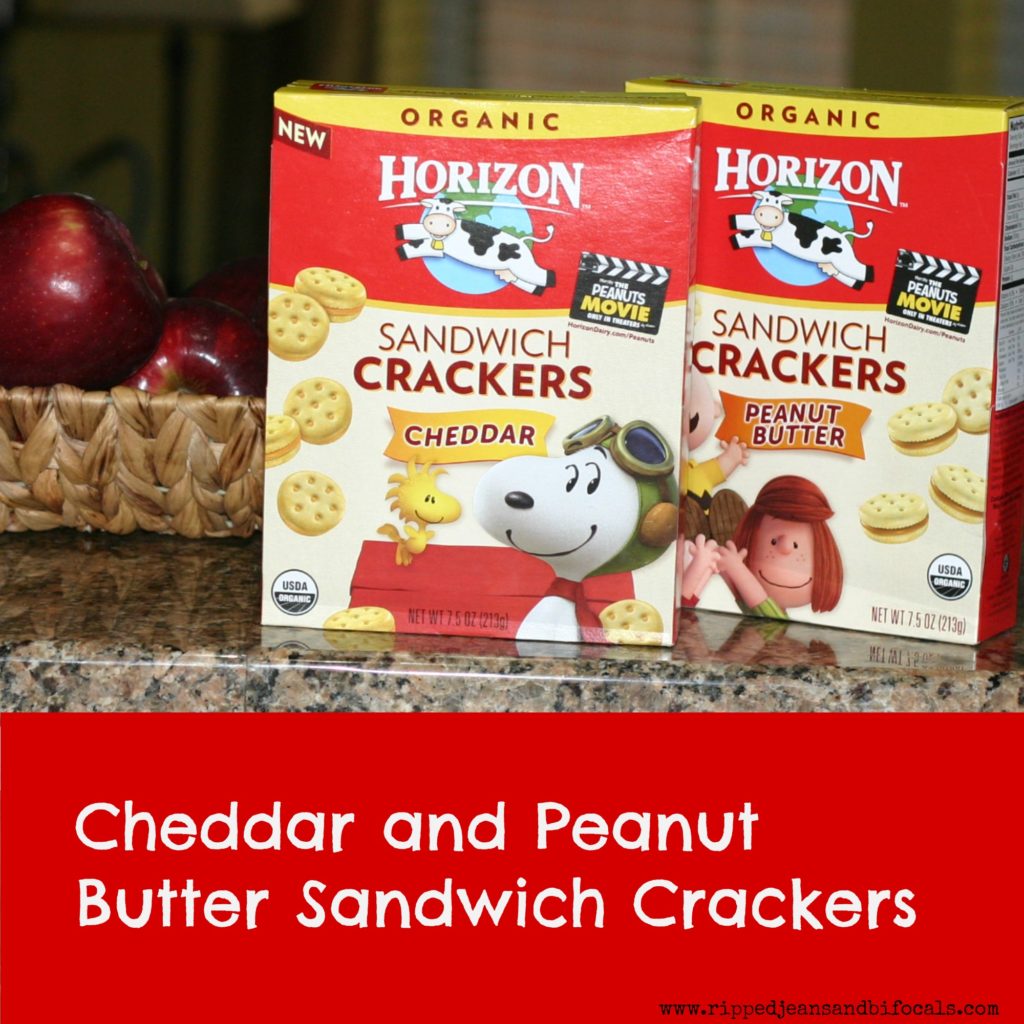 Kyle might not be down with sandwiches, but these Horizon® Sandwich Crackers seem to pass inspection.  These yummy, buttery little crackers are come in two varieties: cheese and peanut butter. They make a great addition to the kids' lunchbox…I might have grabbed a couple of handfuls for my own snack, too. I can feel good about giving my Kyle these crackers in his lunch…real cheese and creamy peanut butter? Yes, please! I want him to eat but I want him to eat good, healthy food, you know?  And you know how some peanut butter crackers have that dusty, dry "peanut butter ish" filling? Not these crackers…this peanut butter is the real deal.
I set the lunch fixings out on the counter and set him up with step stool so he can reach. I gave him some guidelines on what he has to pack…although he might like to pack his lunchbox full of grapes, I make sure he packs a little bit of protein, such as the hardboiled eggs and cheese sticks…you could switch it up with some pre-measured hummus portions or sliced turkey.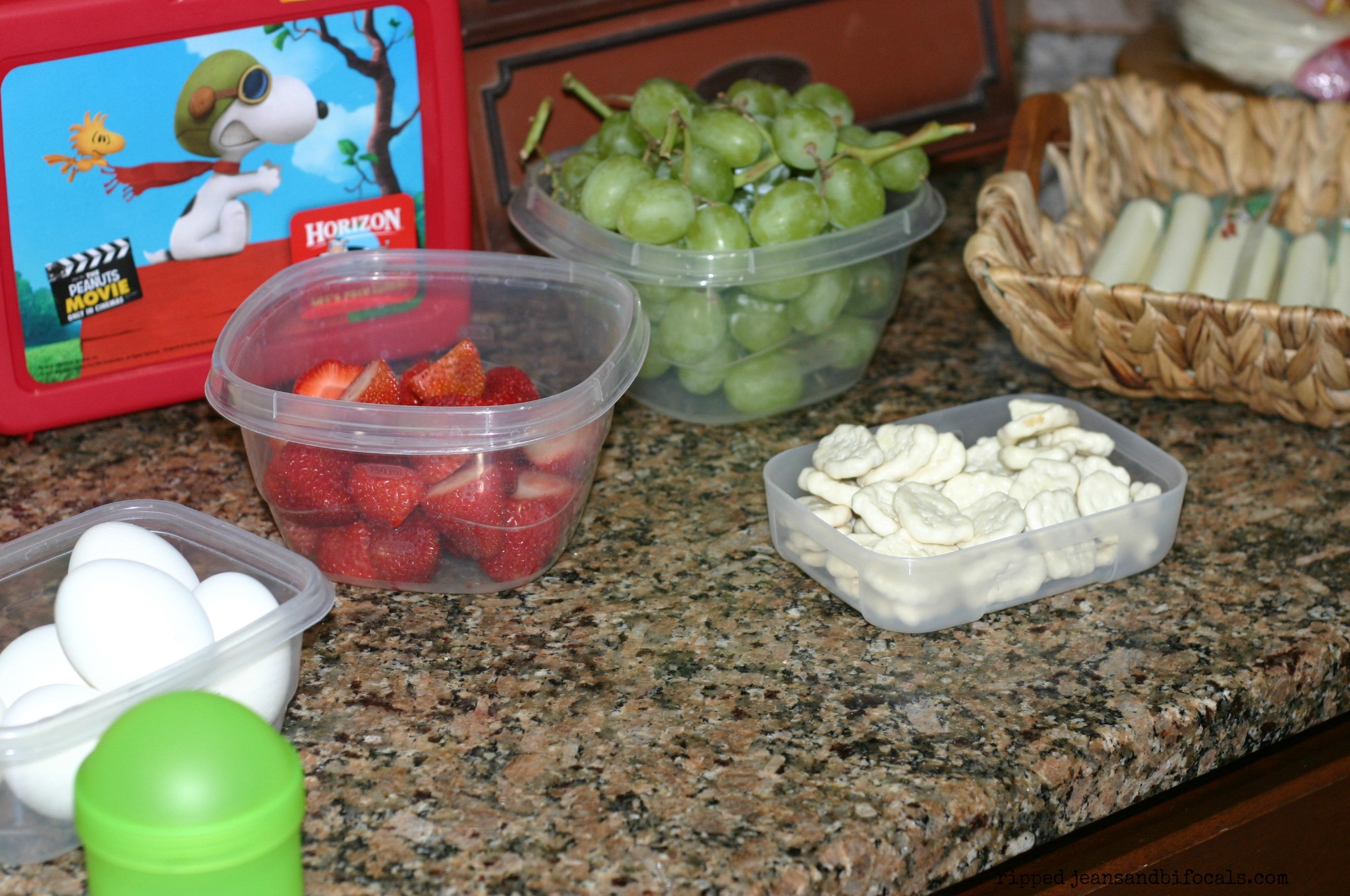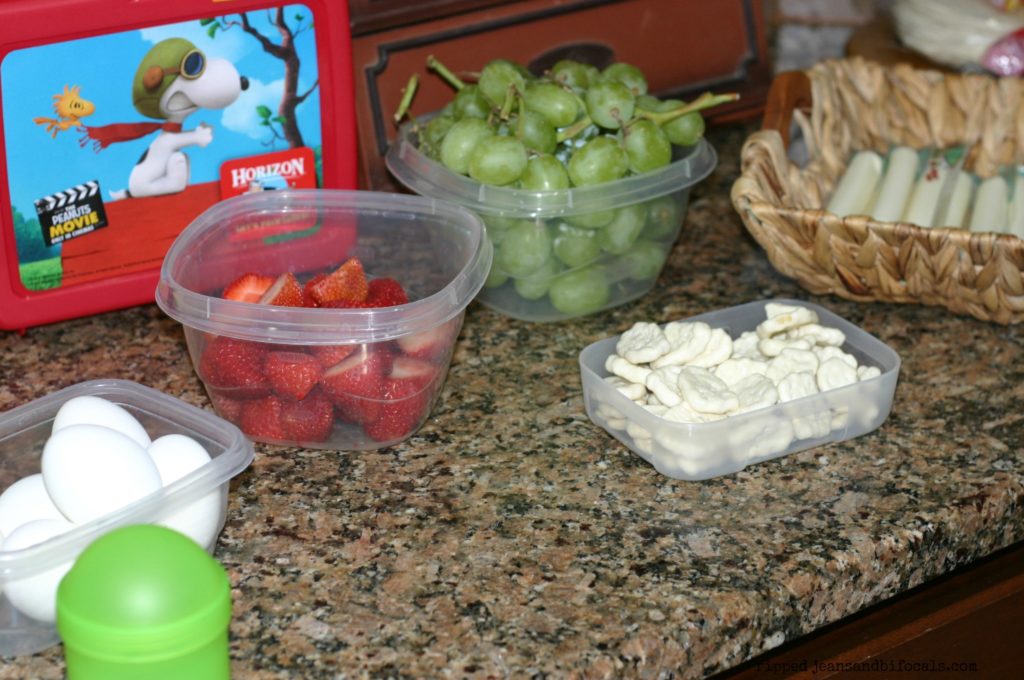 It took Kyle a couple of days to get the hang of how to portion everything in containers and arrange it to where it all fit in his lunch box. By the way, check out this super cute lunchbox featuring the new Peanuts Movie! We are excited that we'll get to check that out this fall…it premiers in theaters on November 6th. Movies at the theater are a big treat for us but we won't miss this one. I grew up watching The Peanuts and it's nice to know that some things don't change.
Putting a lunch together was a good learning experience for Kyle. He learned that cramming your lunchbox full of goodies and then trying to fit a large apple on top was not possible. He made packing his grapes, strawberries and sandwich crackers an exercise in counting all on his own.
We also got some of these great little Horizon® on-the-go milk boxes, which are a great alternative to sugary juice pouches (which I let my kids have sometimes, let's be honest.) Each milk box has 8g of protein and they're an excellent source of protein. I think the strawberry is Kyle's favorite but these awesome little milk boxes also come in vanilla and chocolate…the vanilla is flavored with organic vanilla extract and the chocolate with organic cocoa…how cool is that?  These are great to pop in the lunch boxes but they'd also be great for traveling, too.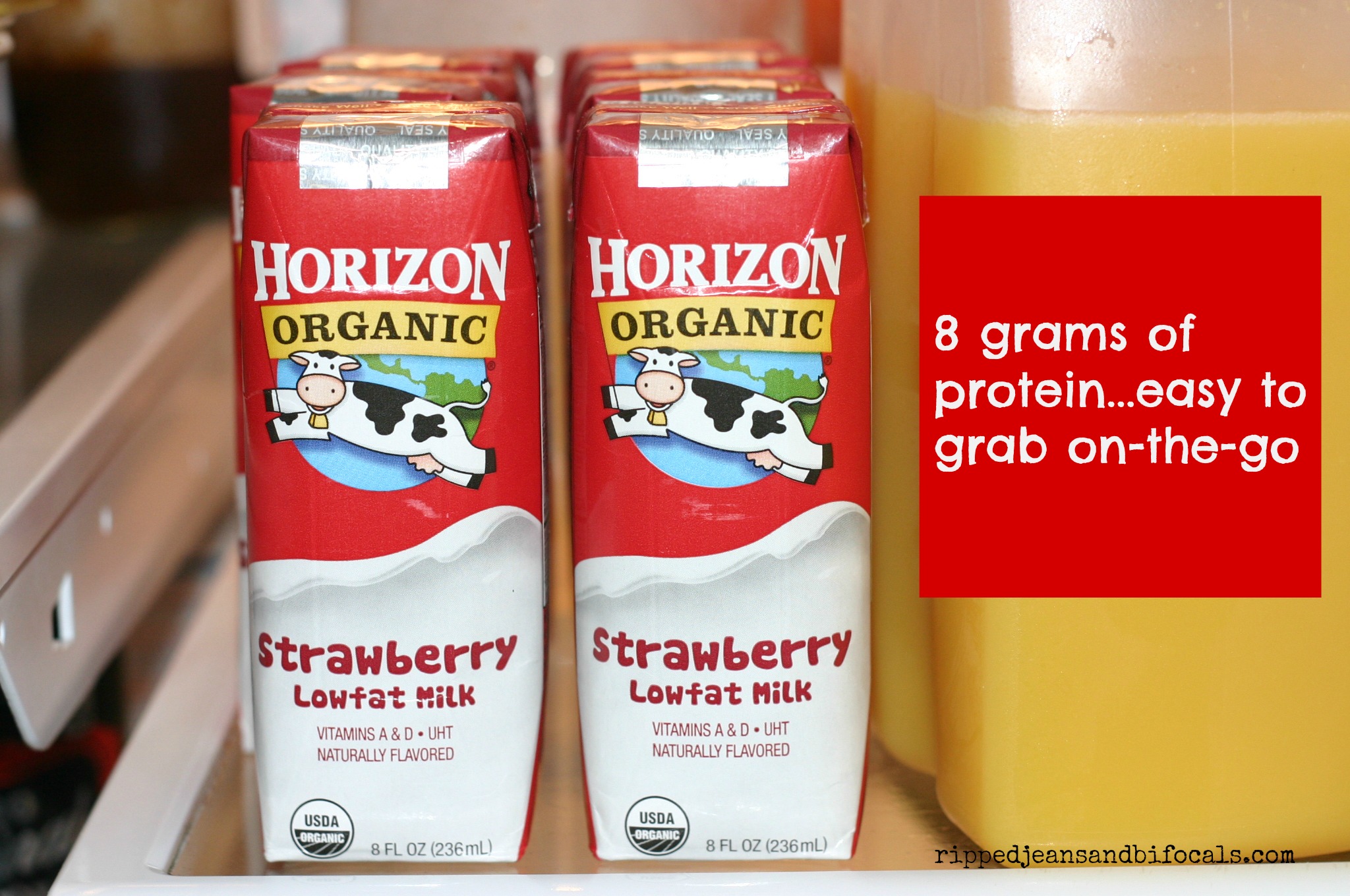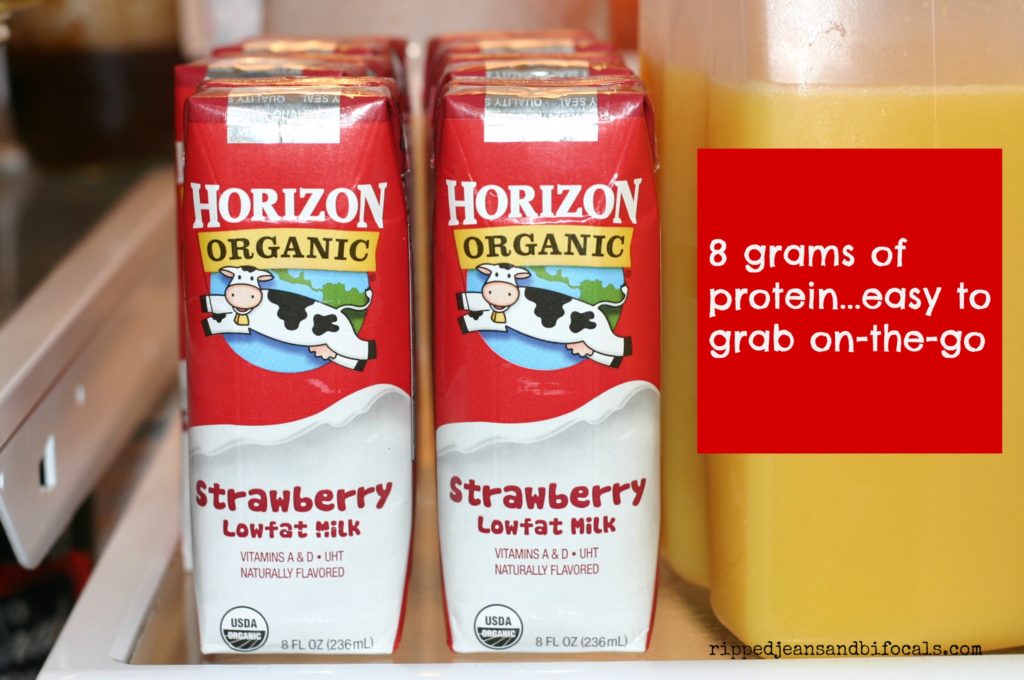 Of course, we keep a supply in the fridge but they don't need to be refrigerated, so you can add these to the list of stuff to stock your pantry with…and you can feel totally good about your kids drinking this.  It's a challenge to get enough protein into Kyle's diet and this definitely helps! Our Horizon® goodies are at…where else? Our local Walmart. The Sandwich Crackers are easily found in the cookie/cracker aisle. The milk boxes were in the same section as the fruit snacks. I think the fact that we involved our kids in shopping for their lunch supplies helped get "buy-in." When lunch becomes something your child is involved in, you are much less likely to get a mess of sticky, half-eaten foods in the lunch box at the end of the school day.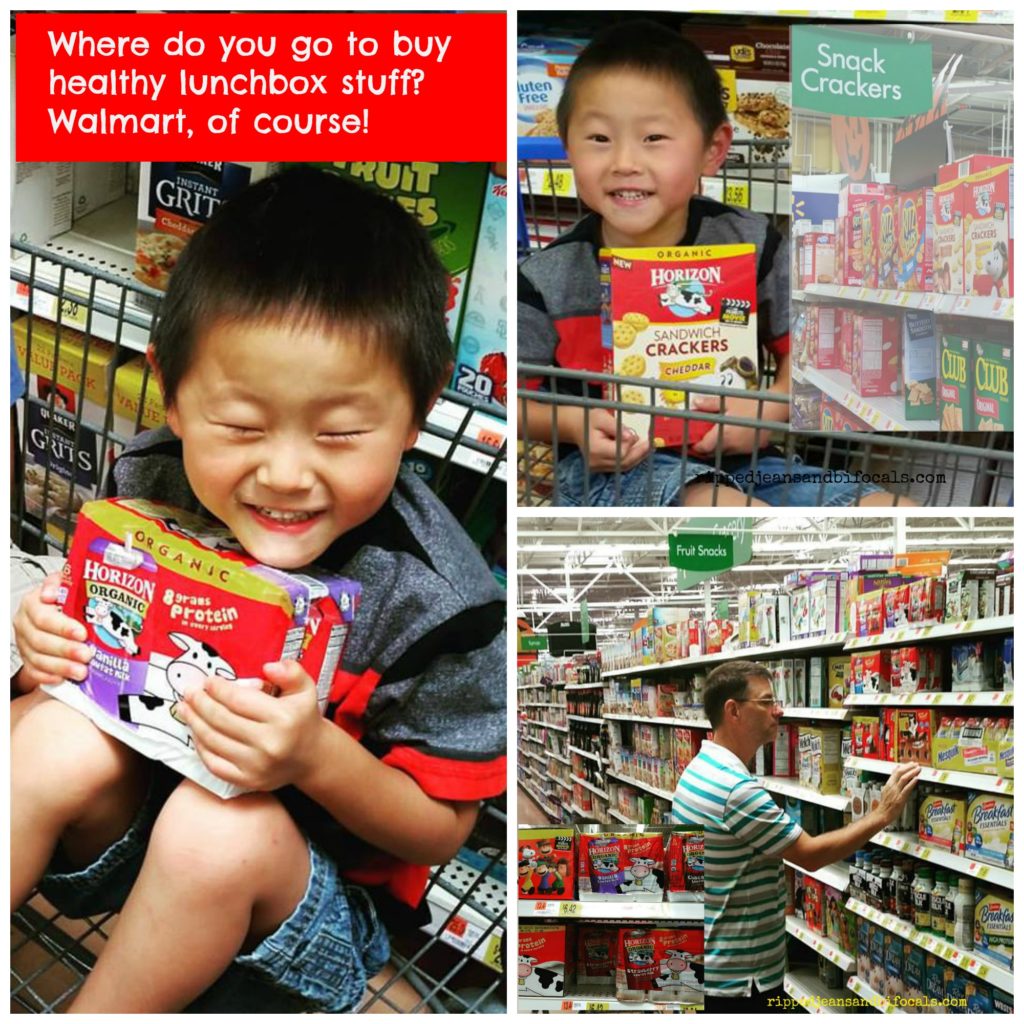 Our new after-dinner routine is for me to set the lunchbox fixings out on the counter and work on something else while Kyle packs his lunch. I'm close by in case he needs help (AKA to stop him from filling his lunchbox with nothing but berries) but he's got a pretty good grasp of what he needs to do. Maybe I'm a lazy mom. Maybe I'm onto something with teaching my kids a little bit of independence at a young age. Oh, and since we've given Kyle this responsibility? Guess how much uneaten food comes back home at the end of the day? Exactly none. Yep. I'm definitely winning.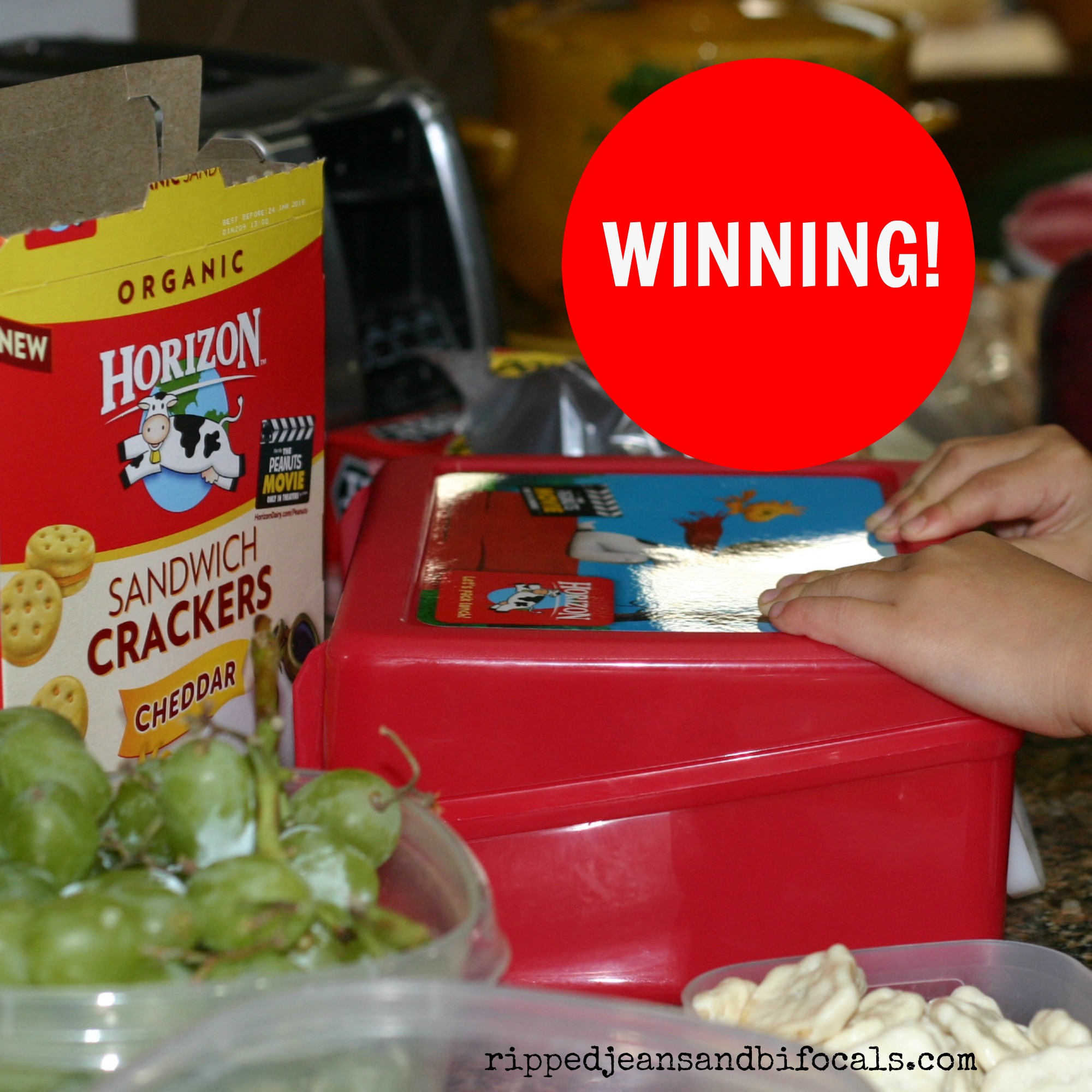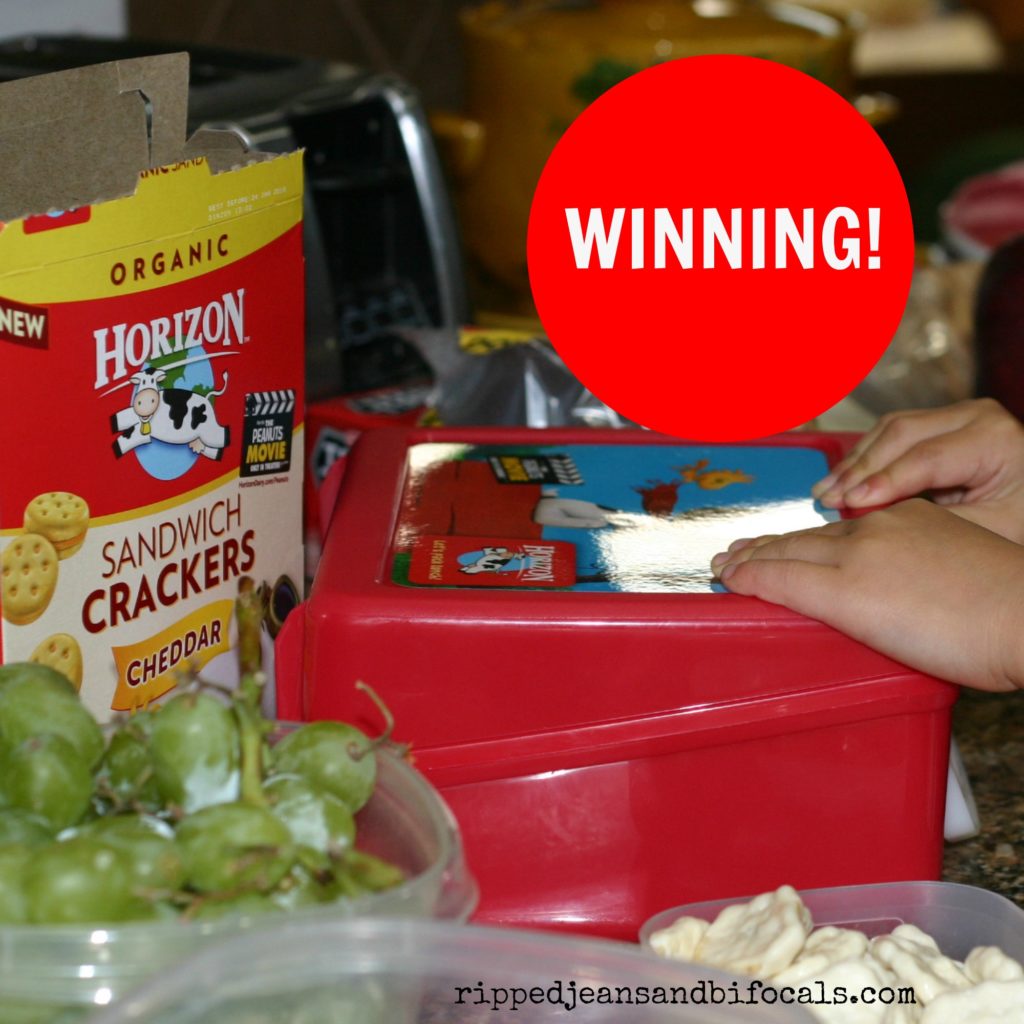 Check out the full range of Horizon® products available at Walmart for even more great ideas to help your kids pack a lunch you can feel good about…as well as some great stuff to help you put together meals at home!    Check out my "easy lunch ideas" Pinterest board!   Follow Ripped Jeans and Bifocals's board Easy lunch ideas on Pinterest.
Will you vote for me on Top Mommy Blogs? It's super easy! Just click the button below to vote for me once daily! It takes you to the Top Mommy Blogs directory – I promise nothing weird will happen and your clicks help to boost my blog. Thanks for reading!