This shop has been compensated by Collective Bias, Inc. and its advertiser. All opinions are mine alone. #SendHallmark #CollectiveBias
I have enough. I have a lot.
I have enough food, enough clothes, enough money in the bank where I don't have to worry about where Christmas will come from.
I am lucky.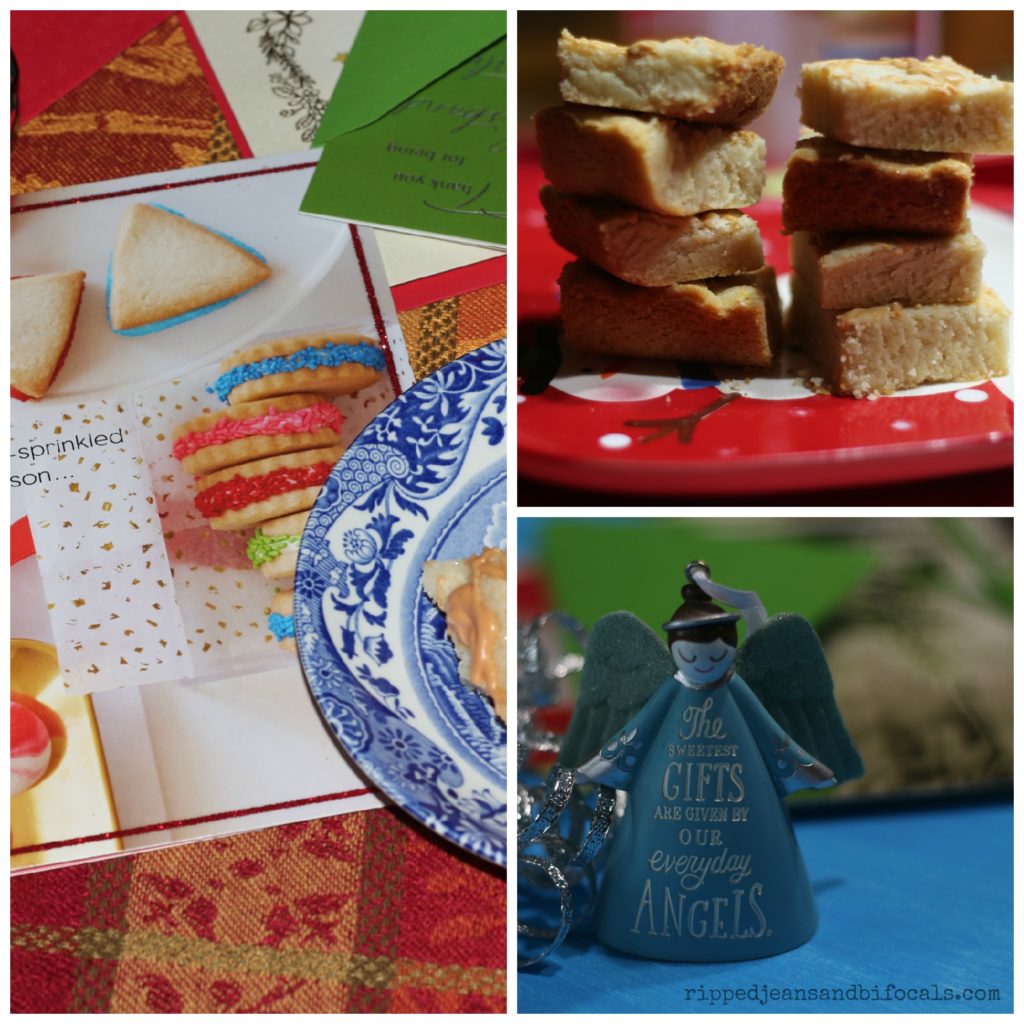 In this season of gratitude, celebration and reflection, I realize I give a lot to my family. I bake. I plan. I shop. I wrap. I organize.
In this season of gratitude, celebration and reflection, I make myself a priority. Yes, you read that right. At least once a day, I look at my frazzled reflection in the mirror and say these words out loud:
You are the most important person in all of this.
It's true.
Without me, cookies wouldn't get baked, holiday dinners wouldn't get planned, gifts wouldn't get stuffed in gift bags and the elf on the shelf that everyone just loves to complain about wouldn't…well…do his thing.
So, yeah. I'm the most important person in my family when it comes to all of this holiday stuff. I make time for me. That might mean a guilt-free "see ya" to my hubby as I go off to have coffee with a girlfriend. It might mean that no one gets to bug me while I'm straightening my hair (like that really ever happens) or when I'm baking cookies that I get to eat first and making that extra special cup of hot cocoa that's just for me. Putting myself first puts me in a better frame of mind to put others first…if that makes any sense.
The other day while I was drinking my extra special cocoa in (relative) peace, I read a blog post written by my friend Taylor about Random Acts of Kindness. She detailed how she'd planned out a day of simple ways to give to others and how she was teaching her daughter important lessons about being a good human. This post really pulled on my heartstrings because I think kindness is a simple thing that we all overlook.
That I overlook.
I shared her post on social media because I wanted other people to be inspired by her spirit of giving…just as I had been.
But while I was inspired, touched and felt all the feels, I still did nothing.
I don't have time.
While I loved reading about how my friend devoted an entire day to random acts of kindness, I certainly don't have time for that sort of thing. I have a to-do list that is threatening to take over my life and I'm barely treading water.
I went to Walmart this week…because it's December and I have to buy stuff…and as I was thumbing through their selection of Hallmark cards that will say the things I'm too awkward to say, a woman started up a conversation with me.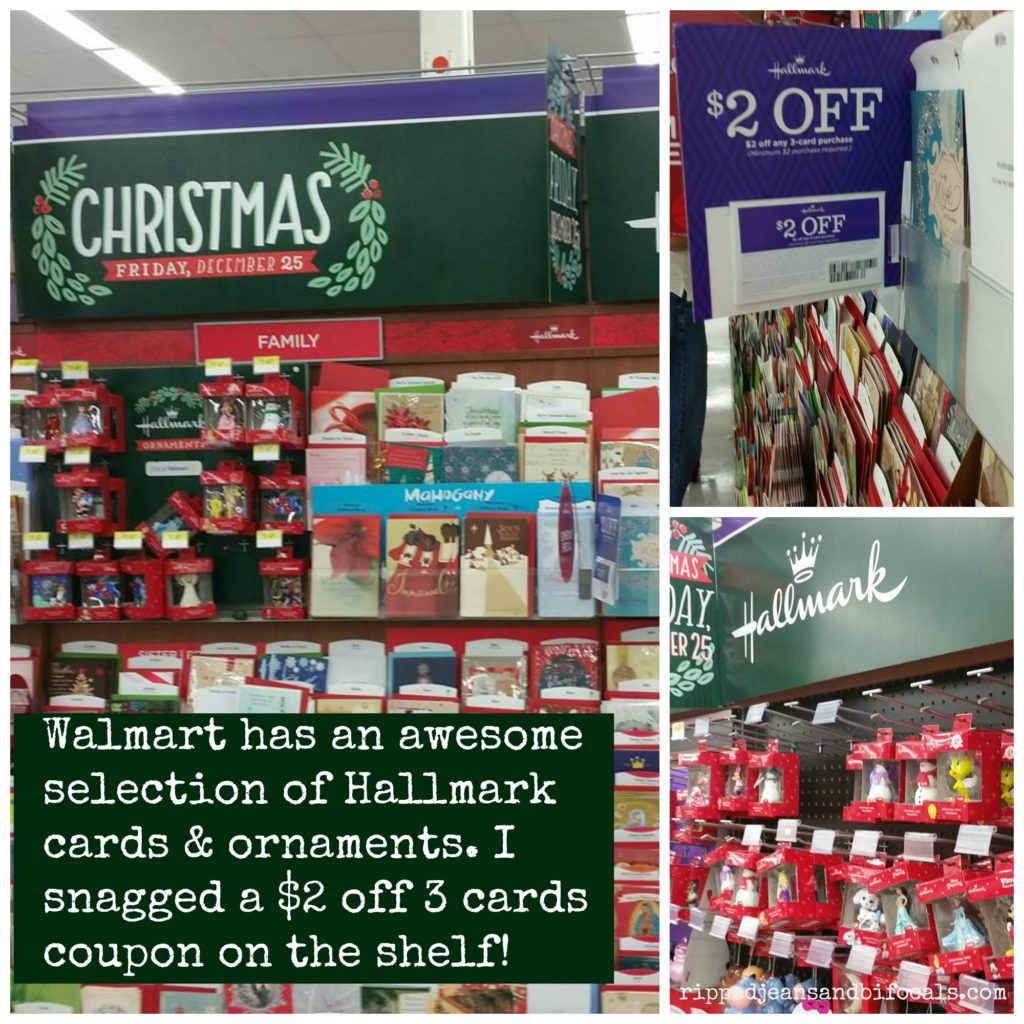 I'm sort of an introvert.
I'm not shy but…how can I put this nicely? I just don't like to talk to people that much. I mean, if it's substantial, meaningful conversation, sure, but idle chitter chatter in the card aisle? Not so much.
We talked about the weather and how crowded the stores were. I was trying to end the conversation. How many "mmm hmm's" and "that's nice's" can you throw out before you come off as straight up rude?
My new friend touched my arm.
That got my attention, mostly because I'm not a toucher.
"Sometimes, I just get these feelings about people."
I would normally be weirded out by touched by stranger but this wasn't weird.
"You are a special person. The people in your life are blessed."
She squeezed my arm and then moved on before I had the chance to say anything remotely intelligent.
I cried in the middle of Walmart that day. The kind words of a stranger touched me in a way I can't even begin to make sense of. I'd been sort of just going through the motions that day, ticking items off my to-do list without enjoying the joy of the holiday season or taking time to think about the good things in my life.
So.
I thought maybe I'd give this Random Acts of Kindness thing a try.
I took the Hallmark cards that I'd bought for my family and signed my name. I took a second to scribble a message about taking time to be kind to one's self during the holiday season.
I bought a few gift cards and stuck them in the envelopes.
I stuck these three random cards I'd initially picked for close relatives on three random cars in the parking lot of Walmart on a Saturday afternoon, 13 days before Christmas.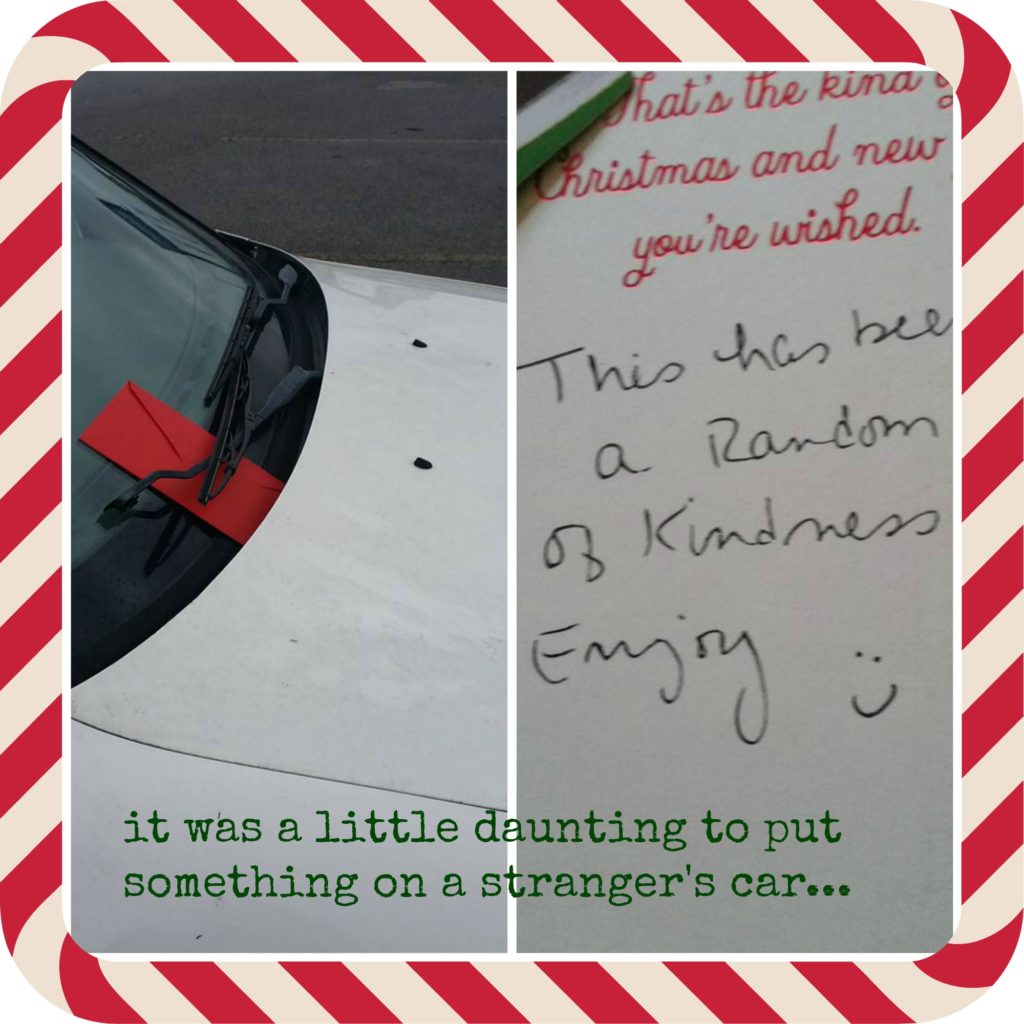 Three random people received some kind words and the gift of coffee from a frazzled mom who has too much to do.
I have enough. I have a lot. Technically, my random act of kindness added to my list of stuff I needed to do. I had to go back inside the store and buy more cards for my family and taking the time to write the messages to strangers was time I could have spent knocking something else off of my list.
I went home and made my special cookies and my special cocoa and shared them with my kids while I finished my greeting cards and put the final touches on our Christmas tree. We cranked up the Pandora Hallmark station and sang along really loudly. It was pretty awesome and I kept the comment of the kind stranger I'd met at Walmart in the front of my mind.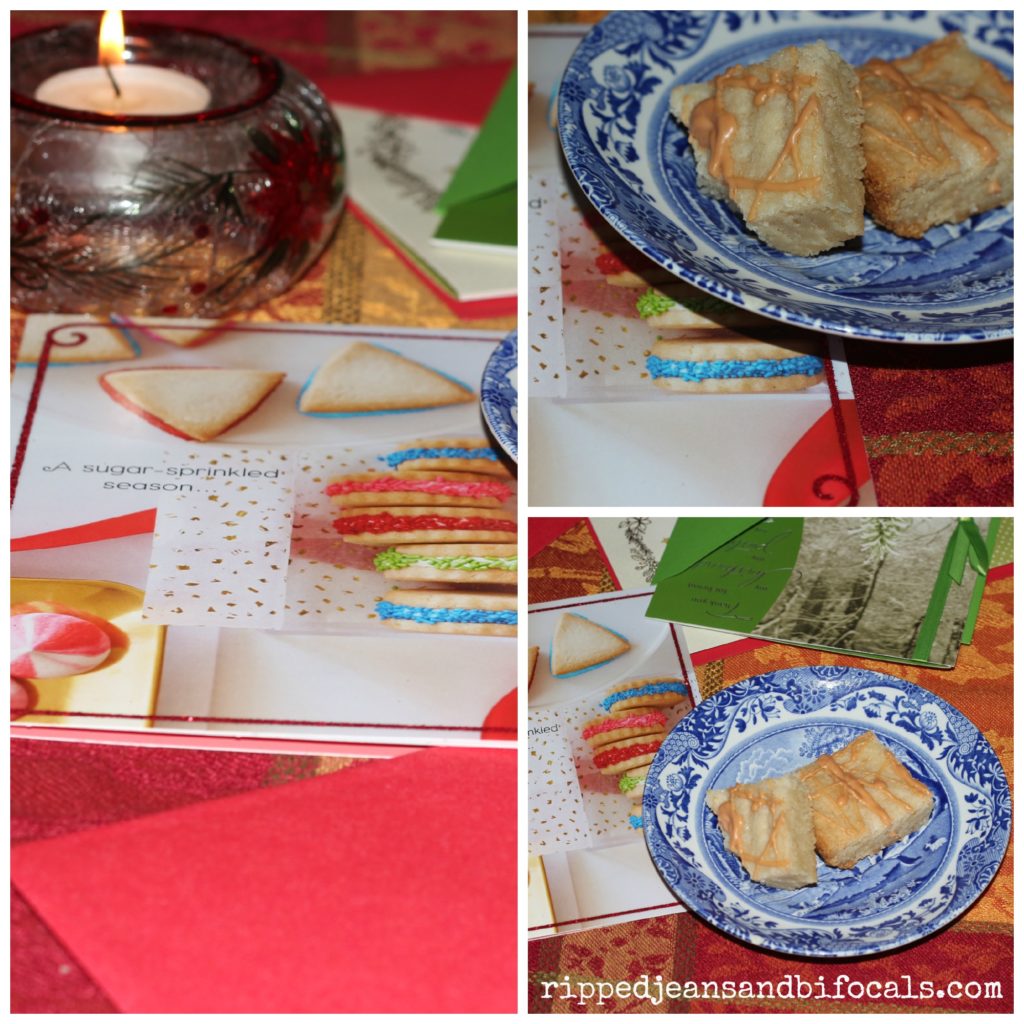 Hallmark greeting cards are the perfect way to show someone you care about them – during the holiday season or anytime of the year. The lady who squeezed my arm in the card aisle at Walmart and told me I was special really put me in the right frame of mind to write some heartfelt messages that I needed to write. I have lots of special people in my life…I probably don't tell them enough, and a Hallmark card gives me a great way to do that.
Try these amazingly easy shortbread cookies with butterscotch drizzle. It's pretty tempting to keep these all to yourself but it's Christmas – you should share your cookies!
Shortbread cookies with butterscotch drizzle
Ingredients
1 cup (two sticks) butter, softened
2 1/4 cup flour
1/2 cup (plus 1 tablespoon) granulated sugar
1/4 cup butterscotch chips
1 teaspoon coconut oil
Instructions
Preheat oven to 300
Cream butter and the 1/2 cup of sugar together with an electric mixer
Add in the flour about half cup at a time. Continue to mix
Lightly grease a square baking pan (I use vegetable oil spray)
Press the dough into the pan
Prick the dough lightly with a fork at 1 inch intervals
Sprinkle the 1 tablespoon of sugar over the top of the dough
Bake for 40 minutes
Cool for 5 minutes then cut the shortbread into squares
Mix the butterscotch chips and coconut oil together and microwave for about 40 seconds
Stir until smooth and drizzle over the warm shortbread
Let the shortbread cool in the pan
Enjoy!
https://rippedjeansandbifocals.com/words-strangers-and-friends-and-random-acts-of-kindness/
It's important to take time for yourself this holiday season. A little bit of doing something that's just for you can combat the crazy that this time of year sometimes brings.
But sometimes, doing something for yourself turns out to be doing something for others. Sometimes, it's funny how things work out.
Hallmark can really make the holidays (or any day) special. Click here to save $1.00 off of a two Hallmark Greeting Card purchase at Walmart, minimum $1.00 purchase required. Take advantage of the savings and #SendHallmark this holiday season!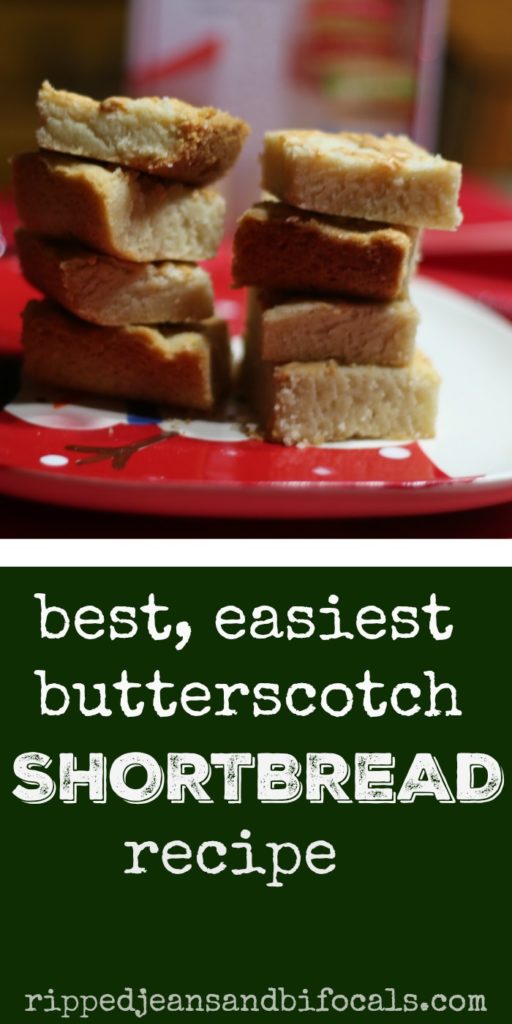 Thank you for reading! Please share this post with someone who would enjoy a good random acts of kindness story…or someone who enjoys a good cookie! Make sure you're following me on Facebook and Pinterest, too!
Visit Ripped Jeans and Bifocals's profile on Pinterest.
(Visited 395 times, 75 visits today)