I wonder what the world would be like if #Hashtag was a real language?  I mean…what exactly is a hashtag anyway?  I know I can create one of these mythical…um…thingies by simply placing a pound sign in front of  word or phrase:
#Brunch
#ThugLife (and really, I have no effing idea what that even means)
#ItsNotMeItsYou
#HoneyWereOutOfTPCanYouGoToTheStorePlease
See?  You can make anything hashtagaliscious.  Exactly what purpose this serves I have no idea.  I see hashtags on Facebook posts and on Twitter Tweets.  I diligently hashtag each and every blog post with words and phrases that help describe what I'm writing about in the hopes that the Google Gods will smile upon me and make my blog visible in the mighty search engines.  I have no idea if that's helping.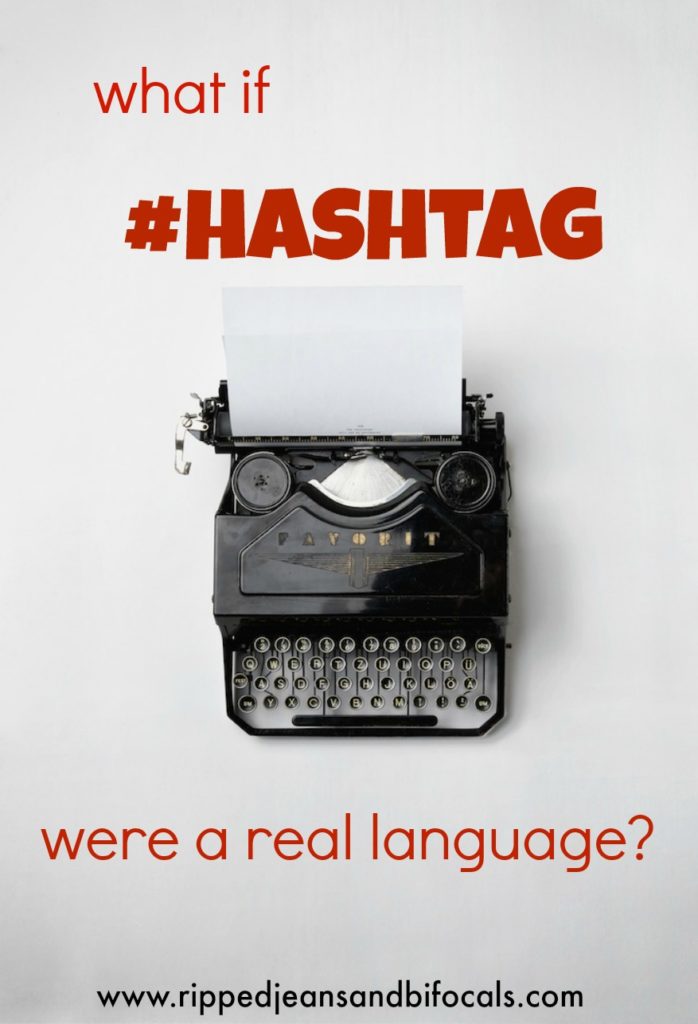 I put hashtags on my Facebook posts.  Sometimes I do it to legitimately describe what the post is about and sometimes I sort of get a thrill about being obnoxiously lengthy with the hash taggin'.  I'm easily entertained, clearly.  Does this serve any purpose?  I really don't know but I like to think I'm getting the hang of this tagging of the hashes.
Here are a couple of my recent Facebook status updates.  I can embed them in to a blog post because…well, I'm just fancy.
PSA: If you ever get a hankering to try a cocktail made from brandy, wine and jalapeno syrup, you might wanna politely decline. #JustSayin#JustSayNo
 Me: Zack, you sure are a cranky pants today.Zack: No, I'm not.Me: Yes, you areZack: I'm not wearing pants, mommy…#KidLogic#PantsAreOverratedAtOurHouse
But I have it under control.  I'm not an excessive hashtagger.  Right?  I mean, I can stop any time.
Seriously, though.  We all know an excessive hashtagger:  that friend who pops into your newsfeed that causes you to think hashtags have taken over the world.  You know the ones. You almost need a Dictionary of Hashtags to decipher what the hell they're trying to say. And I'm just kidding.  There's no such a thing as a Dictionary of Hashtags.  Sorry.
For example:
Cooking
Making hummus!
#garbanzo #organic #appetizers #ShowMeThePitaBread #NoWaitMakeMinePaleo #Pinterest #VegetarianLiving #Yummy #RachaelRay #Yummo #GarbageBowl #TwiceAroundThePan #EVOO
And yes, the person who posts such a status update is the same dude or dudette that litters Facebook and Instagram with pictures everything they are eating.  #EveryDamnThing.  Oh, and I really like Rachael, just putting that out there.  She's gotten a little commercial but I still love her.
Shopping
Love me some Target!
#Bargain #Addicted #Crack4Shoppers #OopsIWoreARedPolo #AndKhakis #LilyPulitzerWTF  #lowprices #ISwearIOnlyCameInHereForOneThing #PeopleInPajamas #TheySellWine
Kid Oversharing
Little Katie pooped in the potty!
#poop #NumberTwo #pullups #BigGirlPanties #SheAlsoPoopedOnTheRug #AndTheCarpet #soproud #NoMoreDiapers #woot
By the way, I know a lot of people who have kids who are amazingly talented and brilliant when it comes to excellence in potty training.  Overshare on, my friends.  You know who you are.
Even the vaguebookers get in on the fun…
#peoplesuck #excitingnews #NotTellingYouYet #LostAllFaithInTheHumanRace #Ugh #Sigh #ThatMightHaveBeenABadIdea #AskMeWhatsWrongDammit
Sometimes, I even find myself thinking in hashtags.  Do you ever do that or is that just me? Don't answer that…it's probably just me.  It is, right?  #MightHaveAProblem
The other day, I was standing in line at Starbucks and I sort of zoned out while I was people watching and waiting.  I love Starbucks, by the way.  Skinny Caramel Machiato with an extra shot.  I'm slightly worried that I sound high maintenance when I order coffee but that's another story.  I have lots of coffee stories.
#HotBarista #ShouldIGetAVenti #scones #mustresist #yummy #tackyoutfit #NotMineHers #DecafSucks #hurryup #WhyAreThereKidsHere
So…my question of the day was "I wonder what the world would be like if #hashtag was a real language" and yes, people, these are really things I ponder as I'm falling asleep at night.  And really….I think we are just about there people.  That dictionary I joked about is going to be reality one of these days real soon and before you know it you'll be sitting down with your teen having serious discussions on whether he should pick #hashtag over Spanish to round out his foreign language credits in his high school curriculum.
#WaitAndSee
This has been a Finish the Sentence Friday post where we gather and finish a sentence.  This week's sentence was "I wonder_________."  I wonder what made me pick hashtags because I don't remember now.  #NeedCoffee
Your host is Kristi of Finding Ninee and your co-hostesses with the moistest are Kerri of Undiagnosed But Okay and Moi.  Join in!  The linkup is live until Sunday night and this is a seriously fun writing prompt.  Cheers, people!