I am excited to introduce this week's guest poster, Denise from Adventures of a Jayhawk Mommy.  Denise and I are both "moms of a certain age", recipe-watchers and lovers of social media.  Reading her stories is like having a chat with a good friend:  she shares practical advice, heartfelt stories and awesome recipes.  I have her blueberry ice cream bookmarked, pinned and printed out – it's at the top of my list of must-make sweet treats.  I'm happy to call Denise a friend and to share her writing with you. 
Read Denise's words on body image through the eyes of a teenager.  After you're done, share it with your favorite teens and tweens (and their moms and critical grandmas, too).  Show Denise some comment love and take some time to hop on her blog and have a look around.
Nothing hits a girl's self-esteem harder than middle school and high school. Suddenly, you go from the happy-go-lucky girl playing outside, getting bruises, and generally not worrying about how you look to a girl who obsesses about her appearance and compares herself to other girls. The switch happens lightning-fast…at least it did for me.
My concerns about my body image began in high school. Puberty had kicked in and my high metabolism disappeared a day later. Instead of being able to eat anything without gaining a pound, I would gain weight just by looking at a cookie. The weight gain came, and it was unexpected.
By the end of my freshman year, I was convinced I was fat. Looking back, I probably was about 15-20 pounds overweight, but not fat. (It didn't help that I got on a scale once and a well-meaning uncle expressed shock at my number and told me I should probably lose a few pounds.)
I found myself looking at other girls and comparing my body to their lithe, thin figures. My figure was nothing like that. I first sprouted boobs at the age of 10. By the time high school began, I was already wearing a C-cup. Just my boobs alone made me feel self-conscious. I wore large tops to hide them.
Unlike many girls in my class, I had wide hips and thighs. I walked a lot and rode my bike everywhere. My thighs weren't fat, just muscular. I didn't consider that as a reason though. It must be fat. After all, my 9th grade gym teacher told my class that if our thighs touched then we needed to lose weight since it was an indication we were fat. (The recent craze about thigh gap irritates me because of this reason alone. It's a bunch of crap!)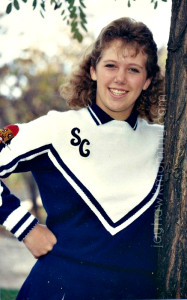 I was on the Junior Varsity cheerleading squad when I was a sophomore in high school. When ordering uniforms, a fellow cheerleader let me know that another "bigger" cheerleader from the year before might be willing to sell me her uniform. She made it clear she thought I was big and emphasized all the ways she recently lost some weight. It only confirmed what I knew to be true: I was fat.
I became obsessed with being thinner. I ate less and less. I was obsessed with the numbers on a scale; numbers that never seemed to get as small as I wanted them to be.
By my senior year, I was borderline anorexic. I say borderline because I never gave up eating, completely or allowed my weight to take over my life. However, that said, I knew I could go up to 24 hours without eating anything without issue. Once I got to 36 hours, I would have a spontaneous bloody nose. So, I would make sure I ate something at least that often.
Breakfast was a slice of plain bread. My usual lunch was either a small fry with cheese or a packet of Cheez-its. Dinner was whatever my parents served, but nothing beyond one small serving. Oh, and forget snacking. I avoided it like crazy.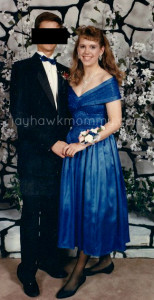 What killed me with my obsession was that I couldn't lose more weight. The smallest I got, with my 5'8" frame, was 145 pounds with a 27" waist. And guess what, I still thought I was fat. It didn't help when my grandmother emphasized that she thought I shouldn't put butter on something because it would add to my weight. It only confirmed what I knew. I was huge.
I wish I knew then that I wasn't fat. I wish I knew then that I was thin. I wish I appreciated how great I looked and knew that what I was doing to my body wasn't helping me. Not one bit. I couldn't lose weight because I wasn't feeding my body properly. I couldn't lose weight because I was probably at my perfect weight at the age of 17.
I wish I had known that my body had just developed curves earlier than others in my class. That instead of shopping in the junior's section at the department store, I should have avoided it. I didn't know that those clothes were cut to fit a slimmer, less developed body. I let the size I was (an 11/13) become justification in my need to lose weight; to get slimmer. If I had gone to the misses section, I might have discovered I would fit in a size 8 and been satisfied. But, I wasn't. I couldn't be. I was ashamed of myself and my body. In my mind, a size 11/13 only confirmed that I was fat.
It wasn't until college that I began to appreciate my body and my weight in a new way. My new college friends didn't judge me or my weight. Like others, I gained the freshman 15, and by my junior year I had gained 30 pounds. I decided to do something about my weight then. Not because I was obsessed with the number, but because I wanted to feel good about myself. Instead of starving myself, like I tried to do in high school, I just ate healthier (less late night pizza runs) and started power walking. I ended up losing 20 pounds, settling in at a healthy, fit 155 pounds.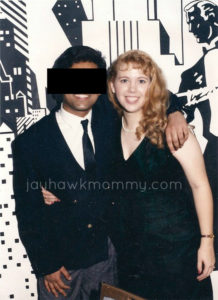 I also had a conversation with my mom about my grandmother's comment about butter. My mom laughed and told me that she made comments like that to her when she was younger and had a 23 inch waist. It was just my grandmother's own issues with weight and body image. 
Today, I'm far from that slim, weight-obsessed high school girl, and my body is definitely not a healthy and fit 155 pounds. I am now a plus-size woman and though I'm not happy with my weight, I love myself and the body that has given birth to two marvelous little girls and allowed me to go on many adventures in my life. I work to get in shape, not really to lose weight, although that would be pretty great. (After all, all the cute clothes are in the smaller sizes.)
If I had only known as a teenager that obsessing about what my body looked like was not nearly as important as loving myself for who I was. I can only imagine how much happier I would have been in high school. I know that now and I'm grateful. Now, as a mom to two precious little girls, I hope I can pass on the lessons I learned on my way to loving myself and my body.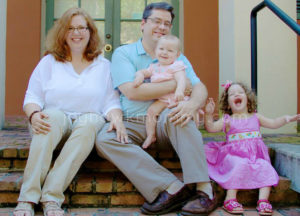 Denise is a 40+ year old KU alum and SAHM trying to navigate the world of motherhood. She blogs about parenting, food, and has been featured a few times on BlogHer and has an upcoming feature on Scary Mommy. She enjoys solving mysteries (Okay..reading mysteries or watching them on TV), cooking, and drinking way more caffeine than she should…basically, doing anything she needs to do to survive the toddler years.  Follow her on Facebook, Twitter, and Pintrest.
"I wish I would have known" is a series featuring awesome women from around the blogosphere.  If you missed one, here's your chance to catch up!
I wish I would have known fitness is a marathon, not a sprint, by Rachael Novello
I wish I would have known how opiates would affect my family
I wish I would have known I'd miss 3AM wakeups by Toni Hammer