Two Yummy Essential Oil Diffuser Blends for Fall
I am a smell person. I love the smell of clean laundry, cookies baking and freshly mown grass. When fall rolls around, I look forward to spicy scents such as cinnamon, ginger, cloves, and sandalwood. It's early September here in San Antonio and the weather is far from what most people would consider fall-like. I don't see any red and gold turning leaves, my kids are still wearing shorts to school, and a walk down the street in mid-afternoon is a hot and sweaty kind of event. We are a long way off from cozy sweaters and boots…there's that one week in January when the weather can be described as crisp…but at least my house can smell like fall, right? Today I'm sharing recipes for two yummy essential oil diffuser blends for fall that will put all you other smell people in an autumn mood no matter what the outside temperatures are! And, I probably don't need to clarify this, but just in case: I mean yummy in the delicious smelling sense, not in the you should put it in your mouth sense. Y'all know better than that, right?
I was provided a free subscription box from Simply Earth for my review and this post may contain affiliate links, which means I may make a small commission off of any product you might purchase.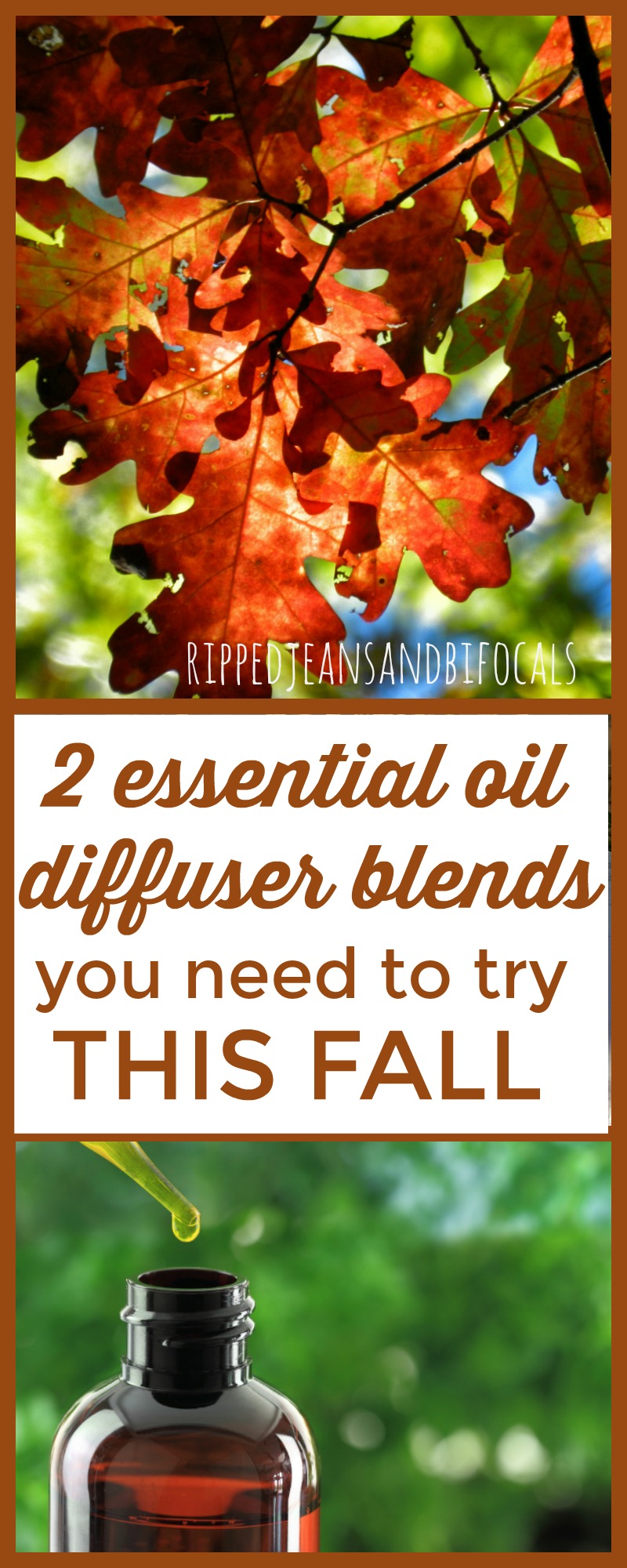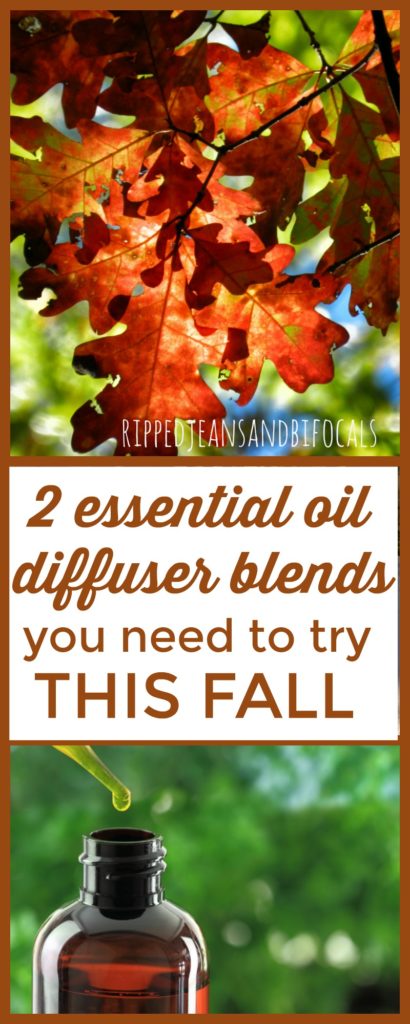 Two yummy essential oil diffuser blends for fall
Fall into fall diffuser blend
5 drops Neroli Essential Oil
1 drop Coriander Essential Oil
3 drops Clove Bud Essential Oil
Drop oils into your difuser according to diffuser instructions and BAM – instant fall! It's still pretty warm in my neck of the woods. I want it to feel like fall but it doesn't. This blend definitely makes it feel like fall in my home…or at least smell like fall.
If you've never heard of Neroli oil (I hadn't) it's extracted from the small, white, waxy blooms from the orange tree. Some  uses include reducing stress and repairing skin.
Emotionally balancing diffuser blend
5 drops Simply Earth Happy Joy Essential Oil Blend
4 drops Coriander Essential Oil
Drop oils into your difuser according to diffuser instructions to uplift and balance your mood.
Happy Joy Essential Oil Blend contains Grapefruit, Sweet Orange, Grapefruit and Ylang Ylang essential oils. Ylang Ylang is extracted from a tropical flower and actually means "flower of all flowers." It's known for it's mood boosting properties and can also stimulate hair growth, which I want to research further because my hair is thinning a little as I get older.
If you love essential oils (or know someone who does) consider the Simply Earth subscription box. Each month, you'll get a box containing four oils plus recipe cards for blends like the ones above and some other fun projects for your home. Each box will contain all the supplies you need to make whatever is on the recipe card…so no need to go out and get additional supplies. I don't know a ton about oils and the things they can be used for – although I am learning! I love that my Simply Earth subscription box is giving me a little education into some of the ways oils can be used around my house.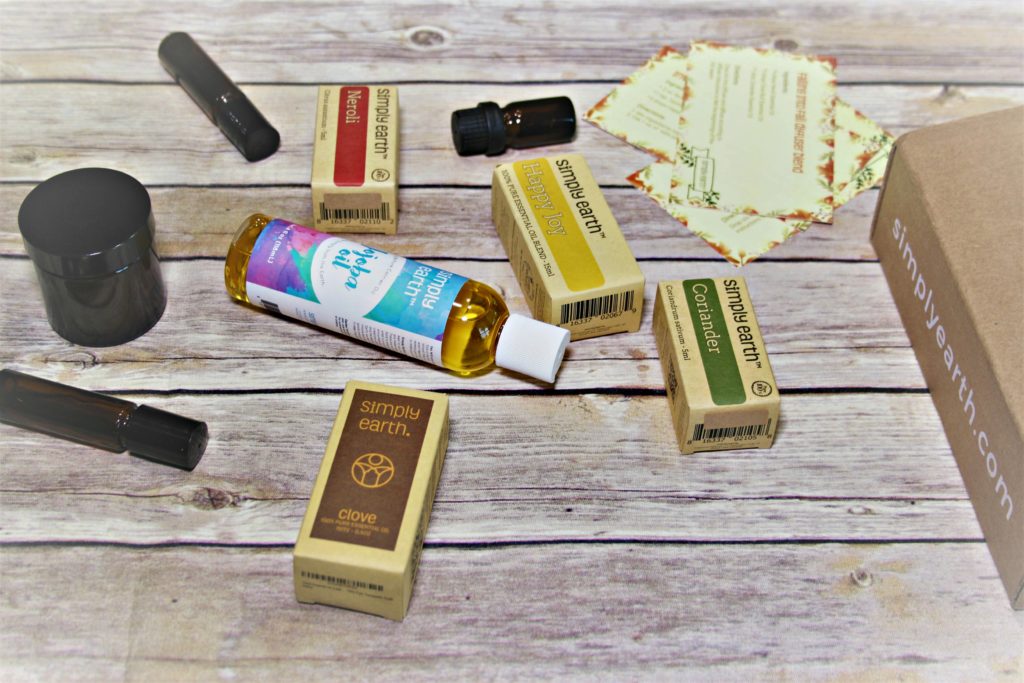 If you'd like to try some Simply Earth goodies at a discount,  use code JILLROBBINSFREE to get a $40 gift card or a free oil (below $10).
To get the $40 gift card, you have to subscribe on the box then type the code 
JILLROBBINSFREE
 and enter your email. IMPORTANT: DO NOT INCLUDE ANY OILS WITH THE SUBSCRIPTION BOX IN THE CART. 
The $40 gift card will be sent to the email you provided after you have paid for the subscription box. You can use the $40 gift card to purchase anything from the website including the $29.99 diffuser.
To get the free oil, choose the oils that you want then type the code JILLROBBINSFREE and enter your email. It will then take off $10 from the total amount.
Make sure you use THIS LINK when you order!
YOU MIGHT ALSO LIKE:
Four Essential Oil Blends for Back to School
DIY Hand Sanitizer with Simply Earth Essential Oils