Today's guest poster if Magnolia Ripkin.  Magnolia is the editor-in-chief of Blunt Moms and regularly works my "word babies" over the coals and makes me a better writer.  When she's not writing for Blunt Moms or the Huffington Post, you can find her on the Magnolia Ripkin Advice Blog – because everyone is entitled to her opinion. 
Food anxiety and body image are huge hot button topics for me, so without getting all geeky fan-girl twitterpated because Magnolia is on my blog, I'll just shut up and let you read what she's got to say.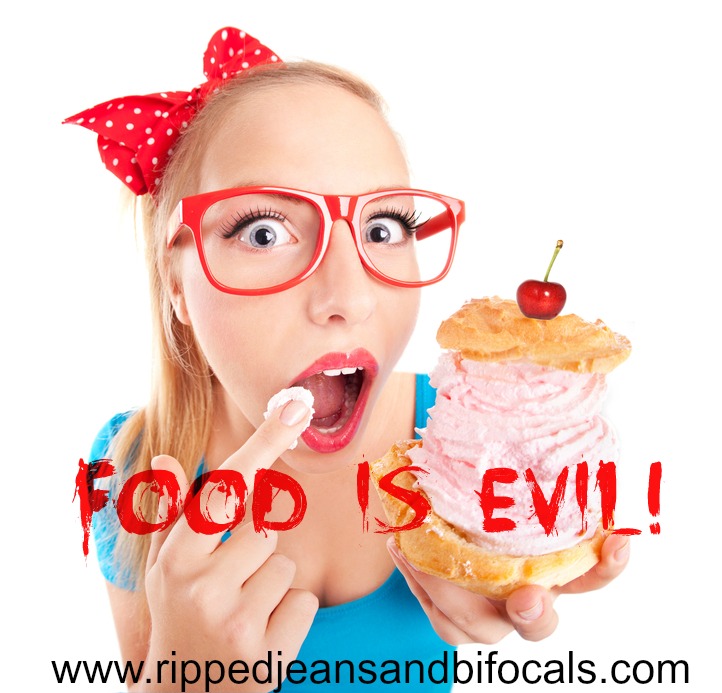 I am so bloody sick of talking, thinking, learning, researching, fussing and worrying about food. It wasn't always like this for me, but then suddenly it was.
When I was young, my mother's friends who were of an age (well into their 40's apparently) couldn't wait to share endless tales of eating misery. They sat there in velvet pant-suits, smoking, clutching lime green Martinis, and dispensed their wisdom. They felt the need to tell me how shit my life would become by the time I found myself careening toward menopause. They couldn't wait to describe in precise detail how my decrepitude would advance. It was even worse than that tough, they couldn't have know that I would have my last baby at age 37… and then have all of 4 years between his potty training and my own incontinence.
The main message I got was about this thing called  "metabolism." Apparently, it was going to drop at terminal velocity like a giant brick into a bottomless body of water, or in my case… a very large bottomed body. I didn't entirely understand what it meant until many years later my thyroid ground to halt and it took me ages to figure it out. I spent MONTHS eating so little, and so healthfully. I didn't exercise much because it sucks and I have better things to do. Good fricken' thing I didn't cram my ass into yoga pants, or go to those insipid Zumba classes, because it would have made NO difference. When my thyroid failed like a cheap suit at a bankers' luncheon it was drastic. I would eat a small ice cream and through the miracle of metabolic disaster my pants wouldn't fit the next day. Shock and awe of body fat.
As a lifelong ambitious achiever pretty much whatever I put my mind to. I can't begin to tell you how stressful it was to eat PERFECTLY and get no results. It got so shocking that despite my best efforts, I lost only 5 pounds in 9 months, and in one weekend I would put 4 of them back on. I did not genuinely enjoy a single bite of food for weeks at a time, and it wasn't fair. I wanted to take the scale and shove it out the window, hard. Or drag it to a Lulu Lemon store and Frisbee it into the nearest display case.
Medication will help with all this, and whatever else I need to do. Thyroid is what it is, and it will regulate or it will not. But here is the thing, thyroid or not, the deterioration of our metabolisms is a lugubrious march as the years go by.  Of course some women who are still thin even in their fifties, often struggle to build more and more time into exercise, and feed themselves less and less to maintain it. There is a bit of an illusion out there that they must remain as svelte as they were at 18. Some Doctors say that there should be no impact or expected increase in our waist size, yet there is. I would like to see how many people make it through menopause without a change in their measurements. Wait no, don't contact me if you are a post menopausal x-ray, I like to think you might be a unicorn.
We should not eat cookies, I get that, but maybe I shouldn't be so afraid to eat just two of them? My daughter had a birthday recently, and I found myself saving up calories to eat a piece of her cake. I worry about every single thing I put in my mouth. I am not alone in that. My friends talk about Doritos like they are crack. Some of them stash goodies away and eat when nobody is looking. When I get to that point I probably wouldn't confess to it though.
We are surrounded by terrible food choices. Magazines advertise junk food next to healthy recipe pages and diet ads. Every food out there is touted as either terrible or magic in some way. What the hell is Quinoa and Spelt and whatever other gluten and shit we are sensitive to? Every woman in my life is either sensitive to something, or allergic or cleansing or whatever. They honestly believe that they are being poisoned and I am not sure they aren't right. Maybe gluten is a problem, or maybe muffins are the issue and it isn't the gluten. Fat was bad… then it was carbs, now it is sugar. Remember when Doctors recommended cola and cigarettes? That rocked. The 60's were so great.
We all agree that artificial sweeteners and trans fats are evil… Satan level evil.   It doesn't stop some of the shame eating though, or worse the complete surrender where we lie down in a pile of cronuts and moan with the joy that is fat and sugar.
I know people want to eat clean, and sometimes live on protein shakes and bizarre seeds and such. (I am talking bout you Gwyneth freakzoid).  They put that stuff in a blender and call it food. If women could stop worrying about food, and just make generally healthy choices, maybe we could just be happy. Maybe if we came to terms with the fact that BMI is bullshit entirely, that would be good too.
If we could be loved for our bellies, and forgive ourselves for eating birthday cake, maybe we could stop fretting, and start living.
Cookies are not evil. Magnolia has declared it so.
This post originally appeared on The Magnolia Ripkin Advice Blog.  You can also find Magnolia hanging out on Blunt Moms, Facebook and Twitter, so go check her out. Because really, you are entitled to her opinion.
Did you like reading this? Sharing is caring, people! Pin it to one of your favorite Pinterest boards, tweet it, or if you're really fancy, share it on G+, Stumble Upon or whatever the cool kids are using nowadays…I can't keep up. And, don't forget the old standby Facebook. There are some share buttons below and if you clicked them…well, that would be just awesome sauce. Thank you!