Tonight's taco recipe is courtesy of Like Mother Like Daughter.
This recipe was ridiculously easy and I highly recommend it for a crazy, busy week like we're having over in our neck of the woods.  We've got Doodlebug's birthday this week plus we're getting ready to go away for the long weekend – first time all 5 of us have traveled anywhere together since we were in China almost a year ago.  I am losing my mind trying to pack light for all of these people, but that is another story for another day.
I stayed pretty true to this recipe.  I used a little more water than the recipe called for because I knew I was going to leave the chicken in the crockpot for longer than the suggested 6-7 hours.  I also put the chicken breasts in frozen.  The chicken was in the crock pot on low heat for just under 9 hours and it was fine.
We topped our tacos with lettuce, tomato, sour cream and mexicorn.   We had both flour and corn tortillas on hand and both were really good (corn was my fave).  The avocado yogurt sauce with last week's fish tacos would have been fantastic, if you have a ripe avocado handy and are looking to experiment a little.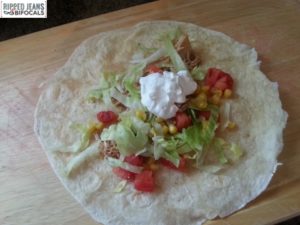 This recipe is a keeper.  It was very no fuss no muss.  I got home later than I normally do and it required almost no effort to get dinner on the table.  This is not very spicy, so you could use spicier salsa to kick it up a notch, but I have to say, I like it as is.  The flavors are really nice.
Great dish for summer when you don't want to use your oven and a great option for a potluck.  Let me know if you try it out!
About taco night:  I'm not a food blogger, but I stayed at a Holiday Inn Express once.  I've been sharing taco recipes on the blog each Tuesday…I have no idea why I started that up, other than that I do like me some tacos, so let me know if you have a good recipe!  And check out the rest of Ripped Jeans & Bifocals!  It's fabulous! 
(Visited 52 times, 33 visits today)