This shop has been compensated by Collective Bias, Inc. and its advertiser. All opinions are mine alone. #EggoStarWarsPancakes #CollectiveBias
My current situation: making a list of things I'm going to do during Christmas break that will keep my kids entertained.
See also things that will keep me from losing my ever-loving mind. I work from home and the idea of my kids being home with me for almost three weeks is making me twitchy. I'm in an 8:30 – 3:00 grove with blogging, freelance writing assignments, consulting, volunteer work, and running my household. Having two kids home throws everything off, and, while I do try to dial back during the holidays, I can't take three weeks off.
This year, I'm trying to get organized early and make a plan for things to do that will make winter break go smoothly for all of us. I want to have a good time with them and balance having a little bit of structure with some activities that are good for us, so I made this list of fun things for us to do during winter break.
How to Survive Winter Break with Kids
Special Star Wars Breakfast
We are a hugely nerdy Star Wars family and something simple like Pancakes and Sausage Gravy with Eggo Pancakes seriously makes my kids' morning. Doesn't this look good? We used the Kellogg's® Eggo® Star Wars Galaxy Adventure™ Buttermilk Pancakes and they are so fun!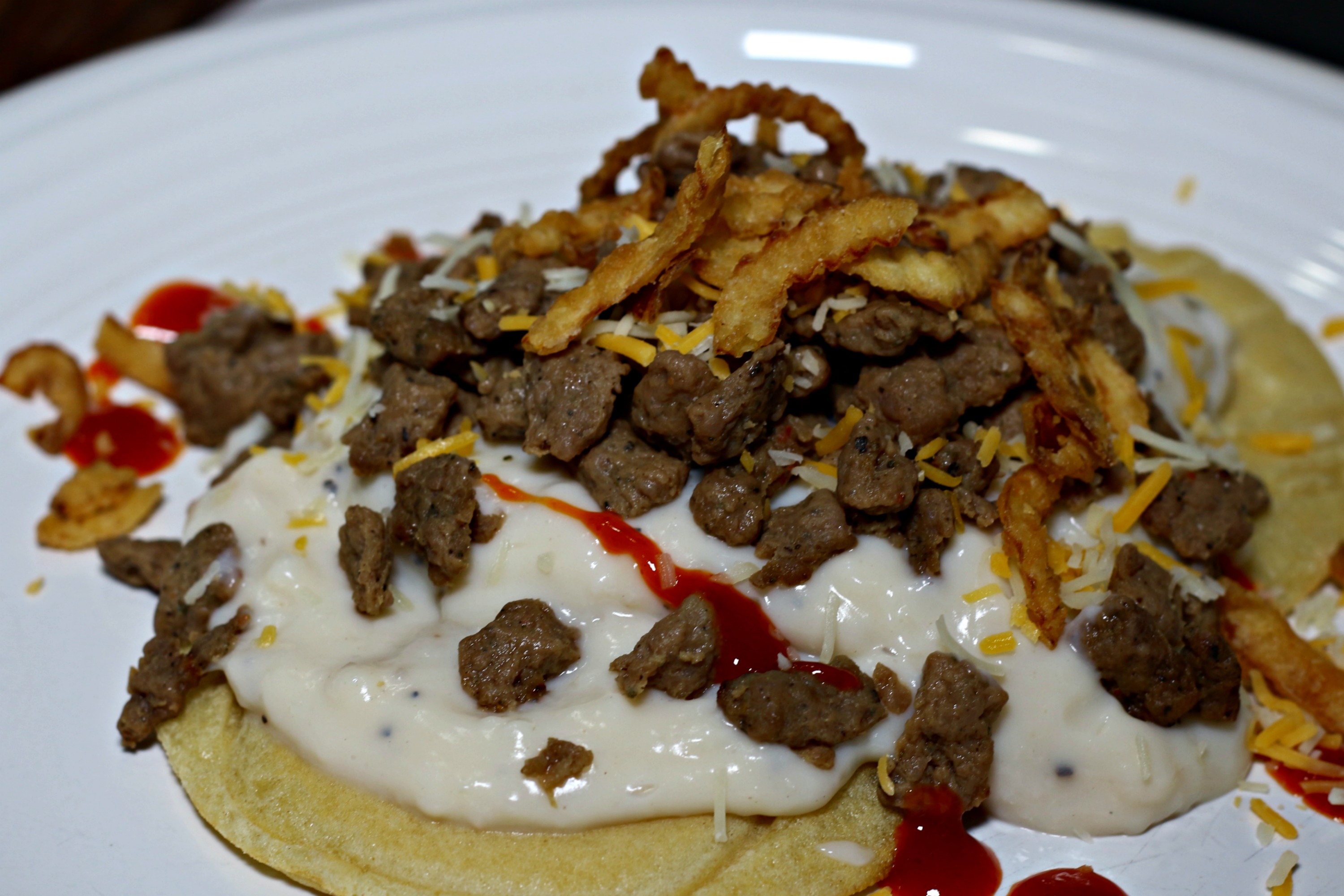 We love Eggo products and enjoy them once a week or so. They are a treat for my kids and they are a perfect, easy solution for when my kids need to eat a good, hot breakfast and I'm in a hurry. You can't beat the ease of frozen pancakes. They're very handy for busy, weekday mornings.

Also, here's some delicious news: Eggo waffles and pancakes now have no artificial flavors and all colors are from natural sources. Not only are these easy and convenient, I can feel good about serving them to my family.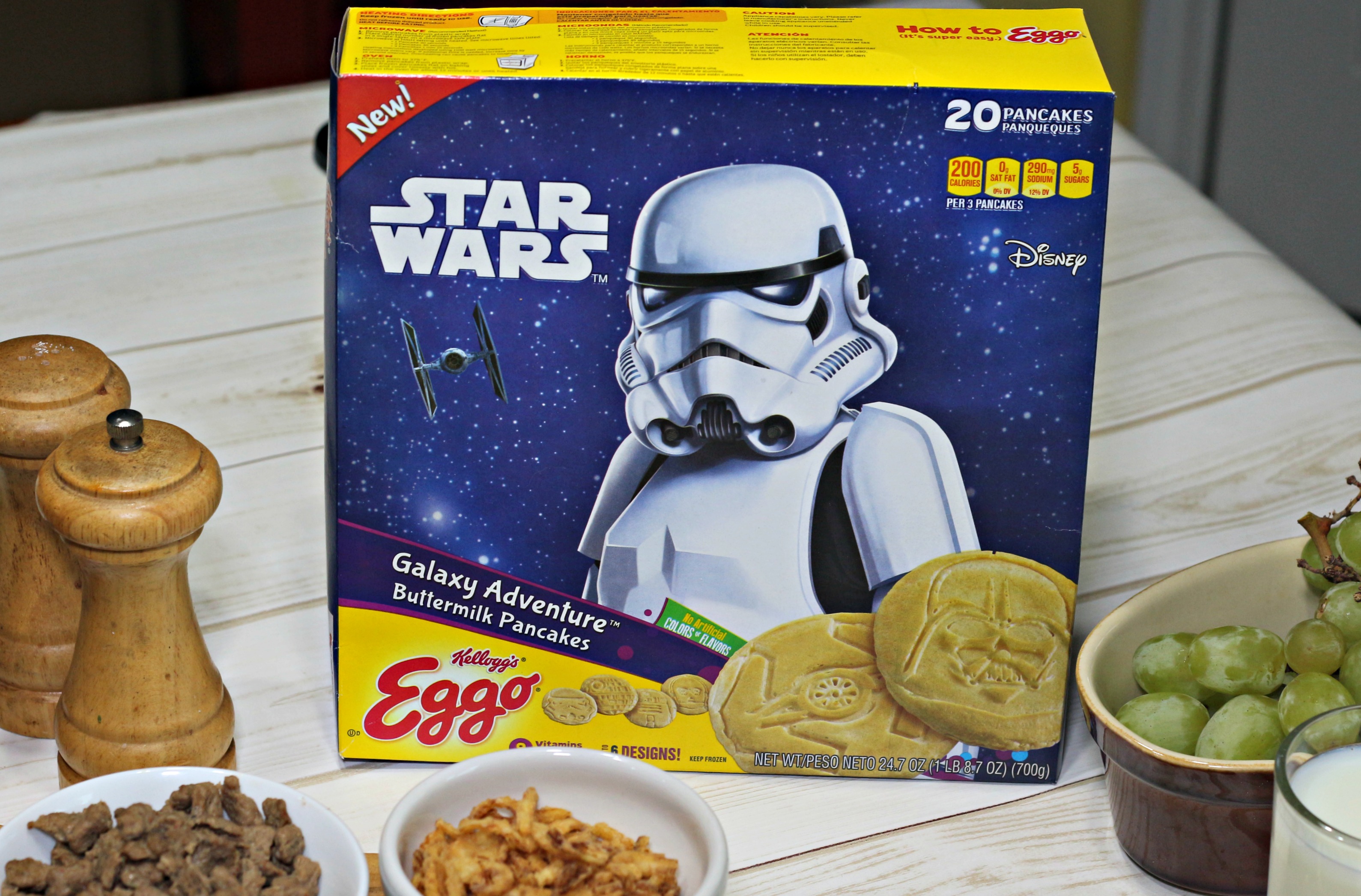 We are so excited for the upcoming release of The Last Jedi. My seven-year-old son Kyle keeps asking me how many days until December 15th. I can't make the release of The Last Jedi get here any faster but I can make a fun, Star Wars inspired breakfast, thanks to Kellogg's® Eggo® Star Wars Galaxy Adventure™ Buttermilk Pancakes. A galaxy far, far away is now at your breakfast table with Kellogg's® Eggo® Star Wars Galaxy Adventure™ Buttermilk Pancakes, featuring six different Star Wars designs! These are so fun!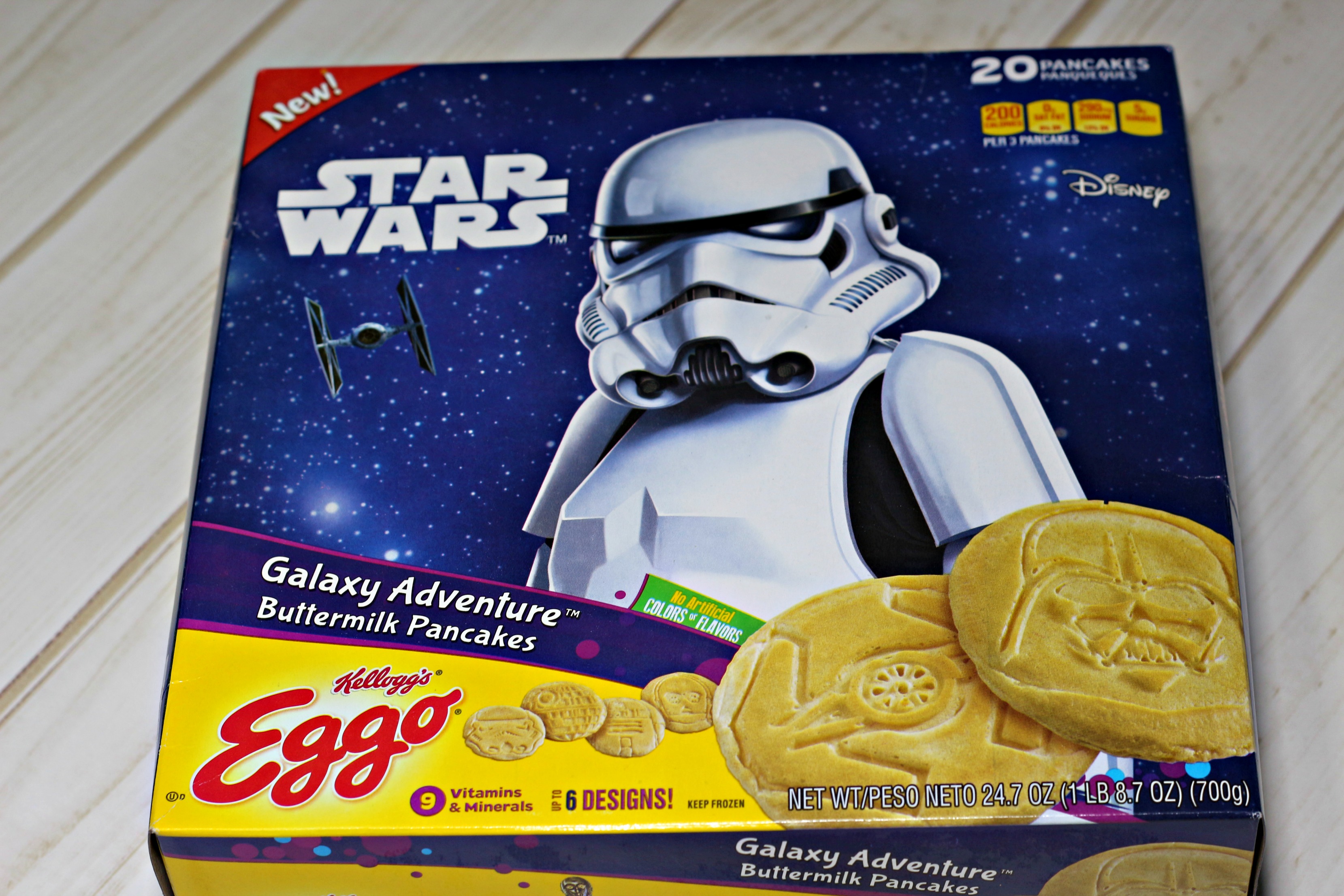 My family loves these loaded pancakes and sausage gravy and I love them because they're easy and quick.
What you need to make these:
Kellogg's® Eggo® Star Wars Galaxy Adventure™ Buttermilk Pancakes
Sausage crumbles (we use the pre-cooked ones in that you buy in the refrigerator/freezer section
White gravy…either made from a mix or from my own homemade recipe*
Shredded cheddar cheese
French fried onions and hot sauce (optional)
One of my kids has a pretty "plain foods palate" so we leave off the french fried onions and hot sauce, but personally, this is my favorite part. It's savory and zippy and just all kinds of good.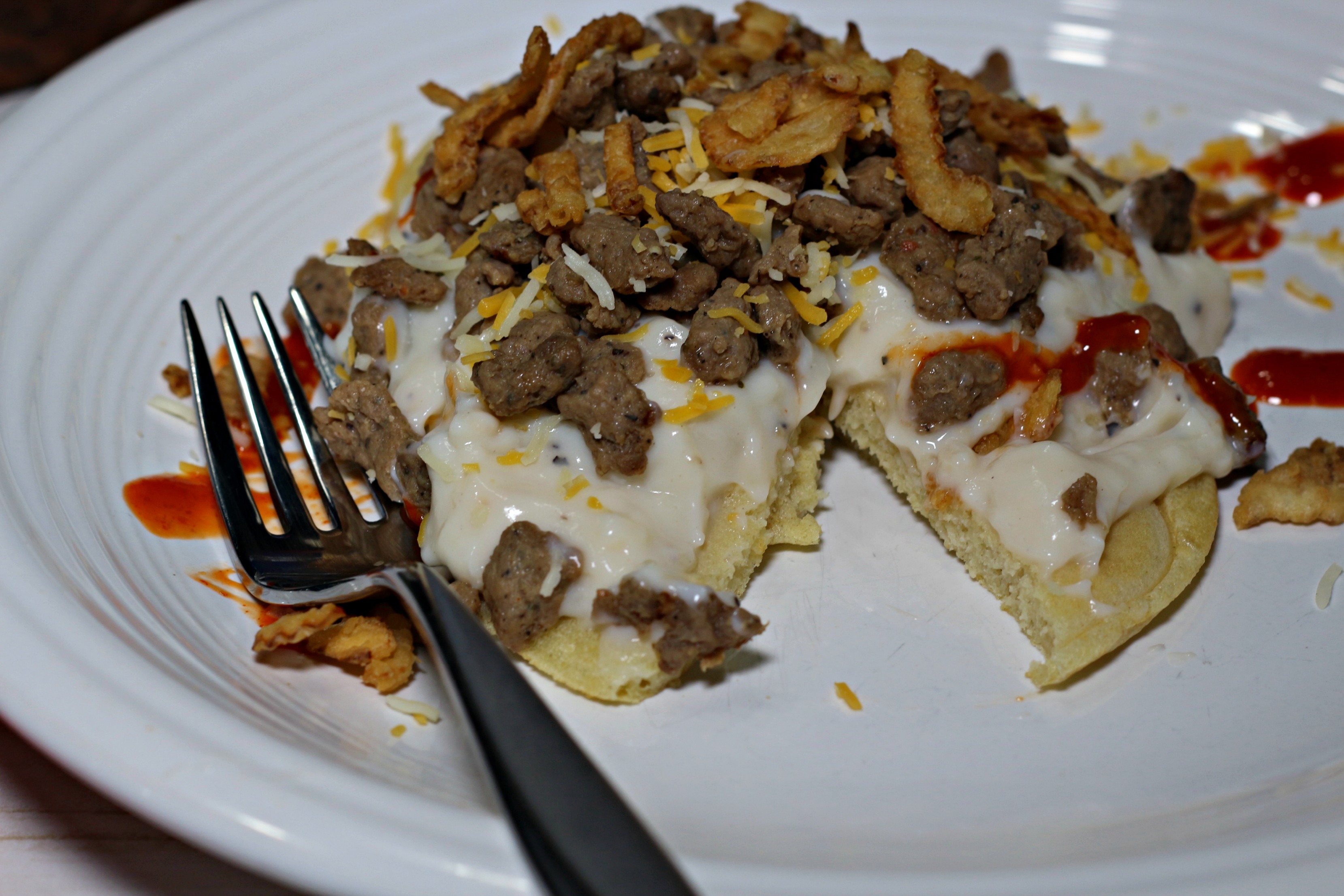 Does pancakes with all this stuff sound weird? It shouldn't! We eat buttermilk biscuits with sausage gravy, right? It's just as good (maybe even better!) on top of pancakes. It's a special and fun breakfast that you can throw together in a hurry, thanks to the ease of Eggo Pancakes. Your kids will L-O-V-E it.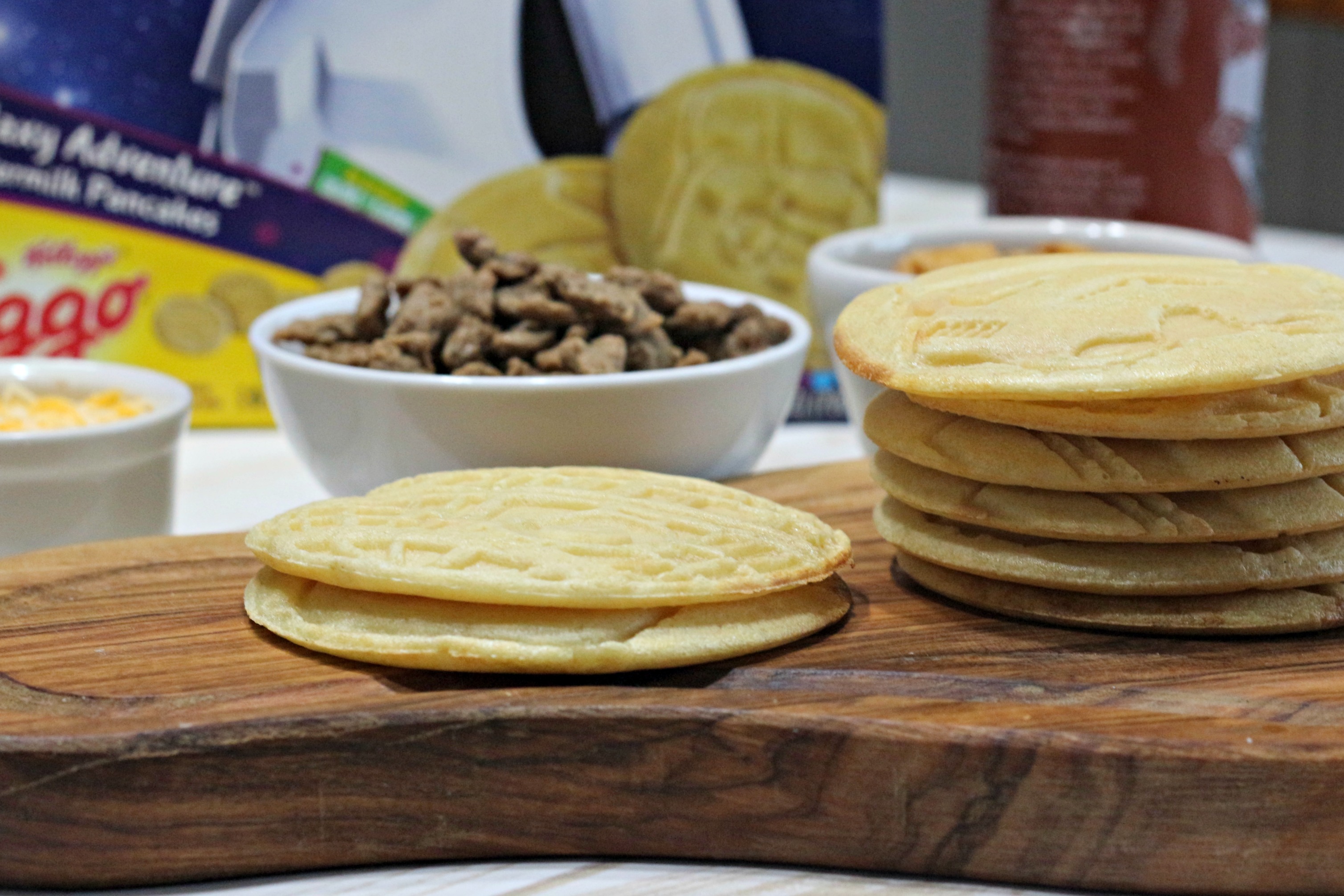 We love our Eggo Pancakes with sausage gravy toppings but these are fun all by themselves, too. Also, they smell absolutely yummy when they're being toasted. Very buttermilk-y.
You can take your breakfast up a notch by setting these cute printable place cards out for your kids. These are super easy to print out and set by your kids' plates in the morning and it just adds to the general air of festive breakfast.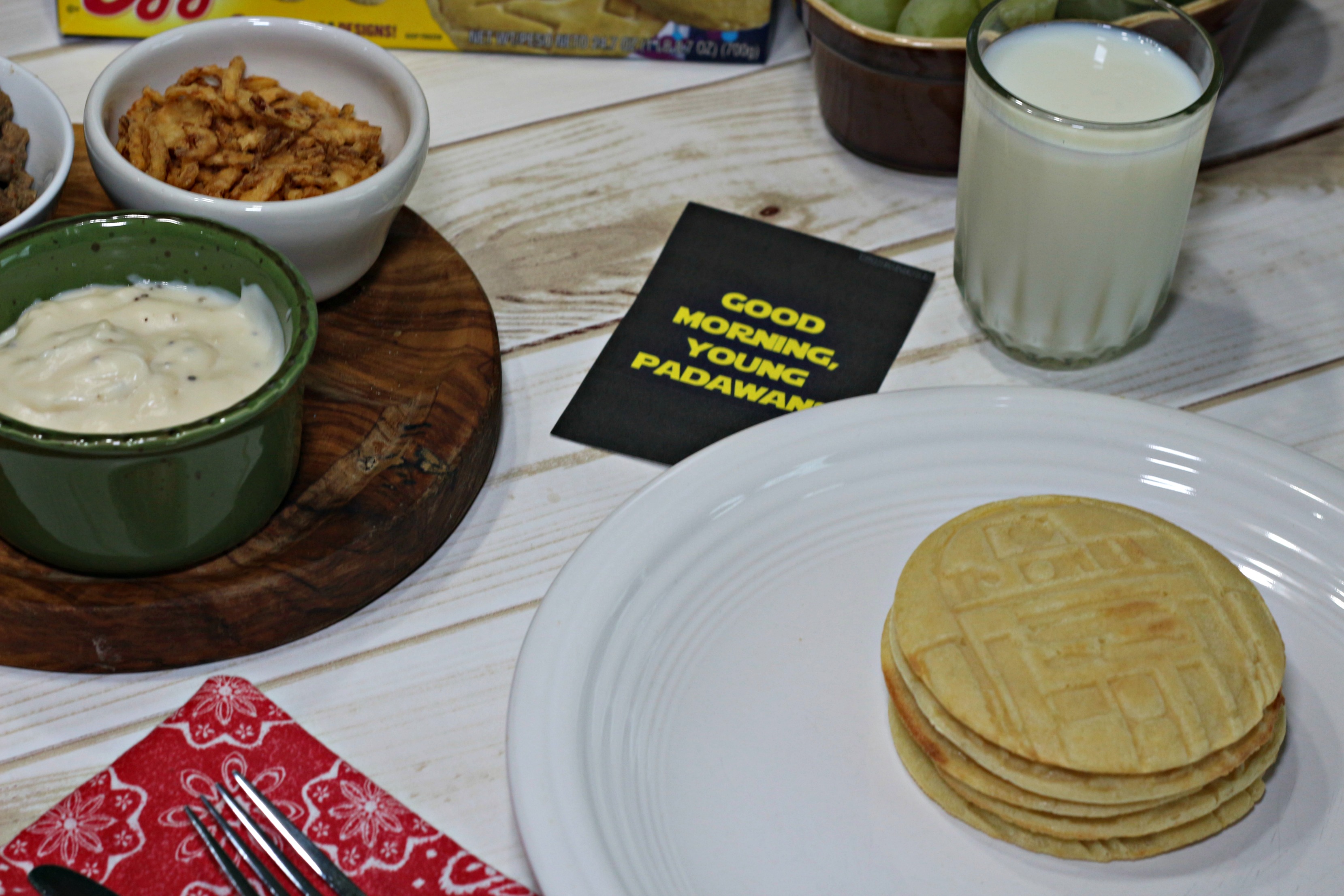 See also, it allows mama a few extra minutes to zone out on the couch while staring blankly into her cup of java.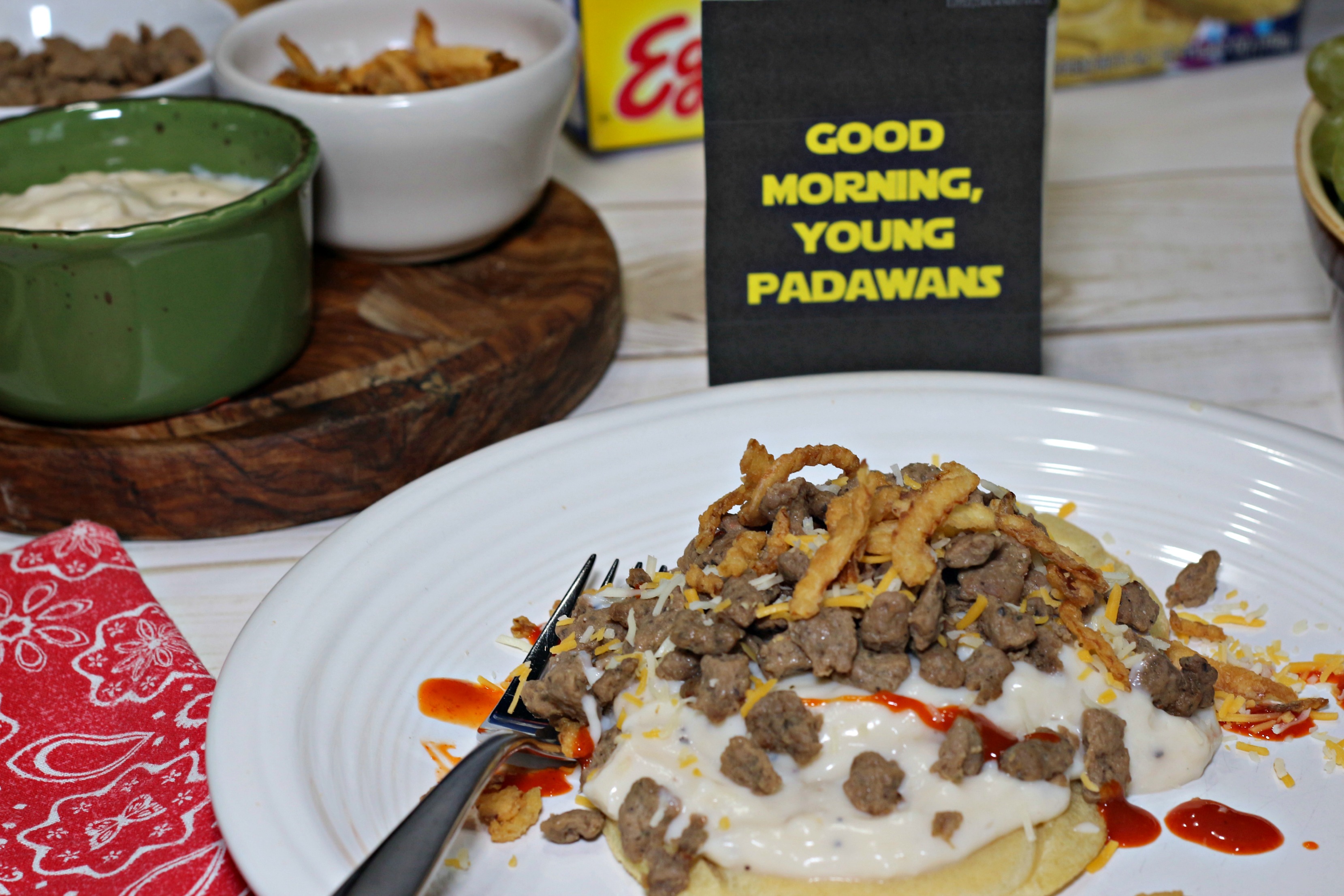 You're welcome.
Good Morning Young Padawans Printable
Seriously, these printables are super cute. They make breakfast special and it's a really simple touch. Just click and print. Easy peasy.
For more fun ideas check out the Eggo® Social Hub.
Easy Crafts
I love making stuff with my kids.
Okay, not really. Ha! Here are some links to some super stress-free things to make with your kids over winter break. These are all easy and inexpensive. Our favorite is the Popsicle Stick Tree ornaments. No muss, no fuss, and minimal cost. Try it! These also make fun embellishments for wrapped gifts…or, if you're me, tied to the handle of a gift bag.
Pajama Day
I call this mama gets to work as normal day. Seriously, the holidays kill my normal boss mom mojo. Telling my kids "It's pajama day!" alleviates pressure to find them clothes that match (or clothes to wear, period.)
It also gives me permission to call microwave popcorn lunch and to let them watch Christmas movies all day long.
Community Service
This can be something as simple as helping a neighbor or picking out things to donate to a food bank or an angel tree. I know I sound like a little bit of a slacker mom (and sometimes I am) but instilling that sense of community service into my kids is important to me.
Hometown Bucket List
Do you have must-do holidays seaon-y things you want to hit in your own hometown? We have a couple of favorite places we like to go to see Christmas lights each year. There are also lots of little events that pop up, like the parade in our little town and our local museum's open house.
Think about what you want to do (and what would tank your holidays if you didn't do) and make a list. This time of year just FLIES.
It is vacation, after all, so I want my kids to have fun. We love our fun breakfasts and our lazy pajama days. And yeah…I love anything that gives me a little more up close and personal time with my coffee…let's just be really real, here.
I'm very appreciative of the opportunity to work at home and be home with my kids. I know it seems grinchy to complain that they're in my way during the holiday season…but they kind of are.
I'm hoping that planning our schedule and injecting a little bit of structure into our holidays might just be the ticket to enjoying ourselves versus just "getting through it all."
*Here's the gravy recipe for my Star Wars Breakfast – super easy to make! And don't forget the iBotta offer! Kellogg's® Eggo® Star Wars Galaxy Adventure™ Buttermilk Pancakes are available at Walmart.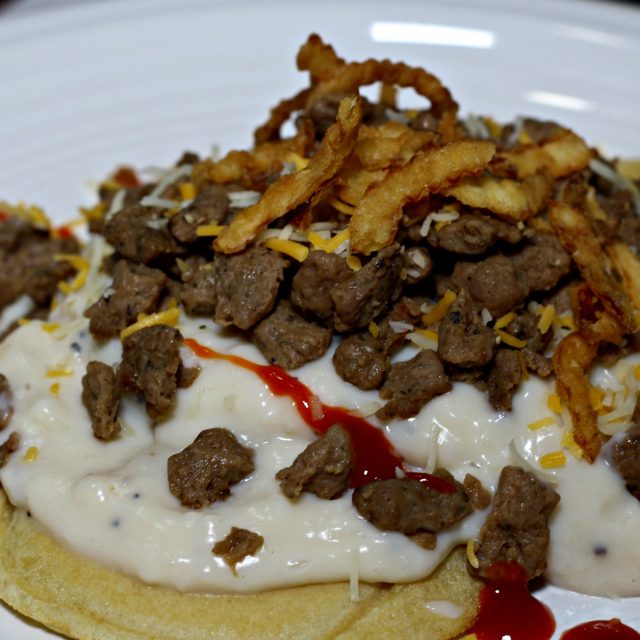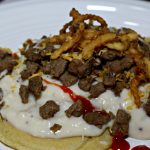 Easy White Gravy
Ingredients
1

stick

butter

(You can use bacon grease, margarine, or oil as well)

3/4

cup

all-purpose flour

4

cups

milk

salt and black pepper, to taste
Instructions
Heat buttter in large skillet over medium heat

Whisk in flour, salt, and pepper

Cook and stir over medium heat until browned (about 8-10 minutes)

Stir in milk gradually so that no lumps form. Continue cooking over medium heast and stirring until thickened. Serve immediately. You can thin with a little more milk if the gravy is too thick.