Holiday bucket lists have become a thing. I'm undecided how I feel about making one. I'm not really a list-maker. People who make lists are organized, right? I'm not organized. If I made a holiday bucket list, I'd probably forget where I put it and find it in April.
I'm a kind of a "fly by the seat of your pants wait till the last minute" kind of girl. A list might keep me on track to make sure I don't have that "Oh crap" moment on December 23rd when I realize we haven't ticked all the "Christmas fun" boxes.
Or, it might make me feel guilty for not doing all the things. If I took the time to make a 10 item Christmas bucket list, how will I feel if December 31st rolls around and I've completed two items? Indifferent? Lame?
I gave making a Christmas bucket list some thought and I came up with some positives and negatives.
Positives:
Making a bucket list helps you stay organized
If holiday activities overwhelm you or stress you out, writing out a list of must-do's and want-to-do's might be for you. As someone who always feels two steps behind everything that's going on, a list of things not to be missed might help you stay on track.
Making a bucket lists will help give your family input
Ideally, if you make a list of fun family stuff to do over Christmas you'll ask your family what they're interested in doing, right? One person's idea of a good time is a Christmas movie marathon in your Christmas jammies and one person's idea of a good time is an actual Christmas marathon that involves running absurdly long distances. Getting everyone's input on activities ensures balance, variation and (relative) harmony.
Negatives:
A bucket list might make you feel like a failure
If I make a holiday bucket list an only tick off half the items on it, have I failed? Probably not? It probably means life just got in the way or the holiday crazy was a little more crazy than I bargained for. Still, most people equate list making with goal setting. If you fail to meet your goals, isn't that a bad thing?
A bucket list will reduce opportunities to be spontaneous
If I plan our holidays to the nth degree, is my family going to miss out? Eh…I doubt it. If you have every nanosecond from December 1st through December 24th mapped out in detail, you might wanna loosen the reigns a little bit. List or not.
I'm staring straight at the holiday season and I'm still undecided on whether or not a bucket list should be a thing for our family.
Caroling? Cocoa? Christmas lights? Making cookies? Holiday 5K?
Those all sound good. I just don't know that I need a list to do them. If you're a Christmas bucket list-making kind of person, jingle on.
I think I'm good just as I am.
Do you have a holiday bucket list? Tell me about it in the comments!
This post has been a "12 days of Christmas" post.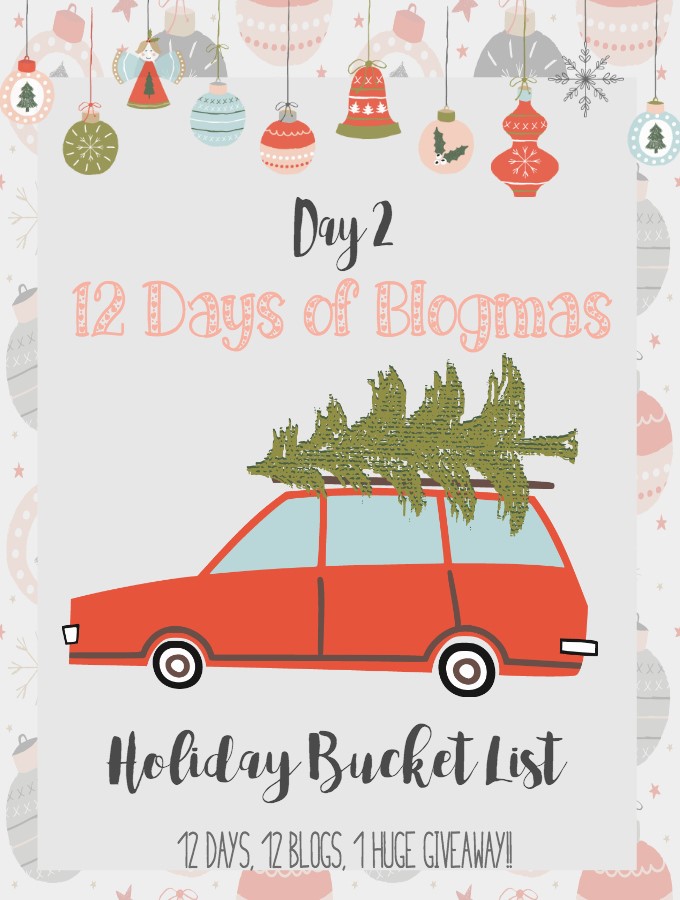 Check out the 11 other participating bloggers and if you don't know about our give-a-way, you can read about it HERE (scroll all the way to the bottom to see the prizes!)
See more Holiday Bucket Lists from the '12 Days of Blogmas' Bloggers!
Let's be friends!

A vote on Top Mommy Blogs helps my site a ton. It's super easy & one click helps me to be able to continue to bring you great content. Totally non-spammy…I promise!

(Visited 155 times, 155 visits today)