Have you heard about the diner owner who yelled at the kid for making too much noise?
My family and I like to go to brunch at places that serve fancy pancakes. And by places that serve fancy pancakes, I mean the kind that offers more than one variety of syrup. Fine, I mean IHOP.
We had an "incident" the last time we went to IHOP that involved one of my kids losing his crap while we were waiting for our fancy pancakes. It had something to do with his broken crayon not being broken the right way. He scowled. He pouted and shouted. That turned into crumpling the paper napkins and place mats (fancy place, ya know) and flinging them to the floor.  His head spun around and I thought about calling a priest to exorcise the demons that had taken over his little body but my husband took him outside instead.
I read something in the news this morning that reminded me of the Great Pancake Tantrum of June 2015.  Apparently throwing a fit in places that serve pancakes is all the rage this season because the owner of a diner in Maine caused quite the sensation on the Internets when she yelled at a tantrumming tot.
Apparently, the kid had been screaming for 40+ minutes in the small restaurant despite the diner owner's warnings that the family would have to leave if the kid didn't quiet down (although I think it's questionable that there were any such warnings.) The kid was probably just pissed because she wanted pancakes.  I totally get that…I get hangry, too, kid. If I could pull off a public tantrum because my pancakes weren't going into my pie hole fast enough, I would.
My initial reaction was "what kind of douchebag is this diner owner to yell at someone else's child," although prolonged kid crying makes me want to snap, too. I'm not sure I'd have kept my cool after prolonged wailing in a diner the size of a living room.
Read the full article on Buzzfeed
But what about the parents? Are they the real douchebags for not shushing their child? Sometimes kids cry for no reason, but usually there's something we can do to make it stop. I mean…what kind of parents don't lug around five juice boxes, a gallon Ziploc baggie of apple slices and three kinds of cereal? And what about the electronic entertainment?  For the love of all that is holy, what kind of parents take their kid out to eat without shoving an iPad in their face to keep things peaceful?  I'm only kind of kidding about all this, people but when your kid is emitting screams that can be heard from outer space, you do something:  feed them, play with them, sing to them.  Do the Macarena…something.
I'm not trying to self-nominate for Mother of the Year, but I let our little angel throw a fit in IHOP for exactly 37 seconds before telling my husband to take him out to the car until he could behave himself. My husband did get a few dirty looks as he and Damien made the walk of shame out of the restaurant because…you know…we were actually disciplining our misbehaving child…but most of the other diners wore expressions of relief when they realized that the kid with the glass-shattering screams was leaving the building.
It's not okay to let your kids spiral out of control in a public space where others are trying to enjoy themselves…and yes, I realize it was a diner and not a five-star gourmet bistro, but that's not the point. Unless a restaurant has a ball pit and a giant animated mouse band, screaming kids are uncool.
The barking at the kid to be quiet does not offend me. It worked and I'm sure there were a lot of people that could appreciate that it made the noise stop. What's most bothersome to me is the way our darling diner owner conducted herself on the Marcy's Diner's Facebook page in response to the parent's complaints about the way they were treated. She went back and deleted such charming comments as:
"…yes, I am fu*king crazy & you are lucky I didn't go fu*king nuts because being physical isn't something I cower from…"
Now I have visions of Darla stalking unruly customers in the parking lot of Marcy's Diner with a meat cleaver…
Oh, Darla.  Of course someone screen captured your rant before you had the belated attack of good sense to take it down.  Suddenly, the parents aren't looking like such douchebags after all. Keep in mind this was in response to a Facebook comment from the mom that could be labeled as adversarial…but not much more than that. On a business page. After ripping her customers for ordering too many pancakes for her kid. Is too many pancakes even a thing?
The owner is being lauded on the Internets today for putting her foot down and putting a stop to the tantrumming child…who actually did pipe down after Darla D. told her to. It looks like business will be booming down at Marcy's because who doesn't like a plate of fancy pancakes served up in blissful silence in a place where children know their place?
I'm the first person to give the stink face to someone who turns a blind eye to their kid's disruptive behavior in public and the first mom to cart her kids out of any public place if they're acting like little assholes.
It sucks to have your date night dinner or your PG13 movie spoiled because someone else doesn't control their kid. It's pretty easy to tell whose kids get away with murder at home by observing the parent's threshold for bullshittery…I mean, if the kids are running around the restaurant ducking through the legs of the wait staff, I have to wonder what kind of train wreck they've got going on at home.
My initial reaction to Diner Darla calling a the kid out for disturbing the peace in her establishment was "good for her…it's about time someone demanded minimum behavior standards for kids in public," but the more layers I peeled back, the further I step away from Team Marcy's Diner.
Some would say that Darla had the right to call the child out for disturbing the peace in her establishment. I get it…watching a parent make no attempt to quiet their howling small human for an extended period of time would make me cray cray, too.  There seems to be conflicting stories on whether Darla with her mad people skills actually gave the family any kind of warning. I guess we'll never know.
I wonder what kind of ripple effect this story will have. Will we see a trend in more polite behavior from kids in public or will the pendulum swing too far the other way?  Will restauranteurs everywhere see yelling at a kid who's gotten a little too noisy in their establishment as a good for business tactic?
I think I'll stick with IHOP. They make good fancy pancakes and I'm pretty certain I wouldn't see any f-bomb laden word vomit on social media in response to any complaint I made.
By the way, my little pancake eater spent ten minutes of quality time in the back of our minivan with my husband getting lectured on appropriate restaurant behavior. He chilled out enough and came back inside to enjoy fancy pancakes with the rest of us.
Sometimes, it ends well, people.
If you have a "weird news" or "people behaving badly" board on Pinterest, here you go: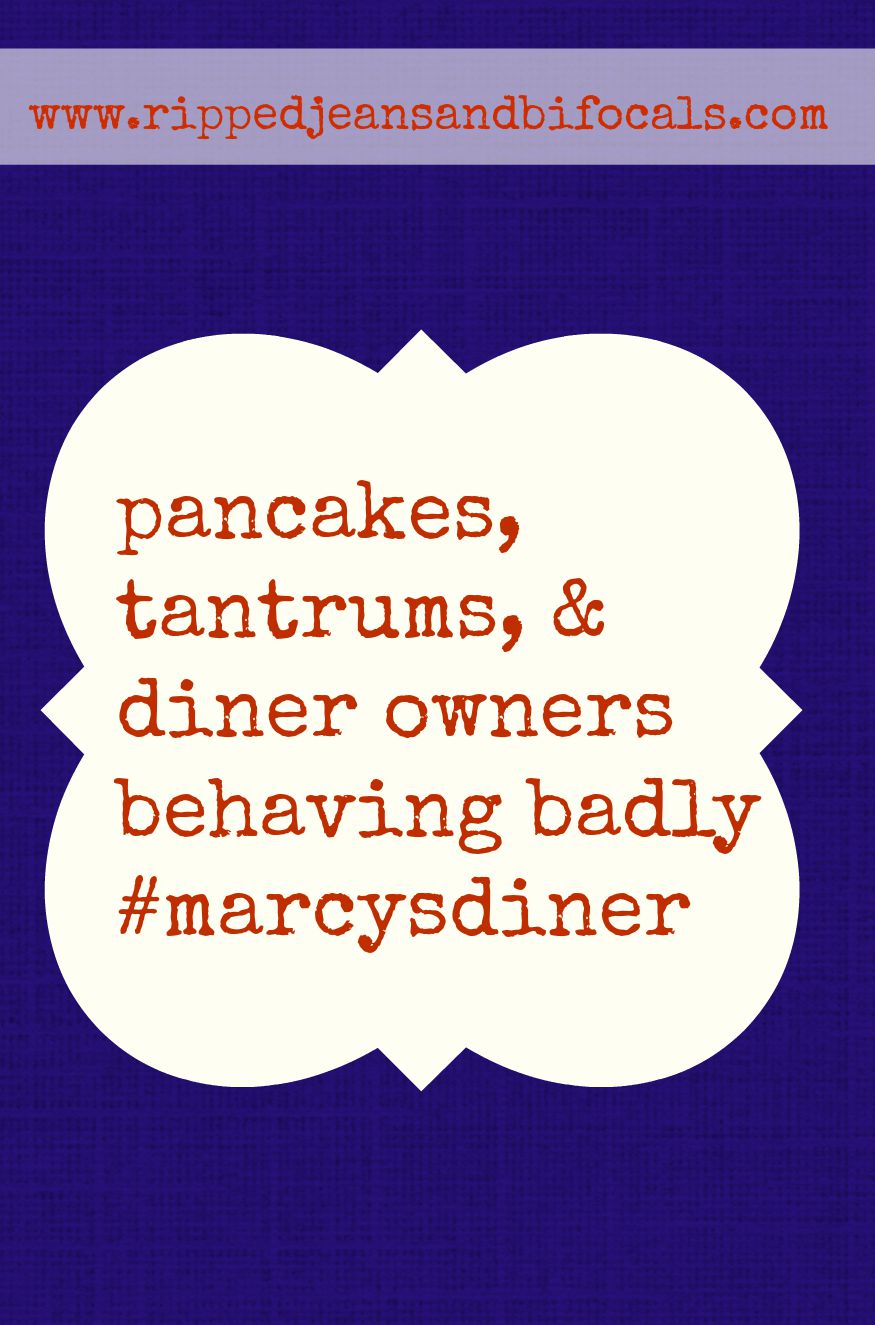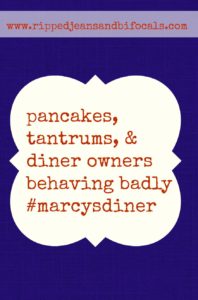 Please make sure you're following me on Facebook!
Click the button below to vote for me once daily! Thanks for reading!