On Tuesdays we eat Crawfish: Our night out at Willie's Grill and Icehouse
Do you have picky kids? Out of three kids, I have two fairly adventurous eaters and one who exists on a diet of about five different foods. I am embellishing a little bit but it's a challenge to get him to try something new and he's so finicky that sometimes, I'm resigned to just letting him eat apple slices, macaroni and cheese, and peanut butter toast. Well, he wowed me this week by demolishing a plate of crawfish from Willie's Grill and Icehouse here in San Antonio. I am so excited to tell you about our night out at Willie's Grill in Icehouse because it's our new favorite place. We're also giving you an exclusive $10 off offer if you want to eat at Willie's PLUS the chance to win a $25 gift card.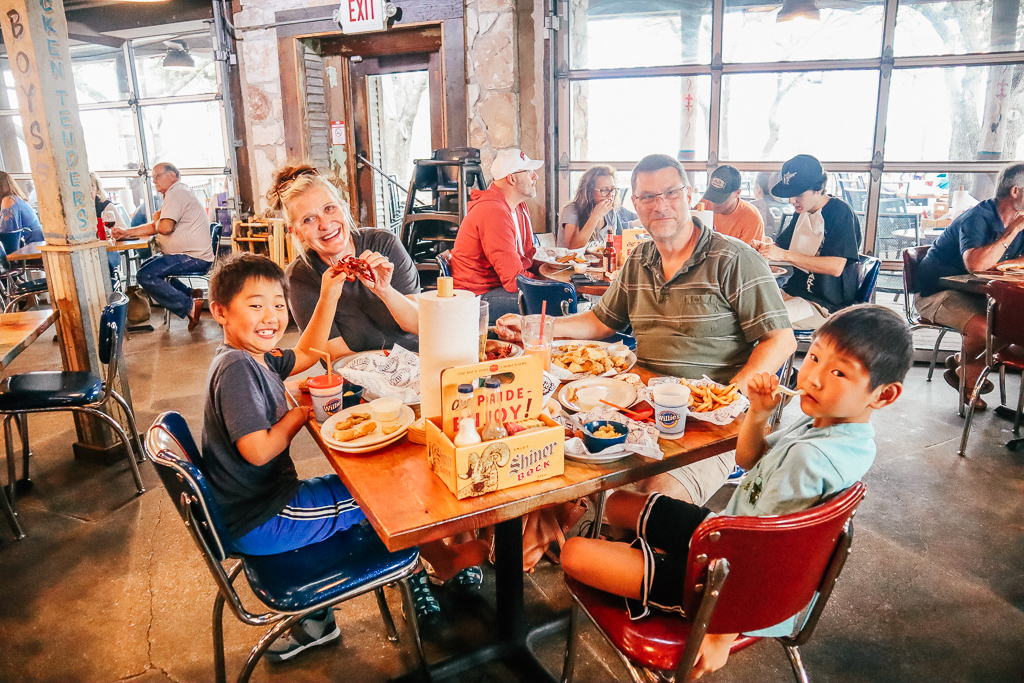 This is a sponsored post written in partnership with Willie's Grill and Icehouse. All opinions are mine. #GetCrayAtWillies
Willie's Grill and Icehouse is a fun family restaurant with locations around Texas. Most of the Willie's Grill and Icehouse locations are located in and near San Antonio and Houston. While Willie's Grill and Icehouse is the crawfish capital of Texas, they also have a variety of other menu items. But, definitely try the crawfish. I honestly thought it wasn't going to be my thing and I ended up loving it, as did my husband and one of my kids. I really think the kid who didn't try the crawfish at Willie's Grill and Icehouse would have liked it if he'd have just tried it and I think it was the fact that my other child said it was spicy was the big detractor. The crawfish boil I ordered was a tiny bit spicy but unless you're super sensitive to spices and flavoring, you'll probably be fine.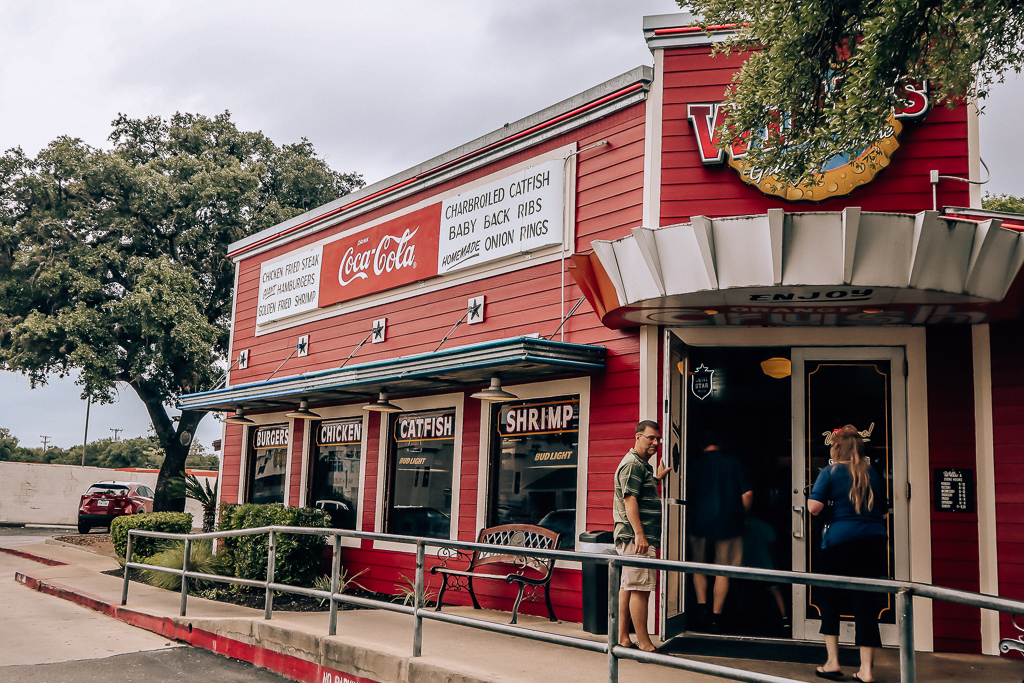 What it's like to eat at Willie's Grill and Icehouse
Willie's is most definitely a casual place. There's both inside and outside seating and the location in San Antonio where we ate (Hill Country Village) had a fun sand pit for kids on the patio. We opted to eat inside because it looked like rain but the weather held. My kids played outside while we waited for our food to be brought to our table and my husband and I got to catch up a little bit.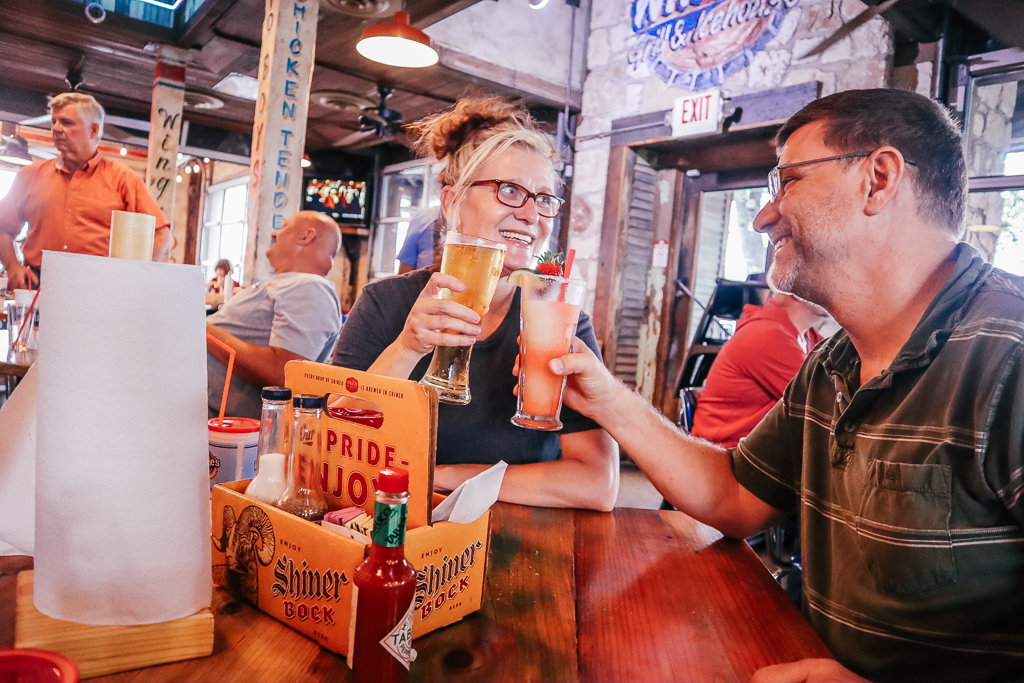 Although Willie's Grill and Icehouse has table service, there is walk-up ordering. The first thing you'll see when you walk in is a large trough of beer, so if you're a beer drinker, you can build your bucket before you go up to order. See also you're pretty much going to be in beer heaven. There are also frozen margaritas, as well as other frozen cocktails, draft beer, wine, and of course, non-alcoholic drinks available at the counter. Once you order, you're given a ticket and you're invited to sit wherever you like – there is no hostess and there's no holding seats before you get in line to order.
I recommend having a peek at the menu before you go, just so you don't slow up the line.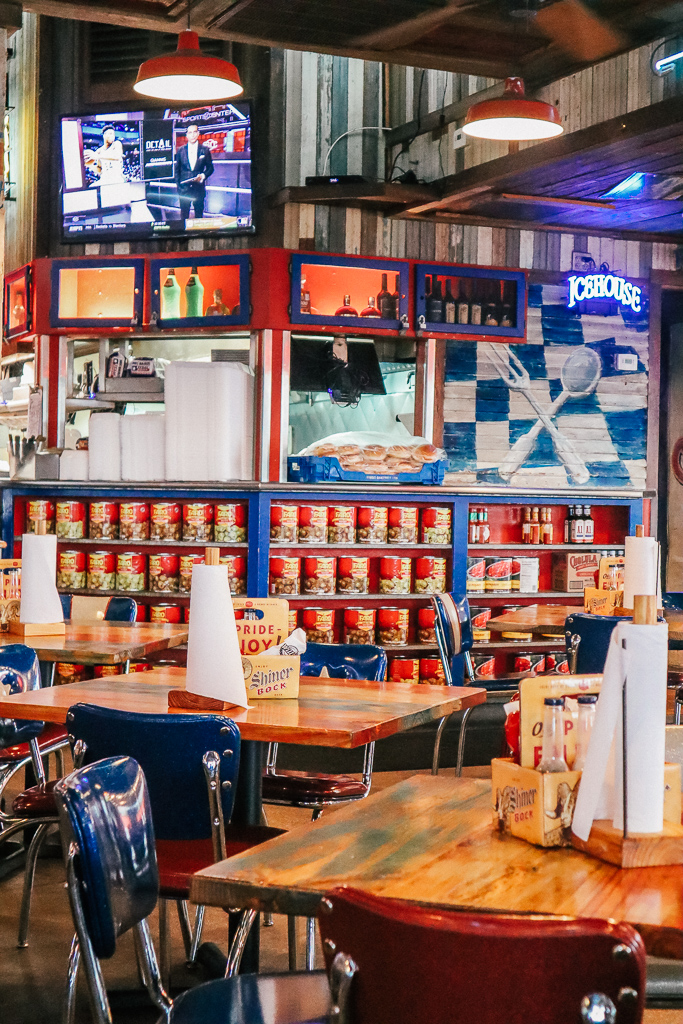 Once you're seated, your server will come over and introduce themselves and go over your order with you. We ordered boiled crawfish (I'll break that down in a minute), a Bacon Willie with Cheese (that's a hamburger in case you didn't figure that one out) and two items off the kids' menu: a hot dog with macaroni and cheese and corn dog nuggets with macaroni and cheese.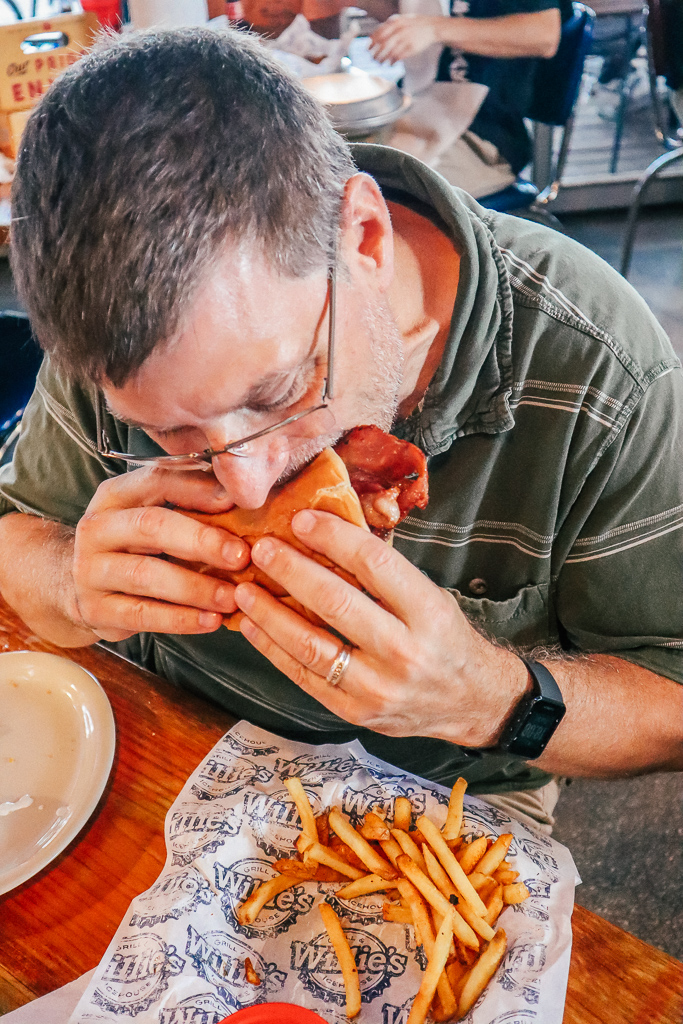 We also splurged on the appetizer sampler platter, which had fried pickles (the fried pickles were recommended but I am not a pickle person), fried jalapeno slices, onion rings, fried mushrooms, fried mozzarella sticks, and hand-breaded onion rings. I am most definitely a fried jalapeno slice person and let me tell you – that is one serious appetizer tray.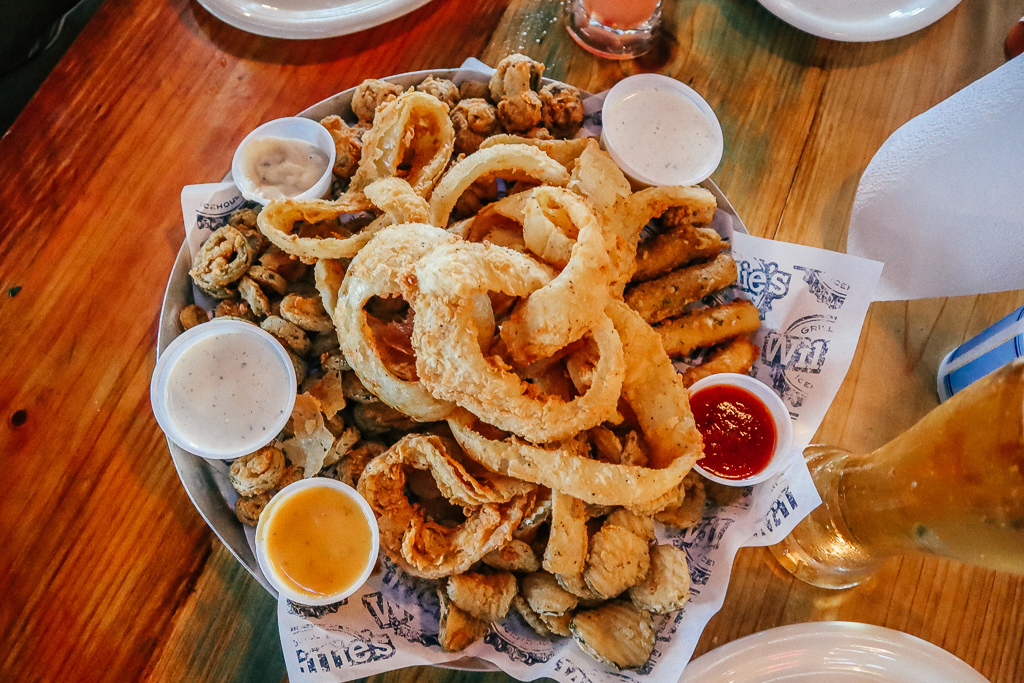 We found the service to be efficient and friendly. The restaurant was surprisingly busy for a Tuesday night but everything ran really smoothly. We would have loved to have tried the patio seating but the weather here has been really temperamental lately. April showers and all, I guess, but we usually don't get quite this many April showers.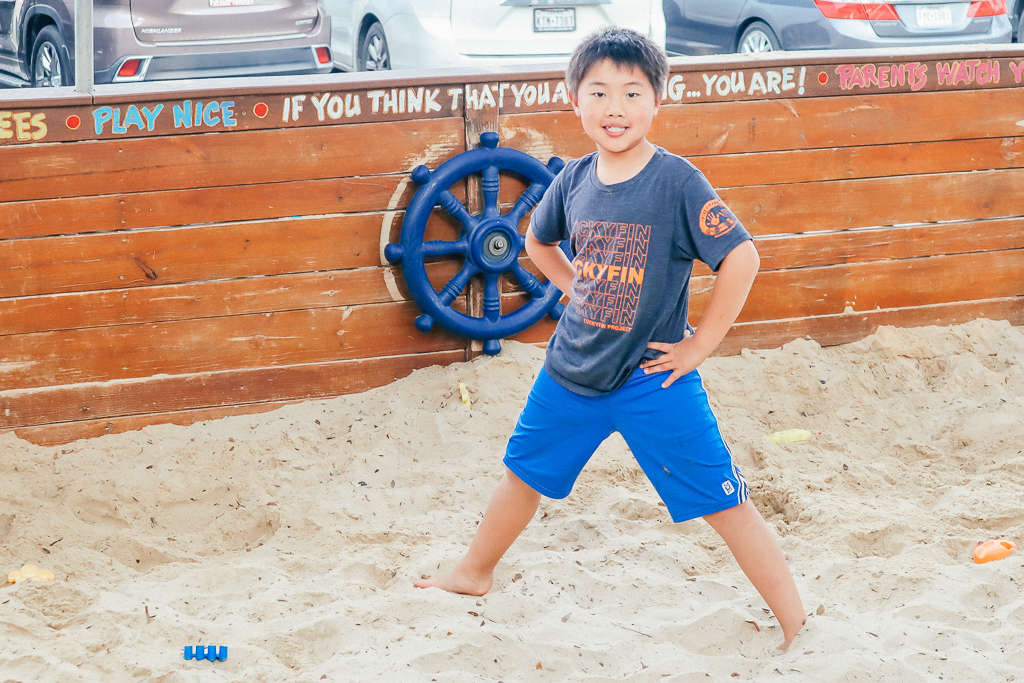 Relaxing with a beer or a frozen cocktail while your kids play in the sandbox is a great way to unwind and enjoy the meal. We picked a table where we could see our kids out the window, so we had the best of indoors and outdoors.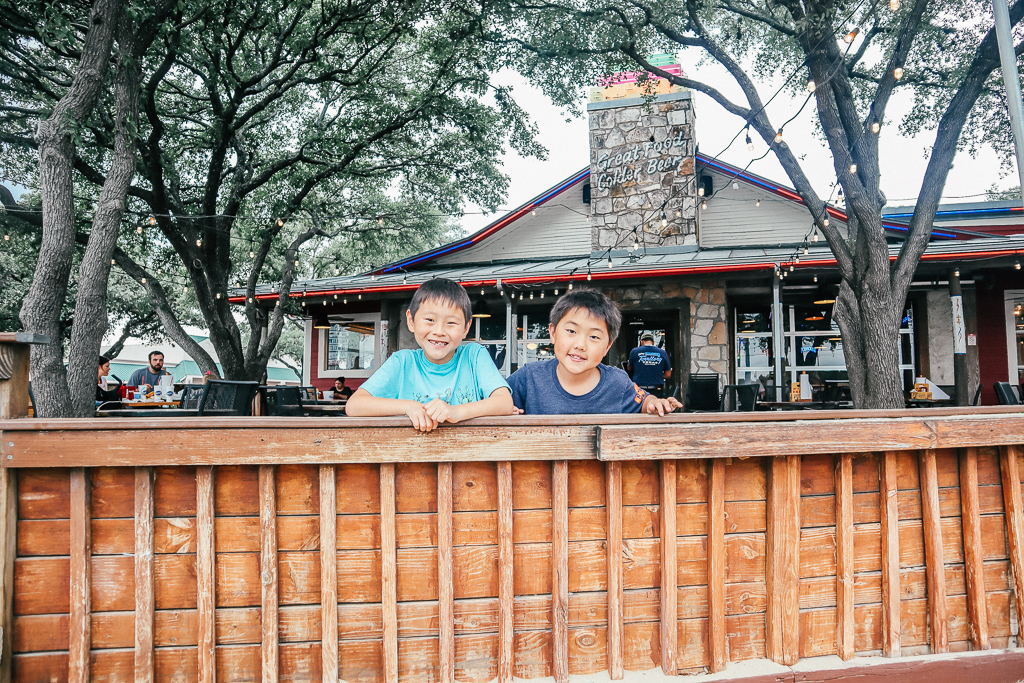 You pay the server when you're ready to leave and then making plans to come back again, probably.
The menu at Willie's Grill and Icehouse
The food and Willie's is simple, hearty, and a perfect blend of Texas and cajun. In addition to crawfish boils, crawfish etouffee, and po-boys, there's chicken, a great selection of burgers and sandwiches, seafood, tacos, ribs, chicken fried steak…you know, all the food groups.
They have some great salads as well, if you want something lighter as well as a full compliment of yummy appetizers and desserts. They have a peach cobbler that sounds "lick the bowl" worthy…so maybe next time. Peach cobbler is like my favorite dessert EVER and I haven't had it in a long time.
The menu aligns with the vibe of the place. Hearty. Simple. Not fussy. Just really good and fun.
Ordering boiled crawfish at Willie's Grill and Icehouse
The current market price of boiled crawfish at Willie's Grill and Icehouse is $7.99 per pound. Price can vary based on season and availability. All the crawfish served by Willie's Grill and Icehouse is brought in from Louisiana every day. You can order add on's to your boil, such as corn, potatoes, sausage, mushrooms and onions for a nominal extra fee. The boil is spicy but not overwhelmingly so. The potatoes and corn definitely seem like they soak up more of the spices than the crawfish, sausage, mushrooms and onions.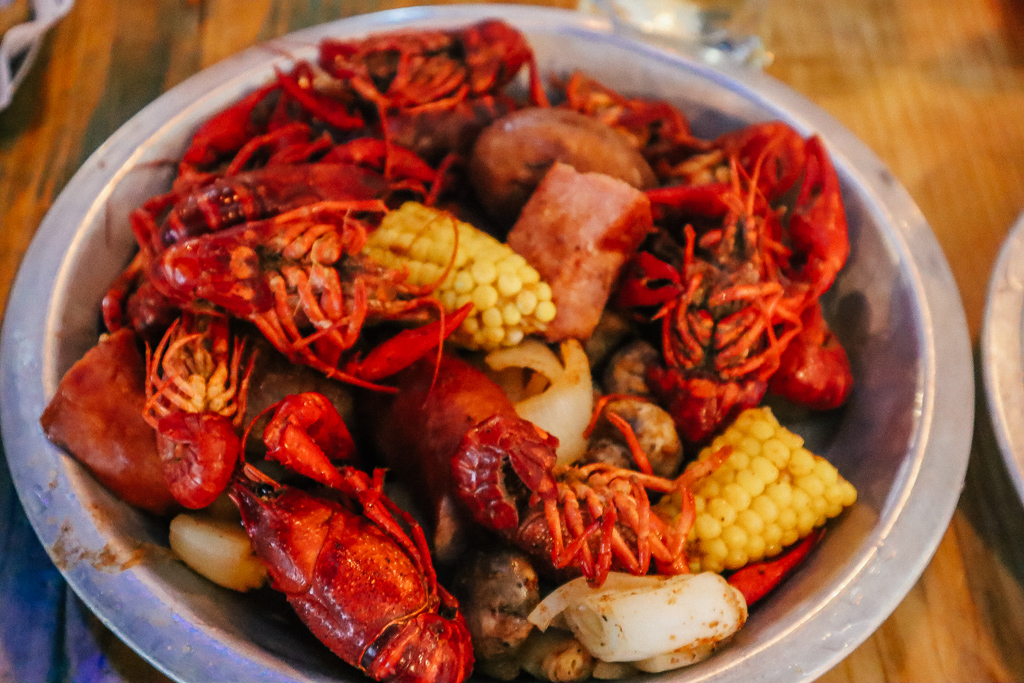 I had to ask our server "Um…how do I do this?" My husband, who thinks he is the smart one, looked up a YouTube video on how to eat crawfish before we left. Some people just have to be over-achievers. You basically twist and pull the head off – if it doesn't come off easily, supposedly your crawfish isn't thoroughly cooked. So says my crawfish eating expert husband. Mine all came off easily.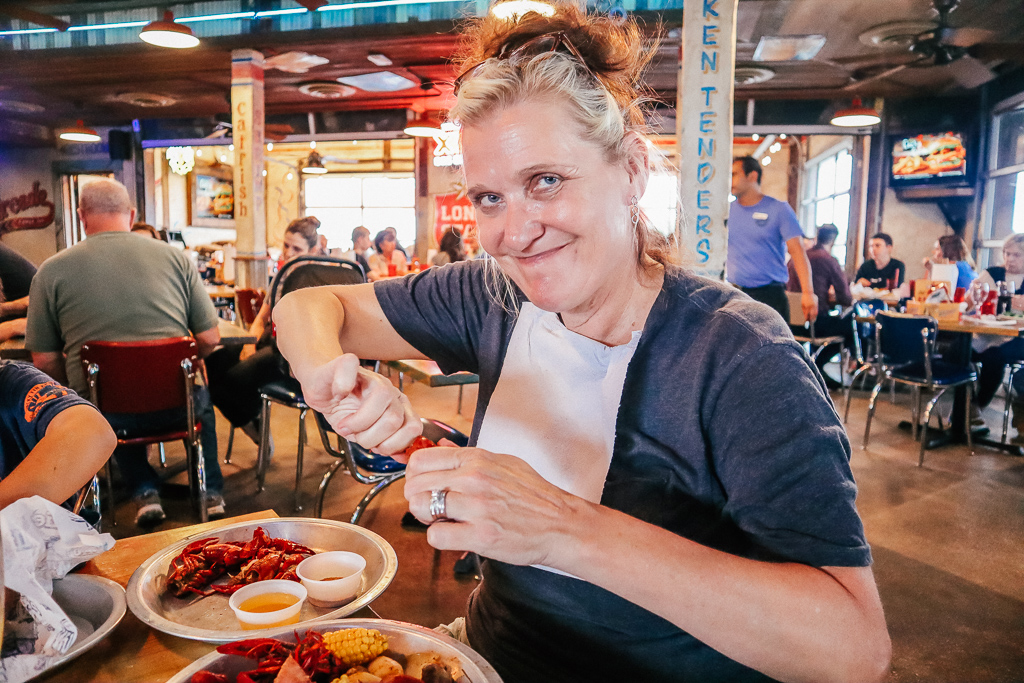 Most of the meat is in the tail – it looks like a little tiny lobster tail – and the claws. You can eat the rest of whatever is inside the body cavity of the crawfish, but I chose to stick with the tail and the claws. Getting the meat out of the claws does require some effort since they're smaller, but the meat was really sweet there.
Eating crawfish is definitely messy and might not work if you're super squeamish. Crawfish are too small for traditional crab crackers, so I used my hands. It didn't bother me and I thought it was a fun, adventurous experience and I was so thrilled that Zack liked them, too.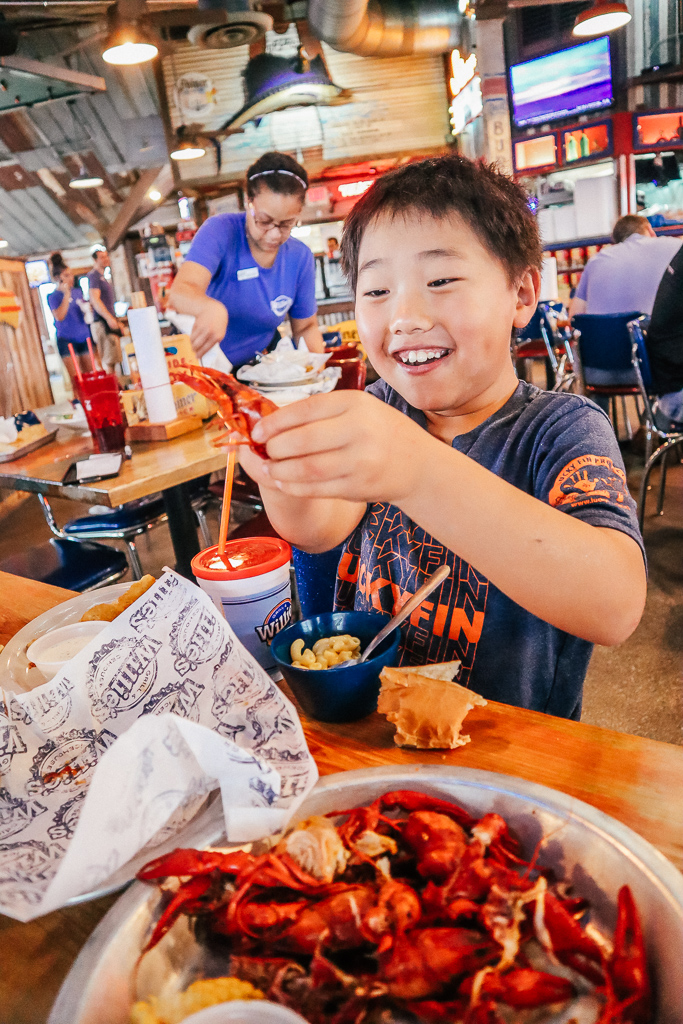 You can also get these babies "To Geaux" from Willie's in a re-usable thermal insulated bag, if you want to enjoy these at home without doing a full-on crawfish boil.
Want your own crawfish boil? You can do that!
This was definitely out of the box and off routine for us, and you know what? We LOVED it and will do it again. Here's how you can, too:
Would you like to get $10 off your next visit to Willie's Grill and Icehouse? Check out THIS LINK. I also have a fun give-a-way for a $25 gift card up on Instagram, so please hop over and enter:
And y'all…this place is SO reasonable. Our bill was $58 and we had two cocktails plus an appetizer.
Follow Willie's Grill and Icehouse on social: