This shop has been compensated by Collective Bias, Inc. and its advertiser. All opinions are mine alone. #ReimagineYourCereal #CollectiveBias
If there was ever a mom who needed morning survival tips, it is me. My kids wake up with the chickens on weekends, holidays or any day we don't have to be up at a certain time or stick to a schedule. We don't actually have chickens, but you get the idea. School days are another story. My small humans who are 5 a.m. pint-sized balls of energy on Saturday mornings (see also any day where I cling to the dim possibility of sleeping in just a teensy little bit) are cranky and sluggish when I wish them a good morning and start the process of hustling them out of bed. My son Kyle is seven and he's so not a morning person. So, so not. Waking him up every morning is a chore and there's a 50-50 chance that we'll make it to the breakfast table without tears.
Here's how to deal with morning survival when your kids aren't morning people:
Wake up gently
I turn the light in the kid's room on about 20 minutes before I need them to be out of bed and moving. I usually let them have about 10 minutes to adjust to the light in the room before I start calling out my "good morning's."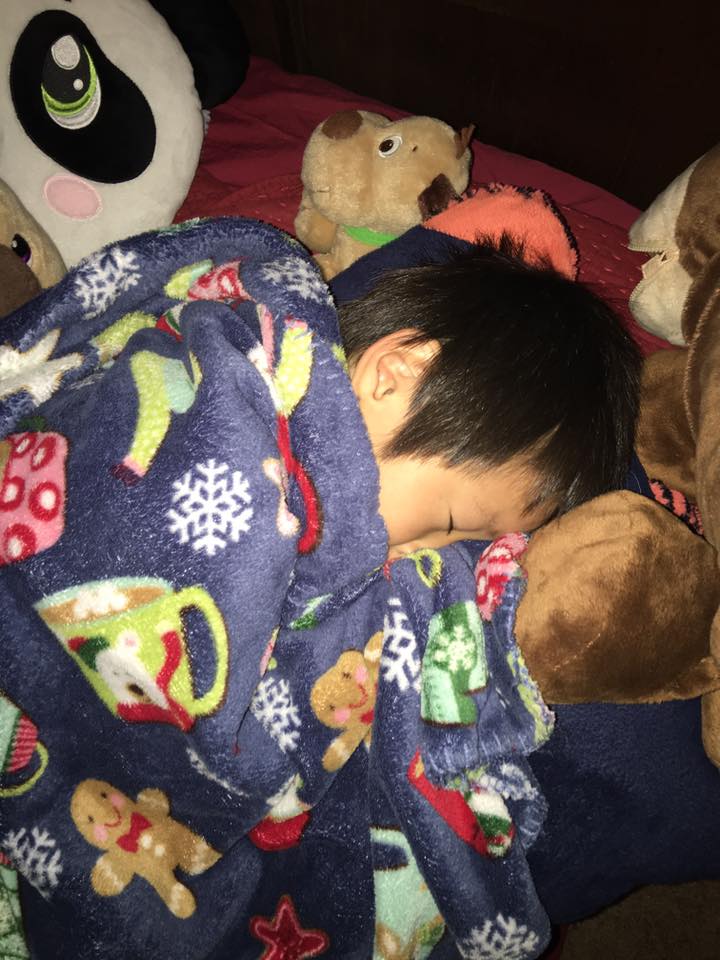 This works about half the time. Best case scenario is grumpy. Worst case scenario is a crying kid sitting in the middle of the floor in his underwear because putting on pants and getting ready for the day is just too much to handle.
I get it, kid.
No matter how early we set bedtime, Kyle is just not a morning person. Neither am I, but my adult brain processes mornings in a different way, so I try my best to ease him into the harsh reality of mornings. It's a morning survival tactic that works…sometimes.
Pick your battles
I really try to be one of those organized moms even though organization doesn't come naturally for me.  I make lunches after dinner. I menu plan, or at least try to. I lay clothes out the night before and put everyone's backpacks, sporting equipment and whatever bazillion pieces of paperwork or other thingamabobs we'll need for the following day near the door before I go to bed.
One cranky junior human can completely derail the plans.
Things can easily escalate over something trivial, like someone not wanting to wear the clothes I laid out. Last week, my little anti-morning dude eschewed the nice outfit I'd selected for him in favor of sweatpants (the temo was in the high 80's) and a two sizes too small tee shirt he'd plucked out of the bag of old clothes I'd set aside for donation.
It was picture day.
"Wouldn't you rather wear this cool shirt, honey?" I held up a nice collared shirt that…you know, fit.
"No." He looked me straight in the eye and the way he held his body indicated he was ready to go to the mat with me over wardrobe choices.
We could have had a battle. I could have insisted. He's seven and I'm a full-grown adult. I'm certain that if I so chose, I could have forced him to leave the house in the outfit I picked instead of the two sizes too small TMNT tee shirt with the grape juice stain.
I decided it wasn't worth it. Having my home turned into a battleground over a tee shirt just wasn't worth the angst that morning. I try to be as organized as possible and then take deep breaths and acknowledge that not everything is within my control.
Still looking forward to getting those pictures back. That'll be one for the Christmas card.
Make breakfast something to look forward to
I'm a firm believer in that whole "breakfast is the most important meal of the day" thing. Sending my kids off to school with a good breakfast in their bellies helps them get ready to for whatever the day may throw at them…and being well-nourished helps kids learn better.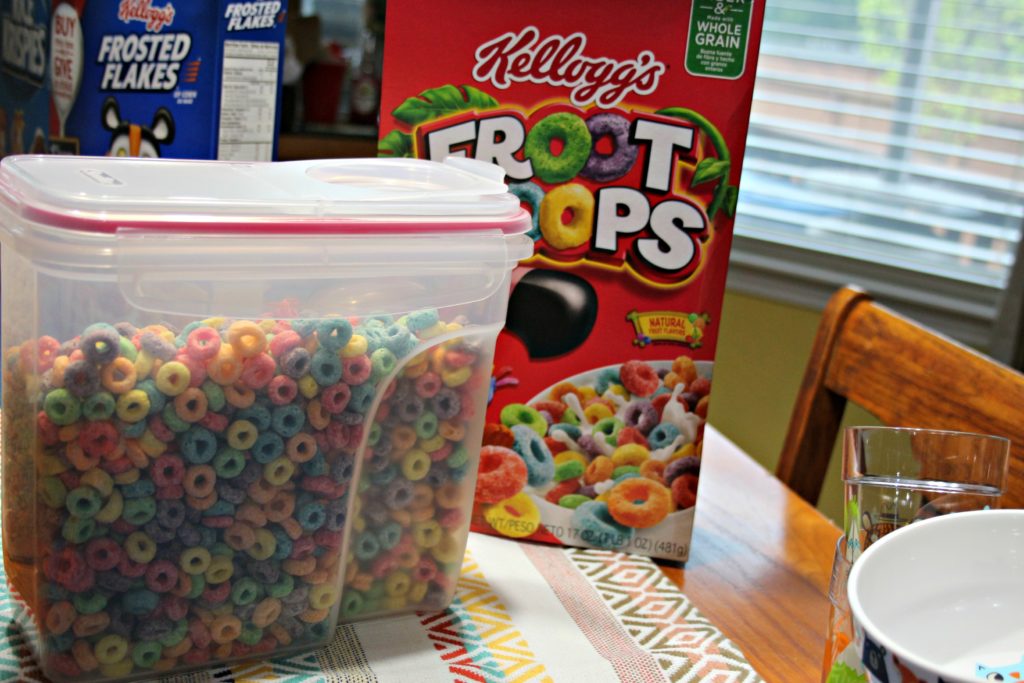 I like to make an effort with breakfast. It makes my kids happy and making an effort doesn't necessarily mean complicated or time-consuming. It doesn't take much to make breakfast fun.
Fun breakfast is a (mostly) sure-fire way to cure morning grumpiness.
My kids' favorite breakfast is "color cereal" AKA Kellogg's Froot Loops. We buy the big 17 oz box and boy do we go through it quickly. They know the real name for "color cereal" is Froot Loops but that's what they've called it since they were really little and I'm afraid it will probably always be "color cereal" at our house.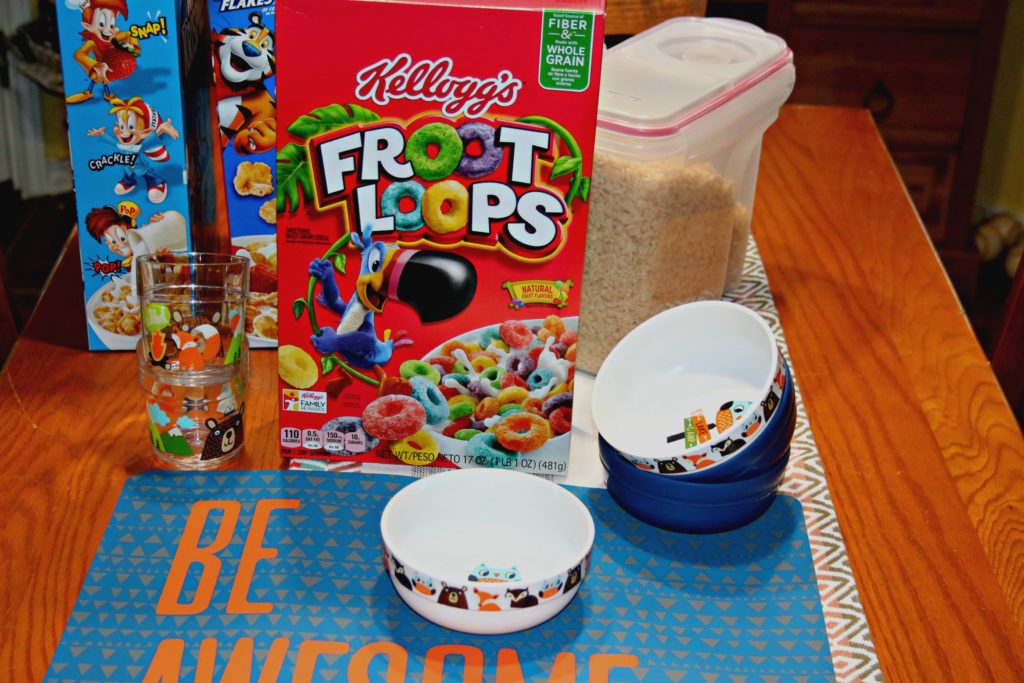 I remember going on vacation and the high point for my kids being that the breakfast buffet at our hotel had Froot Loops – winning.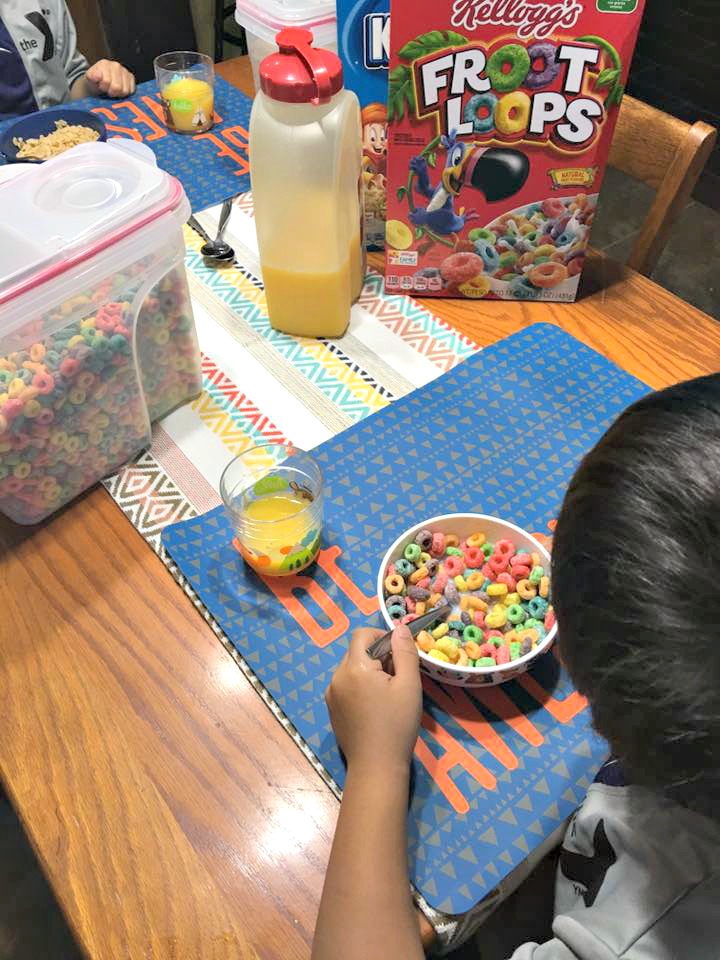 We don't eat cereal every morning – I try to change things up to keep everyone from getting bored but Kellogg's cereals are always a hit at our house. They're definitely a brand that has stood the test of time and earned my trust for always putting  out quality…and you just cannot beat the fun factor. Kids love it.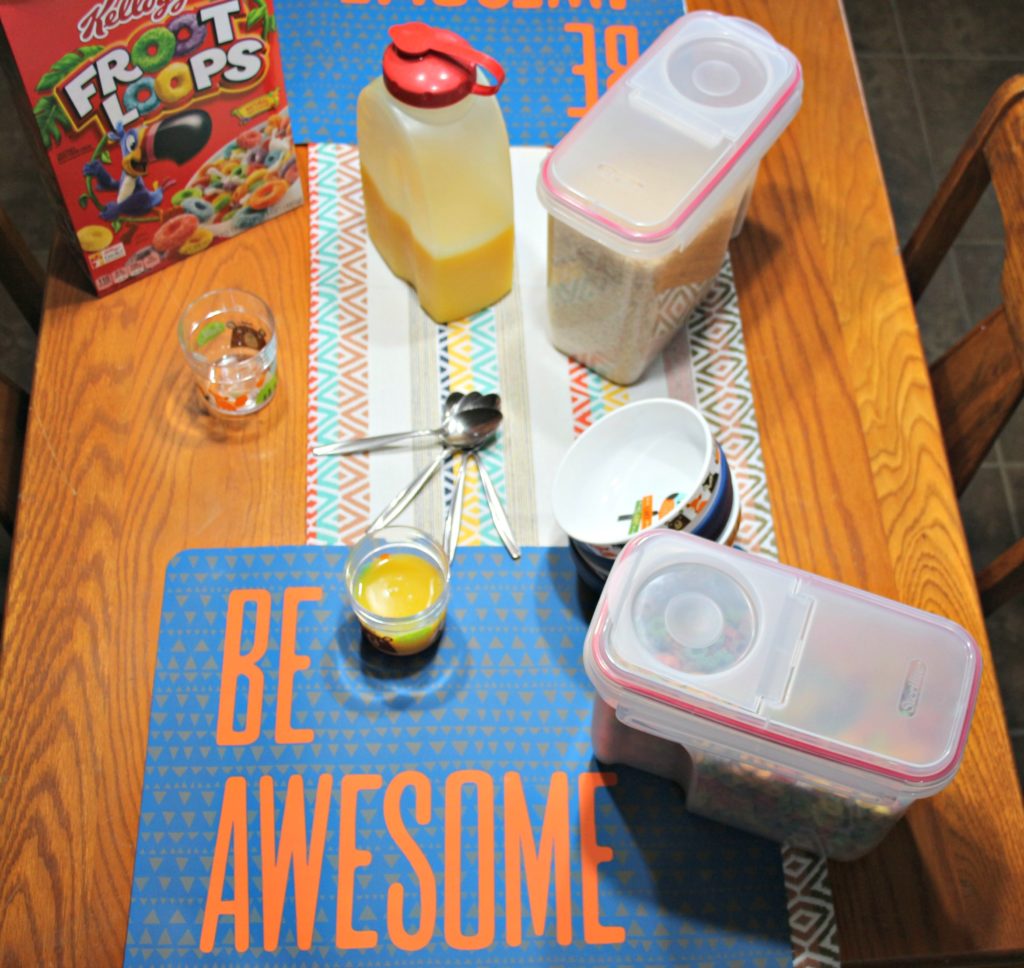 Going the extra mile to make the table look nice is also a good way to turn a bad mood around, and even if someone isn't in a bad mood, this is still a fun way to start the day.
Giving my kids a choice works especially well for us. It lets them exercise their thinking skills and decision making process, even when it's with something as simple as "what kind of cereal do you want?" My kids always listen to all of the choices but inveitabily, Froot Loops – AKA color cereal – wins. They like hearing stories about the cereal I ate when I was a little girl. There's always a sense of nostalgia for me when I eat Frosted Flakes and Rice Krispies. My boys love hearing about how I thought it was a big treat when my mom let me put bananas in my Rice Krispies…I still kind of think it's a big treat, to tell you the truth.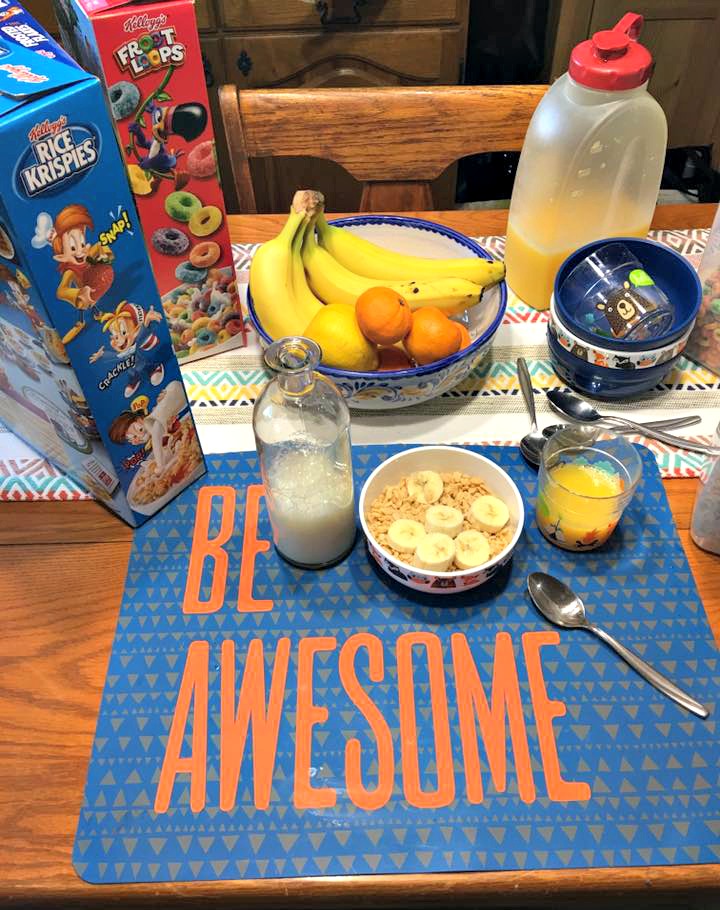 Giving my kids some choices and autonomy – letting them pick and even pouring their own Kellogg ereal – sets the tone for a good morning, whether someone's grump or not. Someone is usually grumpy but we occasionally have our golden days.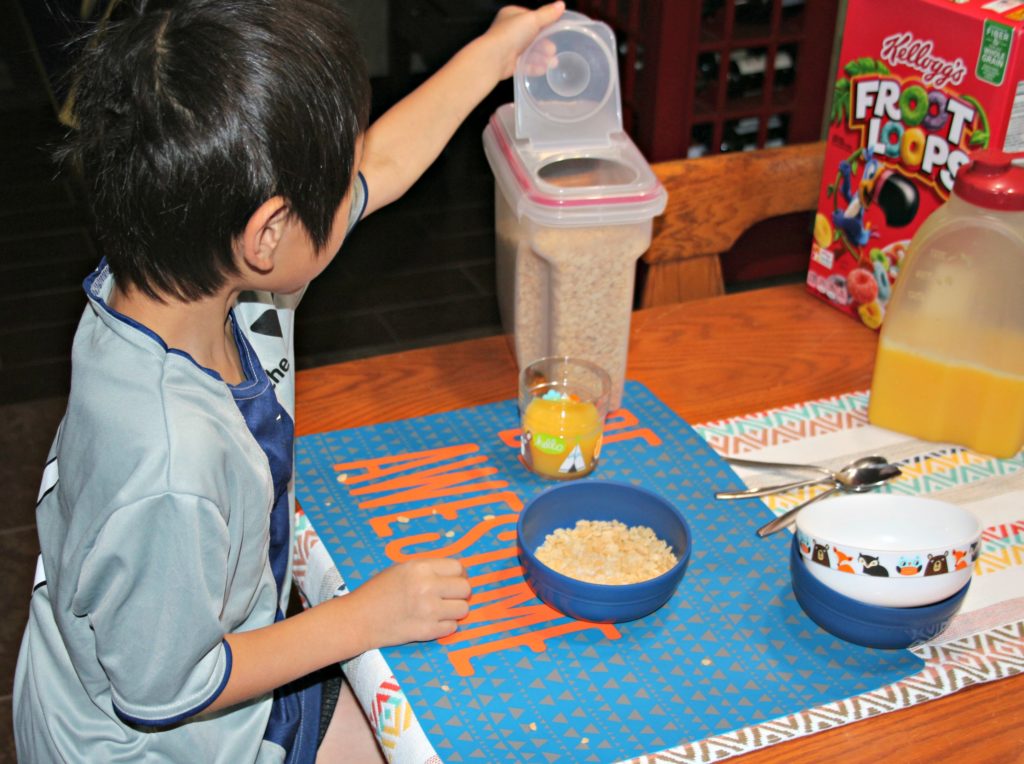 Mornings are rough. Breakfast doesn't have to be.
Cut yourself (and your kid) some slack
When your kids aren't morning people, mornings can get rough. I am definitely not one of those people who leaps out of bed each day with a smile on her face. Deadling with young kids who aren't able to rationalize why they don't love mornings is tedious. Most families have timetables to adhere to in the mornings but staying on schedule doesn't always line up with grouchy children have only one speed: sloth.
When you're arguing with your kid about why he really does have to wear two shoes that match or scrambling to find the permission slip you swear you signed, you sometimes feel like you want to bang your head against the wall or that you're doing it all wrong.
At least that's how I feel sometimes.
But cut yourself some slack. Give yourself some grace and tell yourself you're doing okay. You're probably doing better than okay. Take deep breaths and smile at your kids (even when they're acting like beasts.) I phrases like "this too shall pass" are annoyingly cliche but there's some truth there. Mornings are rough but they don't last all day.
Focus on the bright spot in your day
Sometimes, morning survival is about focusing on what's beyond your morning. It might be something ridiculously simple as "Whoo hoo – we're having sloppy joe's for dinner tonight." What you don't like about mornings might make a long list but chances are, you can find something about your upcoming day to help your kids focus on.
Kellogg cereal is available at Target…along with a bajillion other things you need…like throw pillows. Obviously. And, "we're going to Target later" would definitely be a bright spot to look forward to for me. Just sayin'.

For more great Kellogg cereal inspiration, check out the social hub here!
Thank you for reading!
(Visited 363 times, 364 visits today)