Have you heard about Meghann Foye's ridiculous push for meternity leave for women who don't have children?  It's making quite the splash on the Internets this week. You can read all about her brilliant ideas HERE, although I'm warning you now, it might make you throw up in your mouth a little bit.
In a nutshell, Meghann thinks women who don't have kids or who put off having kids still need the 12 week "break" from their work life so they can "find themselves." Apparently, she's been watching her friends' maternity leaves from the sidelines and all the lazing around on the couch and bonbon eating looks pretty darn good to her and she wants a little slice of that action. She wants all the perks of maternity leave without actually having kids.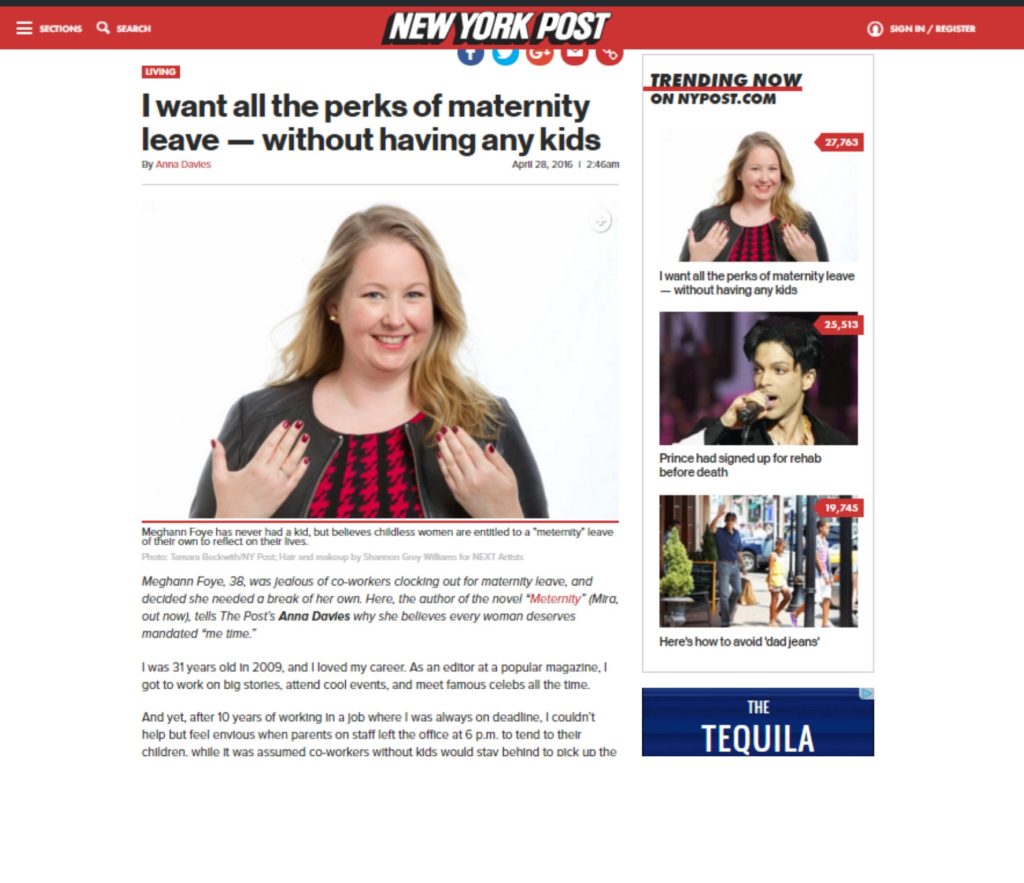 Oh, the perks.
I pushed a 7+ pound baby watermelon out of my vagina in 1992…yes, I know that was a long time ago but I still remember it really well. Especially the pushing part. I got nine weeks of paid maternity leave to bond with my baby and enjoy my thrice daily sitz baths in the hope of one day having normal lady bits again. Sitz baths are awesome, by the way.
We adopted in 2012 and again in 2013…no pushing involved, just lots and lots of paperwork and stress eating. And yes…I know that's a long time between kids.  I got two weeks paid "adoption leave" because adopting kids is totally not the same thing as being pregnant…which is a whole other story.
I love my children – all of them. How they came to be my children isn't really important but I remember my first hours, days and weeks with each of them. I didn't have the fun trifecta of constipation, hemorrhoids and episiotomy stitches with my adopted kids but we had uncertainty, sleep issues, attachment problems and lots of crying…most of the crying was mine.
I agree that every woman, every person needs me time and that focusing on ourselves is something we sometimes put on the back burner when we shouldn't. But this concept of METERNITY leave? I call bull shit, Meghann. I'm super happy that your sabbatical – that's what we're calling it because that's what it is, girlfriend – helped you to "live on your own and advocate what works for you." That's totally what I got out of my maternity leaves – not.
I guess the bigger lesson in all of this is that we need to do a better job of recognizing the need for self-care and to be more aware of the need for work-life balance but I'm too busy rolling my eyes over the divisive "meternity" internet hoo-hah that's done way more harm that good.
I won't be one of those a-hole people who smiles condescendingly and says "you don't know what it's like because you don't have kids" but Meghann: we humans have a few different orifices on our bodies that can make noise. You're definitely talking out one of those orifices, and honey? It's not your mouth.
I hope you get the experience of becoming a mom one of these days, Meghann. Every sticky, wonderful, swollen, cranky, noisy, gross, hilarious moment of it. I hope you look back on this concept of "meternity" leave one of these days and have the good sense to be embarrassed.  But that's okay. Give me a call. I'll bring the bonbons.
Bless your heart.
Thank you for reading!
Follow Ripped Jeans and Bifocals's board Parenting Survival Tips on Pinterest.
If you enjoyed reading this post, please give me a vote on Top Mommy Blogs my clicking the button below. It's super easy and helps my site A TON.
(Visited 429 times, 74 visits today)