I am delighted to introduce this very special post written by my foster-in-law, Kristin.  Yes, you read that right.  Kristin's son Levi and my son Zack are both from Yuncheng City, China.  They lived as brothers in the same foster home and were adopted about 9 months apart by two separate and unrelated families.  To read the full story of how we found each other click HERE. But then come back and read the rest of this post, k?  Oh, and to clarify, the boys are not biologically related.
I love large families.  I don't have many regrets in this life (except maybe that one perm I got in eighth grade…that was bad) but my biggest regret was not having a large family.  I know three kids is nothing to sneeze at, but I always wished I could have more and it has been hard to make my peace with the fact that we're done.  Anyhoo…I don't understand when large families went out of style and why people think it's okay to say dumb stuff like "oh geez, now HOW many are there" and "don't you know what causes that?" 
I'm really excited to have one of my very favorite bloggers on "I wish I would have known" today giving us a little slice of what life is like in a large family.  Kristin is a very special friend to me…and yes, I really tell people she is my foster-in-law.  Don't you wish you had one?
Opinions, here, there and everywhere.
I don't get the luxury of being an anonymous mother.
With seven children under age thirteen, our family is very conspicuous. Because of this, I have felt my parenting under much more scrutiny than when I had only two or three children.  Throw in a couple of international adoptions, and nobody will ever see me as an average mother again.
What I wish I knew several children ago is that it isn't about me. Other people's opinions aren't based on who I am or what kind of parent I am.  It is based on their own preconceived ideas on what a larger-than-average family is and how it functions.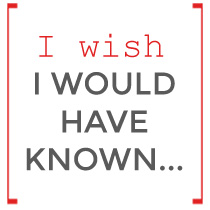 …people hold me to a different standard.
Sometimes that standard is incredibly low. "You don' t look like you have seven kids!"  Their shock that can I successfully keep all my kids alive every day is palpable.  I admit this makes me feel like a rock star around adoring fans just for having brushed my teeth that day.  Brushing my children's teeth is equitable in effort to winning a Nobel Prize.  Any personal or public shortcoming of mine is brushed away with, "But you have SEVEN children!" I can fall into the trap of barely meeting their low expectations.
Then there are the folks that think I must have everything under control to manage my horde of children. I must be cheerful, organized, possibly angelic.  The phrase "Supermom" escapes their lips with a tinge of misguided envy. They assume I have some preternatural gift that can sooth, instruct, and guide children with nothing more than softly whispered loving words and some sort of secret Jedi mother mind trick. This makes me offer up one of my profound mommy failures to reduce my feelings of being a fraud.
Others assume I can't be a good mother to so many children. And even if I try to not care what other people think, it hurts to hear people with more-than-typical number of children called "baby hoarders" or "breeders".  They think I have too many children to manage appropriately.  I am probably neglectful and most likely on government assistance.  People scowl when it takes longer to buckle my children into the car or unload my grocery cart. Somehow my children take up more physical space than others deem appropriate.
The reality is that most days I am striving for mediocrity. I am really just an average mom, whether other people realize it or not.
I wish I knew earlier that it is not my job to make strangers like me or to get them to validate my family size or parenting decisions.   I am confident I'm raising seven amazing kids.  And that is enough.
Kristin is a mom to seven and a wife to Ben.  She blogs at Trying to Control The Chaos.  She writes funny and real stories about adoption and life in a large family.
If you've enjoyed reading this post, please take a sec and click on the links below. Following me on Bloglovin or clicking my Top Mommy Blog button helps boost my blog ratings. It'll only take a minute. And it won't hurt. I promise!

(Visited 65 times, 19 visits today)