This post is sponsored by all free clear.  All opinions (and the stories about being crazy disorganized) are 101% my own…although who doesn't like a product that gets your clothes clean without giving your kids a rash?
The other day, someone asked me how I stayed so organized.  I laughed until I realized she was serious.  Maybe it looks like I have this whole mom thing together…I really don't.  I schedule too many activities and raise my hand to take on too many projects.  I forget to go to the grocery store and I pick up the phone to call the pizza guy "just this once" more often than I want to admit.
I started to ponder just how I manage to give other people the illusion that I'm organized.  I'm high transparency-low ego…I don't set my sites on having the general public thinking I'm mother of the year when I consider myself a winner if I just make it through the day.
Here are a few little life hacks that work for me:
Embrace the phrase "clean enough."
This might be in reference to your kid's faces or your kitchen floor.  We have two boys under the age of six.  The house is going to be messy.  Instead of busting my butt to pick up every single stray dirty sock as soon as it hits the floor, I have learned to pick my cleaning battles.  I like an orderly house and maybe in about 12 years, I'll have one.  For now, I compromise with the messes.  My family knows I like order and they try (kind of) to keep me from blowing a gasket by minimizing toy clutter and mess.  I deep clean periodically and spruce the house up for company.  Learning to relax my idea of what my house should look like has been a timesaver in the long run…less stress, less squabbling and less futile cleaning up of LEGGOS.  Those damn things multiply on the carpet amiright?
Pre-gamin'
I do as much as I can the night before.   Lunches are made and in the fridge.  Backpacks are sitting by the door with the appropriate folders, permissions slips, or envelopes for the money-sucking PTA for whatever they're sucking money for that week.  Clothes are laid out – for everyone.  The kitchen is clean and ready for breakfast, although weekday breakfasts are usually some sort of convenience food at our house.  The coffee pot is full of water and my cup is sitting out ready to go – mostly because my head will most certainly explode if I don't have coffee immediately upon waking.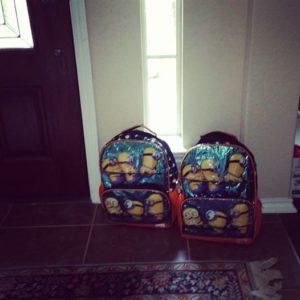 Master your laundry management
The phrase "clean enough" doesn't apply to our clothes because who wants to wear dirty clothes?  If there is one household chore I work to keep on top of, it's my laundry.  I do a load about every other day and I keep kid laundry separate from adult laundry.  We have two laundry hampers so that's just how I've gotten used to breaking it up.  My biggest challenge is trying to remember to put the clean laundry in the dryer so I don't have to run it through another rinse.  That's not just me, right?
I try to keep my laundry room semi organized, with hangers and small baskets for stuff like socks and undies…it makes putting them away easier.  I don't fold and I rarely iron.
We've been using all free clear to wash our clothes lately.  It's great for sensitive skin and it gets our clothes super clean – which is saying something in a house full of dudes. all free clear is the  recommended detergent brand by Dermatologists, Allergists, and Pediatricians for sensitive skin, it's my choice. It's tough on stains yet gentle enough for the whole family.  If anyone in your family has sensitive skin, this is for you.  All free clear is safe for use in standard and HE machines. It rinses clean and has a gentle, hypoallergenic formula. Powerful Clean. Gentle on Skin. 100% hypoallergenic.  Good stuff, right?
I figure if our laundry is under control, the rest of our stuff is gonna fall in to place…right?
If you've enjoyed reading this, please share on social media.  If you're not following me on Facebook, go HERE to join the fun!
(Visited 166 times, 76 visits today)