…but it doesn't make you a feminist.
I am not an early adaptor. I didn't have Facebook for the longest time because at the end of the day…I really just don't care that much about what other people do.
If you're not breaking the law in my front yard or grossly bending the rules of what is good and right in the universe…rock on. Steam your vagina. Go Paleo. Slather your kid with oil of spider snot instead of taking him to the doctor when he's sick.
Do your thing. I don't have to agree with you. I'm pretty live and let live.
I started shaving my underarms when I was about 12. Hair started to grow there. I told my mom. She gave me a Daisy razor and a few basic instructions and so began the daily ritual of ridding my pits of hair growth. Thirty-six years later, I'm still shaving my underarms. To this day, it's something I rarely think about…I just do it.
I shave my legs (when I'm not too lazy) and my bikini area when I know I'm going to the pool or when I think there might be some hommana hommana meow meow on the menu. I pluck my eyebrows (when I remember) and I keep tweezers in my glove box to combat those pesky-ass chin hairs that I can see really really good when I'm sitting in my minivan. My non-moving minivan, okay? Safety, people. Safety.
I am not a very hairy person but I've been socialized to believe that hair in certain places on the female body is unsightly and socially unacceptable. And, I'm okay with my line of thinking in regards to hair. I can get away with a little stubble on my legs by playing the "I'm so busy" card but hairy pits? Most people would say "ew" because really…how much time out of your day does it take to swipe your underarms with a razor? Almost none.
According to the current trend, pit hair is in. In the name of feminism. Women who are "tired of impossible amounts of self-maintenance" are giving their razors a vacation.
Good for them.
I'm not sure what's so impossible…my daily maintenance includes three swipes on each side with my trusty Venus Glide. No big whoop.
I lived in Europe for seven years. I saw a few ladies sporting underarm garden patches although the Western habit of regular pit shaving seems to be gaining worldwide popularity. I don't run shrieking from the room if I see a gal sporting fuzzy wuzzies under her arms. I don't think it looks nice, but really, I just don't care that much about what other people do.
But pit hair doesn't make you a feminist. If you want to beat your chest, cry "I am woman hear me roar" and drop the F-bomb because you've decided to take a hiatus from shaving? I call bullshit. And by F-bomb, I mean feminist not the other F-word.
Webster defines feminism as:
The belief that men and women should have equal rights and opportunities; or
Organized activity in support of women's rights and interests.
I'm not sure how a girl letting her armpit hair grow or dying it pink, purple or whatever shade of the color spectrum tickles her fancy fits in to that definition.
Pit hair doesn't make you a feminist.
Shaving your pit hair (or anything else) doesn't make you less of a feminist.
I consider myself a feminist. A feminist with clean, freshly shaved underpits.
Do I check myself out in the mirror each morning (bed head and all) and say "Good morning, you sexy feminist beast?"
No.
When I introduce myself to someone, do I shake their hand, look them in the peepers and say "Jill Robbins, feminist. Damn glad to meet you." Do I?
No.
This article which depicts a bunch of "look at me look at me" millennials flashing their hairy pits ends on the note of "women just want equality."
Of course we do, darlings. That hasn't changed. Your trendy Instagramalicious pit hair selfies won't change that.
Shave. Or not. I don't care what other people do. I think hairy armpits on a woman – even a super-duper colorful hairy armpit – is unattractive. But there are a lot of things I find unattractive that don't have jack shit to do with what makes a woman womanly. Or a feminist.
Rock on with your attention seeking behavior, girls. But don't do it in the name of feminism.
Thank you for reading! Don't forget to follow me on Facebook!
Pin it to your favorite Pinterest board!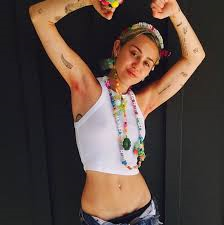 Click the button below to vote for me once daily! Thanks for reading!