This shop has been compensated by Collective Bias, Inc. and its advertiser. All opinions are mine alone. #GrahamSlam #WelchsPBJ #CollectiveBias
Mornings are rough. No matter how organized I think I am, weekday mornings are still slightly crazy at best. The start of school every year always completely unhinges me and it takes me a little while to settle in to feeling sort of less frazzled when I'm trying to get everyone dressed, fed and out the door but by mid-October I start feeling like I sort of have it together. That's two sort of's because no matter how hard I try, I think I'm always going to feel at least a little bit frazzled and I'm never going to completely have it all together.
It is what it is.
It's hard to get tiny humans out the door and there's just so much stuff. Permission slips. Folders. Breakfasts. Lunches. Socks that match. Dealing with meltdowns and when I say meltdowns, I'm pretty much talking about me. I do not love mornings.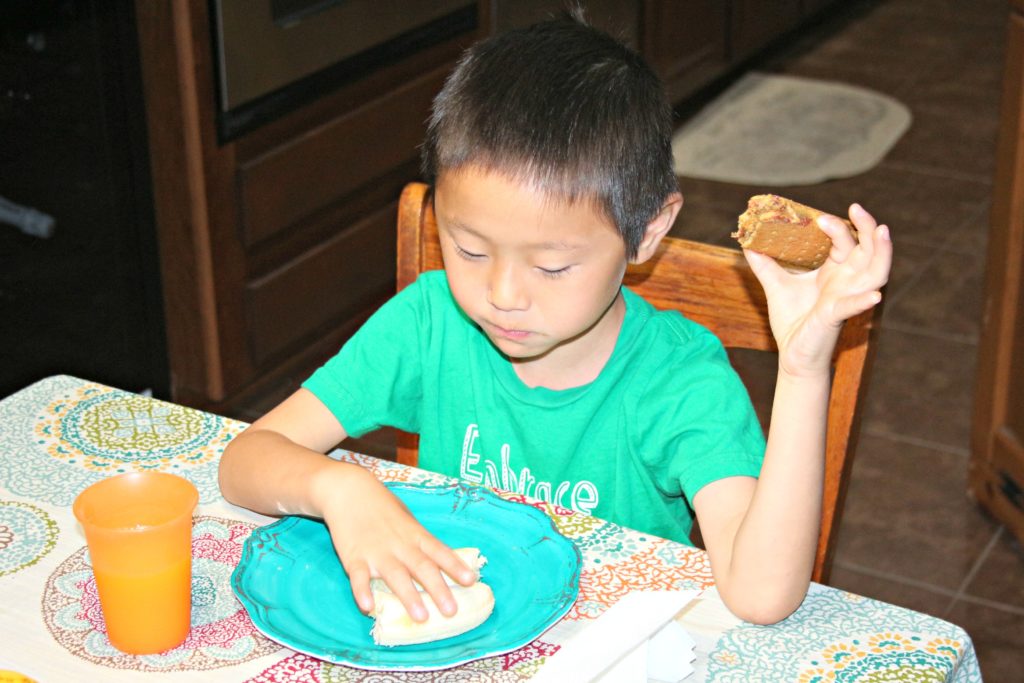 Here are four things that help keep our weekday mornings from getting too crazy. They're always going to be a little crazy but this keeps the crazy level on the lower end of the scale.
Do as much as possible the night before
I know this sounds like such basic advice but it really will save your sanity. I make lunches while I'm making dinner or while I'm cleaning up after dinner. I go through the school folders and make sure I've signed and sent back whatever it is that I'm supposed to sign and send back. It's always something – those school folders are out of control. If we've got sports or activities, I get whatever we're going to need ready, which means soccer bags packed and sitting by the door or better yet, already loaded into the van. Nobody likes to be the kid at soccer practice with no shin guards because your mom didn't have it all together.
I lay out everyone's clothes and put shoes and backpacks by the door. If it's going out of the house the following day, it's loaded in the van or by the door to the greatest extent possible. I also get my own stuff ready for the next day. It's no good to have your kids uber prepared when you're running around freaking out because you can't find your shoes.
Meal plan
I've been (mostly) consistent with planning out our family dinners and I find it to be a great time and money saver. This fall, I started meal planning our weekday breakfasts, too. I don't get fancy, so if you're imagining me whipping up eggs Benedict and crepes…just no. Breakfast meal planning for us goes something like this:
Me: Would you like to have cereal or oatmeal for breakfast tomorrow?
Kid: French toast.
Seriously. Please tell me I'm not the only one with kids who do this. I usually offer a choice and if I can't offer a choice, I will tell them what we're having for breakfast the night before. This cuts down on the crying because someone was forced to eat cereal when they really wanted French toast.
One of my new favorite things to do is to make a "grab and go" breakfast station.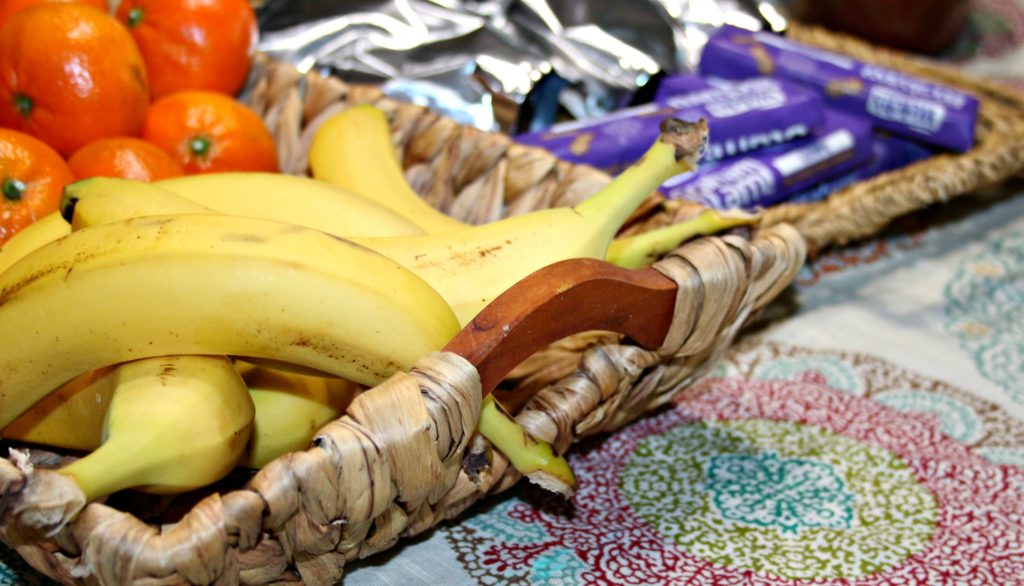 Grab and go breakfast stations are super versatile. It can be anything from a buffet style breakfast we eat in our kitchen or a no-kidding "get your food, we're late!" situation. The latter is a reality in our house. Saturday mornings are particularly hectic because we're getting up and going to our kids' soccer games early. We don't have a ton of time to fuss with breakfast but our kids have to be fueled for play.
The beauty of this idea is that much of it can be assembled the night before.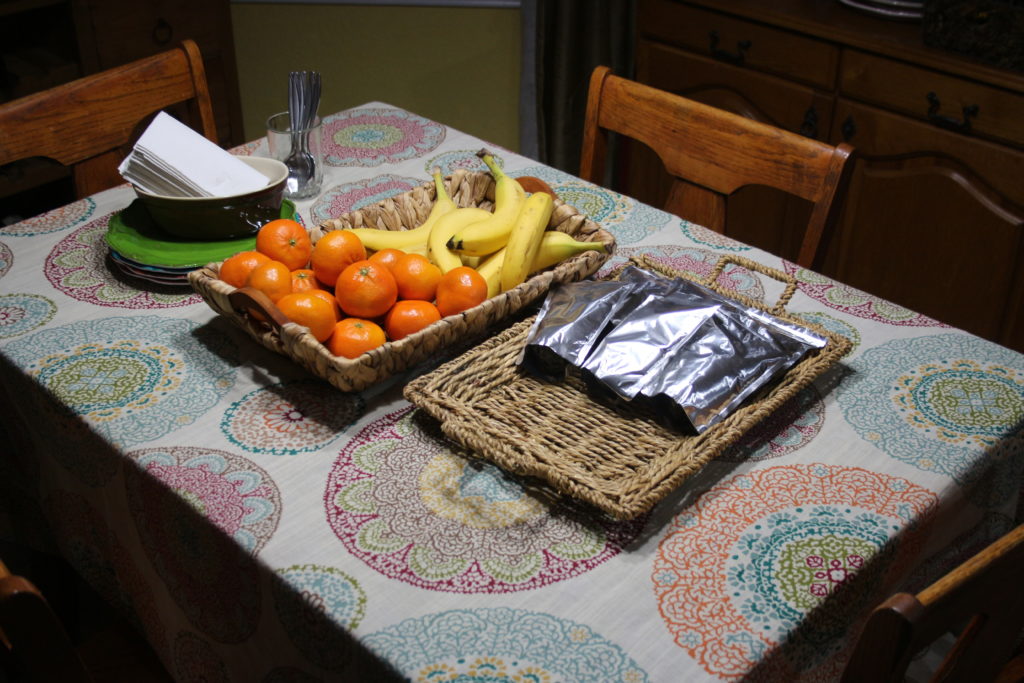 I usually try to offer some easy fruit options and some proteins, such as yogurt, hard-boiled eggs or string cheese. My kids are big fans of foods that aren't traditionally breakfast foods in the morning – I think it makes them feel like they're pushing the boundaries and I'm usually okay with it because just getting them to eat something filling.
Our newest addition to our grab and go breakfast station are these delicious creations: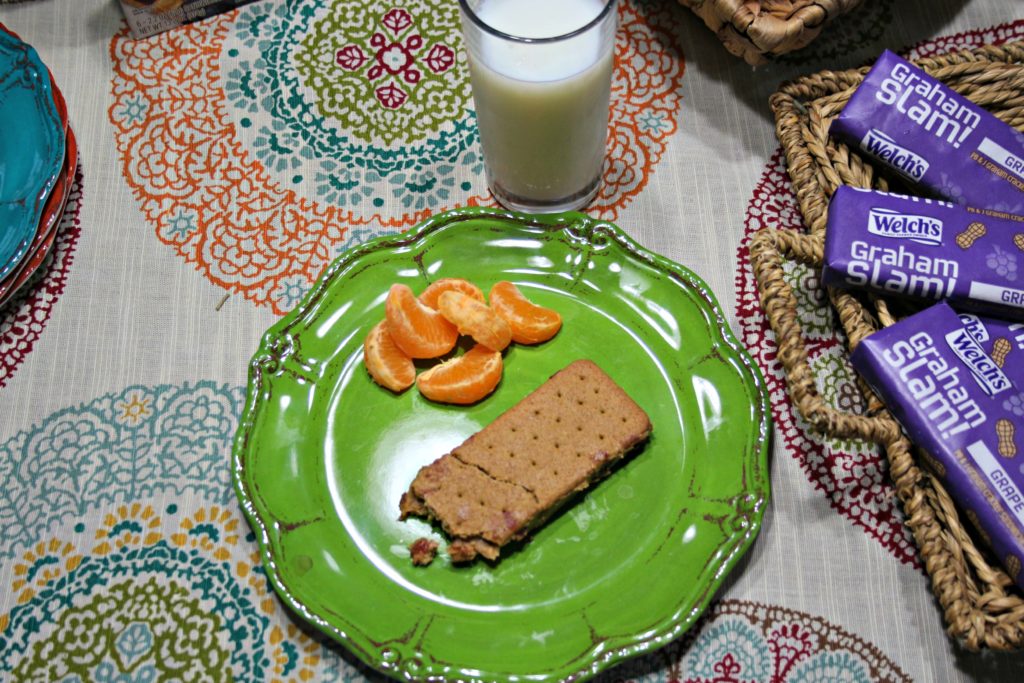 Welch's Graham Slam! is a great new twist on the PB&J sandwich. My kids love peanut butter – I love peanut butter – and since they go to a nut-free school, they're not allowed to pack their beloved PB&J in their lunch boxes so enjoying peanut butter at home is an extra-delicious treat.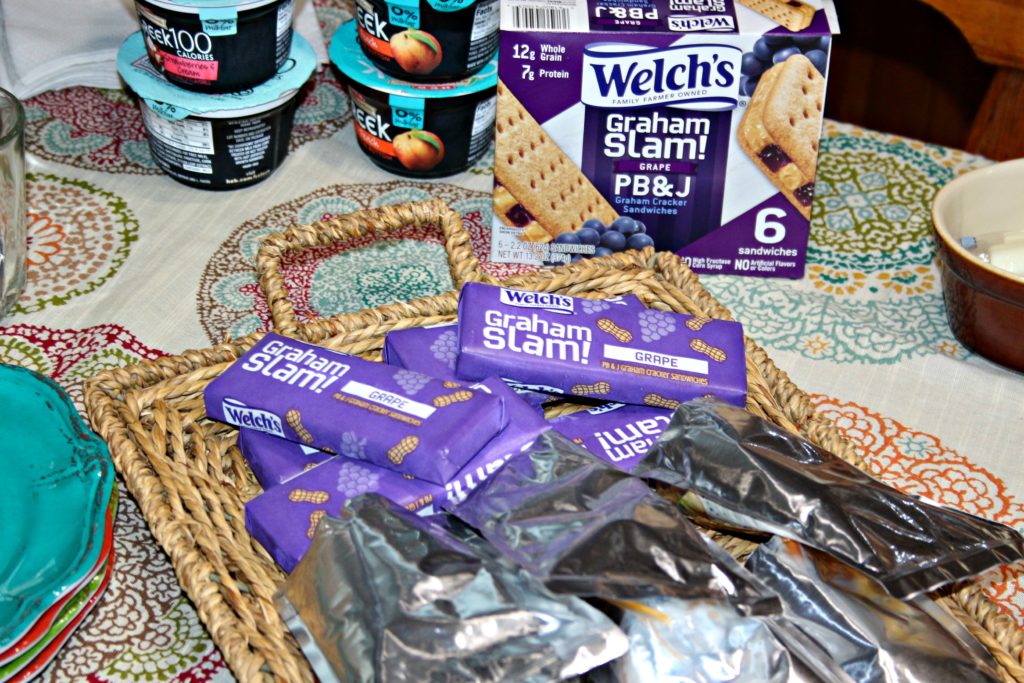 I expected to like these – because peanut butter – but I love them and so does my son Kyle. His new favorite breakfast is a Graham Slam! with a banana and a glass of milk. These can be enjoyed frozen or thawed, although we like to thaw them.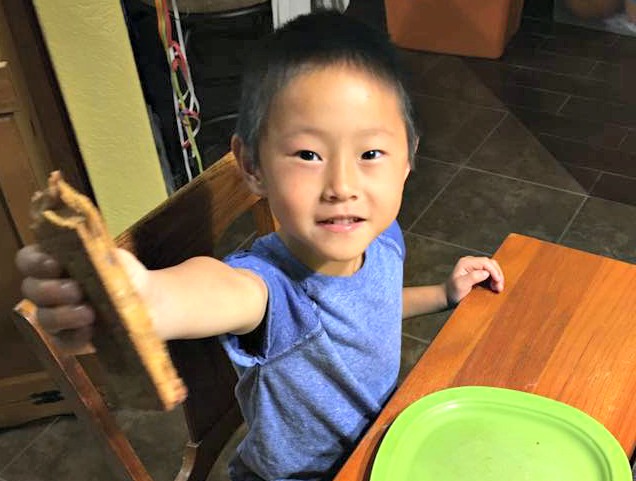 These are great on-the-go meals or snacks and the deliciously crispy graham cracker is a totally new spin on traditional peanut butter sandwiches.
A Graham Slam! also makes a great desert or sweet snack. Mmmm….peanut butter. Don't you want one? Oh, and if you think I'm a little bit dorky for getting so excited about peanut butter, then you don't know me very well.
My kids love it when they see me setting out the grab and go breakfast station at night and they'll often put in requests for what they want to see on the table. This is also a great way to serve breakfast when you have company or for a household when people come and go at different times and you want to put out something simple and filling where people can help themselves.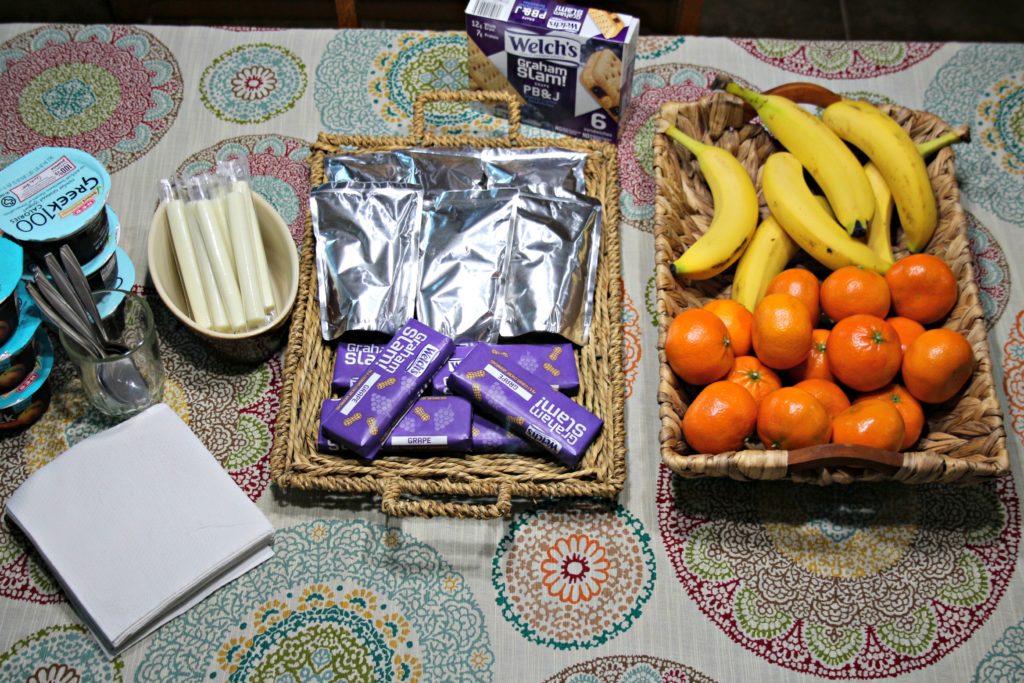 Each Graham Slam! contains 7 grams of protein, 12 grams of whole grain and zero, zip, nada of high fructose corn syrup, so it's something I can feel good about feeding my family. Besides, Graham Slam! is just fun to say.
Get up earlier than your kids
Trust me, no one groans more loudly than I do when that uber-early alarm goes off but it makes the day start so much more smoothly when I'm awake and dressed before I try to deal with my small humans. I try to get up 30 minutes before my kids do and have my coffee and get a jump start on getting dressed and ready before my kids get up. This allows me to focus on me when I need to focus on me and focus on my kids when I need to focus on my kids.
Manage expectations
Talking to my husband about what our mornings are going to look like have helped make our mornings much more pleasant…and for me to call mornings pleasant is really saying something. My husband gets up early than I do and wakes me up with a cup of coffee – I know, total keeper. He turns on the light in our kids' room at 6:30 which lets them wake up gently without being rudely rushed out of bed. But after that, I don't get much from him in terms of help or interaction. Getting the kids dressed, fed and out the door is in my job jar. He usually leaves for work before the kids leave for school, so if my schedule changes and I need him to pitch in and do something he doesn't normally do in the mornings, I need to speak up.
I don't expect mornings to be perfect – which is a good thing because they're usually not – but I do try to be realistic about what our mornings are going to look like and give myself as much time and grace as I can. It really helps.
Hopefully, these simple hacks will help smooth out your weekday mornings. And, if you need some additional motivation to try Graham Slam! at breakfast or any other time, here's a link to a coupon for $1.00 off.
This offer is good until 12/31/2016 or while supplies last. You have two weeks from the day you print it to redeem it.
If you're interested in learning more about Graham Slam! you can follow along on social media: Facebook, Twitter, Instagram, Pinterest, and YouTube
And speaking of following, are you following me?
A vote on Top Mommy Blogs helps my site a ton. It's super easy & one click helps me to be able to continue to bring you great content. Totally non-spammy…I promise!