This shop has been compensated by Collective Bias, Inc. and its advertiser. All opinions are mine alone. #SlimJimYourHoliday #CollectiveBias
They say that fish and company start to go bad after three days. Or something like that.
It's getting to be that time of year. Maybe you're hosting friends or family for the holidays or maybe you'll be the one doing the visiting.
If you're having visitors this holiday season (or any time) here are a few tips to make things as pleasant as possible for everyone involved. Want to know how to make great gift baskets for guests? Read on, friends.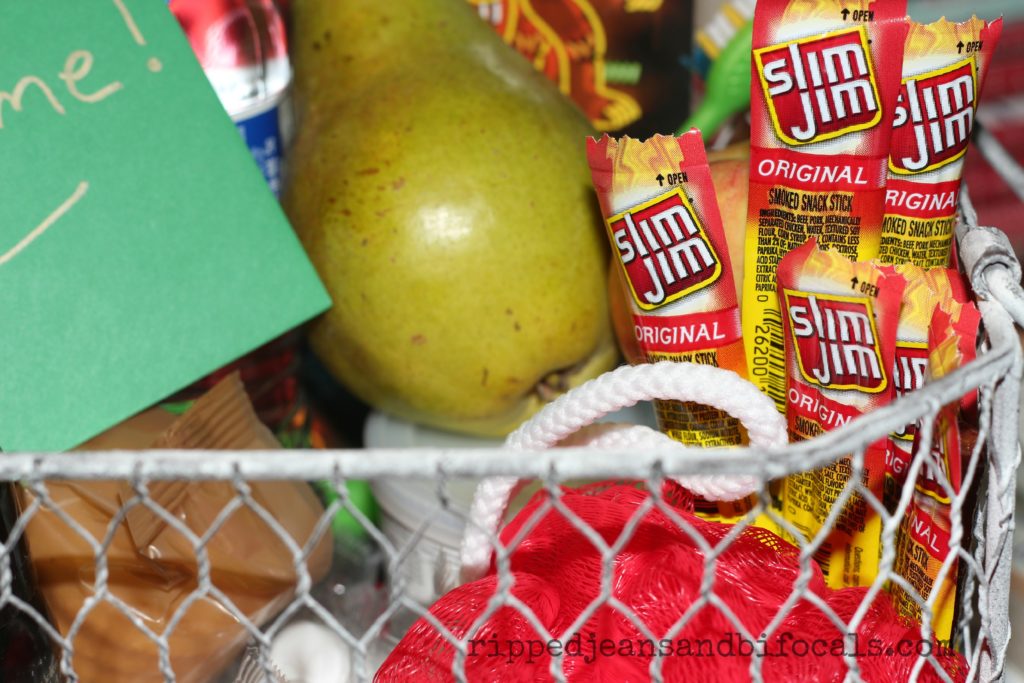 Communicate
This might seem like a no-brainer, but get the deets on arrival times and lengths of stay. A late-night arrival is probably going to throw a kink in your normal routine and you'll need to adjust. And, for the love of Pete, find a polite way to find the answer to the "and how long will you be staying with us" question. If you don't ask, you might find that Cousin Eddie is still hanging out in your living room come February. And yes, that's a National Lampoon's Christmas Vacation reference…that movie always makes me laugh (and always makes me a little bit nervous about house guests – ha!)
Ground rules
If you're not planning on being available as a 24-7 tour guide/cook/taxi driver, lay that out up front. Of course you are going to want to make adjustments in your schedule to spend time with your guest. If someone is staying in your home, chances are they are a relative or a close friend and taking some time to enjoy their company…well, that just seems like the thing to do, huh?
That's not to say your life will stop because you have company. If there are pockets of time where you won't be able to entertain your guests let them know and offer some suggestions on things they can do on their own. Make sure you provide info on public transportation or offer them use of a car.
"My house is your house."
Make your guest comfortable in your home. Show them around your kitchen and make sure they know what they can help themselves to. Show them the laundry room and where you keep the detergent. Give them the Wi-Fi password (or set up a guest account) and show them how to work the TV remote. Unless your visitor is a frequent flyer in your home, they're probably going to be hesitant to start poking through your stuff.
Make some adjustments to your family routine
You might need to flex your family schedule to accommodate visitors. You may need to redefine quiet hours, especially if you have younger kids and older guests. My two boys are loud and proud and we usually don't even notice the noise, but we try to keep them toned down and away from the guest room during the early morning or late evening hours. We don't completely turn our lives upside down when we have company, but we do try to teach our kids to be a little more mindful of the decibel level when there are others in the house.
Make it a little extra special
While traveling is fun, there are some "not-so-fun" aspects of being away from home, especially during the holidays. Why not take a few minutes and do something that will make a guest in your home feel extra welcome?
I like to do a small gift basket for anyone who comes to stay with us. It doesn't have to be fancy or expensive…just a few little items to make a visitor comfortable and give them that extra little warm fuzzy. Who doesn't like that?
Here are some great tips for putting together a fun gift basket:
Keep the container small.  If your guest is traveling by air, they may not have a ton of extra suitcase space to stow a large basket or bowl.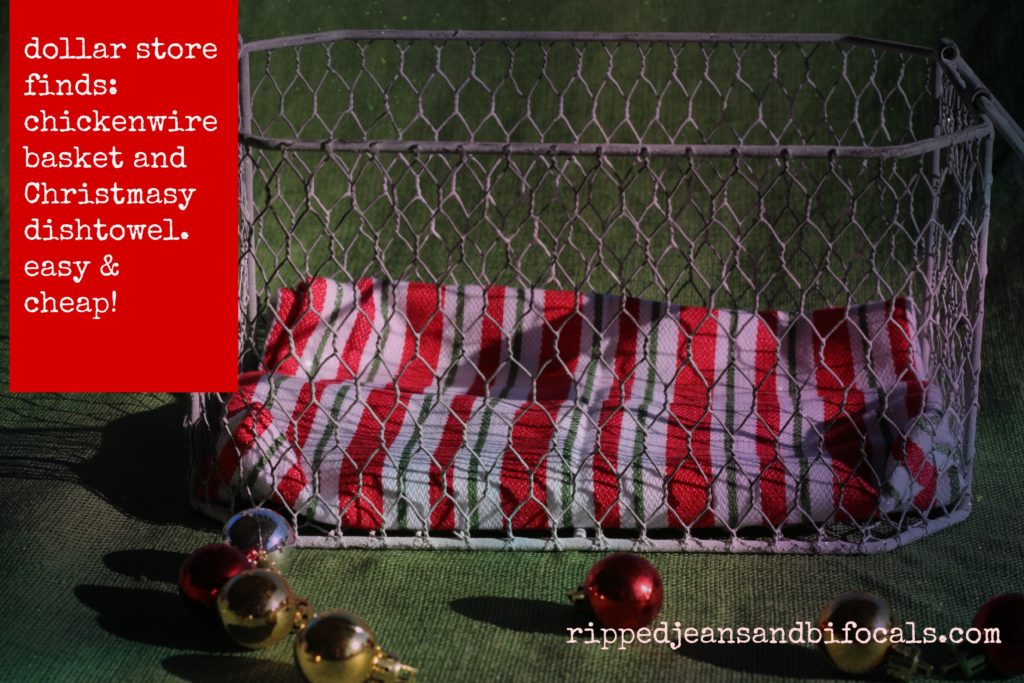 Assume you're not going to get the container back. If someone give me a gift basket, I'm assuming the basket is part of the gift. I can walk through my house and find dozens of containers that would make really cute gift baskets…but not so many I'd actually want to part with.  I usually buy multi-use containers at the dollar store to keep on hand for stuff like this.
Use a piece of cloth to line the basket. This can be a fabric scrap, a tea towel, a pretty scarf or even a T-shirt that your guest would enjoy.
Fill the basket with a mix of fun and practical things, focusing on what your guest will want, need and use while they're in your home. Avoid giving things that your guests will feel obligated to take home.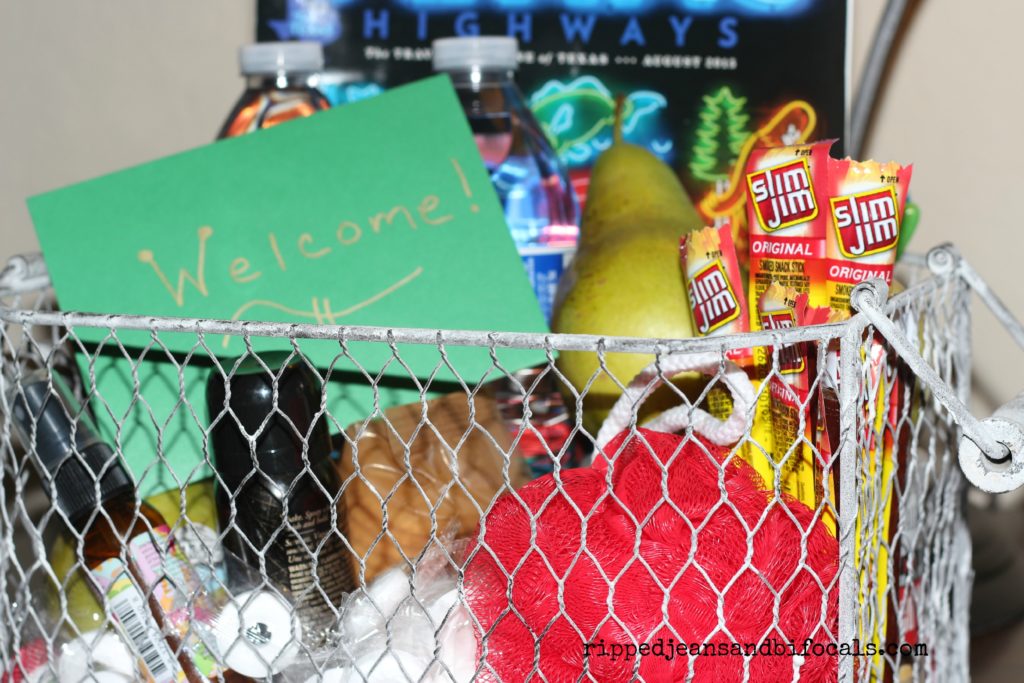 Here are some suggestions:
– A couple of bottles of water.
– Fresh fruit – a couple of apples or pears work well.
– Gum or mints
– Copy of a local newspaper or magazine – this is especially handy if you're going to be leaving your guest to their own devices
– Yummy snacks. Cookies and crackers are always good but consider something more substantial, such as dried fruit or nuts. Or, how about a Slim Jim?  Something bold and spicy that might tide a hungry first-night guest over until the next meal? Maybe your visitor is hesitant to wander into your kitchen and tell you they're hungry. Maybe they don't want to traipse out into your living area in their PJ's to forage for a snack.
Slim Jim will put some snap into your gift basket! They come in 26-count pack, so don't be a stingy scrooge when putting those baskets together…and yes, there's plenty left for you to munch on, too.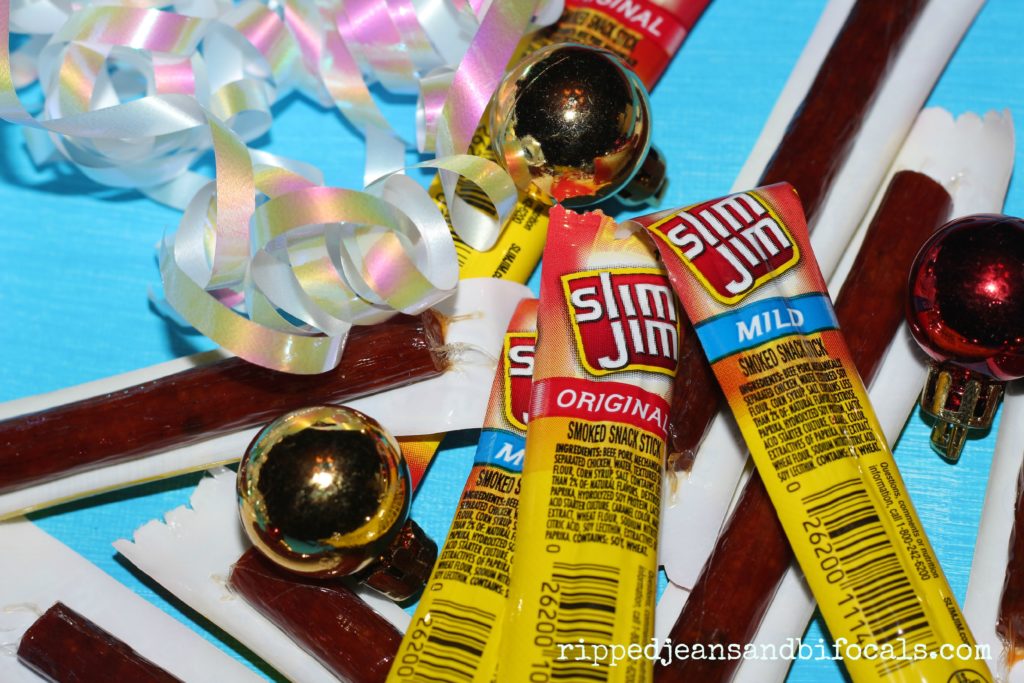 – Travel size toiletries. Tuck in a fun note that invites them check in with you if they've forgotten something.
– A welcome note. A simple, handwritten note welcoming someone in to your home and telling them you are excited to host them? Well, that never goes out of style.
And, if you are the one doing the traveling? Pop a couple of fun snacks into your carry on in case your hostess isn't as forward thinking as me. Being hungry is for the birds and snapping into a Slim Jim? That's always fun.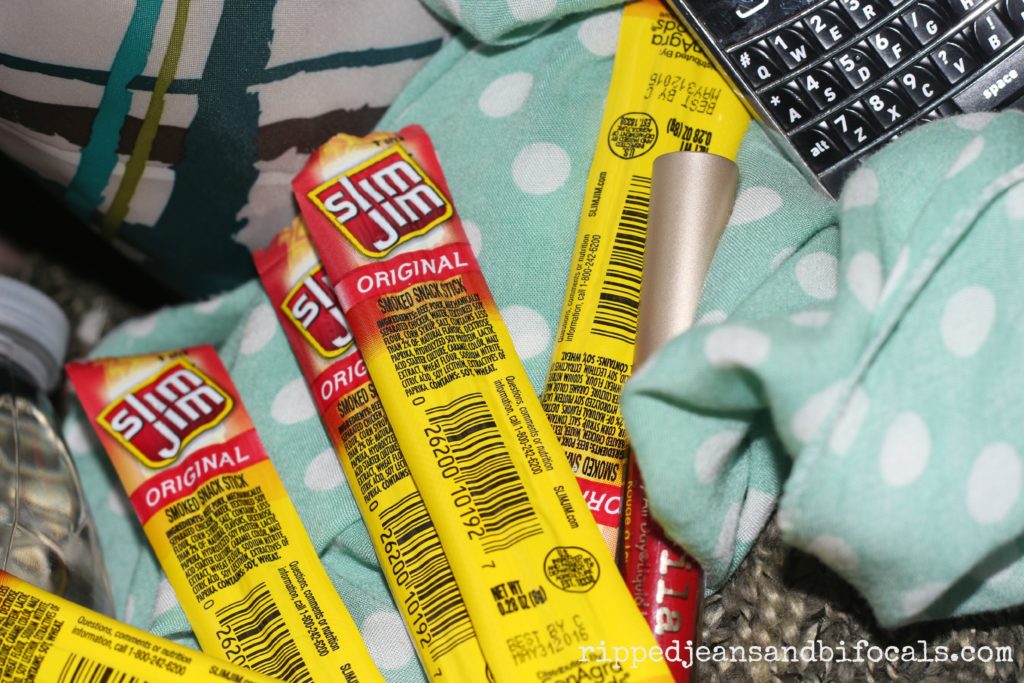 And…if you are the one doing the traveling, make sure you're loaded for snacks. It beats wandering into someone else's kitchen in your PJ's.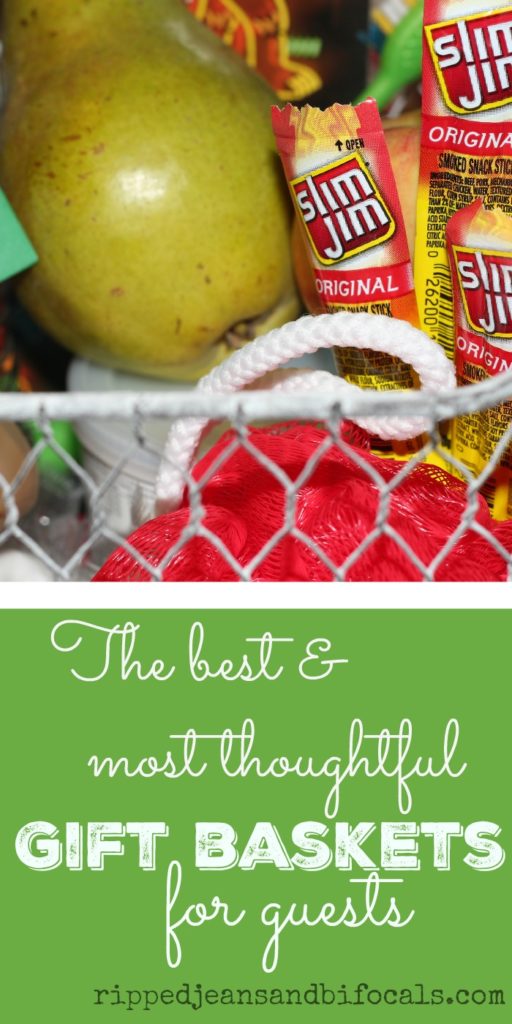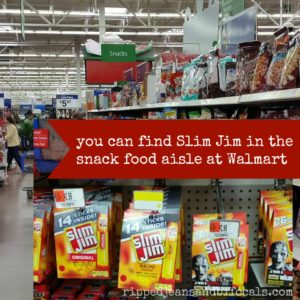 Thank you for reading! Follow me on Facebook!
Want more travel ideas? Check out my travel board on Pinterest!
Follow Ripped Jeans and Bifocals's board Travel Ideas on Pinterest.
(Visited 223 times, 96 visits today)