This shop has been compensated by Collective Bias, Inc. and its advertiser. All opinions are mine alone. #ShareTheJoyOfPie  #CollectiveBias
I can do lots of things.
I can drive a stickshift, do a pushup, order coffee in seven different languages (and actually get coffee) and I can read Dr. Seuss's "Go Dog Go" with my eyes closed while turning the page in exactly the right places. I should also clarify my foreign language ability doesn't extend much further than coffee and introducing myself.
I can do a lot of things but I can't make pie crust from scratch. I've tried several times and the result is always something between barely edible and disaster. I don't know why the art of pie crust making eludes me. I'm a good cook in all other areas. I can make just about anything and I have a few special dishes that I'm really proud of.
Pie is not one of them and I've just sort of accepted that.
But I still like pie. Everyone likes pie, right? And while I can whip up cakes, cookies and quick breads throughout the rest of the year, there's just something about the holidays that calls for pie at the end of a special meal.
Thanks to Marie Callender's® Dessert Pies, I can serve up pies that I can be proud of.
These pies can be found in the freezer section – I snagged mine at Walmart when I was doing the rest of my Christmas shopping. They're effortless – just bake and serve.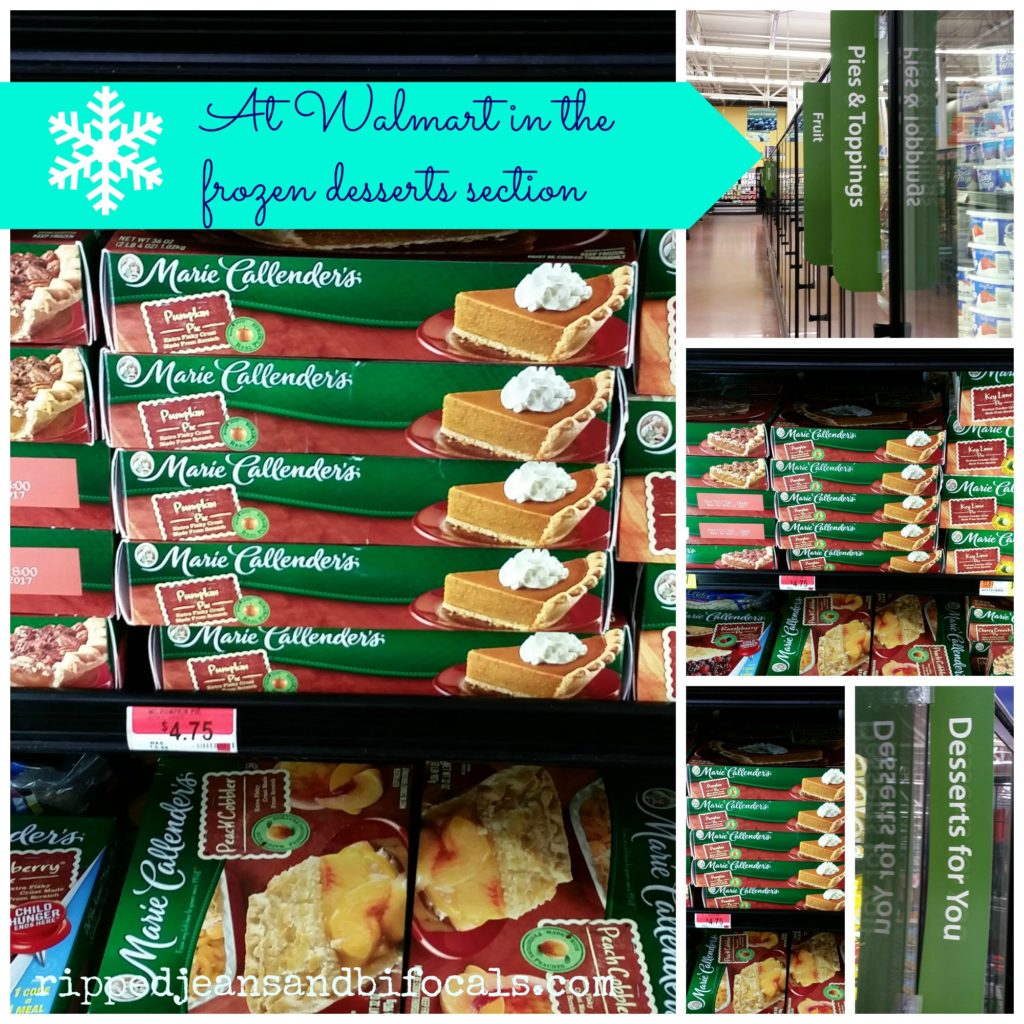 I could totally slide one of these beauties into one of my pie dishes and take credit for baking them…assuming the people I was serving didn't know about my history of being a hot mess in the pie crust making department. Marie Callender's® Dessert Pies taste just as good as homemade and you know what? I don't mind giving Marie the credit. There is so much about the holidays that I love. Even though making a big holiday meal or cooking for a party is a lot of work, it is one of the things that I love.
But, I'm okay with putting myself first sometimes.
As much as I love to fuss over others, I need to give myself a break and make things easy on myself, too. Marie Callender's® Dessert Pies allow me to put a sweet treat on my table that I'm proud of that didn't take me a ton of time to put together. I can spend that extra time on making something I'm good at (like anything that's not pie crust) or doing something else to make my guests comfortable in my home, like setting a nice table.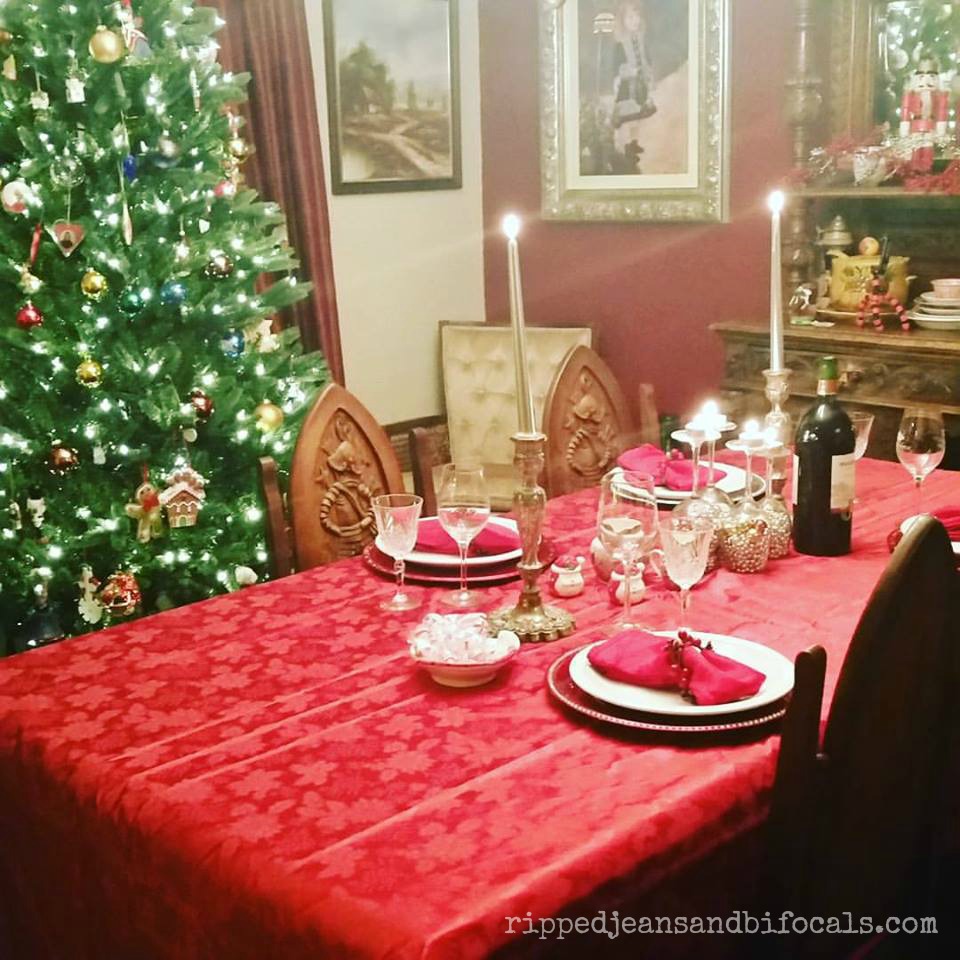 This Christmas, I decided to get a little bit creative. I wanted to serve a variety of desserts but I wanted to offer smaller bites so that people could sample lots of little bits of goodness without feeling like they're completely over-indulging. The holidays are all about splurging, but I wanted guests to be able to sample all the sugarplums on my dessert table.
My solution? Pie shooters.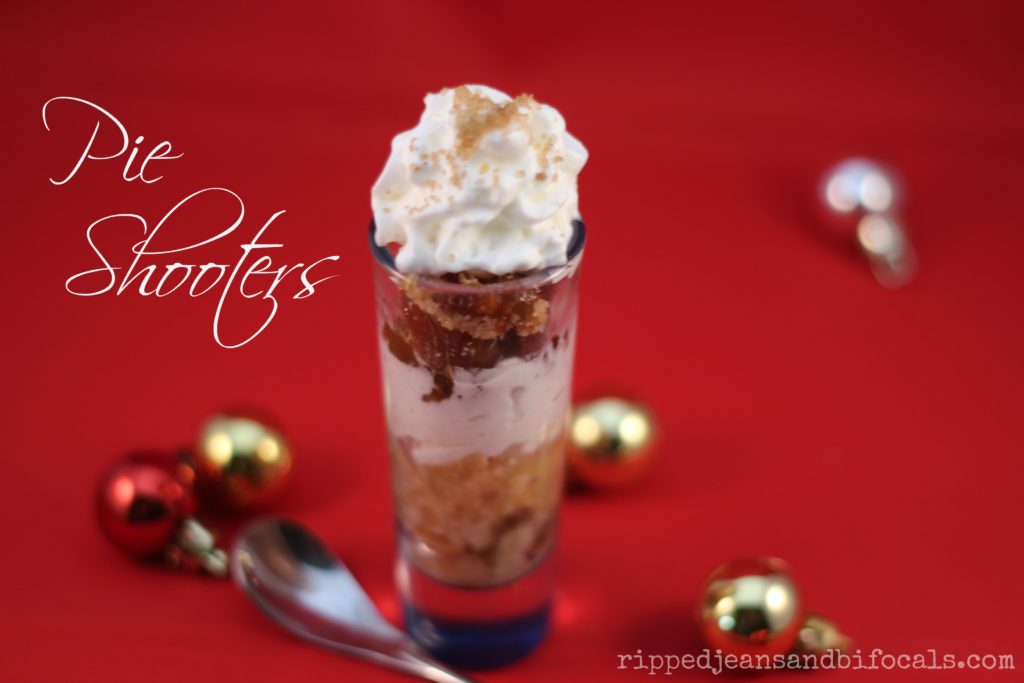 Doesn't that just sound so fun?  I started with two delicious Marie Callender's® Dessert Pies, baked according to the directions on the package. Super easy.
Pro tip: a little bit of foil wrapped around the crust during baking to prevent the crust from overbrowning.
I used half of a Southern Pecan Pie and half of a Lattice Apple Pie (my family enjoyed the rest of the pies…well, you know…the regular way.)  You can vary your portions of pie and your pie flavors to suit the number of servings you need to make and your taste buds. And…there's always leftover pie at our house because I buy extra so we can have leftover pie…because pie.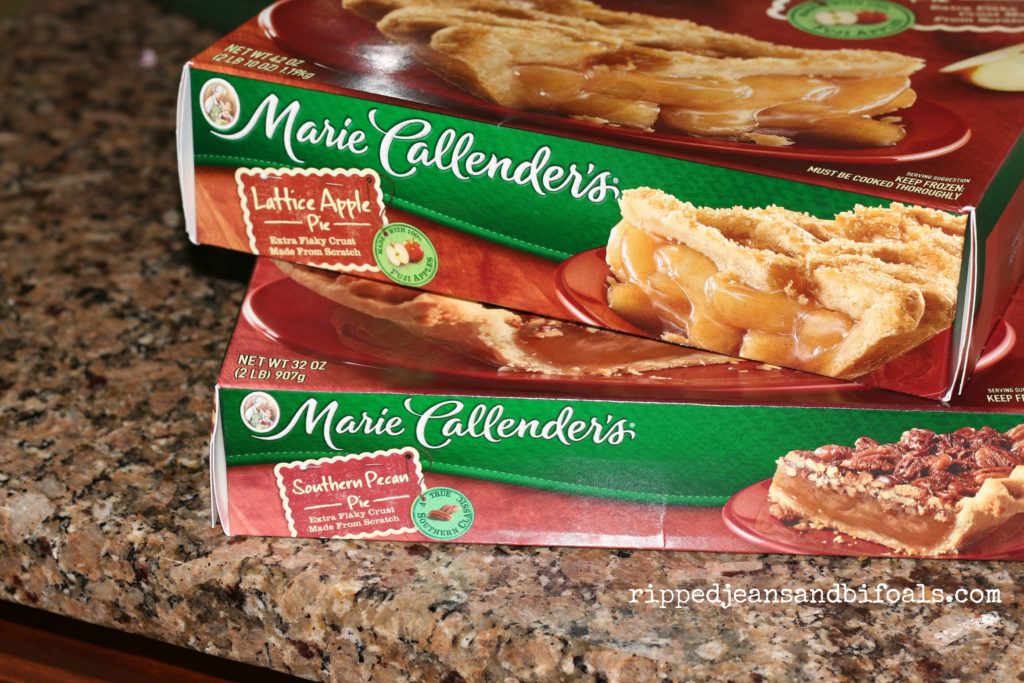 Pro tip: allow a pie to cool for at least two hours before slicing it. If you can't wait, you can't wait, but pie is easier to work with and slices up more neatly if it's had a chance to cool.
Pie shooters are also a great way to "piecycle." If you're wanting to do something clever with your leftover pie it's easy to throw together a pie shooter. You could also use martini glasses or mason jars or whatever cute and fun container you have on hand. Get creative!
I used two ounce shot glasses. If you can't find these, you want to look for a similar sized container.
Cut the pie you're using into bite-sized pieces: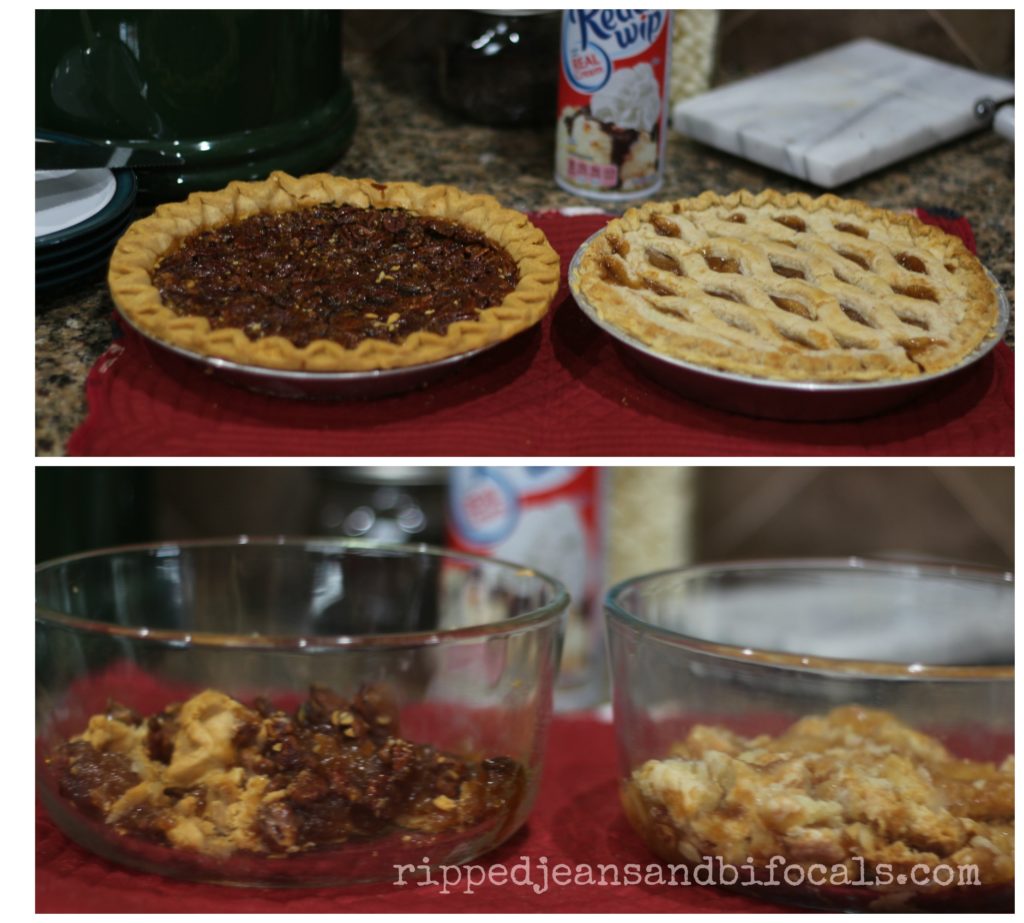 Spoon a tablespoon (or so) of pie (I put the Lattice Apple Pie) on the bottom, but that's not a rule) into the bottom of the shot glass. Pack the pie down into the bottom of the shooter to give you some more room to work with…but not so tight that someone will have trouble getting it out.  I used the handle of a wooden spoon…just a couple of taps.
Squirt a small amount of Reddi-Wip® on top of the pie.
Spoon a tablespoon full of the second variety of pie (I used the Southern Pecan…did I mention pecan is my most favorite pie flavor ever?) on top of the Reddi-Wip®.
Top with Reddi-Wip® and garnish with cinnamon sugar. I used a little bit of white sugar mixed with brown sugar and just a dash of ground cinnamon.
This is such a fun way to serve small dessert bites or to jazz up leftover pie. Two halves of a pie make a dozen 2 oz. pie shooters, so two whole pies would make 24. If you use larger containers, you'll have to adjust. I did up these mini mason jars for our family dessert one evening. The amount of pie used here was equal to two of my little pie shooters, plus, I used more topping. More Reddi-Wip® is not ever a bad thing, people.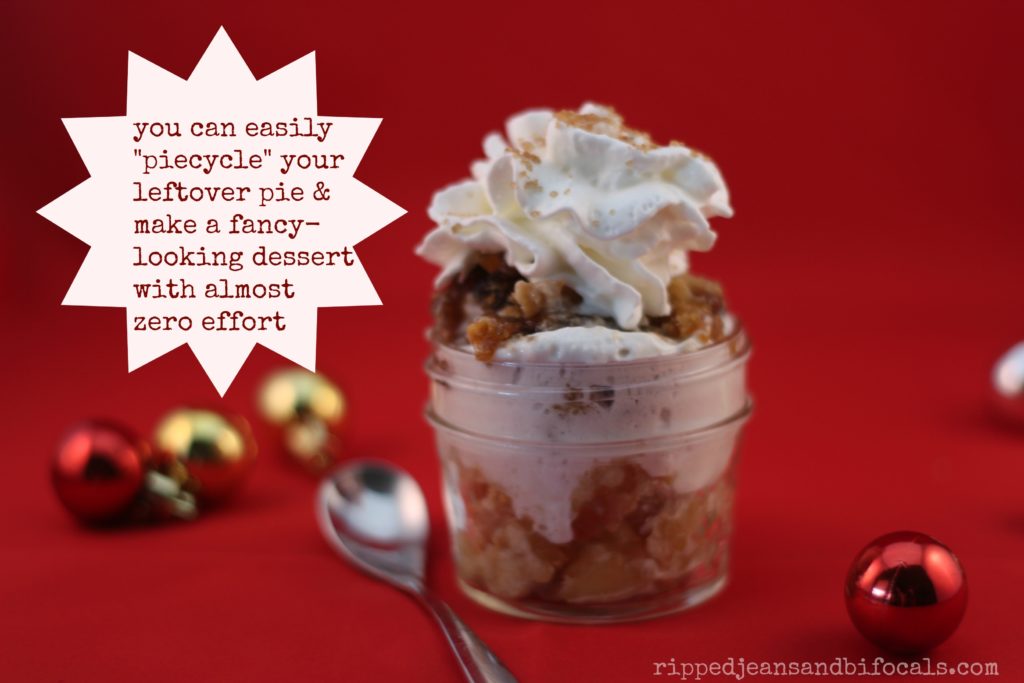 Even if you're a super hostess who can whip up homemade pie crust effortlessly, consider letting Marie Callender® shave some time off your dessert prep. I hope your Christmas season brings you a tremendous amount of joy…and I hope that includes sharing the joy of pie. There are so many creative and fun ways to enjoy a delicious dessert and sharing the joy of pie.  What will you come up with?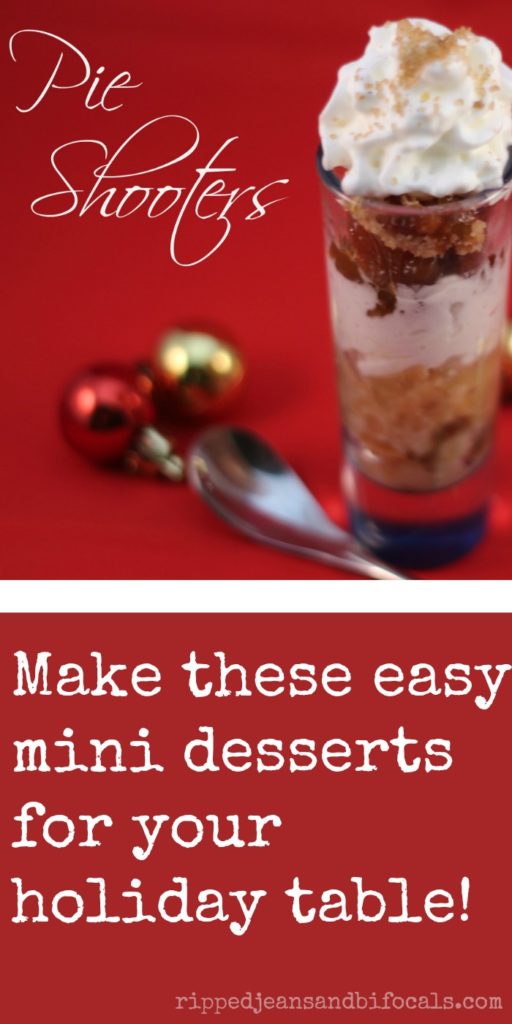 Thank you for reading! Please share this post with anyone you think might enjoy it…or anyone who needs a fun and easy idea for their dessert table.   Make sure you're following me on Facebook and Pinterest, too!
Follow Ripped Jeans and Bifocals's board Sweet Treats on Pinterest.
(Visited 371 times, 142 visits today)