This shop has been compensated by Collective Bias, Inc. and its advertiser, Mars, Incorporated. All opinions are mine alone. #IAMSVisibleDifference #IAMSCat #CollectiveBias
It's only been recently that I've thought about families needing to adjust to having a cat. I've been a cat person all my life. There have been a few gaps where I haven't owned a cat but for the most part, a feline has always been a part of my household. I've always been fascinated by cat behavior – the slight look of disdain on that fuzzy little face when he looks at his human and the hours of entertainment the plastic cap of a water bottle can provide are part of what makes cats interesting.
Henry was part of our lives from 2001 to 2014. He was a quirky Bengal who didn't really like people, but that didn't stop me from being completely crazy about him. The decision to put him down in 2014 after a year of health issues was tremendously difficult. We knew we were moving shortly after Henry's death so it was an easy decision not to get another cat.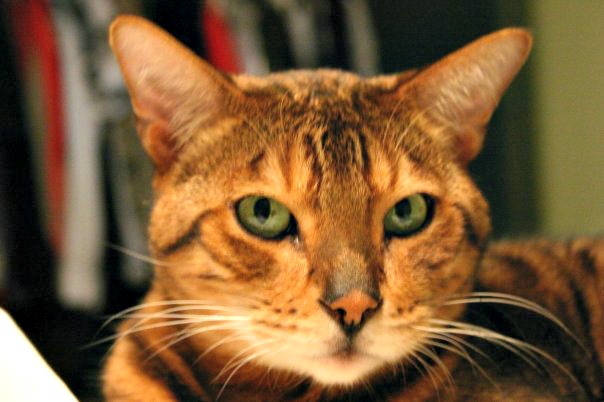 We talked about getting another pet after we moved into our new house but we just never did. I'm not going to lie – it was nice to have a break from scooping out the litter box, but that wasn't the only reason. Henry's passing hit me a little bit harder than I wanted to admit and I just wasn't "feeling it" on the idea of having another feline take his place.
I used my kids as an excuse for why we shouldn't get another pet. One of my sons is crazy about all animals and always has been. I have zero doubts that he'd walk right up to a grizzly bear and try to pet it. The other is skittish around all animals, even cute, fuzzy puppies and kittens. We adopted Kyle when he was three and we've never been able to determine what happened in his past to make him so fearful.
Henry spend the last year of his life hiding from these two loud tiny humans: one who tried to ride him and "pet" him when he didn't want to be bothered and one who screamed bloody murder at the sight of him. So, whenever the cat talk came up, it was easy enough not to go down that road.
Until a feral cat showed up in our neighborhood.
I noticed a skinny gray and white cat hanging out on our cul-de-sac. After talking to our neighbors, I learned she was a stray and that two families had been feeding her. She was skittish but we agreed she'd belonged to someone at one time. She didn't let us get too close at first but she just didn't have that wild, undomesticated air about her. What I thought was a battle scar was actually a sign she'd been spayed – a little clipping of the right ear. A family down the road had recently moved and we suspected that they'd abandoned her.
Maybe I felt sorry for her. Maybe I was angry about the lack of responsible pet ownership. Maybe I just missed having a cat around but after some family discussion, I found myself in the pet supplies aisle and making an appointment at the local vet.
Kitty Bug has been a part of our family for about six months. Kitty Bug is the name on record at the vet's office. One of my boys calls her Sleeping Beauty and the other just calls her Kitty (from a safe distance…I'll let you guess which one that is!) I secretly call her Elfie after the witch in Wicked and I think she likes it. I know…she's probably confused but she's happy, too.
Kitty Bug-Sleeping Beauty-Elfie warmed up to my husband and I right away but wanted nothing to do with my kids. My loud kids. They go to bed at eight o'clock on school nights and she'd come out from hiding like clockwork as soon as they were down. It's only been over the past month or so that she's seemed comfortable being in the same room with my kids and even then, she doesn't allow them get too close. We've had a couple of successes with a very short amount of petting but the kids still make her nervous. From her vantage point, I imagine these loud creatures who run, jump and waive lightsabers and Nerf guns around are pretty frightening.
We're getting there. If you're considering adding a feline to your tribe here are three tips that have helped our family adjust to having a cat:
Give your new pet some space
This should happen whether you have kids or not but leave your new kitty alone until she's ready to be social. Provide food, water and a litterbox but don't bug them too much. They'll come out to eat and do their business while you're asleep or away from the house. When they feel comfortable, they'll come out and say hi. It may take a day or it may take weeks.
Manage expectations
Our kids were disappointed that our new cat wanted nothing to do with them. We had to explain how animals have different temperaments just like people and that we must take their cues from the animals. Also, feeding the cat people food is a no-no and in our house and we've had to make sure our kids (and visitors) understand the rules. They're allowed to give her cat treats but they're not allowed to feed her from their plates or mess around in her food area. We've also explained that cats might scratch or hiss when they're agitated. They're responsible for treating her kindly but letting us know if she displays aggressiveness.  Even with older kids or teens, it's helpful to lay down the rules.
Involve your vet
Find a vet you like and trust early on. You should have a vet picked out before you have a cat. If you're taking in a stray, as we did, the timing of that first vet visit is important. The health of your pet is important but so is your family's safety. If you're having a pet behavior or adjustment issues, don't be afraid to reach out to your vet. They have a ton of resources available and they can help.
Fortunately, our transition has been pretty smooth. Our new kitty is healthy and the skittishness is coming along. Our newest challenge is keeping Kitty Bug-Sleeping Beauty-Elfie at a healthy weight. She was fairly scrawny when we took her in, although she'd been enjoying regular meals courtesy of my neighbors. But, the life of a house cat with unlimited access to food and not having to be on guard against dogs, cars and whatever else is out there in the wilds of suburbia has caused our cat to put on weight.
A lot.
My husband kept remarking how our cat was looking extra fluffy but it wasn't until I had to pick her up and move her off the bed I was trying to make that I realized how heavy she'd gotten in such a short time.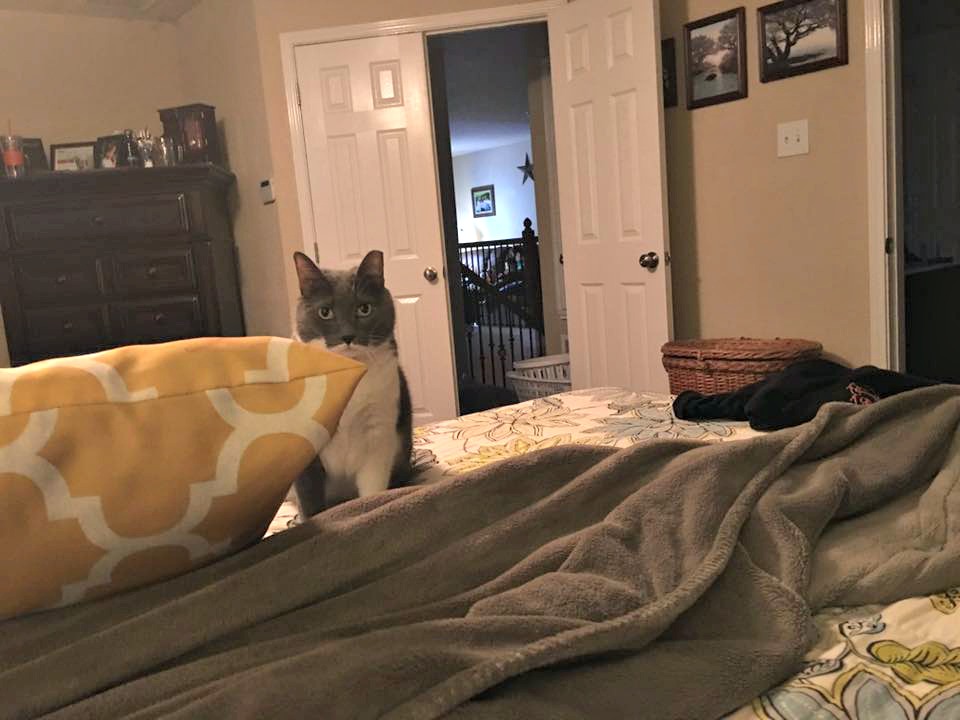 We don't have a lot of early pictures of her. I was trying not to do anything to freak her out and reaching for my camera or phone made her run away so I don't have a good "before" picture but I can tell just by holding her that she's gained a good two or three pounds which is a lot for a cat.
So, we've got a bit of a chubster on our hands. We've recently made the switch to IAMS™ which is a known and trusted brand of pet food. I'll confess to feeding her some lower-end cat food when we first got her. She seemed to like it and tolerate it okay but I want to do better for her.
We focus on eating healthy. I meal plan, try to watch our family's sugar intake and serve more fruits and vegetables but I've been giving our cat the short end of the stick when it comes to nutrition.
IAMS™ includes fatty acids from fish oils, which promote excellent skin and coat health, along with beet pulp which helps cats maintain intestinal health and aid their ability to absorb nutrients. IAMS™ also offers a customized mix of protein and carbs to contribute to healthy energy levels. Our bargain brand of cat food can't say that and I feel much better about switching to IAMS™.
A healthy cat is a visibly happy cat and I'm confident that changing her diet will only bring good things for Kitty Bug-Sleeping Beauty-Elfie. We're currently using IAMS™ Proactive Health Indoor Weight and Hairball Formula with Chicken since we have a sedentary indoor cat but there are many varieties and I'm sure you can find one to suit your cat's needs.
I will always miss Henry but our new girl is fitting in nicely.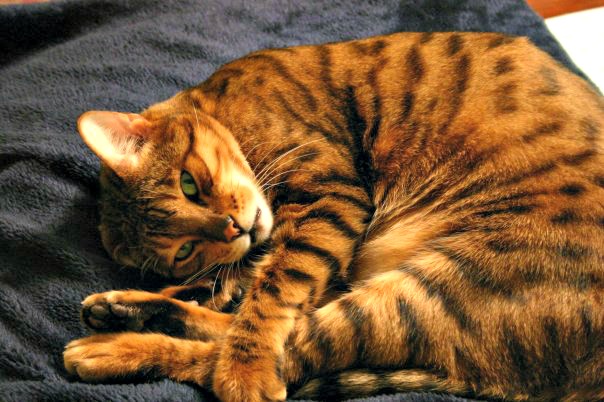 It's been an adjustment for everyone but I'm happy she has a home and that my kids are growing up understanding the value that pets can add to our lives. If you have a cat, remember that a healthy cat is a visibly happy cat. If you have a cat then I encourage you to try an IAMS™ diet and look for the visible difference quality food can make.
And how cool is this – You can enter to win IAMS™ for a year or a $125 Walmart gift card:
#IAMSVisbleDifferenceSweepstakes
And, if you're considering getting a cat and especially if you have kids, remember to give your new kitty some space, manage expectations and involve your vet. They're there to help. There's a lot that goes into helping your family adjust to having a cat that we might not think about when we first make the decision to become pet owners. I hope this helps!
Oh, and maybe settle on just one name!
A vote on Top Mommy Blogs helps my site a ton. It's super easy & one click helps me to be able to continue to bring you great content. Totally non-spammy…I promise!