Gwyneth is in the news again with her zillion dollar "smoothie."
Last year, GP made big news when she went public with steam cleaning her vajayjay. I was fully entertained by all of the internet reaction to her TMI over-sharing about how she keeps her hoo-hah clean and healthy.
I'll just stick with my daily showers with Wal-Mart brand body wash thankyouverymuch but I guess it's nice to know what I could do to up my personal care game if I had some extra spending money.
A few months later, Gwyneth was back in the news again when she attempted to take the "live on $29 a week" food bank challenge. This was part of a well-intentioned initiative to raise awareness about how hard it is to survive on the amount of money New Yorkers on food stamps receive. I'm sure Gywnnie had the purest of motives when she posted a picture of her bounty on Twitter:
This is what $29 gets you at the grocery store—what families on SNAP (i.e. food stamps) have to live on for a week. pic.twitter.com/OZMPA3nxij

— Gwyneth Paltrow (@GwynethPaltrow) April 9, 2015
The internet wasn't kind to her. Maybe her gesture came off as a teensy bit condescending, hmm?  Or, maybe it was all those limes. I still lay awake at night wondering why there had to be so many limes.
Not really.
I had lunch with Gwyneth in New York City this summer. And by "I had lunch" I mean I was in a ballroom with about 1,500 other people at a table waaaaaaaaay far away from the stage at BlogHer 15 where Gwyneth was speaking.
I wanted to dislike her. I wanted to think she was entitled, snooty and out-of-touch but she talked about being a mom, work-life balance and how she dealt with judgy people. Not only did I come away thinking "she's not so bad," I came away sort of thinking "she's just like me."
This is not true. Not even a little.
The only thing I have in common with GP is the fact that we both have vaginas although since mine is not regularly steam-cleaned, that might not count.
The whole moon dust smoothie thing proves it. Yep, I said "moon dust smoothie." I'm not sure if it's more surprising to me that you can actually buy moon dust or that someone would want to drink it.
Like Gwyneth, I enjoy a good smoothie in the morning, whether or not I'm detoxing. Just kidding. I'm not sure what it really means to detox or how I'd go about it. Can I have wine on a detox?
I don't vary my smoothie game too much – I use a chocolate meal-replacement powder and some almond milk. If I'm feeling adventurous, I'll throw in a banana or some powdered peanut butter. I like my smoothies because they're relatively healthy and I can drink my breakfast while doing other stuff or even take it in the car if I'm really in a hurry.
Gwyneth's smoothie is a little different: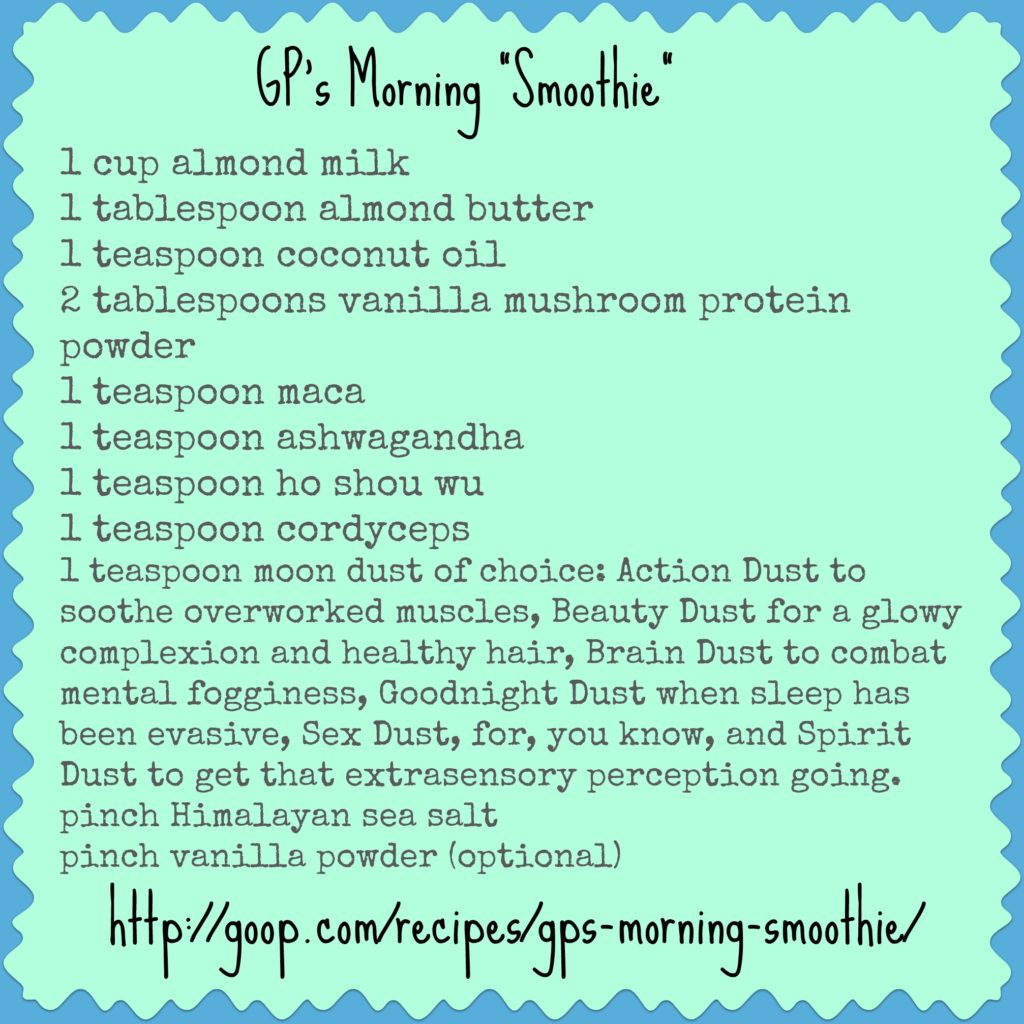 WTF? I've never heard of such as ashwagandu and cordryceps. Have you? Seriously, I have no idea what this is and I'm a little afraid to even Google it. Cordyceps sounds like some sort of ailment…maybe a rare liver condition of some sort. Perhaps one of those rare tropical diseases you read about. And moon dust??? Is that a euphemism for something else or is she really putting dust from the actual moon in her actual morning smoothie? Can you even buy that? I'm guessing yes and that it would be expensive and taste disgusting.
The only maca I'm interested has a "roon" on the end of it…now that would be super delish in a smoothie. Macaroons are made of coconut. Coconut is healthy. And, maybe I can snag a jumbo bag of ho shu wu the next time I go to Costco. I'm sure Kirkland makes it and packages it up in bulk, right?
I'm sure the internet will once again beat poor GP up about her pretentiousness and general out-of-touchness. But you know what? Stuff like this is what makes Gwyneth Paltrow Gwyneth Paltrow. If she were to publish an article on Goop about how she eats store-brand cheerios for breakfast and cleans herself with a baby wipe because she's late and had to skip a shower, who would really want to read that? Lifestyles of the rich and famous are meant to be a little bit out there, right? If celebrities were just like us, they'd be boring.
So go on with your bad self, GP. Steam-clean your girlie bits to your hearts content and feast on weird-sounding concoctions made of ground up who-knows-what.
But gurl…I'm still going to be wondering what you actually did with all those limes…
Thank you for reading!
Follow Ripped Jeans and Bifocals's board Funny Mom Blogs on Pinterest.
A vote on Top Mommy Blogs helps my site a ton. It's super easy and besides…you know you wanna click my button.
(Visited 391 times, 56 visits today)