Grocery Shopping at Costco during COVID-19
I have always (always, always, always) loved Costco. One of the first things we did when we moved here from England in 2014 was to purchase a Costco membership. From the food samples (temporarily not available) to the ease of buying in bulk to the delicious snacks to the $1.50 hot dog deal, there is nothing about Costco I don't like. But what about grocery shopping at Costco during COVID-19? If you are curious about how that works, I am sharing what I know as well as passing on my own personal experiences with grocery shopping at Costco during COVID-19.
This post has been updated to address Costco's May 4th policy of wearing masks in all of their stores.
Grocery Shopping at Costco during COVID-19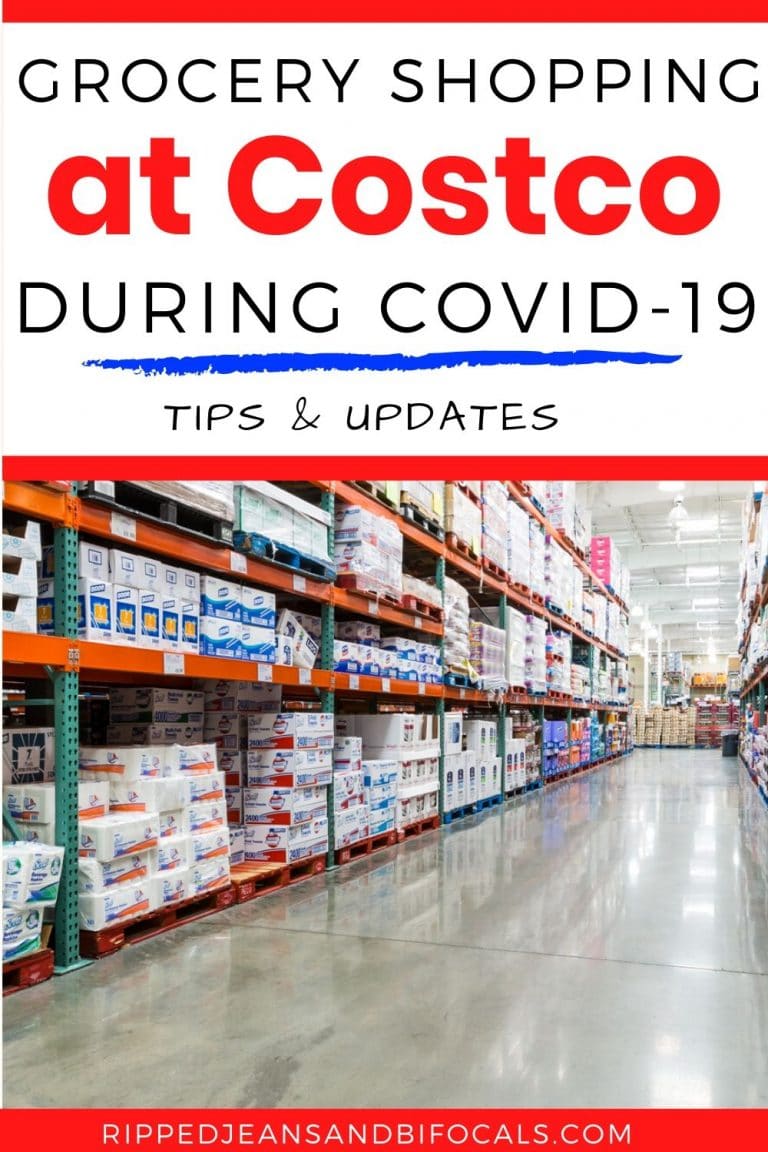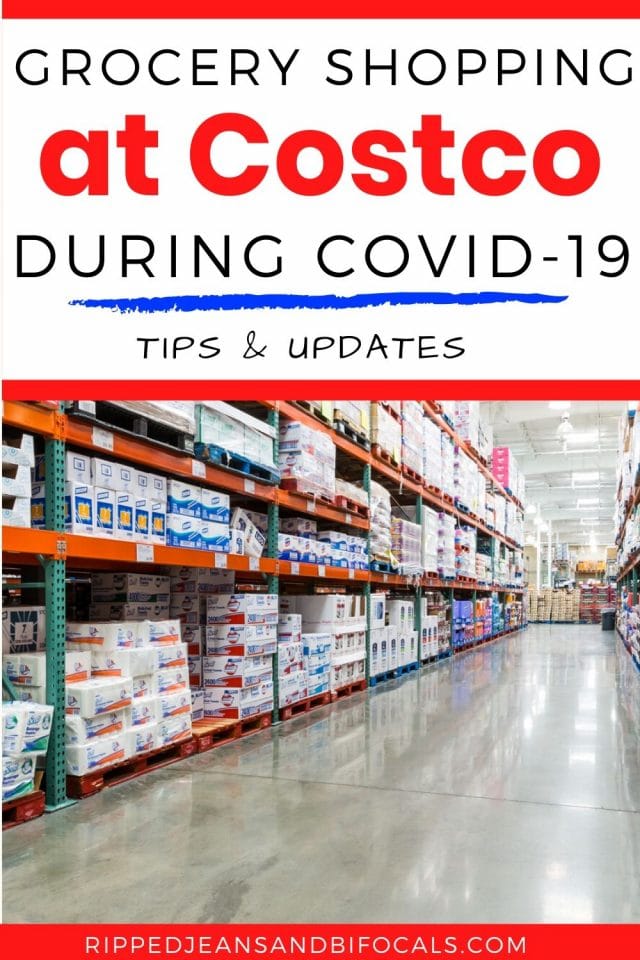 If you want to read my full ode to Costco, it's here. Yes, I really do love it that much and no, I'm not sponsored or paid by Costco in any way to gush about how much I love them.
As much as I love Costco, I didn't use it for regular grocery shopping before COVID-19. We would typically make a Costco run about once a month and purchase a few select items, plus anything else that happened to catch our eye. We are now using Costco as our main store to keep our family of four stocked up. Their prices are higher but overall, I find them to consistently have the best availability.
Disclaimer: We are a participant in the Amazon Services LLC Associates Program, an affiliate advertising program designed to provide a means for us to earn fees by linking to Amazon.com and affiliated sites. This post may also contain affiliate links to other sites where I will be paid a commission by the seller if you make a purchase.
New: Face Masks Required
Effective May 4th, Costco requires all members shopping in their warehouse to wear masks. This policy applies to everyone over two unless exempt by a medical condition that prevents you from wearing a mask. The Costco website does not elaborate on what types of condition that would be or how they're policing it – or if they are at all.
I shopped at Costco a few days before this policy went into place. All employees and most of the shoppers were wearing masks, although I did see a lot of "bad mask wearing." Lots of noses out and lots of people removing their masks to talk or to sniff products. Yes, I actually witnessed someone pushing her little nose up against a club pack of air freshener.
I'll add that mask wearing in our state and county is not mandatory and that I've heard a lot of naysaying about Costco's decision. There's a lot of "If they want me to wear a mask, they should provide one at the door."
I saw Costco employees wearing bandanas and other makeshift face coverings so it was pretty clear that Costco isn't able to provide masks for employees. Expecting them to provide one for all shoppers is probably a little unrealistic. My thoughts? If you don't like the policy, shop somewhere else. Other grocery stores in our area have not set this policy, even though I still see a lot of people wearing masks.
Bookmark this page to get the most current COVID-19 info from Costco.
Costco Membership
Costco is a member's only wholesale club. You must be a member to shop there and your card is checked at the door and scanned when you check out. There are two membership levels that cost $60 and $120 per year, respectively. The big difference in membership levels is that the more expensive level – the Gold Star Executive Level – gives cash back on purchases. The amount of our cash back is way more than $60 so for us, it makes sense to have the more expensive membership.
Costco also offers great travel benefits – remember travel? They also have great prices on tires, optical, and home improvement products.
Purchase in Bulk
Like most wholesale club type stores, your package size is going to be on the larger side. You won't find four-packs of toilet paper or ground beef in the one pound packages here. Not everything is Duggar family level bulk sized, though. You can buy regular sandwich bread in a two loaf pack and they have a lot of great heat and eat style meals that are sized two feed an average-sized family of four.
What I bought at Costco prior to COVID-19
Cheese, frozen pizza, Capri Sun, chocolate milk, paper products, cleaning products, canned vegetables, packaged snacks, and wine. We'd occasionally grab something else, dependent on what the sample people were giving out. They also have a great selection of prepared meals that are made in the Costco kitchen that you can heat up at home. Their deep-dish chicken pot pie is my go-to meal I take to someone if they've been in the hospital or have had a baby. In short, Costco was where we bought a few select things, not where we did our routine grocery shopping.
Related: Grocery Shopping Tips in the time of COVID-19
What I buy at Costco now
Everything.
Once the world goes back to normal, I'll probably return to shopping at the regular grocery store because Costco is more expensive and I have to divide, chop, vacuum seal and freeze a lot of the food to use later. I bought a large bag of onions where I'd have probably bought one or two in the regular grocery store. I have a vacuum sealer so I chopped, slices, and froze lots of onions.
As I mentioned earlier, the switch is due to them having just about everything I need, eliminating my need to go to several different stores or wait a week for grocery pickup at the regular grocery store to find that half my order wasn't filled.
Update: Costco continues to be really well stocked, with the exception of certain cleaning/sanitizing products. They post a sign at the front door listing high-demand products they're out of. The regular grocery stores are starting to have more predictable stock so I'm not sure how long I'll be regularly shopping at Costco for all my groceries. I've gotten into kind of a groove with it, although I could be saving more money if I shopped elsewhere.
Changes to how I shop at Costco
Since I'm buying everything we eat at Costco, I've had to shift the way I shop. I take more time to meal plan and take more time post shopping trip to repackage and freeze some of my food. Knowing I'm going to have a larger size container of something has caused me to plan a little bit differently and get more creative with my meals.
We are also getting a LOT more mileage out of our vacuum sealer and actually had to order new bags. I've had to explore some different options for food storage as well. I'm not usually the person who buys five pounds of pinto beans at once but Costco has got me using larger sizes of lots of things so I was scrambling to find larger storage containers for some of this stuff. This gallon container is great for beans, rice and cereals, if you don't want to leave an open bag in your pantry. We've been using buckets similar to this one to store flour and sugar in. These are food safe and they keep your dry foods fresher than just rolling up the bag and leaving it on the shelf.
We have had our vacuum sealer FOREVER. My husband had it before we got married and we've been together for almost 12 years. This one is similar to the one we use at our house.
Costco Delivery Options
If you can't get to Costco, Costco can come to you. If you have InstaCart – a personal shopping service similar to Shipt – you can select Costco as a store option. You do not have to be a Costco member to shop at Costco via InstaCart. You can order any type of food items, to include perishables. In regular times you'll be able to get this same day if you want but COVID-19 has caused longer waits for deliveries.
Costco 2-day delivery (which is currently running five to six days) is available for paper and cleaning products as well as non-perishable food items. If you need staples and don't want to go to the store, you can get quite a few things to make meals with, such as nut butters, canned tuna, macaroni and cheese, pancake mix, and more. You can see a selection of what is offered here. You do have to be a member to use this service.
Expect to pay more to have your groceries delivered but if you can't or don't want to go out, it's a pretty easy option.
For more on Costco delivery, read here.
Changes to Costco in response to COVID-19
Grocery shopping at Costco looks a little different right now. Here are some of the other changes they've made:
Reusable shopping bags
You can bring your own shopping bags as long as you pack them yourself.
New closing hours
Overall, Costco stores are closing earlier to allow more time for restock.
Senior shopping hours
Costco members ages 60 and up are allowed to do their grocery shopping at Costco from 8:00 – 9:00 on Tuesday, Wednesday and Thursday. Currently, the stores are opening up for other members at 9:30.
Priority access for first responders
Health care workers, EMT, fire fighters and police may jump to the front of the line to enter the store. They must present ID that identifies them as such as well as their Costco membership card.
Updated guest shopping policy
A maximum of two people per membership are allowed in the store. No more bringing the entire family shopping.
Product limitations
I've seen limit signs posted near some on-demand products, such as milk and eggs. I'm not sure how strictly this is being imposed because I've seen people with multiple cartons of eggs in their shopping basket. Yes, I'm nosy.
Return restrictions
Costco is not accepting returns on select items. On the current list is toilet paper, sanitizing wipes, disinfectant spray, bottled water, paper towels, and rice. So, if you're the one hoarding these items and just realized your car payment is tied up in the 50 pallets of toilet paper in your garage that you realize you don't need, joke's on you.
You might also like:
15 things to do with leftover ham
What's on my pantry stock list