Four Things to Know About Texas MedClinic
(This post may contain affiliate links. Read my full disclosure.)
Texas MedClinic has been operating in Texas for over 35 years, with 15 locations in San Antonio and the surrounding areas (New Braunfels, Austin, and Round Rock.) I was invited to the media preview of the newest Texas Med Clinic, which is located in Spring Branch at the intersection of 281 and 46. This is a rapidly developing area that needs an urgent care center.
This post has been sponsored by Texas MedClinic. All opinions are mine.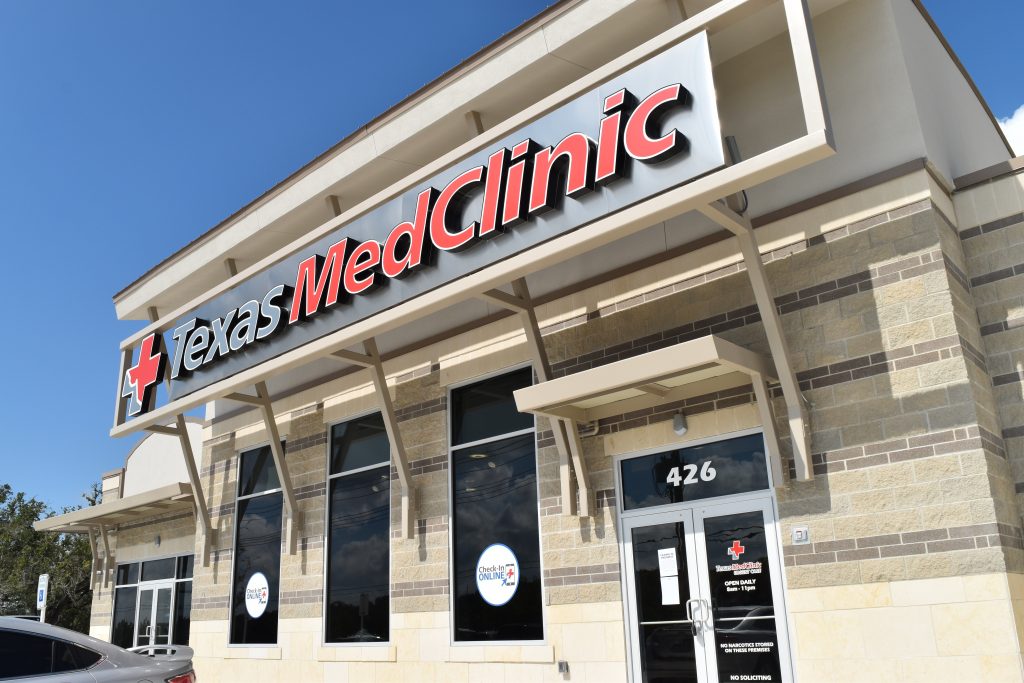 Now that school has started, what do we have to look forward to? You might say "Halloween" or "cooler weather." Keep dreaming of that last one, Texans. I believe dreams come true…it did snow last year but I think I'd settle for "not center of the sun hot" right now. But seriously, what we have coming at us is cold and flu season. Even though it rarely gets what our Northern friends would call cold here, we still get our share of colds and the flu, especially if you have children in your house that attend school or daycare, which I'm firmly convinced are giant petri dishes.
[Tweet "What you need to know about Texas MedClinic @TexasMedClinic #TexasMedClinic #ad"]
While there are some things you can do to minimize your risk of getting sick, sometimes colds or the flu sneak up on you. You might not always be able to get in to see your regular doctor when someone in your house becomes ill and emergency room waits and emergency room prices are enough to make anyone cringe.
Nothing in this blog post will prevent you or someone in your family from catching a cold or getting the flu this year but I believe being prepared is half the battle. If you're in an area serviced by Texas MedClinic, here are four things you need to know…and even if you DON'T live in the area, this is still good information to learn about how to navigate urgent care for your family.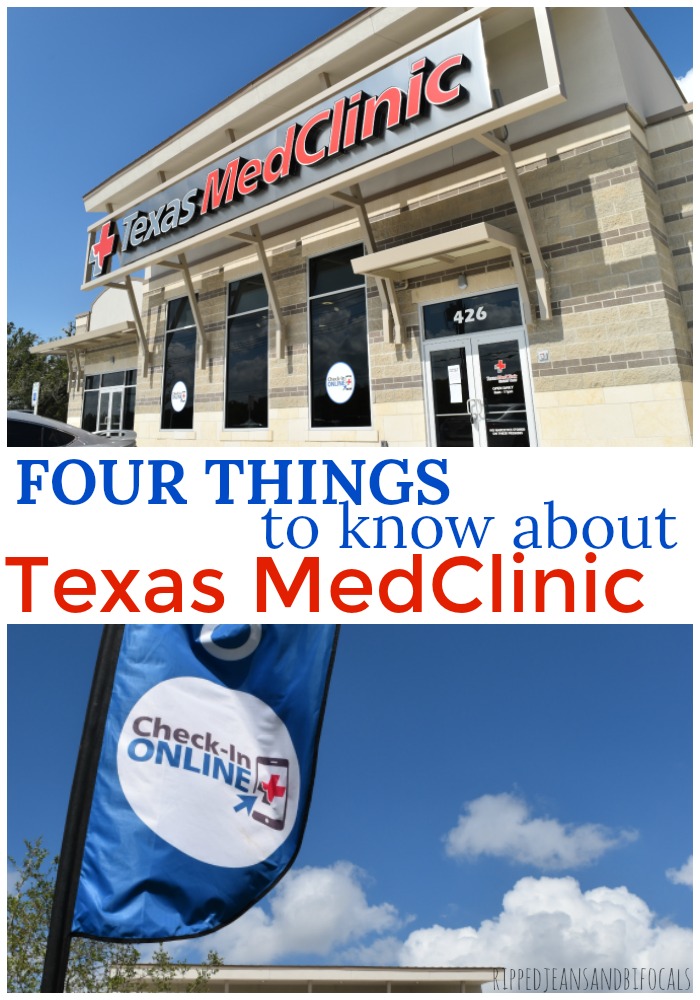 Four things to know about Texas MedClinic
1. Texas MedClinic is an Urgent Care Center
There's a big difference between an urgent care center and a free-standing emergency room. Basically, if you see "emergency" anywhere in the title, it's an emergency room. Free-standing emergency rooms may offer a few more services than urgent care, but an urgent care center, like Texas MedClinic, can handle "life's little emergencies" like sprains, colds and flu type things, cuts and abrasions, or even broken bones. These little emergencies are a fact of life when you are a parent.
How do you decide whether you need an emergency room versus an urgent care center? A good rule of thumb is to ask "Do I need to call an ambulance?" If the answer is no, you can probably consider an urgent care center. Even if you visit a free-standing emergency room in a severe situation like a heart attack, stroke, or trauma that might require immediate surgery, they'll transfer you to a full ER attached to a hospital (and bill you for the ambulance ride – ouch.)
Texas MedClinic is an option for you if you have one of life's little emergencies and you can't get to your regular doctor.
If you need help deciding where to receive your care, check out this reference:

2. You won't wait forever and a day to be seen
Have you ever waited for hours and hours in a crowded waiting room with a sick kid surrounded by sick people? It's the worst. My daughter had an ear infection when we were on vacation…in the middle of the night because of course…and we drove to a traditional emergency room because it was nearby and I knew they'd accept our insurance. Did I mention this was the middle of the night? We sat there for FIVE HOURS before we were seen.
You won't experience that will Texas MedClinic. You can see wait times online and check in online. Yes, that means you can stay home or do other things while you wait to see a provider. You'll receive notifications as you move up the list (if there's a long wait) and you'll receive a notification when it's time to physically leave to go to Texas MedClinic. That beats sitting in a waiting room with other sick people any day.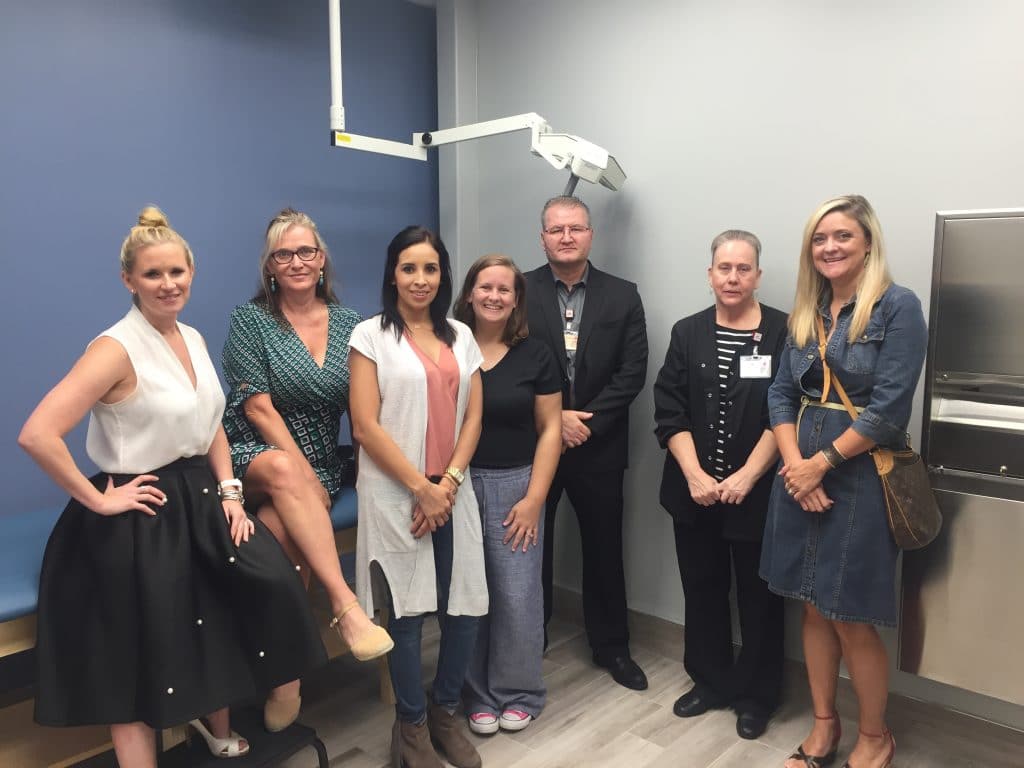 Most Texas MedClinic locations are open from 8 a.m. – 11 p.m. Three San Antonio area locations offer 24 hour service.
3. Texas MedClinic saves you money
Free standing emergency rooms will charge you 10-15 times more than an urgent care clinic. That's right. Your middle of the night ear infection will cost you a boatload more if a doctor in the ER diagnosis you…and yes, probably after you've sat there for at least a couple hours.
Texas MedClinic accepts most insurance plans – check this list here to see if yours is included. They don't charge a facility fee and you'll only get one bill (as in not a bill from the facility plus a bill from the physician plus a bill from the lab.) All copays and deductibles are due at the time of service.
4. Texas MedClinic provides non-acute care services
Although Texas MedClinic isn't meant to replace your family doctor and they're not your go-to place for chronic issues (i.e. diabetes or hypertension) but they can do more for you than just urgent care. They also offer school and sports physicals and immunizations as well as serve occupational medicine needs, such as employer drug screening or worker's comp claims.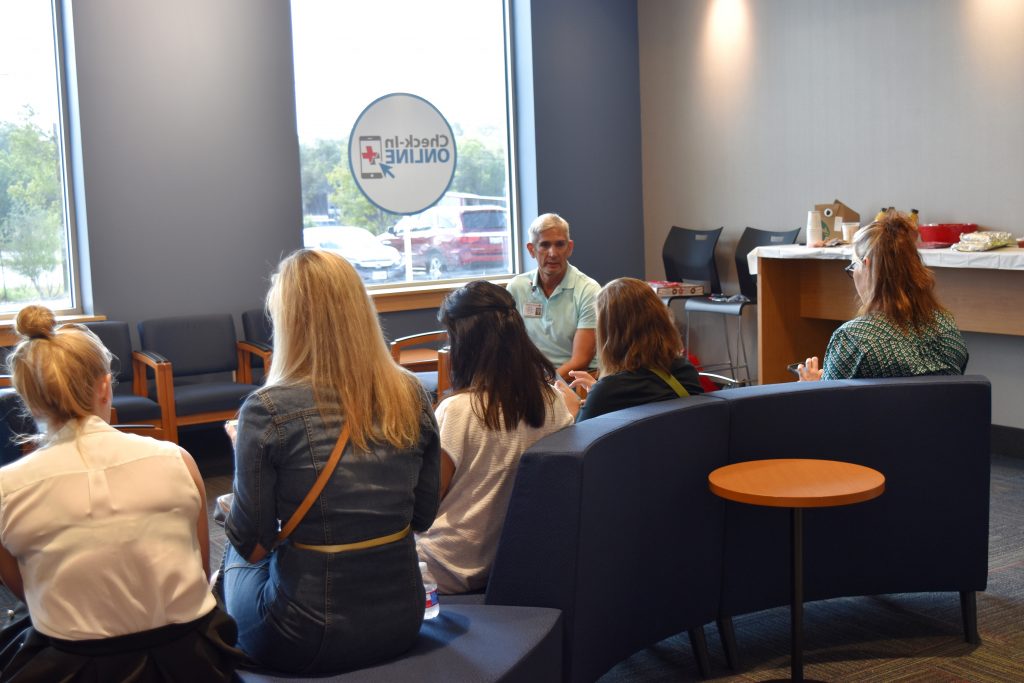 If you can relate to being the mom who (ahem) waits until the last minute to knock out those school and sports physicals, Texas MedClinic is there for you.
New Spring Branch Texas MedClinic
The new Spring Branch location is the 19th Texas MedClinic location. Located on US 281 South, a half mile north of the SH46 intersection Texas MedClinic Spring Branch location is open 8 a.m. to 11 p.m. everyday. As population growth continues in the area and more people and businesses move further north along the US 281 corridor, the demand is increasing for after-hours medical care that is close to the home or office.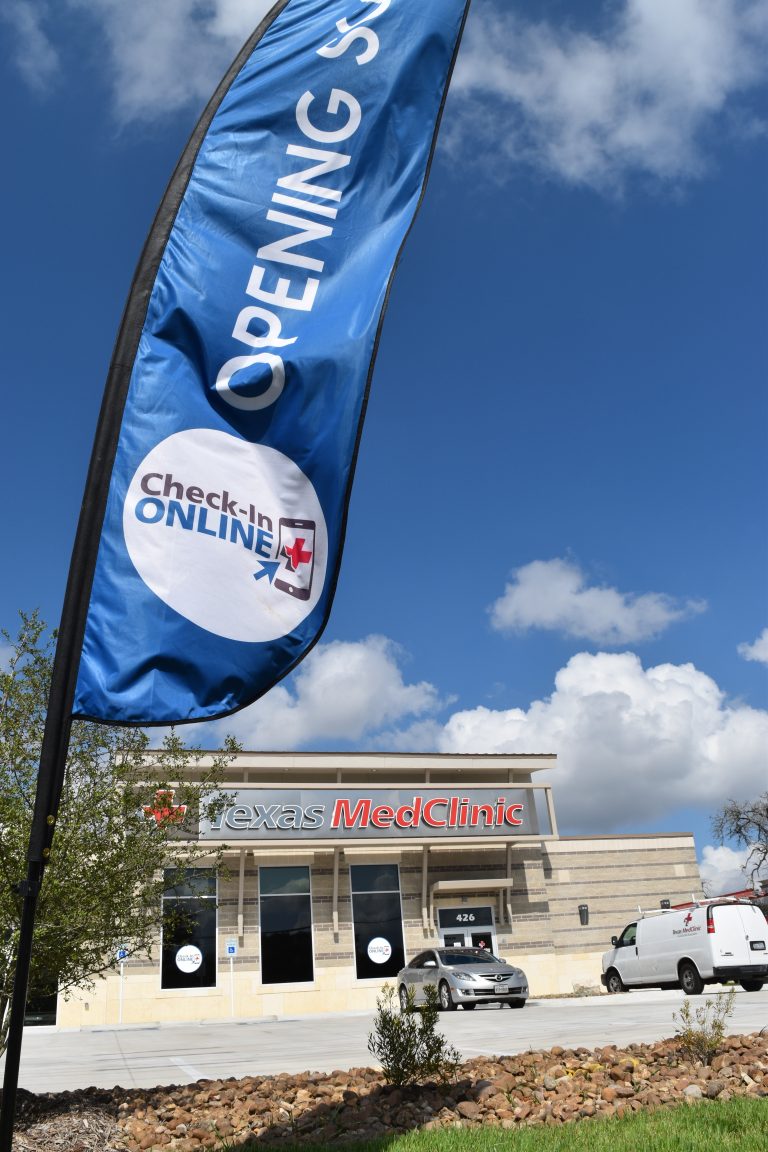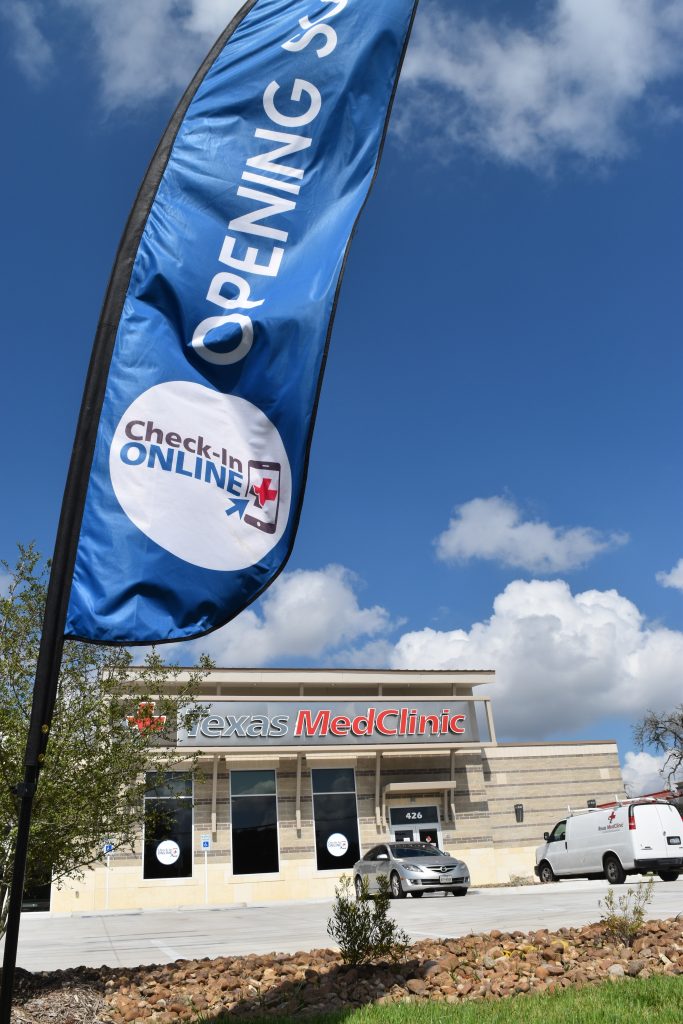 I was invited to the media preview of the new Spring Branch Texas MedClinic and had the opportunity to speak with Dr. David Gude, who gave us some awesome insight into things moms want to know when their kids are sick, such as "does my child need an antibiotic" and whether the color of their snot is indicative of serious infection. I came away with the impression that most of the providers working for Texas MedClinic are fairly conservative in their approach to medicine and operate under the "more isn't necessarily better" when it comes to care. Although these providers aren't here to replace your family doctor, they are just as qualified and care just as much about your family's long-term well-being and health. I really like that.
I'd always thought green snot meant serious infection and to get to the doctor ASAP. Actually, green snot means mucus has accumulated and is thick with dead white blood cells. If after 12 days your condition doesn't improve, you may want to see a doctor. See a doctor sooner if you're feverish or nauseated. For your viewing pleasure, here's this handy-dandy snot chart that can give you some insight into what the color of your snot might be saying to you but it does bust the myth that green snot means infection and that you're gettin gypped if your doctor won't prescribe an antibiotic: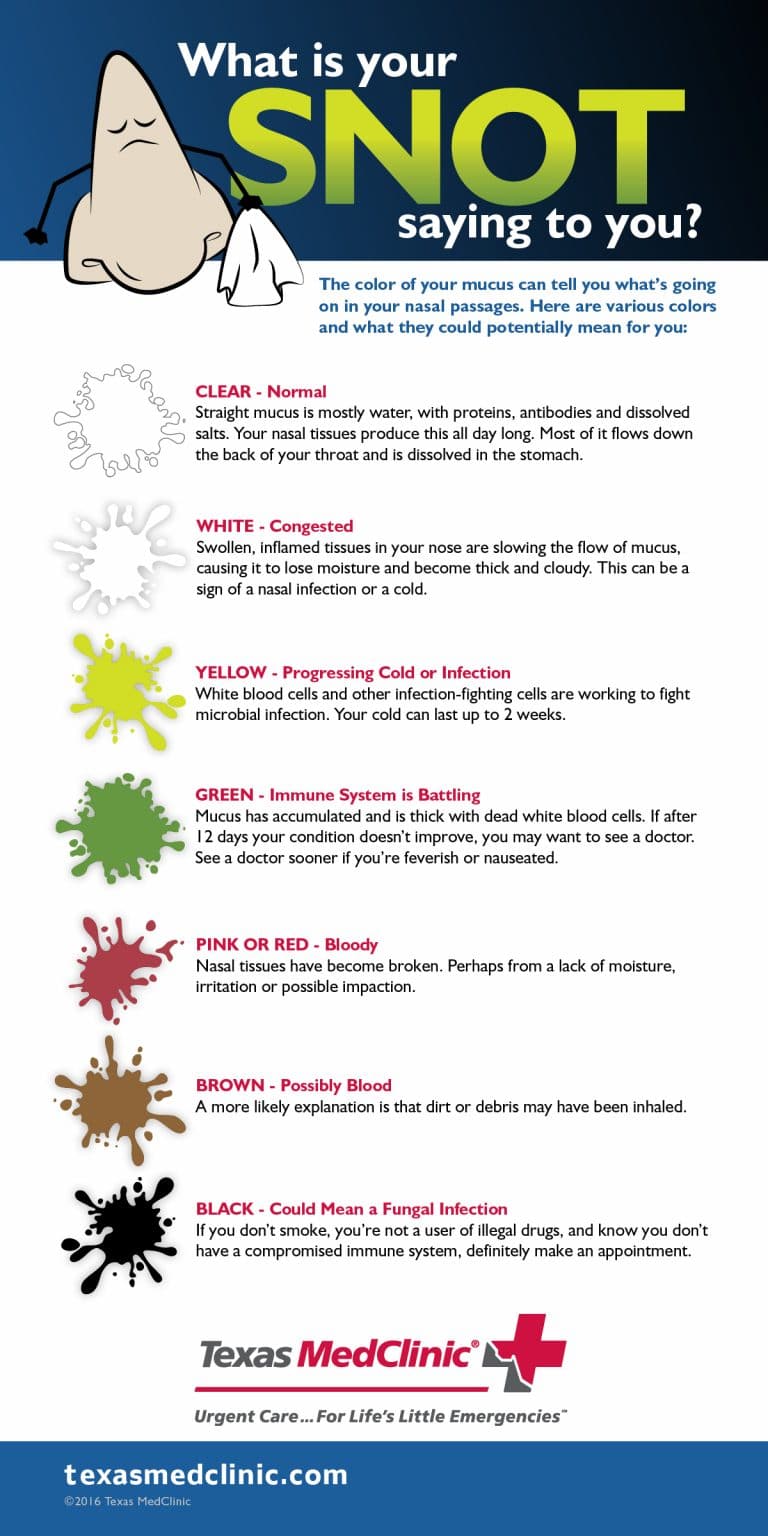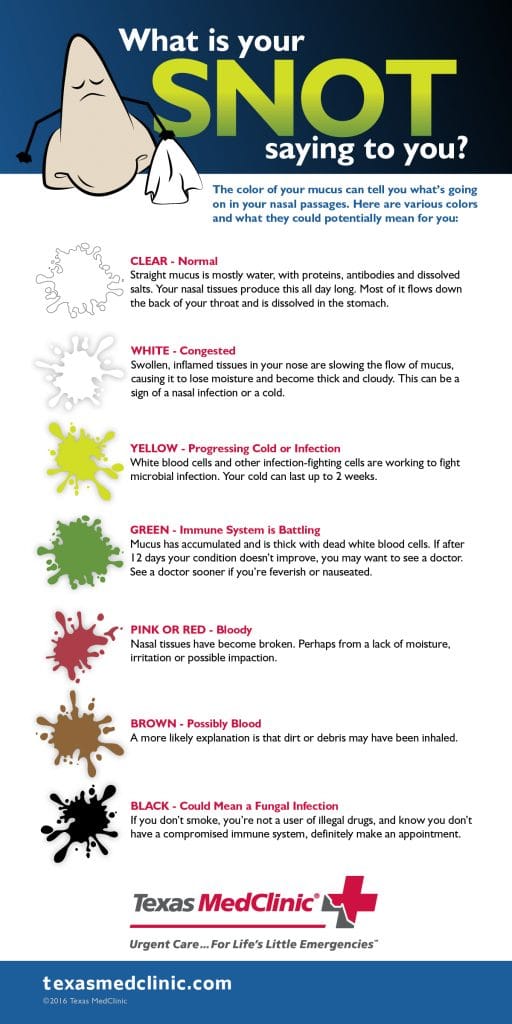 For more info on Texas MedClinic or to find a location near you and check out current wait times, visit their website.