Favorite Fall and Winter Looks from Stitch Fix
If you've read my Stitch Fix reviews in the past (I haven't done one in a while) you know I have a love/hate relationship with Stitch Fix. I like clothes. I don't have a lot of time to shop and I like the fact that someone else picks out my clothes and the box just shows up at my door. I've had more dud fixes this year than I've had good fixes, and call me crazy but when I get a box of clothes that I dislike, the last thing I want to do is put them on and pose for pictures and write a blog post. I'm sharing some of my favorite fall and winter looks from Stitch Fix that have become current wardrobe staples.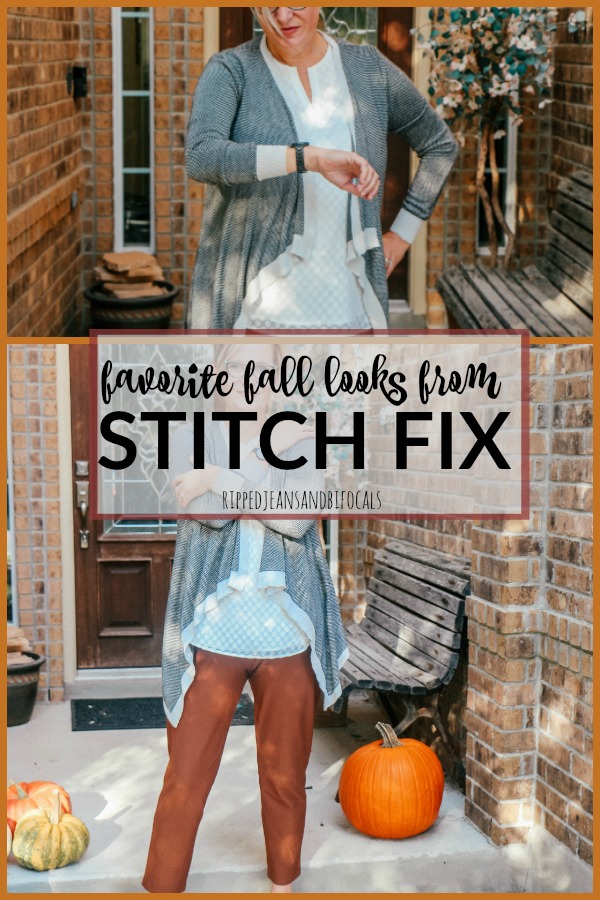 This is a compilation of several different fixes I've received over the past couple of months. I've gotten a few wardrobe staples that are great for fall and winter but are still lightweight enough for San Antonio. Our "winter weather" might be in the 30's or it might be in the 80's. I like stuff that doesn't look summery but isn't super heavy.
Fall and Winter Looks from Stitch Fix
Fall and Winter Looks from Stitch Fix – Look Number One
I've paired the Eileen Fisher Stretch Crepe Slim Ankle Pant with the Market and Spruce Ezide Textured Print top (don't asked me what an "ezide" is) with this "had it forever" sweater. The sweater is from my very first Stitch Fix box and I'm not even sure who makes it. The label is completely faded.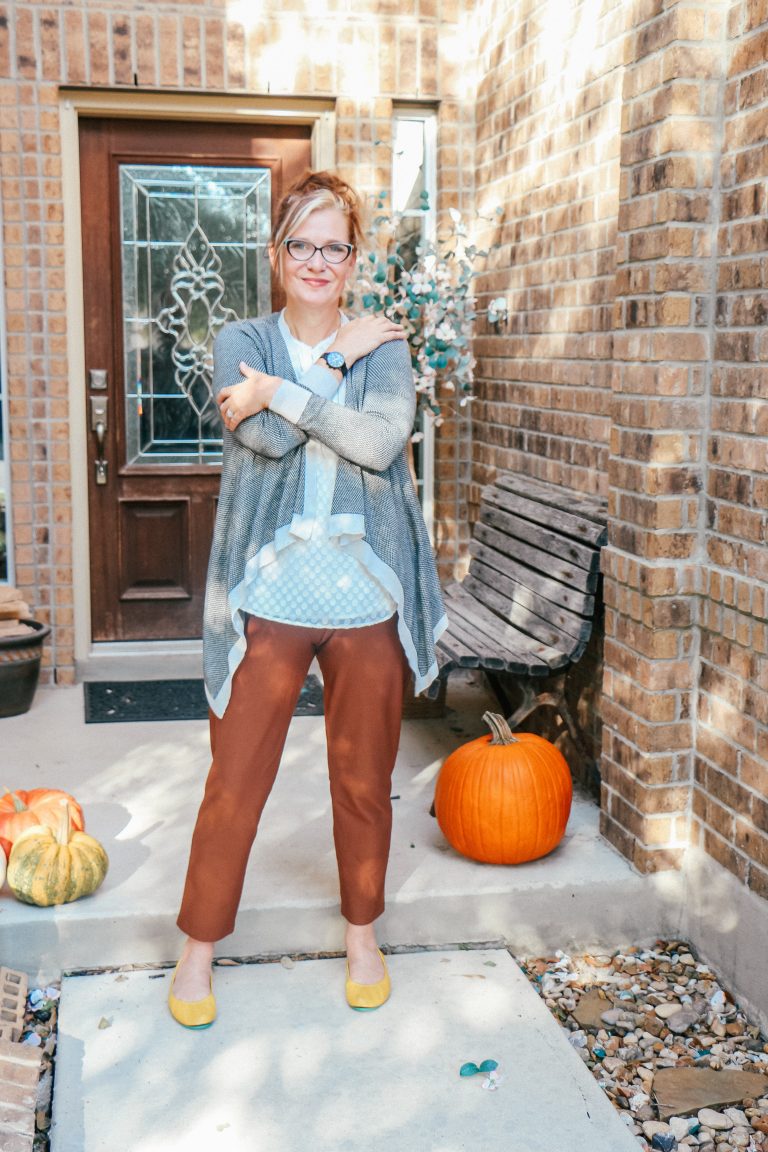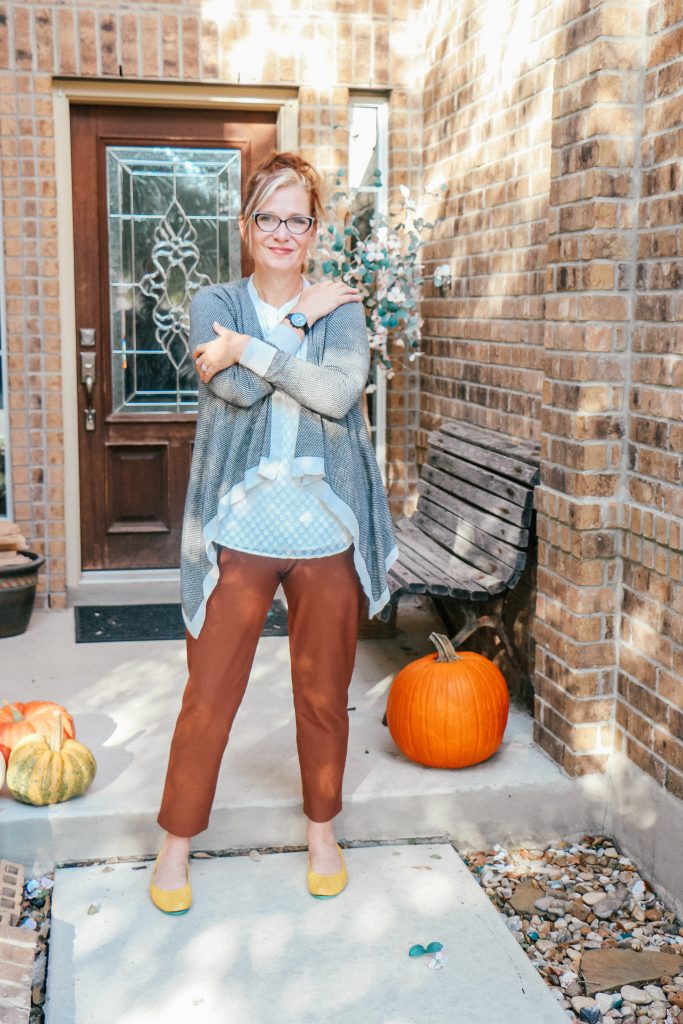 The shirt (it's sleeveless) comes in two other colors. This one is listed as white but it isn't a true white. This outfit travels well and looks polished, although it's about as comfortable as sweats or scrubs. This is an easy care look that I can put together quickly if I want to elevate my everyday look. This is also one of my go-to conference/media event outfits. It doesn't require a lot of care and it's neutral without being boring.
If you want to get your own fall and winter looks from Stitch Fix, you can join using this link. If you've never signed up, you'll get a $25 credit when you check out. Pretty cool, huh?
Fall and Winter Looks from Stitch Fix – Look Number Two
I've paired the Poppy Velvet Skinny Pant with the Yazmine Mixed Material Henley Top. I've paired it here with a double strand of peals and my Rothy's for a comfortable, un-fussy look that can go all day.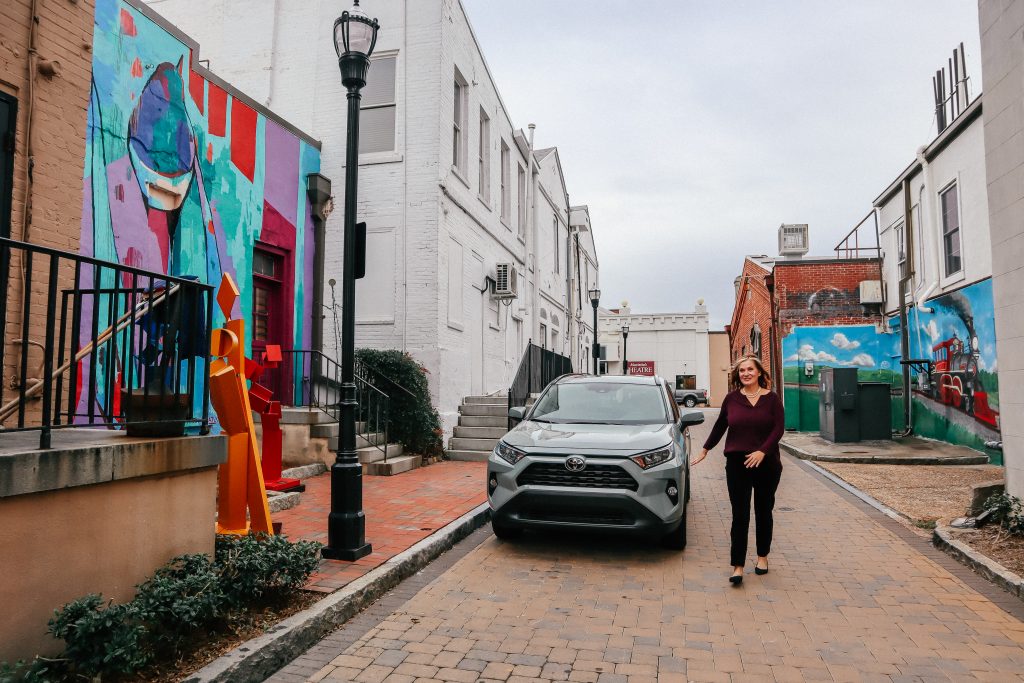 I really hesitated on whether or not to keep these pants. Don't judge me – they were $178. I know. Ouch. I actually don't keep a ton of my Stitch Fix clothes and since I've pared down my wardrobe, I take a few minutes to think how I'm going to wear it and what else I have that goes with it. I try not to get sidetracked by "Oooh that's so cute" and really consider whether the purchase will make sense.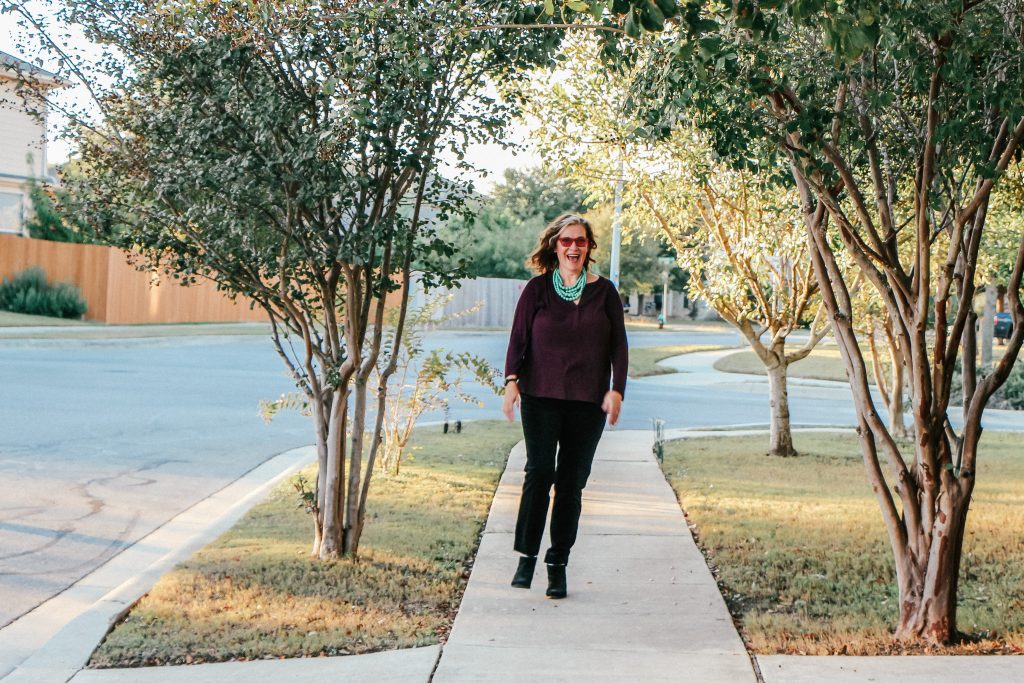 Although they're called "velvet pants" I think they feel more like brushed corduroy. They're not super formal, although I did keep them to have an "evening pant" look that I could get more casual wear out of. The above look isn't all that much different than the first one. I've got on booties and a statement necklace, along with my funky pink sunglasses, which are not Stitch Fix but I get a ridiculous amount of compliments on them. They're so fun.
Related reading: If you're not sure what Stitch Fix is, you can read my very first Stitch Fix review. It breaks everything down about how this styling service works.
The top is kind of basic but I've gotten some decent wear out of it in the short time I've had it. I wore it with black leggings and Converse the other day. It does need to be ironed if you don't pull it out of the dryer right away, which kind of stinks.
Fall and Winter Looks from Stitch Fix -Look Number Three
This look is totally representative of my basic fall runaround outfit.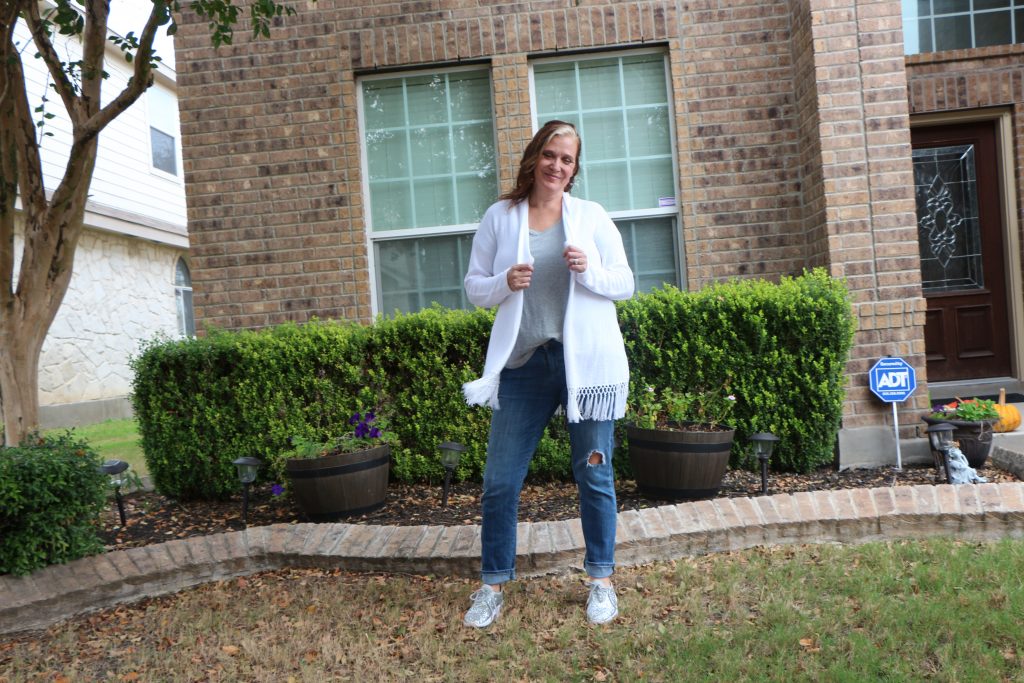 Full disclosure: I sent this sweater back. I was on the fence about it because I don't like to wear a lot of true whites because I don't think they wear well over time and will eventually start to look dingy. This is a Lily Pulitzer Tatum Fringe Cardigan paired with a pair of Kut from the Kloth Boyfriend Jeans from a fix a couple of years ago. I bought the tee shirt at the grocery store – yep, I'm in that season of life where grocery store clothes are weirdly appealing – but after wearing it a couple of times, I think it might actually be a pajama shirt. Oops.
I liked the length of this cardi (it covers my butt) and I liked the shawl collar and the fringe. What I did not like was the $118 price tag. The fabric was just so so and I know you're an expensive girl and all, Lily, but nope.
If any of the prices I've mentioned are off-putting, please note that you can set up your profile to where you receive clothes within a price point you're comfortable with. I have my settings on the very highest price point just because I like to have all the options. Many of the clothes I receive are at a bargain price point and you'll find them very budget friendly.
Hope you've enjoyed this little peek at some of my favorite fall and winter looks from Stitch Fix.
Don't forget to sign up with my link if you want to try Stitch Fix for yourself and receive a $25 credit on your first fix.
Related Reading:
Stitch Fix Review – The box with the pencil skirts