I try to keep the holidays as simple as possible but like most people out there, I allow my plate to get too full this time of year. There's so much to see and do and experience and even though the stores start putting out Christmas stuff before Halloween, it still seems like the holiday season is over in a blink.
I like having a nice holiday centerpiece. I'll often order them from a florist as gifts for friends and family. A professionally done centerpiece is a splurge and is usually something people don't buy for themselves unless they're throwing a lavish party or they're just really fancy people. I don't really know any fancy people who throw lavish parties so a floral centerpiece is a good gift for someone who you might find hard to buy for.
This post contains affiliate links. If you enter Amazon via my website I'll receive a small commission on whatever you purchase. You will pay the same price you'd normally pay. 
Here are a couple I like:
For my own holiday table decor, I go with something more simple. If you have wine glasses and tea lights, you can throw together a pretty centerpiece in minutes. This one comes in handy if you find yourself entertaining at the last minute.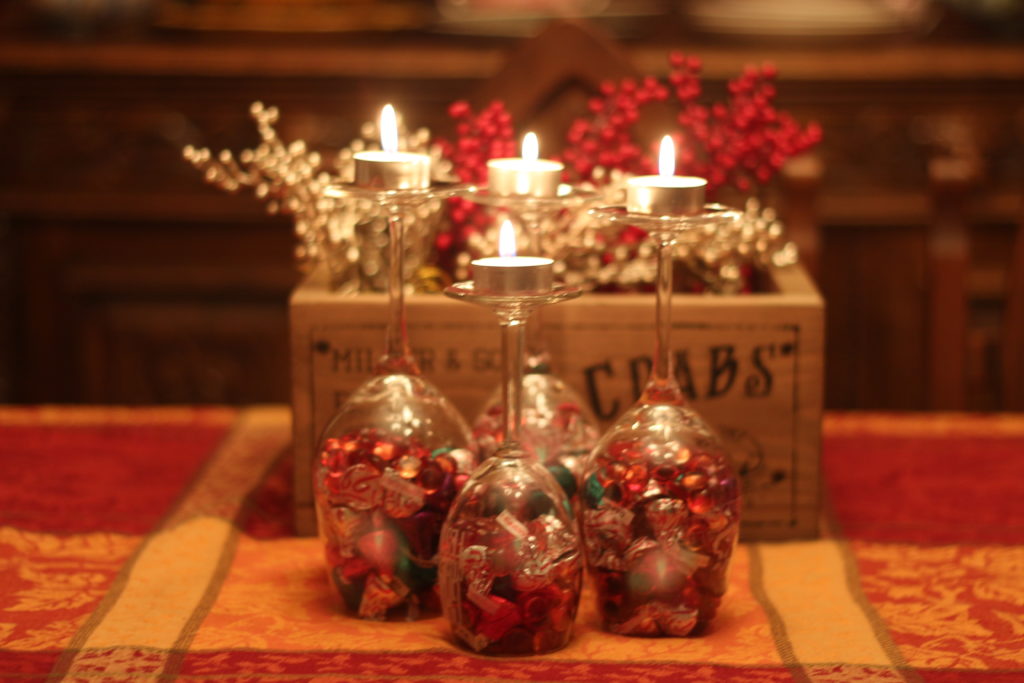 Fill a wine glass with small ornaments, beads, wine corks, marbles, potpourri – literally anything except for wine.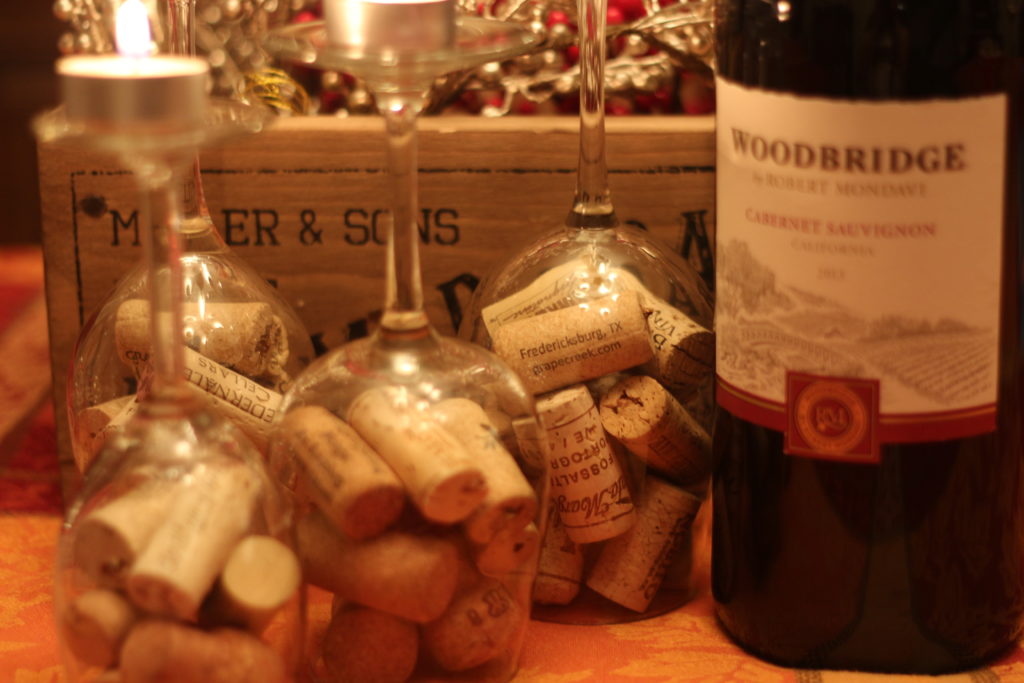 Invert the wineglass and place it on the table. If you need to re-position it, you'll have to scoot it to where you want it to go so your decorations don't fall out. Place the tealight on top and voila! If you want to take things up a notch, tie some raffia, twine or ribbon around the stem of the glass. Using wineglasses of different heights can add some depth to your arrangement.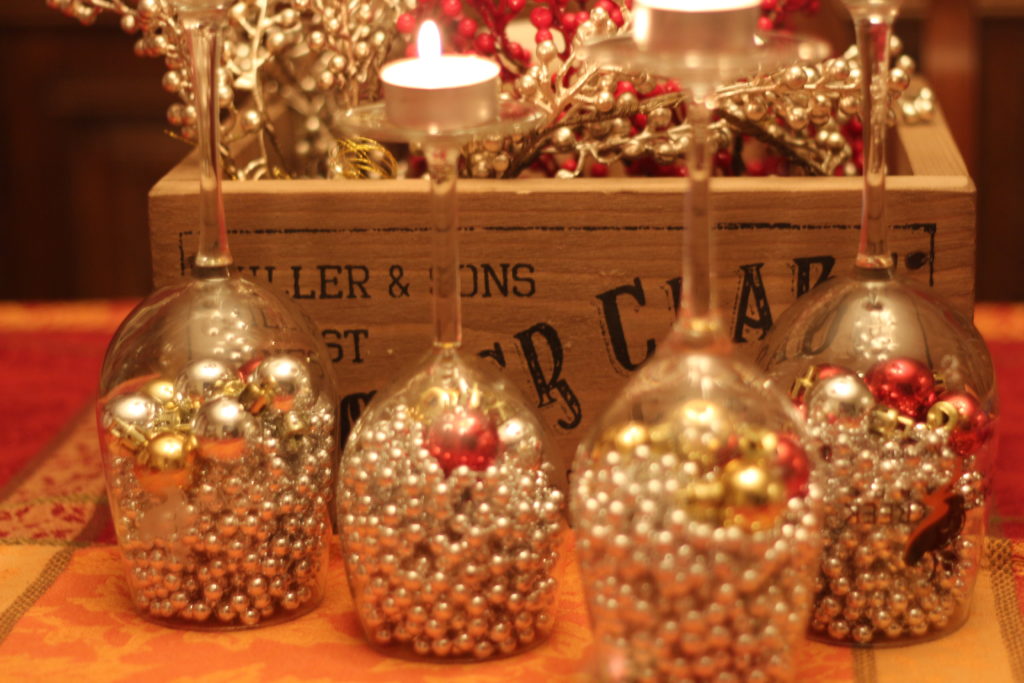 Really so simple.
Here are a few ideas of things you could put in your wineglasses to make your centerpiece unique but don't feel limited. You can literally use what you've got on hand to throw together holiday table decor on the fly and this is an easy one to adjust to your theme.
Dice (great for a poker or Monte Carlo night)
Poker chips
Change
Candy
Tulle
Glitter (yikes, I know…lots of mess to clean later!)
Shredded paper (run sparkly scrapbook paper or wrapping paper through the shredder)
Real flowers
Pine boughs (this is a great use for clippings from your Christmas tree)
Cranberries
Pinecones
Acorns
Mini ornaments
Decorative sand
Seashells
Marbles
Glass craft beads
Small toys (think little green army men or Polly Pockets for some whimsy)
Mini ornaments
Pebbles
Small string of battery-operated lights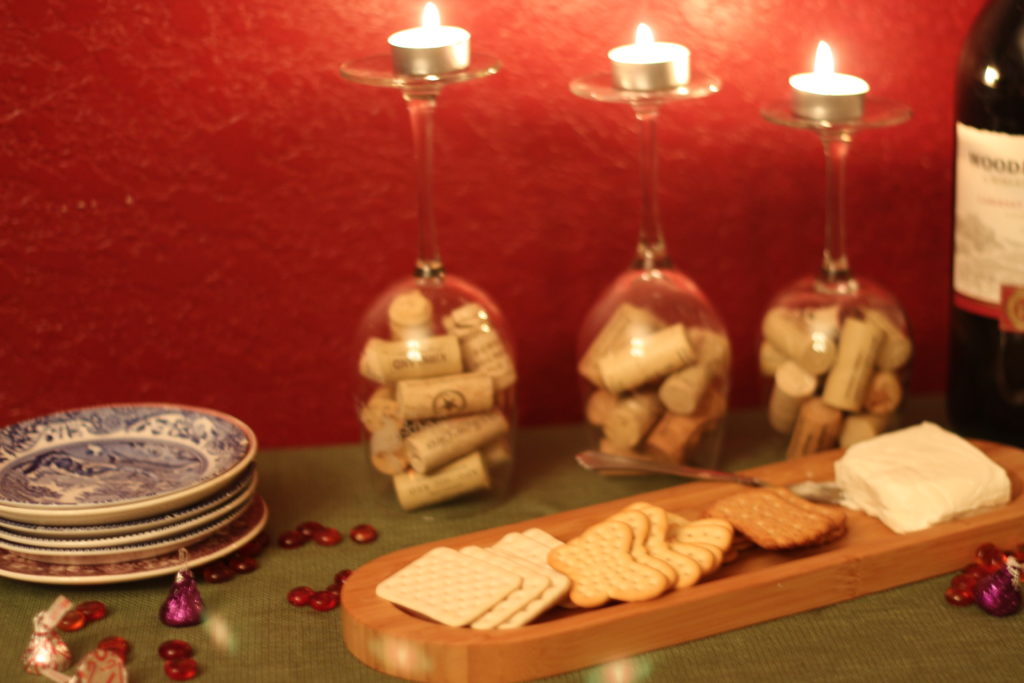 A fun variation would be to use martini glasses or mason jars. You're only limited by your imagination and what you can find in your house. I like this one because I can set a nice table without buying anything special and when the parties over, I just put everything back in it's place.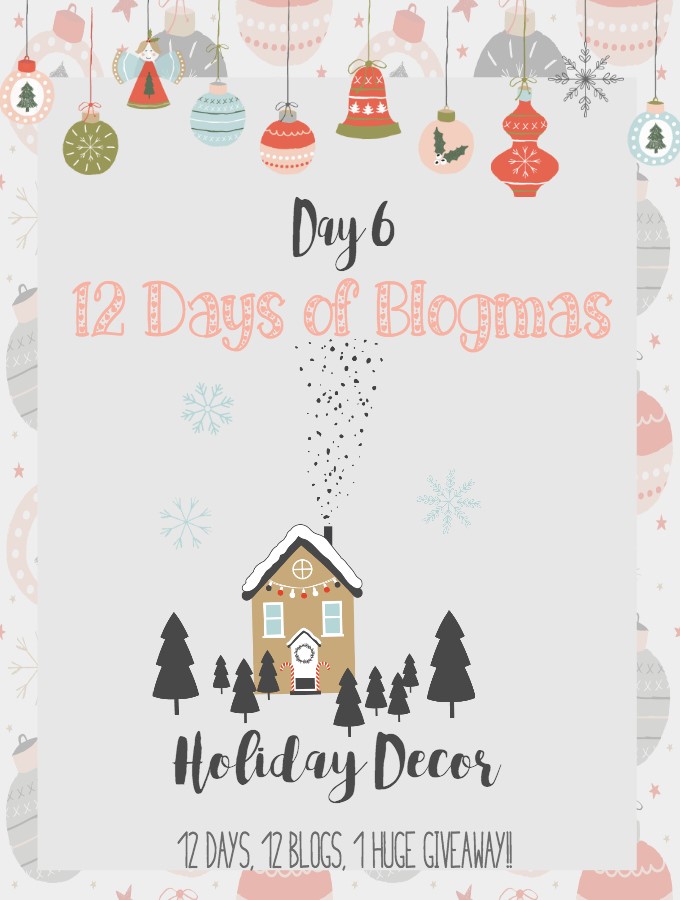 Let's be friends!
A vote on Top Mommy Blogs helps my site a ton. It's super easy & one click helps me to be able to continue to bring you great content. Totally non-spammy…I promise!
See more Christmas Card inspiration from the Blogmas bloggers!
See more 'Holiday Decor' posts from the Blogmas bloggers!