This post is written by me on behalf of Tyson Foods, Inc. All opinions are entirely my own. This shop has been compensated by Collective Bias, Inc. and its advertiser. All opinions are mine alone. #SpookyGoodSnacks #CollectiveBias
I love Halloween food. I mean…I love food in general but the whimsy of Halloween eats is just fun. Halloween brings out the kid in me and I get a lot of enjoyment out of setting a good-looking and fun table, whether that be for a party or just something to make Tuesday night dinner a little extra festive.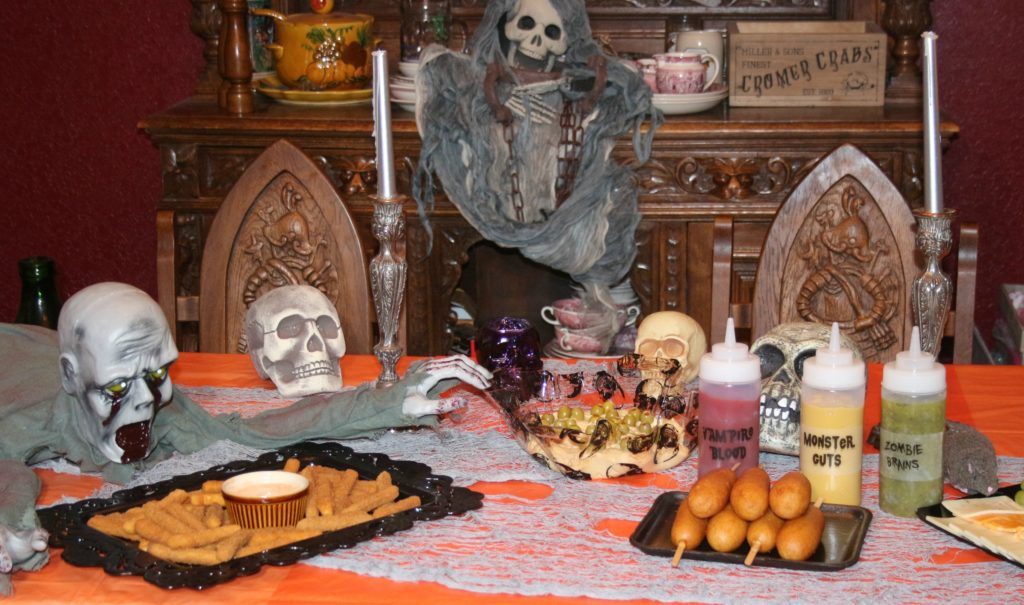 I for sure know my way around the kitchen and while I'm not afraid of a complicated recipe, there is great beauty in simplicity. I'm often heard grumbling about there not being enough hours in the day or time getting away from me so when I can throw together something easy, fun and visually pleasing that my family and friends enjoy, I call that winning.
If you're looking for quick and easy (emphasis on easy) Halloween party ideas or you just want to add a little extra spooky to a family meal, I've got you covered.
Cooking skill level required: low.
Creativity skill level required: low – I've laid it all out for you.
Sense of fun level required: ninja.
You want to be a fun ninja, right? Everybody does.
When it comes to spooky Halloween food, it's all about the presentation, although of course you still want your food to taste good. Here, I used two orange vinyl table cloths you can get at any party store. I used two because my table is pretty long. I topped the table cloths with some gauzy gray fabric that I've had forever. You can get this in any Halloween store around this time of year. Don't forget to hit up the after Halloween sales for this type of stuff. I set out a variety of scary decorations. There is a time and place for subtly in decorating.
Halloween is not that time.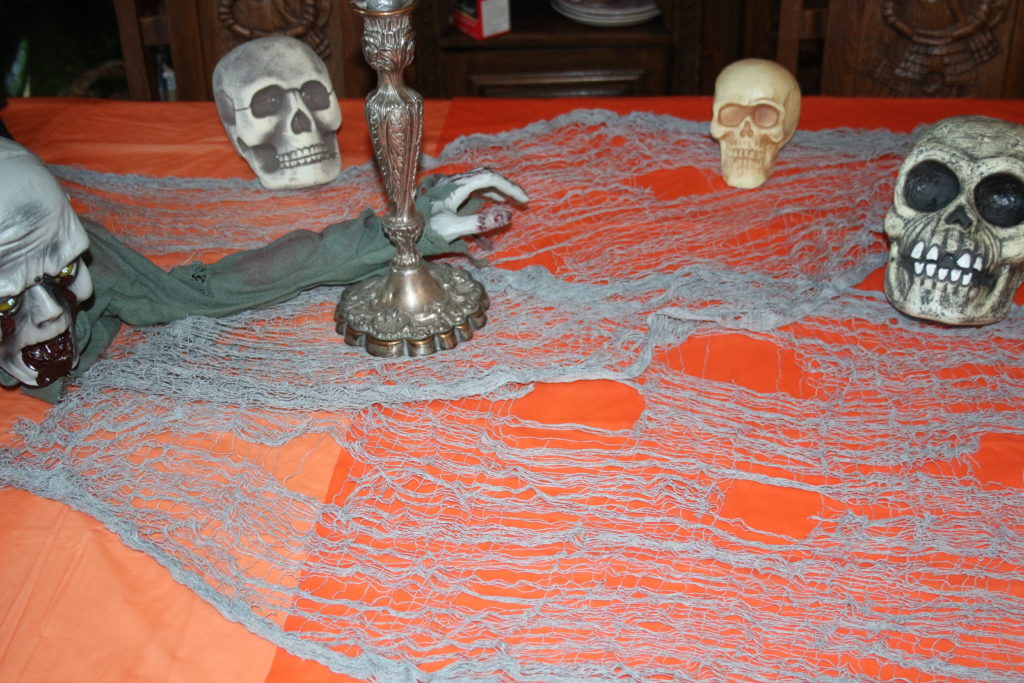 We've had the resin skeletons forever but the zombie is a new addition this year. It's not actually supposed to be a centerpiece…it's actually battery operated and I'm sure it will scare some trick or treaters in a few weeks but it works here.
I added in some silver candlesticks with silver tapers for a Gothic, spooky effect. I love the way my table turned out.
Sometimes, the fun is in the fun. Who doesn't love to nibble on some Witch Fingers dipped in Toadstool Sauce?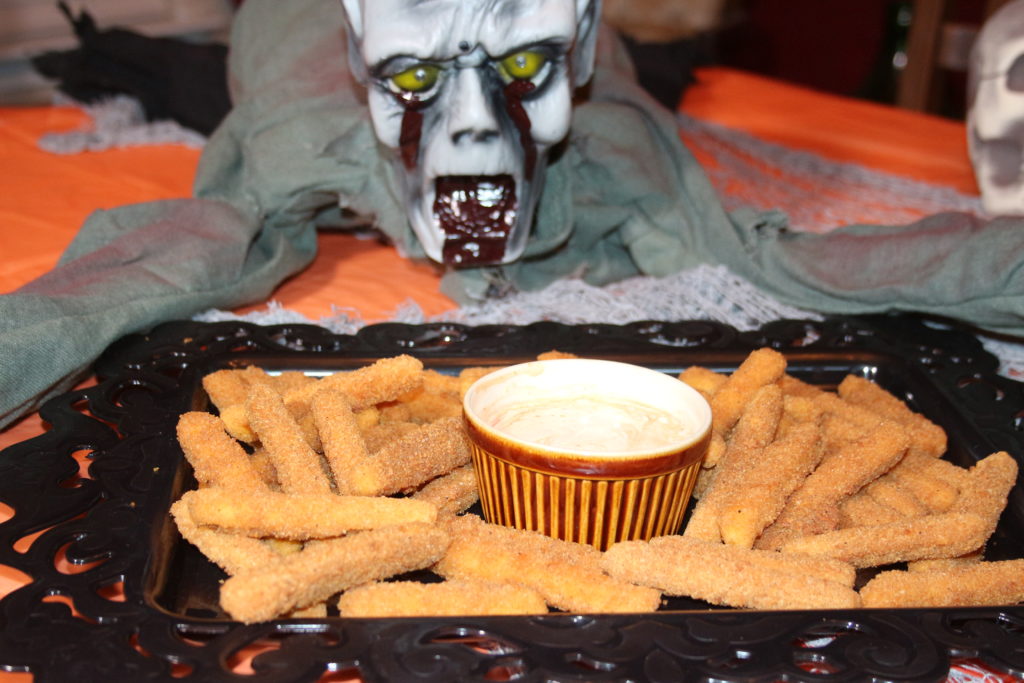 The Witch Fingers are actually Tyson® Any'tizers® snacks, Chicken Fries, Homestyle Variety and the Toadstool Sauce is ranch dressing with a dash of buffalo sauce stirred in. If you've got little ones or guests that aren't fond of spicy food, just add a drop or two of the buffalo sauce to give it some color and flavor. If you can handle some heat, add a little more to taste.
Tyson® Any'tizers® snacks are a great source of protein for kids (and grownups!) and they're super easy to make. Getting this deliciousness from the freezer to the table is a cinch. High quality, low effort…that's what I'm talkin' about.
I rounded out our table with a spooky fruit and cheese plate, eyeball dip and creepy corn dogs.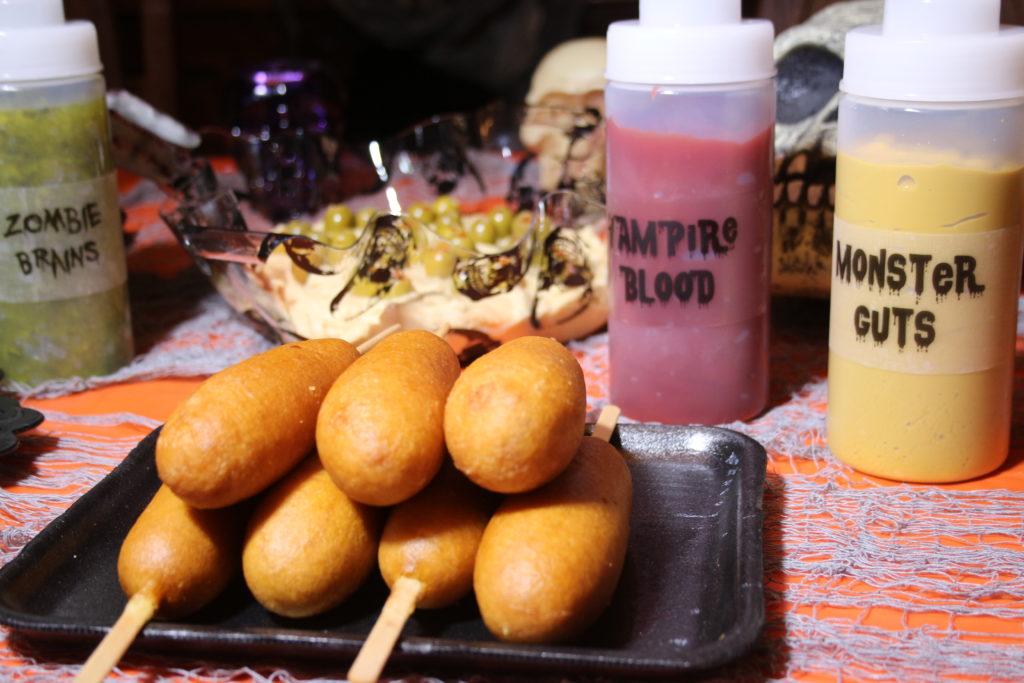 The eyeball dip is simply hummus with green olives dropped in. I told my kids they were "dragon eyes" and that was a big hit. So easy and a great source of protein. I like to make my own hummus – it's super easy to do in a blender or a food processor but if you're in a hurry you can use prepared hummus as I have here.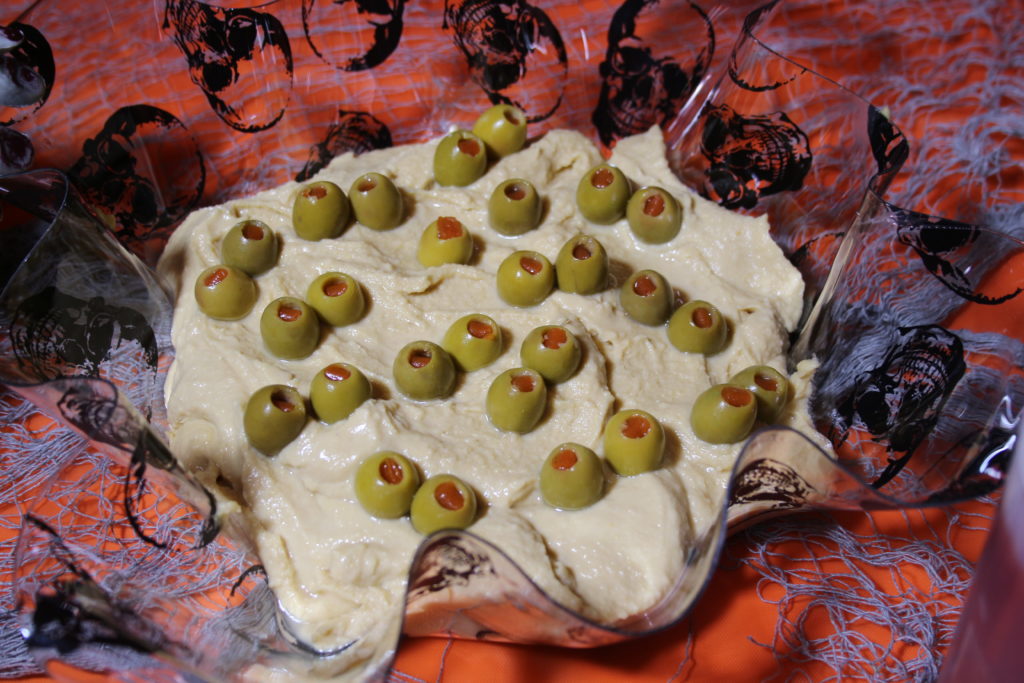 The creepy corn dogs were especially fun to put together. I used State Fair® Corn Dogs. They're fast and simple and  my kids love them. They're pretty tasty microwaved but I prefer to bake them if I have enough time because it gives them more crunch. Sometimes, these go faster than I anticipate and it's super easy to nuke round two if people are still hungry. Heat and eat. So simple.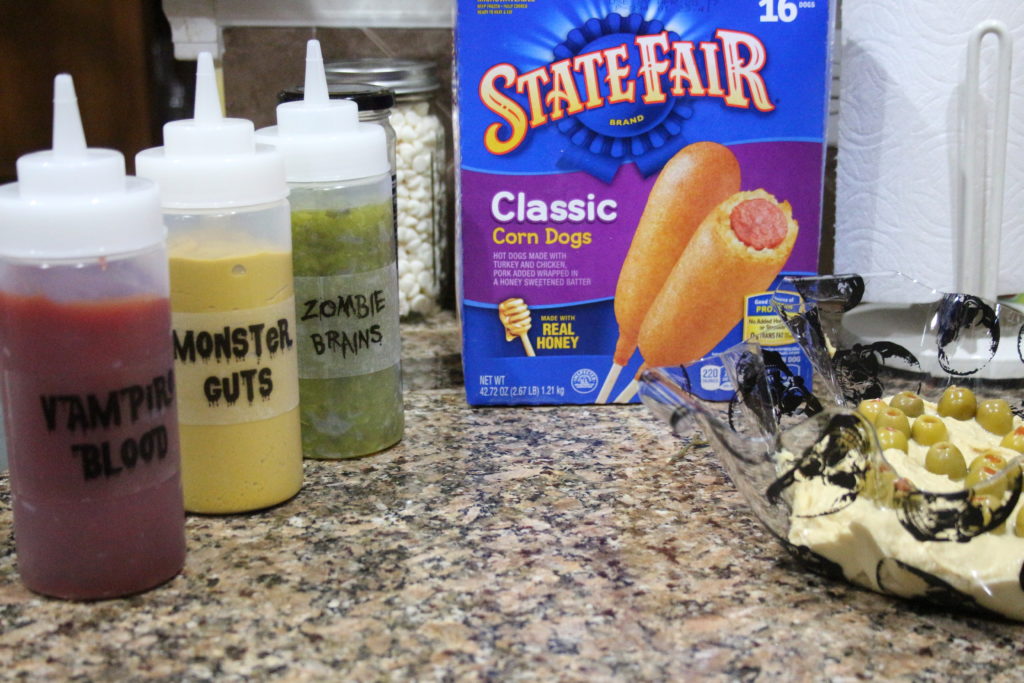 What really makes the State Fair® Corn Dogs so much fun are our dipping sauces. Ketchup, mustard and relish are all fine and good but anyone can have those. We have Vampire Blood, Monster Guts and Zombie Brains. Now that's really fun. I have boys so anything that amps up the gross out factor is a hit.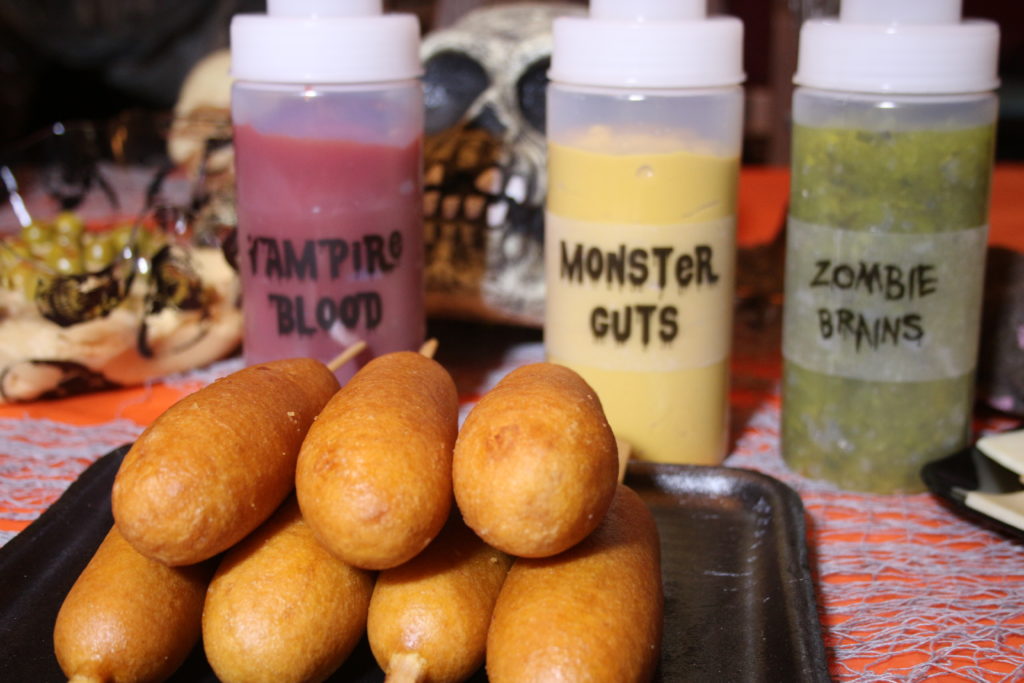 With a little bit of prep work on the table decorations, you can absolutely have this spread on the table in 15-20 minutes. Perfect if you're a last minute party planner like me or if the mood to make a dinner extra fun for your little monsters strikes you out of nowhere.
Once your bellies are filled with yummy Halloween goodness, maybe you want to take things to the next level. Maybe you want to venture out and really get your Halloween on.
Have I got a deal for you.
If you're in Texas or will be visiting Texas this Halloween season, you will certainly want to check out FRIGHT FEST at Six Flags® Fiesta Texas which is practically in my back yard. To get a free kid's ticket:
Purchase any State Fair® Corn Dogs or Tyson® Any'tizers® snack product and snap a picture of your receipt;
Text the word TYSON (along with your receipt picture) to 87654 and follow the prompts.
You will receive your code via text and it can be redeemed at the gate when you arrive at Six Flags® Fiesta Texas. Code expires 10/30/16 at 11:59 PM ET
How fun is that?
If you'd like to win a Six Flags Season Pass 4-Pack, go HERE and enter the Spooky Good Sweeps. Please make sure you check out the Six Flags® Fiesta Texas Program Rules. We've been season pass holders for three years running and it's a great value. There's always something fun going on and the mild Texas weather allows us many months of enjoying all the cool things the park as to offer. October is my favorite time of year to visit Six Flags® Fiesta Texas. They really go all out with the decorations and it's not so hot outside.
Venturing out and staying in both have their bennies. I surprised my family with these fun Halloween treats for no particular reason at all and it was really pretty wonderful. My little dudes were appropriately creeped out over being served Witches Fingers and Zombie Brains but they laughed and giggled and gobbled everything up.
Like my fancy schamcy labels? They were really easy to make. I printed them on large, clear office labels and attached them to plain plastic squirt bottles. I used a web-based program called Pic Monkey – which anyone can get – to make the letters. I'm no graphic designer and this is pretty simple stuff if you want to give it a try.
Halloween is fun. My table setup might look like I've spent a ton of time putting things together, but I really haven't. You can easily recreate this tablescape for your next party or "just because it's the second Thursday in October." Have fun with it and Happy Halloween!
A vote on Top Mommy Blogs helps my site a ton. It's super easy & one click helps me to be able to continue to bring you great content. Totally non-spammy…I promise!