Here's a really easy recipe for chicken pasta salad that will help you menu plan for back-to-school week. It's easy, fast, healthy and kid friendly. Leftovers make good lunches and this is also a kickass dish for any kind of potluck.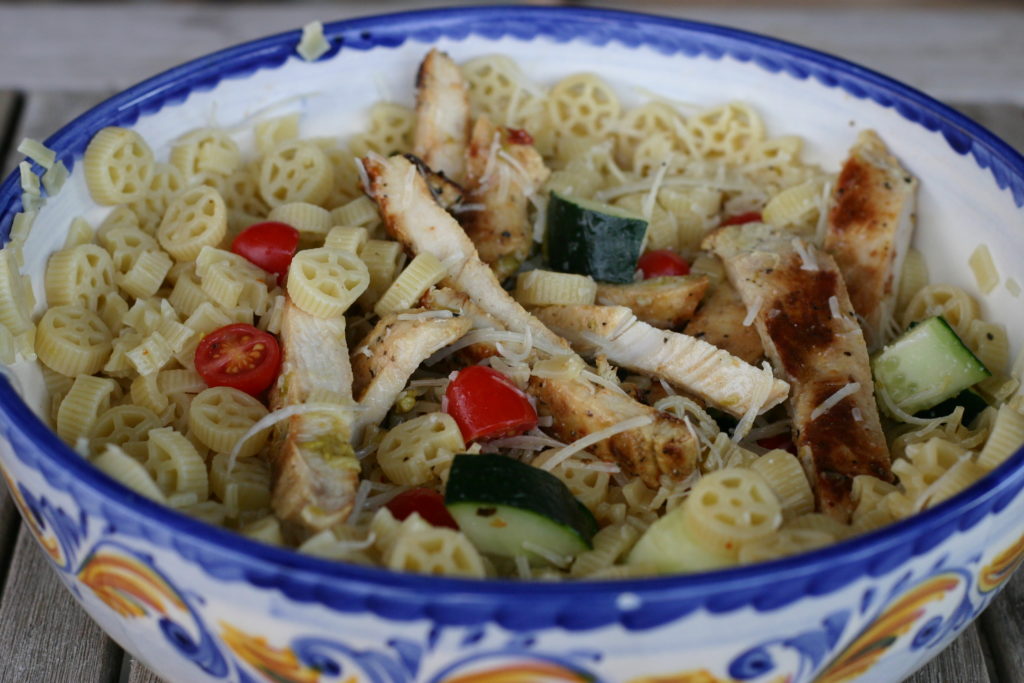 I kind of happened on this one by accident…I'm not a huge pasta salad fan, ordinarily…I don't know why.  I was shopping for milk and essentials and in a hurry to get home. I wheeled my cart through the aisles with absolutely zero clues as to what I was going to feed my family for dinner.
My local store of choice is HEB, a Texas-based grocery store.  They have various cooking stations set up around their store – totally better than Costco and I love Costco, HARD – that showcase simple recipes and have the necessary ingredients in a convenient easy-to-grab spot (of course they do!)
I took a sample from the pasta salad lady only because I was freaking starving.  And then I was like "Ooooh, what's in this?  I must make it tonight!"
And so I did.  This recipe has become one of my go-to's.  It's easy and fast, it's relatively clean, it makes a good next day lunch and best of all, my kids eat it without complaining that it's bumpy, spicy or yucky.
Ingredients:
4 boneless skinless chicken breasts (I buy preseasoned lemon pepper butterflied breasts) but you can season however you want, or even buy the precooked chicken strips.
1 cup cherry or grape tomatoes
1 small cucumber
8 oz bottled Italian dressing (usually half a bottle, more or less, to taste)
2 tablespoons Asparagus tapenade – I buy this pre-made in my grocery store's gourmet section but I have found a recipe that looks close from Healthy, Happy Life.
12 oz pasta of your choice (we use bow ties or wagon wheels, because fun.)
1 cup of fresh grated Parmesan or Romano (seriously DO NOT use the stuff in the green canister!)
Fresh ground pepper
I grill or saute the  chicken breasts while I'm waiting for the water to boil for the pasta. I always add a little EVOO to the water…do you?  I like the thin (butterflied) breasts because I can cook them quickly…about 6 minutes on each side.
While I'm cookin' chicken and boilin' water, I slice veggies.  You don't have to, but I like to slice my tomatoes in half and slice my cuke and cut into tiny quarters.
Slice the cooked chicken into strips.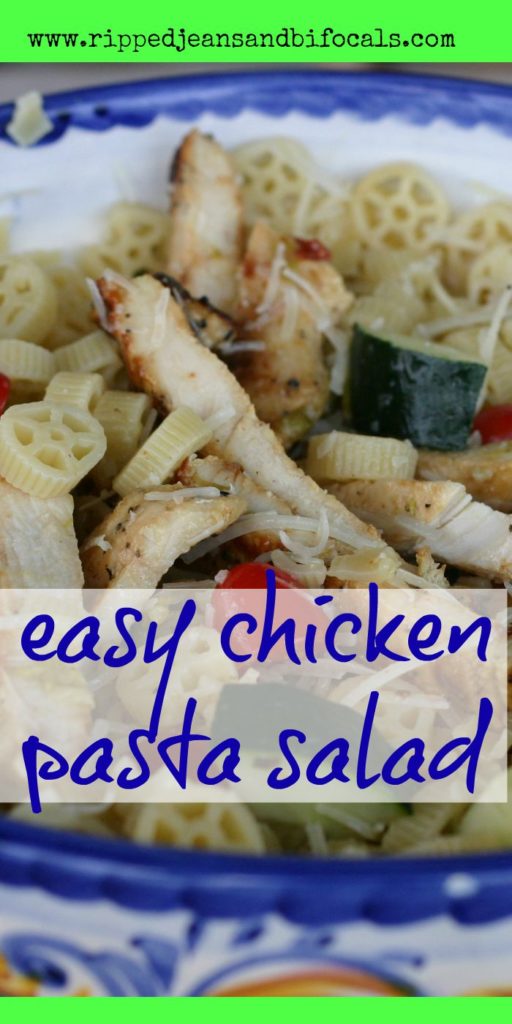 This is a seriously easy recipe, people.  Rinse and drain the pasta, toss with the salad dressing, asparagus tapenade and veggies.  Mix well.  Top with chicken, sprinkle with cheese and top with fresh ground pepper and a dollop of extra asparagus tapenade.  That's it!  
Serving suggestion: pair with a crisp, fruity wine such as Pinto Grigio and enjoy.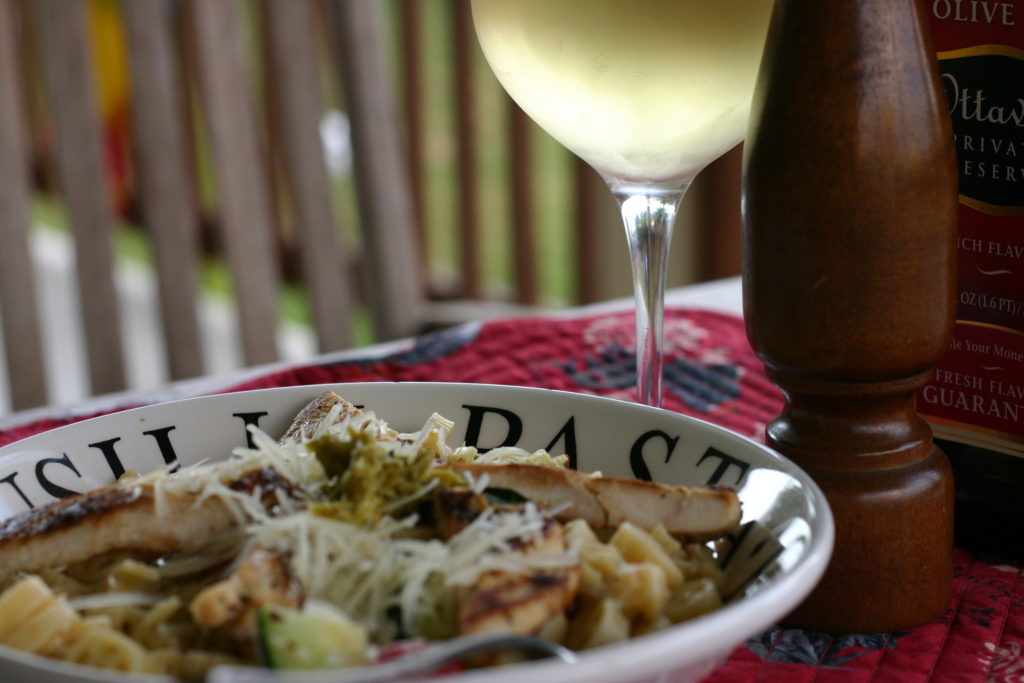 If you've enjoyed reading this post, please come hang out with me on Facebook and check out my Easy Dinner Ideas board on Pinterest!
Follow Ripped Jeans and Bifocals's board Dinner ideas for families on Pinterest.
A click a day boosts my ranking on Top Mommy Blogs!