Dear Mean Girl: I remember you
(This post may contain affiliate links. Read my full disclosure.)
Some memories really stay with you. I like to think I'm a pretty strong and confident person but seeing the name of the girl who taunted me in high school pop up on my friends' social media feeds elicits a reaction in me, even after all these years. Here's an excerpt of my latest post on Alamo City Moms Blog: 
Dear Mean Girl from My Freshman Year,
I remember you.
"Cool" is not a word people usually associate with me. That's OK. I'm awkward, suck at small talk, and never know what to do with my hands.
I briefly held a seat at the cool kids table in eighth grade. That was the year I miraculously had the "right clothes" and one of the in-crowd girls took a liking to me. I happily rode her coattails through the school year with visions of four shiny happy years of moderate high school popularity ahead.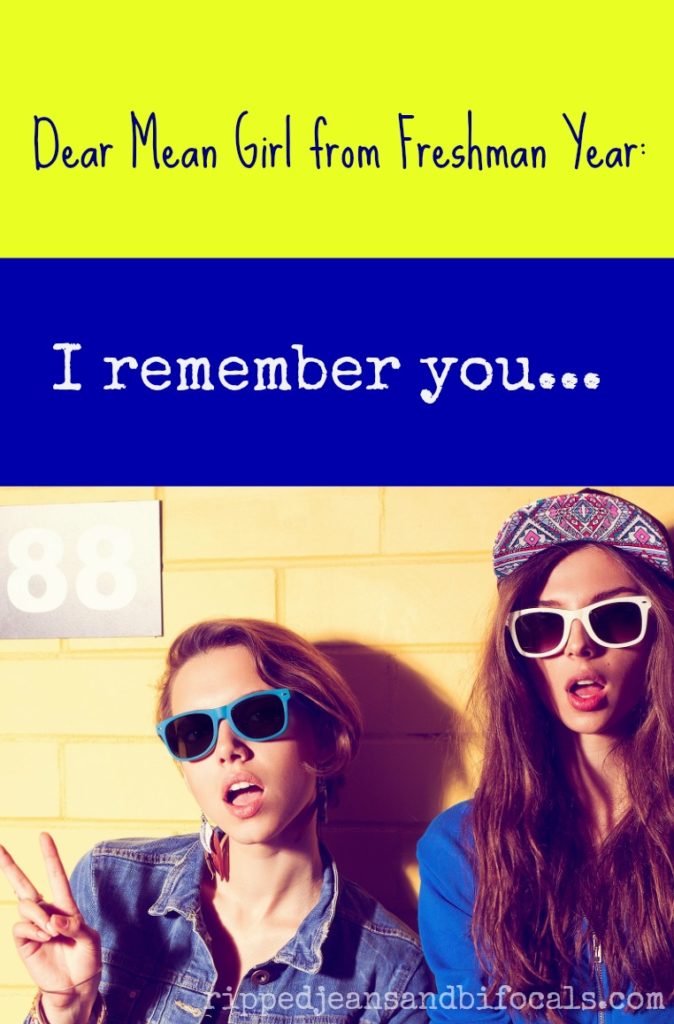 Then we moved.
Our new house was only 30 miles from our old one, but it might as well have been on another planet. I started high school, once again that awkward girl who never knew what to do with her hands. My stepmother convinced me to give the pep squad a try. She'd been a cheerleader and firmly believed pep squad was the gateway to becoming a cheerleader and that cheering was the gateway to teenage happiness. I had my doubts about this, but it got me out of P.E., so I didn't need much convincing. Because public changing areas and waist-high polyester shorts.
When we weren't clapping and chanting at Friday night football games, we spent fifth period in the school auditorium. We occasionally practiced clapping and chanting, but the hour was mostly a blow-off. I spent most of my time writing in my journal, occasionally joining in the conversations around me about important stuff, like whether peanut butter was fattening.
"Jill, you stink. Did you take a bath last night?"
This article is published today on Alamo City Moms Blog. I'd love it if you'd visit their site and read the rest…just go HERE.

Follow Ripped Jeans and Bifocals's board Parenting Survival Tips on Pinterest.
A vote on Top Mommy Blogs helps my site a ton. It's super easy and besides…you know you wanna click my button.