I have two 5-year-old boys. We talk often about wiggly teeth and what happens after they fall out.  Even though I've never initiated discussion about the tooth fairy, my kids know that when you put your teeth under your pillow, she comes while you're asleep, takes your teeth and leaves you money…thank you, public education.
Back in the day, the tooth fairy used to leave me a shiny quarter and I was damn happy to get it. You could actually get a decent amount of candy for 25 cents in the seventies. I know, I know. I'm old.
Times have changed…indeed they have. A buck for a tooth is probably considered El Cheapo. I've heard rumblings about $5, $10, and more accompanied with other tangible "whoo hoo you lost a baby tooth" kind of gifts…so I'm probably not gonna get away with slipping a quarter under my kids pillow.
I'm okay with that.
Now listen here, Miss Farrah Abraham…I really, really try not to be sanctimommy.  I avoid pointing my finger at other mothers and declare "you're doing it all wrong."  Parenting is challenging for all of us…even "public figures" like yourself with oodles of money.  Maybe I shouldn't judge. I have no idea what it's like to walk in your Jimmy Choos and to live your glittery, spray-tanned public life.
But Farrah…oh gurl.  Six-hundred dollars for two front teeth?  That's three hundred bucks a tooth!
When I first saw the story of your tooth fairy excess floating through my social media feeds yesterday, I rolled my eyes. I might have snorted. Since I haven't exactly kept up with your post Teen Mom shenanigans, I giggled when I read about your sex toy biz and your aspirations to become a plastic surgeon. I thought to myself "there's just another reality show star with more money than sense."  I mean…I watched Rock of Love so I thought I was pretty much immune to stupid celebrity tricks (sorry Bret…I still love you…call me.)
But then I read THIS.
And because I spent five minutes of my life that I'll never get back reading a slice of your misguided views on motherhood, I'm taking five minutes to hop up on my soapbox and tell you what I think.
You've lost your damn mind.
You talk about how you gave your daughter a wad of cash for her two front teeth because she was feeling insecure about her missing teeth. Because your daughter "values how you've done your look."
Uh…delusional much, Farrah?  A 6-year-old doesn't value cosmetic surgery. If she does, it's your doing and that's something you should have the good sense to be a little bit ashamed about. Oh wait…good sense.
There are lots of things that should be important in the mind of a 6-year-old girl but sadly, Farrah, I think you're pretty far out of touch on that. Your beautiful daughter should be enjoying her childhood: learning stuff, getting dirty, playing with Shopkins and American Girl Dolls. She should not be feeling bad about herself because she lost her baby teeth, as all kids do.
Of course she wants her teeth to look like yours. She looks up to you…some would say because she doesn't know any better, but you're her mom. It's your job to explain that everyone loses their teeth when they're little. If she's feeling insecure about missing her two front chompers, it's your job to explain how the whole permanent teeth thing works and that you lost your teeth when you 6-years old, too. You know…back before you paid a fucktillion dollars to "look pretty perfect."
It is your job to make your little girl understands that losing her teeth is not "so sad" or "a struggle."  Puhleeze.
Having your "busy tooth fairy" leave $600 bucks to compensate for the fact that your kid might not be feeling great about her missing teeth?  You've lost your damn mind.  Here's a thought:  effing talk to her about her feelings.  Be her mom.
Here's the deal, Farrah:  little kids aren't wired to feel self-conscious about losing teeth…quite the opposite. All the other kids in her class are losing their teeth, too. It's a normal part of childhood and becoming a big kid. Are you going to give her some pity money when she learns to ride a two-wheeler?
And, is it just me or is anyone else finding one of the weirdest parts about the Us Weekly article is the snippet about 6-year-old Sophia winning the "Fashionista Award."  Really? That's a thing at your school?
In all seriousness, we all know that kids sometimes get freaked out by things that us grownups consider silly. My daughter used to be afraid of toilets that flush by themselves and was convinced boxed milk was made by aliens. It's our job as parents to explain things and reassure them that things are okay…normal, even. And newsflash, Farrah: losing baby teeth is normal. If your daughter has angst about that, then close your wallet, step away from Twitter and take a look at your parenting. Maybe try and talk it out before throwing cash at your 6-year-old?  Just a thought.
Money doesn't solve all life's problems, Farrah. Yeah, I'm sure I'd have fewer problems if I had even a tiny smidge of your moola, but think about it. You do get that she's gonna lose more teeth, right? How will you react when she gets her first zit?  Buy her a pony? Her own island?  Black American Express card?
You're not a teen mom anymore, Farrah. Get over yourself and start teaching your daughter to value more than looks. If you don't, her teeth are going to be the least of your worries in a few years.
I'm just one mom. And while reading your views on motherhood makes me a little sad, it gives the rest of us a reminder that we need to talk to our young children and make sure we're teaching them what is really important: it's what's on the inside that counts.
I hope you figure that out one of these days, Farrah.
If you've enjoyed my perspective on this, please follow my Facebook page for more good stuff.
Do you have a "WTF" or "celebrity news" board on Pinterest?  Here you go – save for later!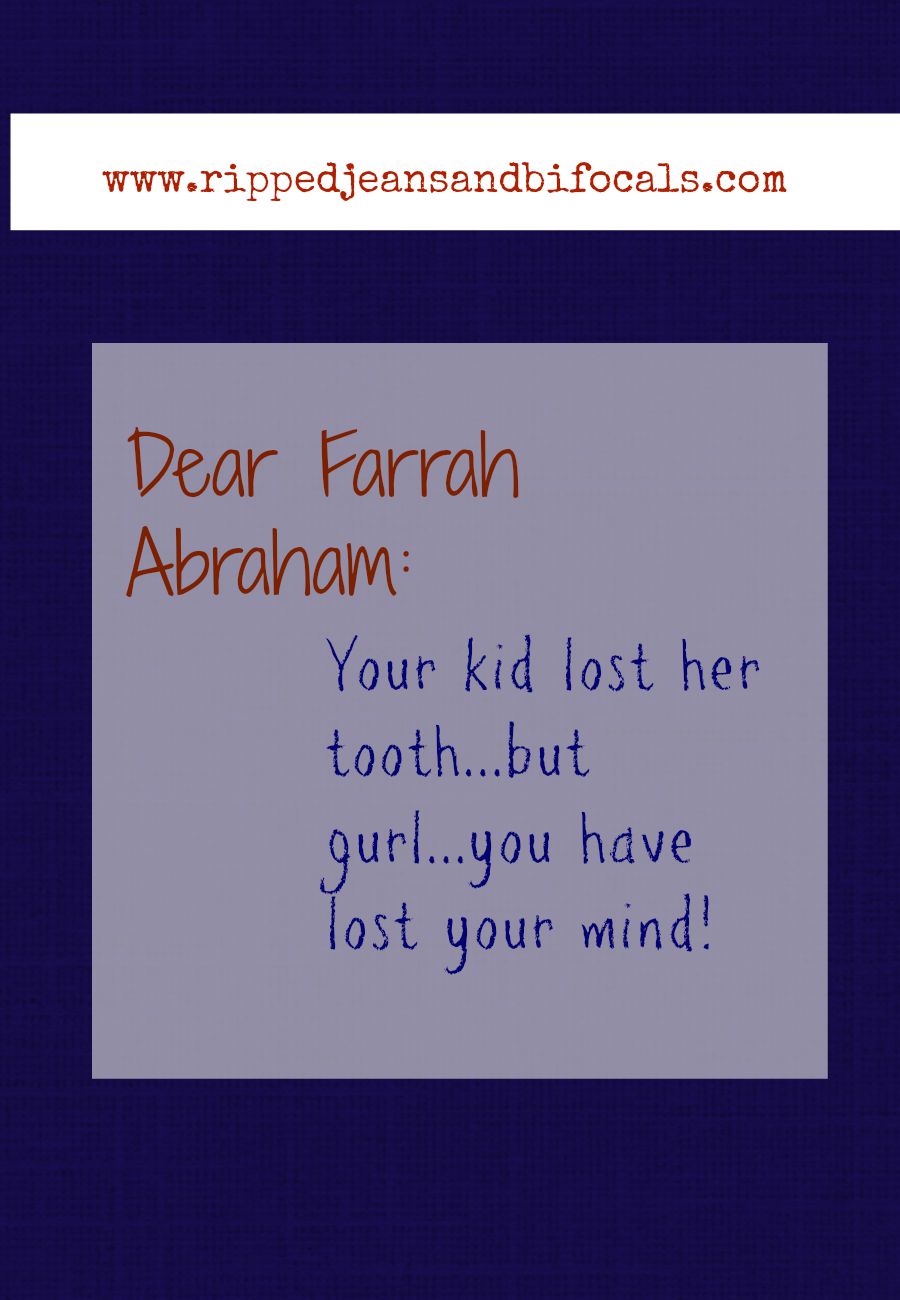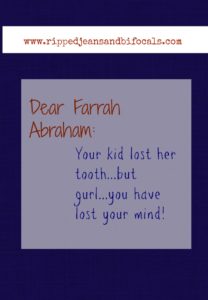 Click the button below to vote for me once daily! Thanks for reading!