Today's guest is Susan Gilbert-Collins, author of "Starting from Scratch."  There are all kinds of articles on the interwebs telling us how to be good parents.  Everyone has an opinion on the right way to potty train or the wrong way to get your kid to eat his veggies.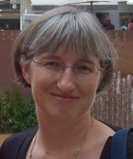 Susan says "no more."  Does she have a point? 
The other day someone sent me a link to an article on various parenting trends around the world that have not caught on in the U.S. This is the kind of thing I often find irresistible: the chance to compare my parenting with some mother in Borneo who just might hold the secret to getting your kid to fall asleep before 10:30 p.m.
But this time my initial reaction was, "Who cares?"
This surprised me enough that I clicked on the link anyway and skimmed through the article. Some highlights: Parents in China potty train their babies by nine months. Parents in Norway practically raise their kids outdoors–including nap time–even in subzero temps. Parents in Denmark leave babies in strollers outside stores while they shop. Parents in France teach their kids to eat absolutely everything.
And my second reaction to all this was, "Who cares?"
That's a slight oversimplification. My reaction to China was, whoop-de-do. Good for you. I've got a three-year-old in diapers resisting underwear like you wouldn't believe, and I've been too tired and too busy to sort it all out yet, and it's making me a little crazy. If someone on the other side of the world is potty-training by nine months, give them a medal but you don't have to tell me about it. (China, by the way, is the same country that literally forced a friend of mine to study chemistry when she was passionate about literature and history. She got a degree in chemistry and entered a job where she felt like every day they were sitting and waiting to die. But hey, potty training is important too.)
Editor's Note:  I've seen Chinese potty training first hand.  It's called "no pants, let the kids whiz wherever."
My reaction to Norway was, it's a cold cold country, kiddos. Get used to it.
Editor's note:  Frozen was set in Norway.  The cold didn't seem to bother Elsa…
My reaction to Denmark was mixed. Sure, it's hard to wrap my brain around leaving a baby outside unattended, but how many people are going to take a baby? Do you know how much work they are?
My reaction to France was to be annoyed in the time-honored way of Americans who are sick of hearing that the French are better in every way. If you're telling me that there are absolutely no picky little kids in France, I won't believe you, especially since I happen to know that the Danish conducted a huge rigorous study proving that pickiness is 70% genetic. And the Danish can't be wrong, right? They're the ones who came up with the great idea of leaving babies on the curb.
What I'm trying to say is, I may be a little burned out. Whether I'm more burned out on parenting articles or on actual parenting is hard to say; I suspect it's a mix. Would I do it all over again if I had known ahead of time how much hard work parenting is? Yes. Absolutely. Would I throw myself in front of a charging crocodile to save my children? Yes. Without hesitation. In fact, I think I would welcome the break in routine.
Here's what I would like links to, instead of parenting articles: what are the finest and most interesting NON-CHILD-FRIENDLY restaurants in Columbus, OH? Which are the best, most romantic, least child-friendly hotels or bed-and-breakfasts in Columbus–and is there a jacuzzi for two?
This is because something nearly unprecedented in over eight years of parenting is maybe going to happen: my husband and I are going to have an entire night and part of a day away from our beloved children. This has only happened once before, years ago, when my sister kidnapped our toddler and kicked us out of the house. It was wonderful. Unfortunately she lives 1,000 miles away.
It's a natural consequence (for those of you who love articles on natural consequences) of having children when you're older: the grandparents are also older, and while they are all loving and generous and involved, they probably don't want to try running down a toddler who doesn't want his diaper changed. But we're finally thinking outside the box. We're farming Older Child out to one set of grandparents and Aunt A, who will plan a wonderful special time together (he is so excited!), and we're farming Younger Child out to Aunt S and Uncle S, who have all the toys and know-how and hugs you could ask for.
And since they all live in Columbus, we're going to stay in the area, not far from but well away from our children.
In addition to a lovely restaurant and a romantic hotel, we're considering going to the Columbus Zoo and actually looking at the animals. I was thinking we might stroll through a garden, by which I mean stroll. Sedately. I was even thinking we could have a conversation, perhaps several. Or we might just stay in the hotel room. (Ahem.)
If we really pull this off, we're going to owe the aunts and uncle big-time. I'd pretty much open up a vein right now if they requested it.
So how about it? Favorite restaurants, anyone? Quaint little B&B tucked away in Columbus' beautiful German Village? Send me your links and suggestions for a romantic night away.
Just no parenting articles, please.
Read more of Susan's writing on her blog or check out her book on Amazon.  Disclaimer:  if you purchase this book (or anything) through my affiliate link by clicking the pretty picture below, I'll make a gazillion dollars.  Or enough to upgrade to a Venti.
Did you like reading this? Sharing is caring, people! Pin it to one of your favorite Pinterest boards, tweet it, or if you're really fancy, share it on G+, Stumble Upon or whatever the cool kids are using nowadays…I can't keep up. And, don't forget the old standby Facebook. You can also follow my Facebook and Twitter accounts. There are some share buttons below and if you clicked them…well, that would be just awesome sauce. Thank you!