I was eating my lunch last week (very unhealthy splurge of Taco Bell that I'm still regretting) and playing with my phone when I saw a message come through from my friend Bev. She tagged me in a post about "blogging sisterhood." I saw the word "award" and I thought "ooh, do I get a tiara?" 
I connected with Bev last year through a blogging group and I've loved following her adventures as a new mom and her jewelry design business. If you know me, you know I love shiny stuff and if you don't know me…well, I love shiny stuff. And tiaras.
I actually get to meet Bev in person this summer at a conference for bloggers in Baltimore called Blog U and she is making these beautiful earrings for me. I can't wait to get them, and to meet Bev, of course. She designs some really cool fitness jewelry that I would love to get my hands on one day – my birthday is in September. Just saying.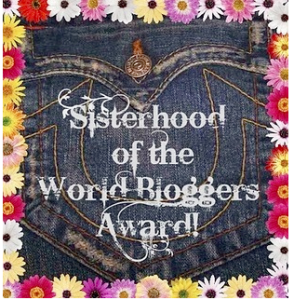 So anyhoo, this is one of those pay it forward, question and answer posts, and I thought it would be kind of a fun way to give the people who read this blog regularly a little peek behind the curtain and to highlight some of my favorite ladies in the world of blogging. These are the questions Bev asked me:
1. What are you looking forward to now that we have an extra hour of sunlight at the end of the day?
I am actually not a fan of daylight savings time. It is no fun having to explain to my kids why they have to get ready for bed when it's "no dark outside."
2. If you could go anywhere in the world, where you go? Who would you with?
Call me weird, but the two places I want to visit most are Chile and North Korea. I read a book called House of the Spirits by Isabelle Allende when I was a freshman in college and the story was set in Chile. I have wanted to visit ever since. Besides, they make some really good wine.
So, North Korea. I don't have any communist leanings. I just find the culture of isolation and mind control really fascinating. I read an article several years back on how the North Korean Olympians were so cloistered from the other athletes at the games and that just sparked my interest, from a sociological perspective. North Korea does have a small tourism industry but I'm sure it's impossible to see the real North Korea or talk to anyone who hasn't been programmed on how to "appropriately" communicate with outsiders.
My perfect travel partner is always my husband Lee. We've been to Europe, Asia, and Africa together and there's no one I'd rather see the world with…but he's already told me "no" on North Korea, which is pretty much just something fun to what-if about anyway.
3. Share the most recent picture on your phone and tell the story behind it.
My son Kyle turned five last week. We had a little mini-party at the dinner table. I spent almost $4 on a "gourmet cupcake" that he said was "yucky."  Kids are weird.
4. Now I want to know what your spirit animal is! Take the quiz and share it with us. Were you surprised by the results?
I hate internet quizzes! Only for Bev did I take this quiz, which revealed that my spirit animal is a wolf. I am not a dog lover at all, so I found this funny.  If you are interested in what Disney Princess I most resemble, it's Belle.  Seriously…I hate those quizzes, although my controlling ex reminds me a little of Gaston…
5. When did you start blogging? What is one thing you have learned from it?
Ripped Jeans and Bifocals is my second blog. I started it in May 2014. My first blog was more like a journal and focused almost exclusively on adoption. When I realized I wanted to do more editorial writing and reach a wider audience, I started this one.
I have (hopefully) improved my writing and knowledge of social media but I think I've learned a lot in the technical arena. I still consider myself "behind the curve" but I can do things on my computer that I never thought I'd be able to do.
6. Will you be going to any blogging conferences this year?
To Blog U in June and maybe (maybe maybe maybe) BlogHer in July. I am already signed up for Blog U and I'm really excited to meet some of my "friends who live in my computer" and I'd love to go to BlogHer in New York City in July…but I'm still not sure if I can spare the time and money for a second conference.
7. Describe your workspace. Is it messy or tidy? Bonus if you share a picture of it!
It's pretty sparse right now, but it's still a work in progress. Since everything is contained on my lap top, there's not much mess. I keep some notes in a notebook and on an app in my phone, so no clutter there. I have some pictures I keep meaning to hang up and a stack of books I plan to read, but all in all…pretty neat. I do drag my laptop around the house a lot, though, so I can type while keeping an eye on my kids.
8. What's something people might not know about you?
I am hideously insecure about my writing. That thing they say about you being your own worst critic?  Totally true.
9. First word that pops in your head…go!
Milk. I went grocery shopping yesterday and I forgot the milk. Who does that?
10. What's your favorite think to drink while you're blogging?
Wine or coffee, depends on what time it is. It's always 5 O'clock somewhere, right?
Now…where is that tiara?
And now onto my nominees! (If you feel so inclined to participate): Ashley of Smashley Ashley, Jill of Totally Inappropriate Mom, Alison of Sparkly Shoes and Sweatdrops, Sara of Happy and Humble, Alyssa of Babies Bloodhounds and Booze, Oh My!, Samantha of Dr. Psych Mom and Jenny of In Other Words. These are all some of my favorite bloggers, so check them out if you have a minute.
Here are my questions for you:
Are there any subjects that are taboo and that you won't blog about?
What's your guilty pleasure?
What's the weirdest thing in your purse right now?
What is one of your biggest writing/blogging goals?
What's something your readers don't know about you?
What is your favorite blog – besides Ripped Jeans and Bifocals, of course?
Team cat or team dog?
What makes you mad?
Share the most recent picture on your phone and the story behind it.
Internet quizzes annoy me. What is the most asinine or silly internet quiz you've ever seen or taken…and bonus points if you share the result!
Here are the rules:
1. Link to the person who nominated you – that's me me me me!
2. Add the award logo.
3. Answer the questions your nominator has asked.
4. Nominate 7 other blogs and let them know via comments.
5. Ask your nominees 10 questions.
Did you like reading this? Sharing is caring, people! Pin it to one of your favorite Pinterest boards, tweet it, or if you're really fancy, share it on G+, Stumble Upon or whatever the cool kids are using nowadays…I can't keep up. And, don't forget the old standby Facebook. You can also follow my Facebook and Twitter accounts. There are some share buttons below and if you clicked them…well, that would be just awesome sauce. Thank you!

(Visited 38 times, 18 visits today)