Best Fall Date Night Menu Ever…With Wine Pairings!
This shop has been compensated by Collective Bias, Inc. and its advertiser. All opinions are mine alone. #FallMoments #WoodbridgeWines #CollectiveBias
The following content is intended for readers who are 21 or older.
Fall date night, anyone?
I know it's fall because pumpkin spice is taking over the world and also because Halloween candy and decorations are displayed in every store. In this part of Texas, we don't get to enjoy the crisp fall weather and that our neighbors up north do…that doesn't happen until late in November. People are still wearing shorts and the turning of the leaves is something we only see in pictures.
I know it's fall because vibrantly colored squash appears in the produce section, telling me it's time for robust fall recipes.  Our Texas fall nights may be warm but we can bring some great recipes into our kitchen and enjoy the season.
Although Halloween is mostly a kids holiday (or a holiday enjoyed by adults who are still kids at heart) here's a great fall date night in or adults-only dinner party menu if you need a break from the pumpkin carving and shopping for candy corn. While the month of October is pretty much all about the kids, here's a great way to carve out some grownup fun time, complete with wine pairings.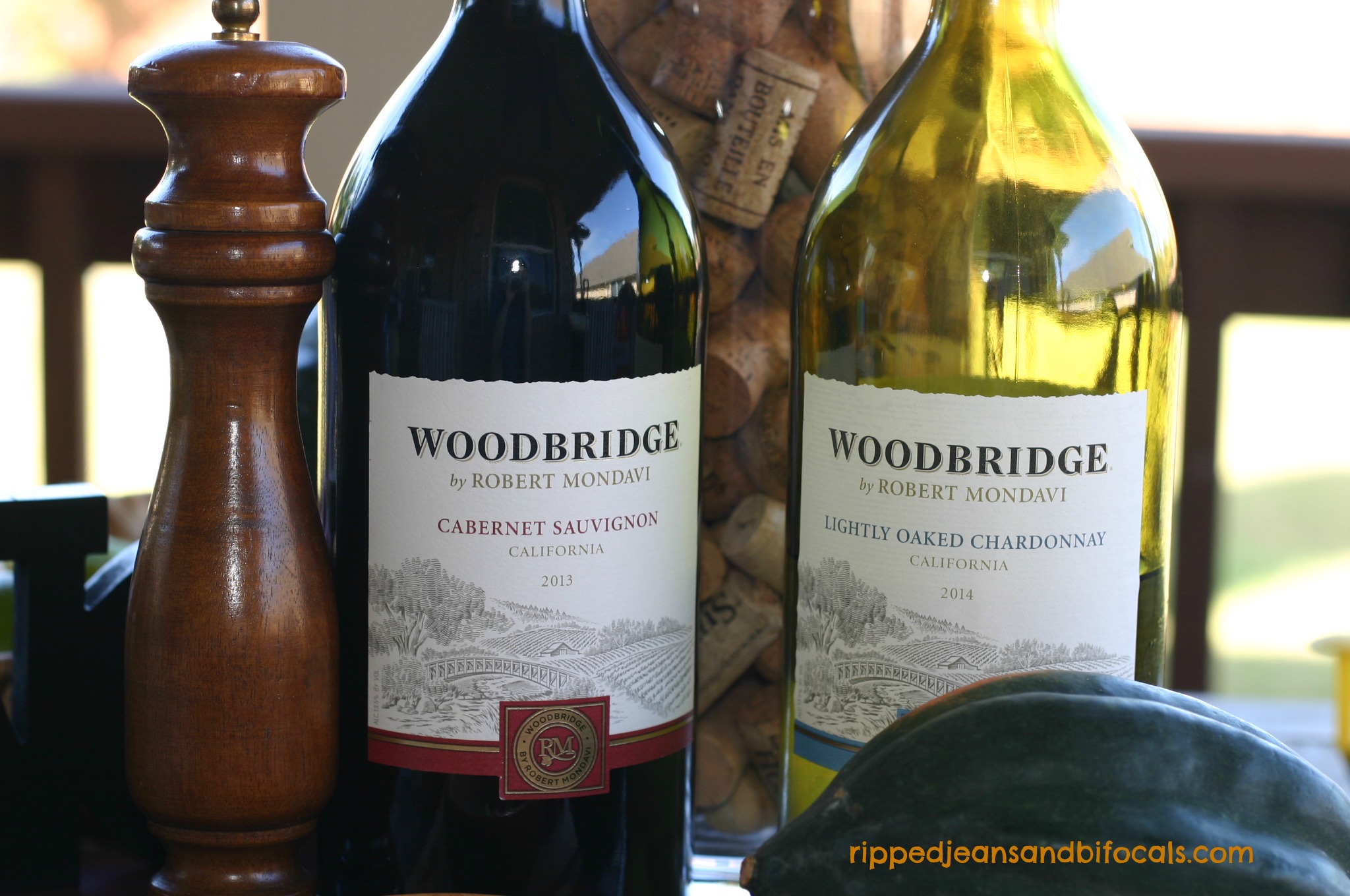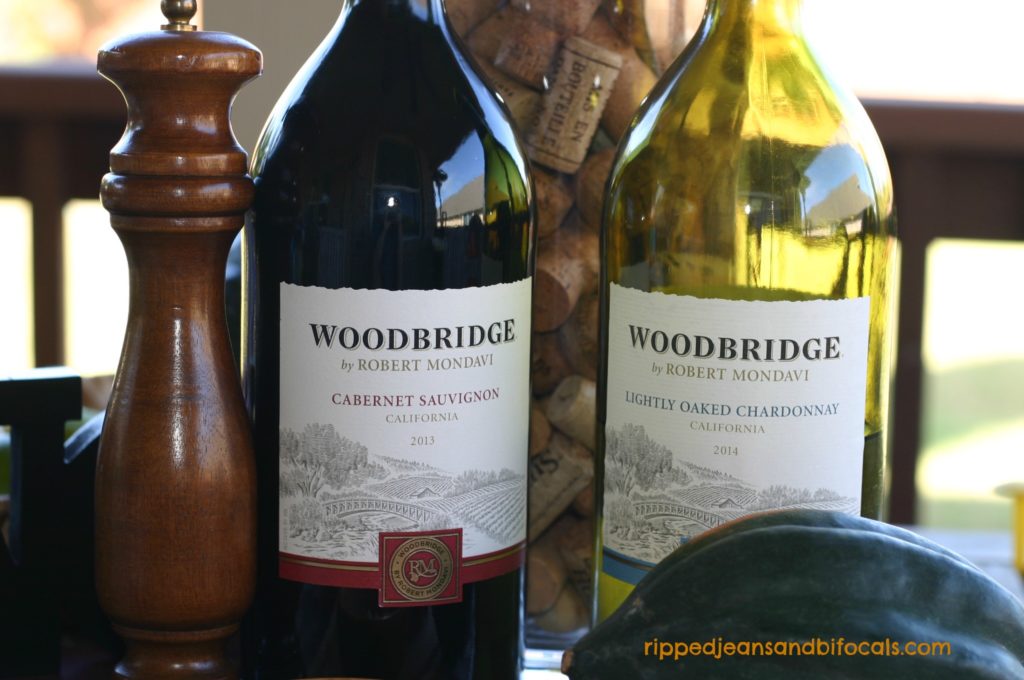 These hearty yet healthy foods allow you to set a beautiful fall table but are relatively quick and easy to make. The soup takes only a few minutes to throw together and the ease of using a crockpot makes a weeknight dinner with friends or a special someone entirely doable and will leave you plenty of time to enjoy what's really important this fall season: great Woodbridge wines and great company.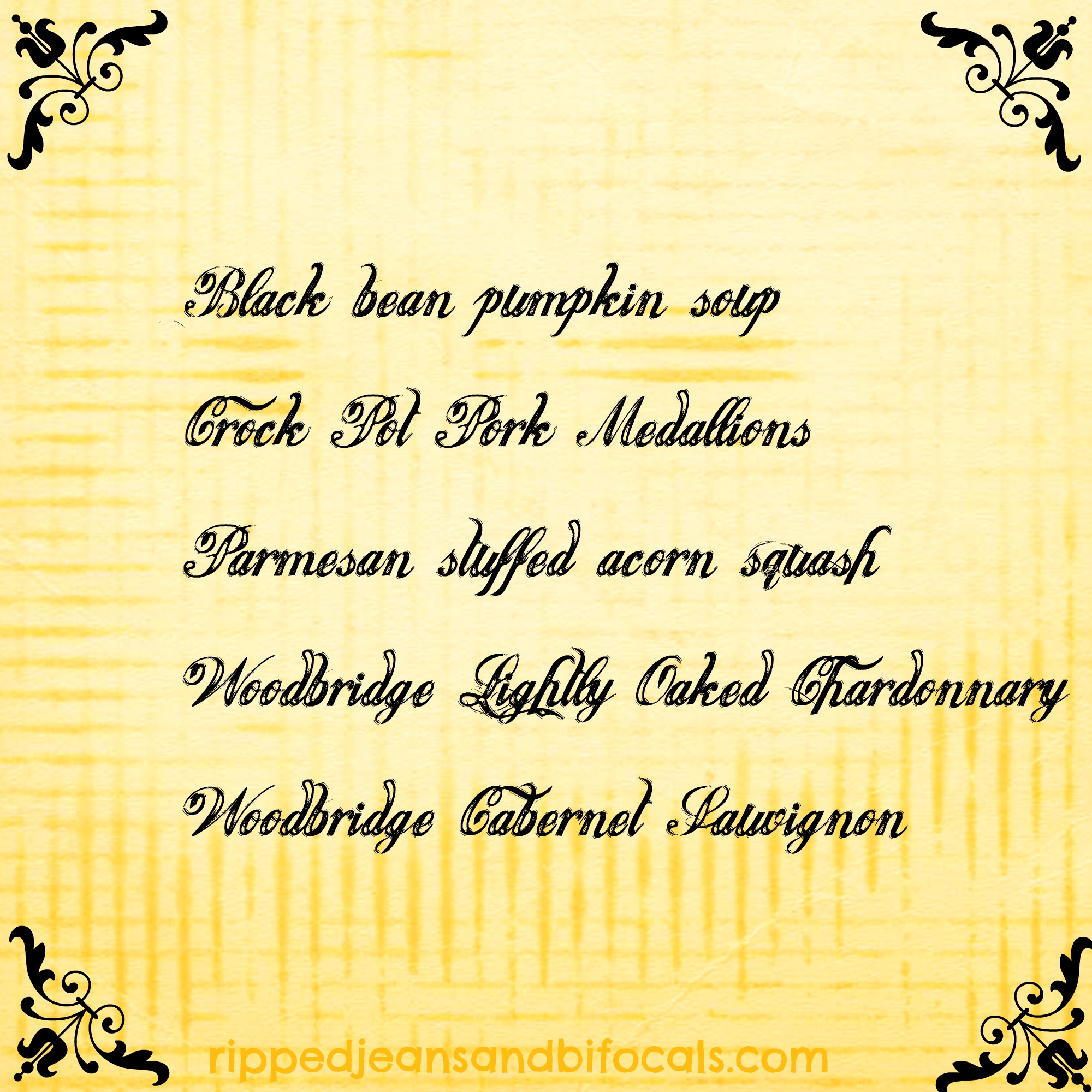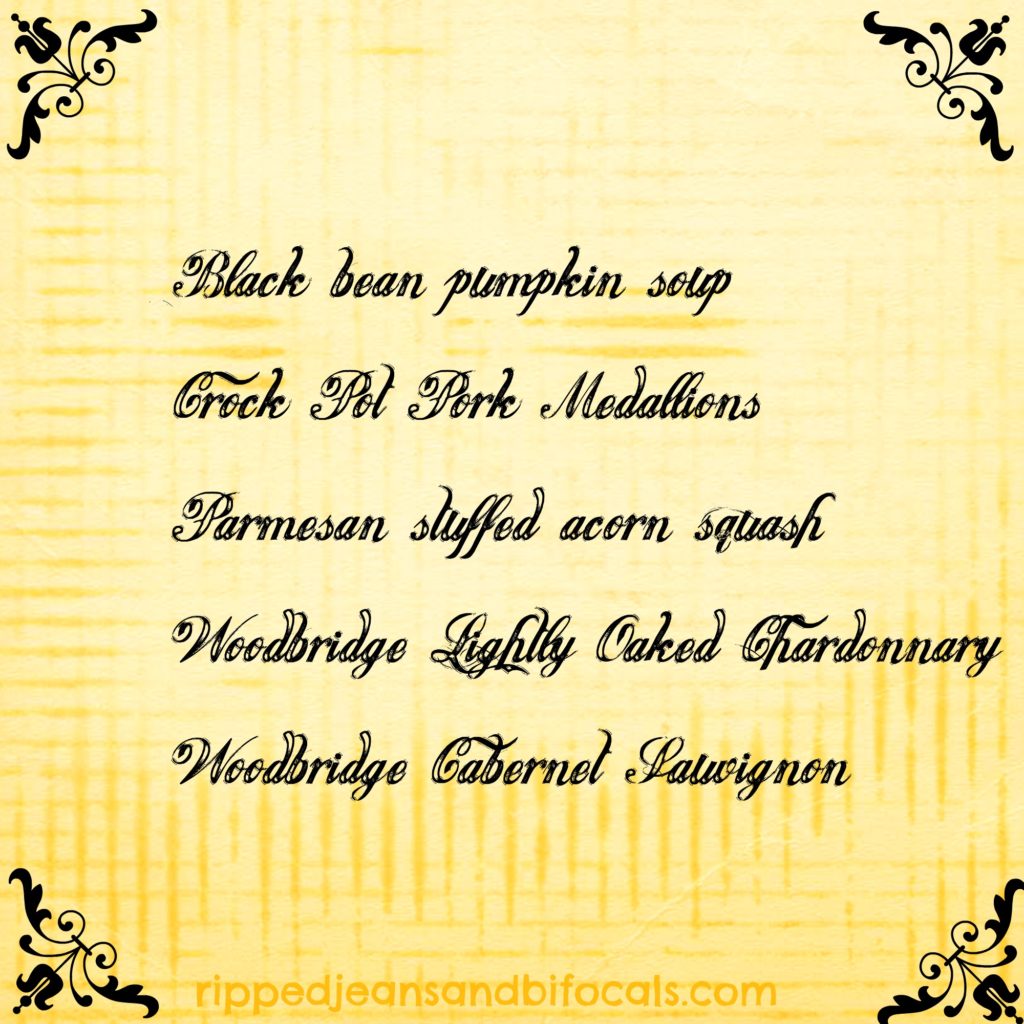 Simple entertaining is often the best entertaining…this is a menu that allows you to enjoy some fall flavor and to also enjoy what matters most – the people in your life!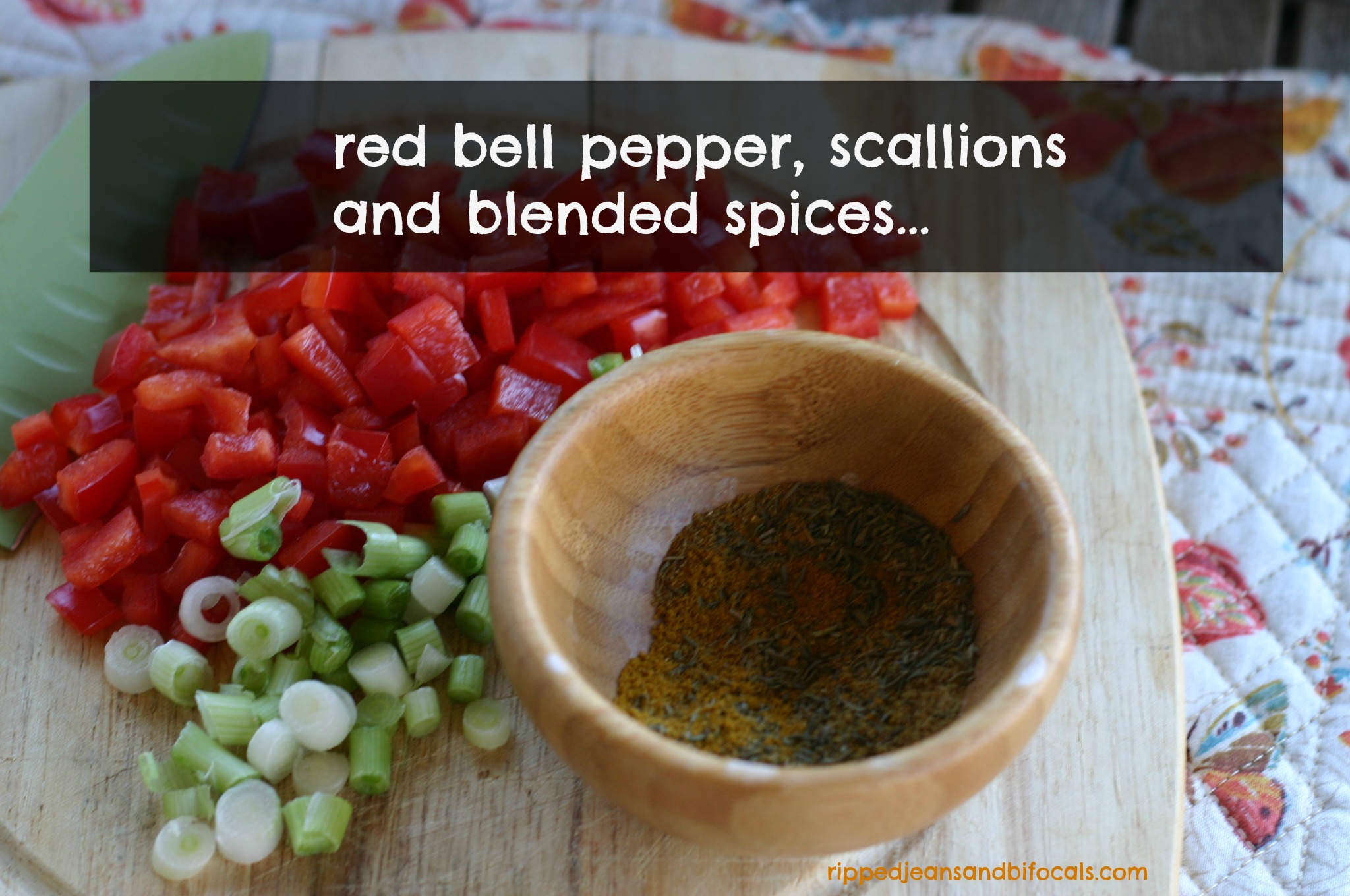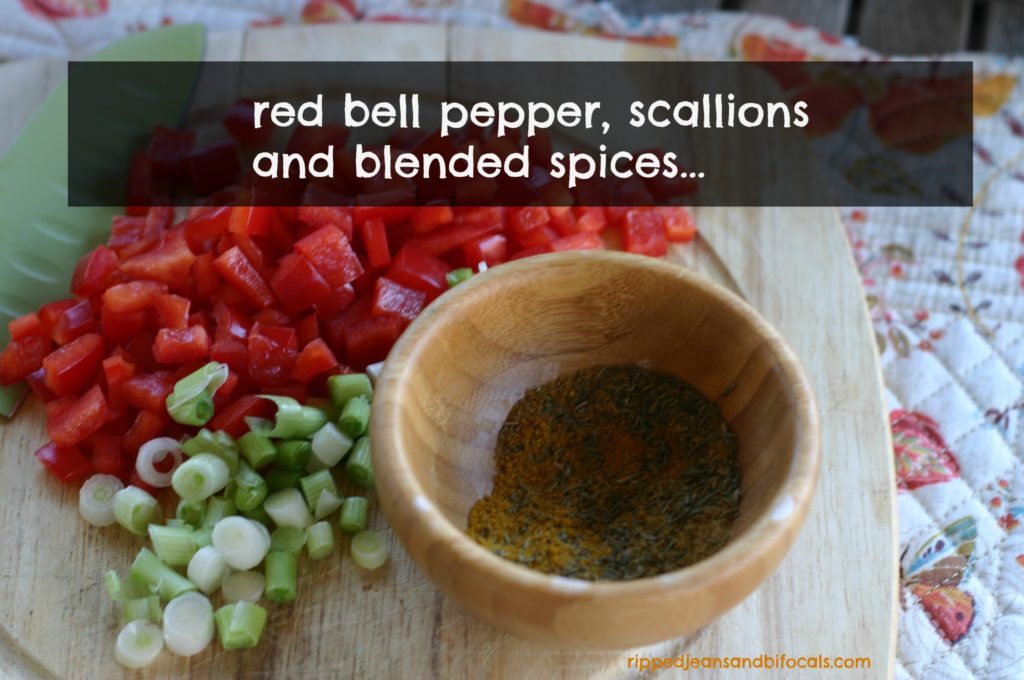 Ingredients:
1 14 oz can diced tomatoes (undrained)
Olive oil (once around the pan a la Rachael Ray!)
1 can pumpkin
2 cans black beans, rinsed and drained
1 can chicken or vegetable broth
1/2 cup water
5 scallions (white and greenish white parts)
1 red pepper
1 tbps garlic powder
1 tbps ground cumin
1/2 tbps curry powder
1/2 cup freshly grated parmesan or shredded mozzarella
Sea salt and fresh ground pepper to taste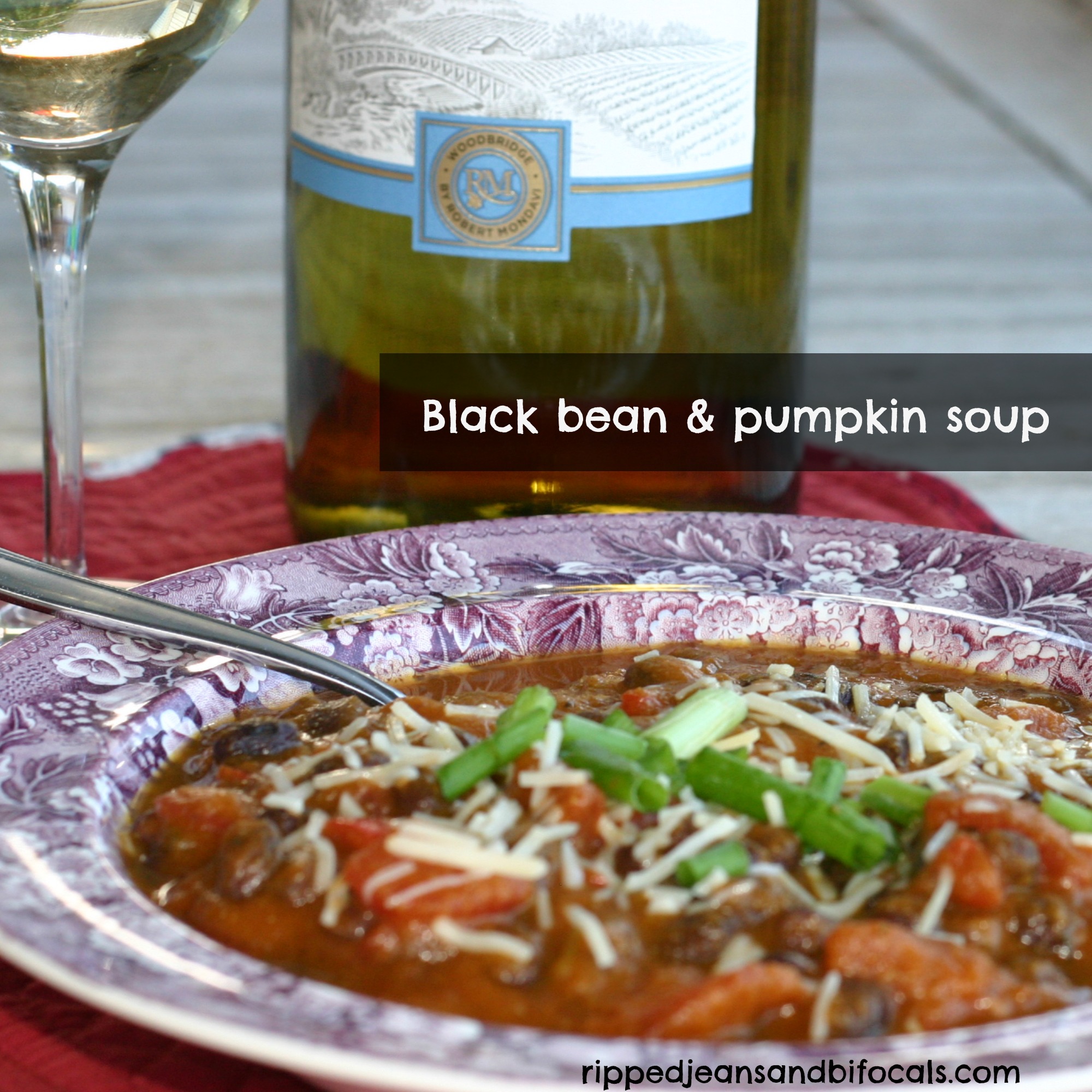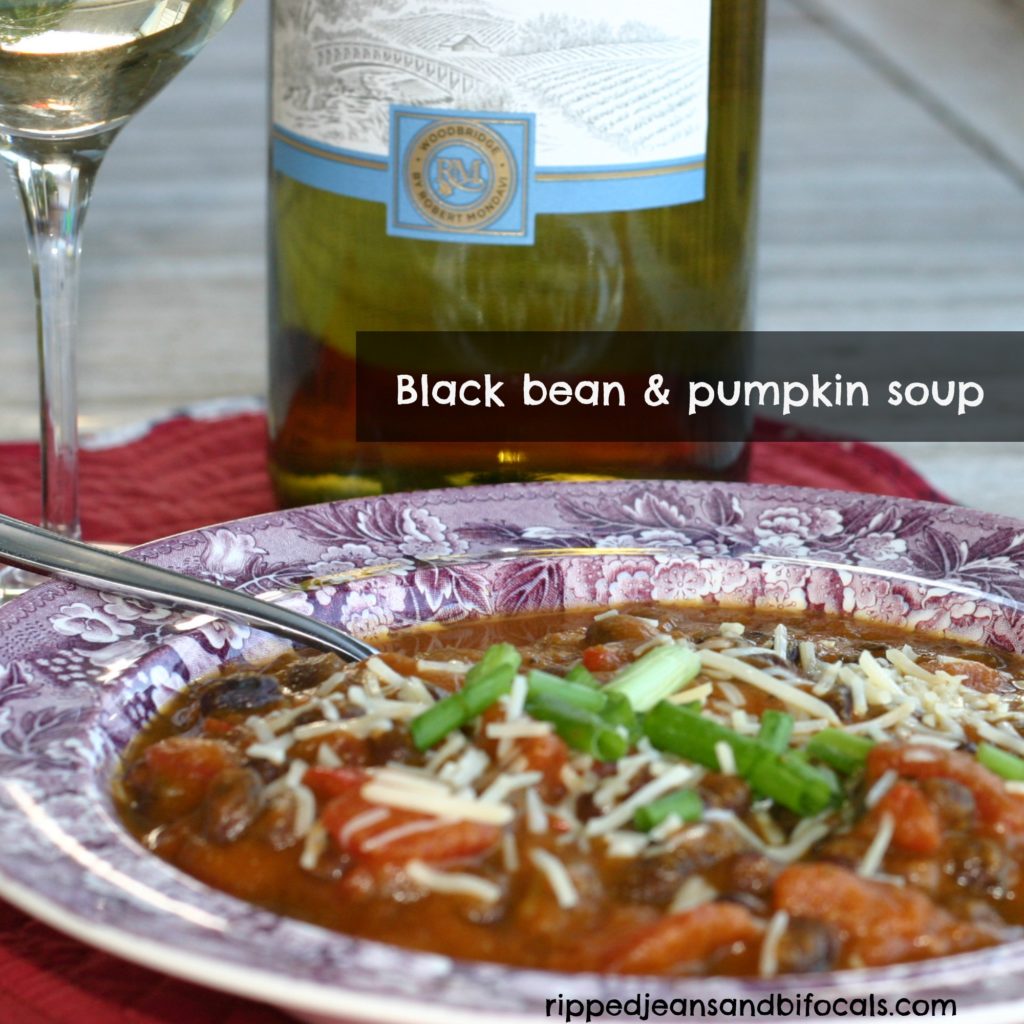 Instructions
Finely chop bell red pepper and thinly slice scallions. Separate the green parts from the white/greenish white parts
Heat olive oil over medium heat in large saucepan. Add bell pepper, white/greenish white parts of the scallions and garlic powder. Cook until soft – about 4 minutes. Stir in cumin and curry, cook for another minute.
Add in black beans, chicken broth, tomatoes, water and pumpkin.
Bring to a boil, then reduce heat to low. Cook ten minutes, then stir in salt and pepper.
Top with shredded Parmesan cheese and the green parts of the onion.
Crockpot pork medallions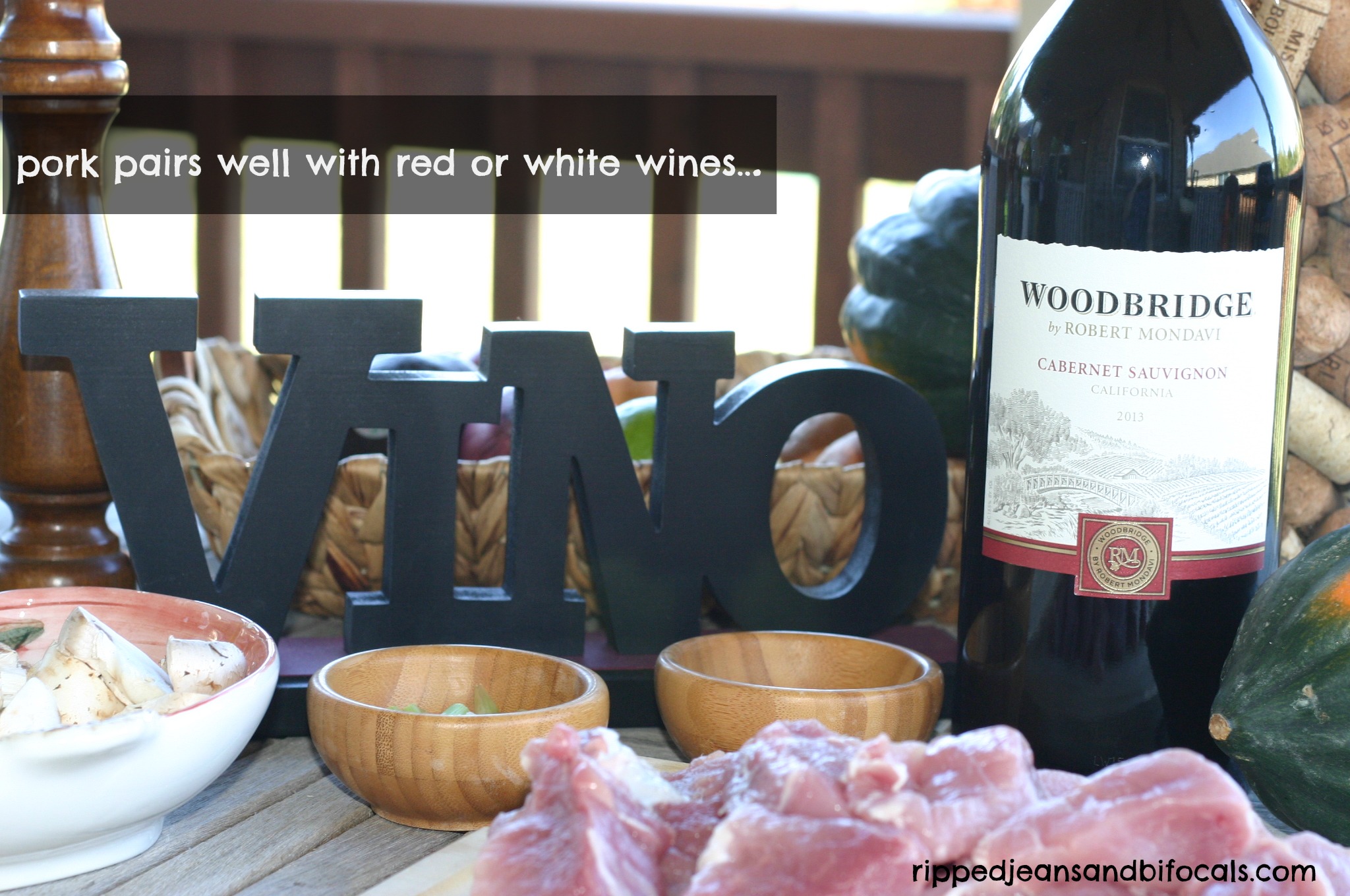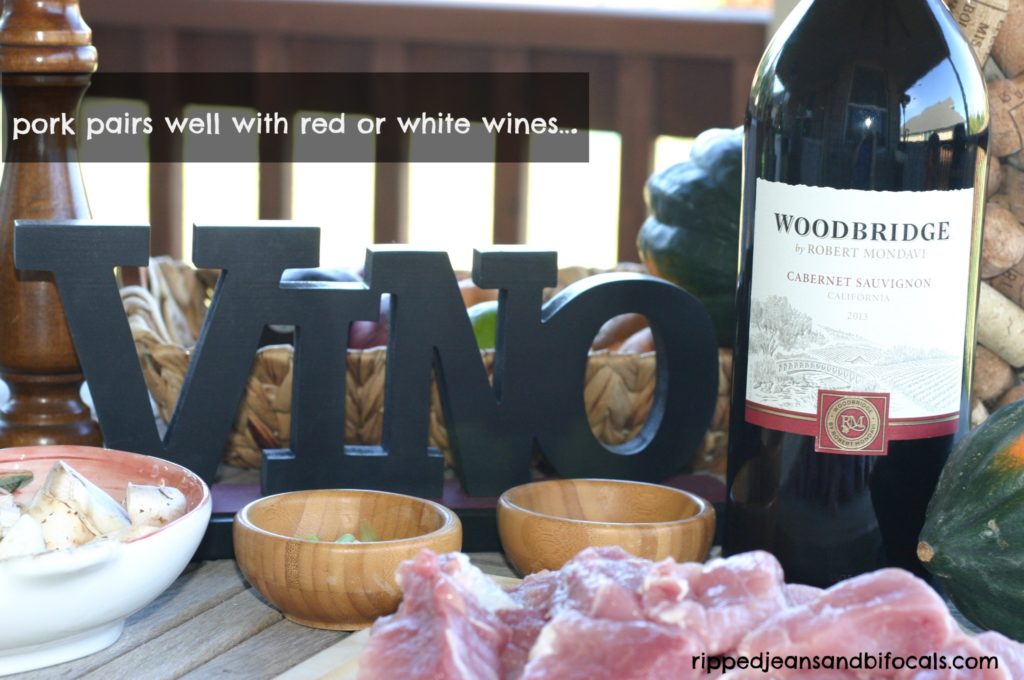 Ingredients:
1.5 pounds pork tenderloin
8 oz fresh mushrooms
8 scallions
1/2 tbsp dried thyme*
1 tbsp garlic powder*
1 cup chicken broth
1 cup full-bodied red wine (I used Woodbridge Cabernet Sauvingnon.)
Fresh ground black pepper and sea salt to taste (I use smoked sea salt for an extra pop of flavor.)
*fresh garlic and herbs may be subbed
Instructions:
Slice the pork into half inch thick slices (medallions)
Slice mushrooms
Thinly slice the white/whitish green tops of the scallions…make sure to cut off the very top of the scallion
Note: the meat and the veggies can be pre-sliced and stored in the refrigerator overnight…this can be a timesaver for you as you're getting your crockpot ready in the morning.
Place pork in the crockpot. Top with dry seasonings, then vegetables. Pour in wine and broth.  Cover and cook on high for 8 hours.
The pork medallions will be fork tender. Serve with the "au jus" spooned over the meat or on the side.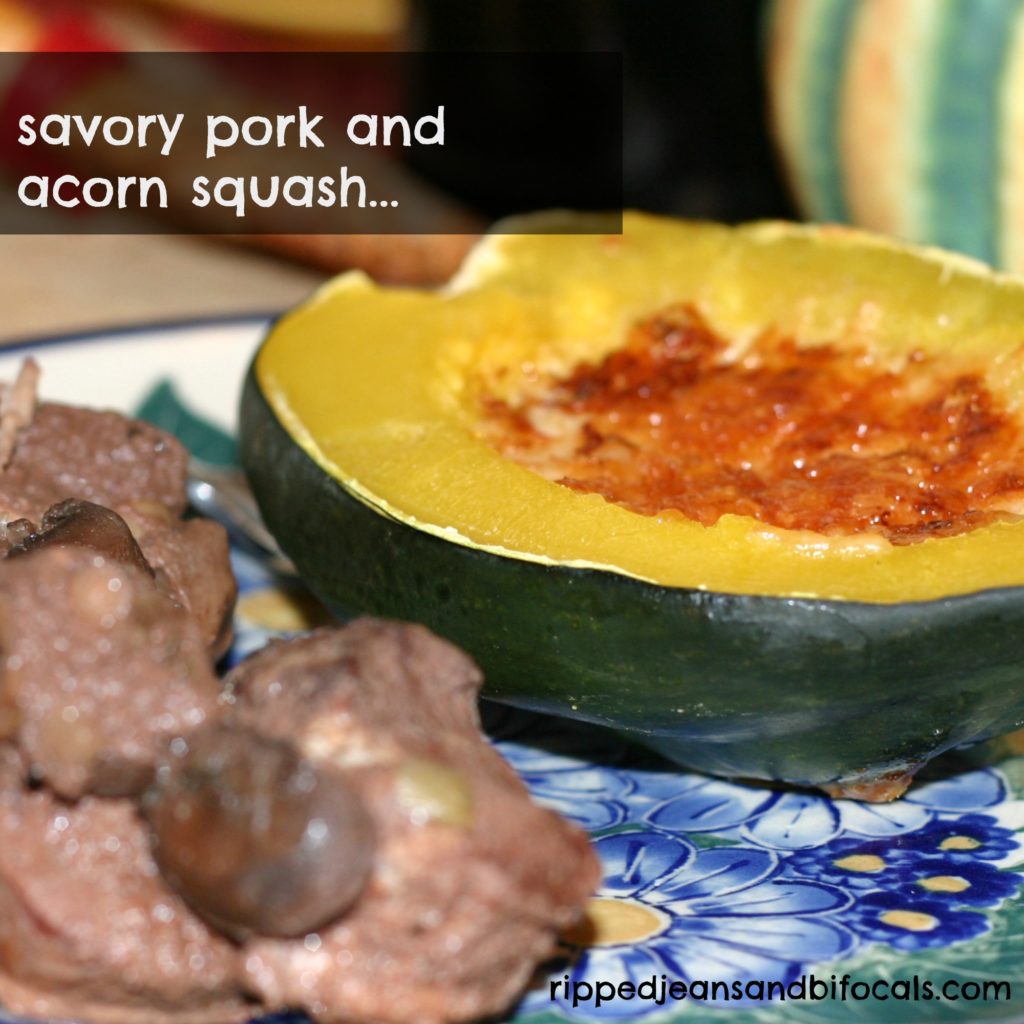 Parmesan stuffed acorn squash
Ingredients:
2 acorn squash
1 cup fresh grated Parmesan cheese
1/4 cup heavy cream
4 tbps butter
1 tsp garlic powder
Sea salt and fresh ground pepper to taste
Instructions
Slice the squash in half lengthwise and remove all seeds and pulp
Place about an inch and a half of water in a shallow baking dish. Add the squash, flesh side down. Microwave on high for 15-20 minutes.
Remove from microwave, shake off excess water. Place on cookie sheet flesh side up. The meat of the squash should be fork tender*. Place a tablespoon of butter inside each squash. Sprinkle with equal parts garlic powder and add equal parts cream, then cheese. Top with salt and pepper.
*Microwaving drastically cuts cooking time. If you want to bake a raw squash, you'll need about an hour at 400 degrees Farenheit to cook the squash all the way through.
Broil squash at on high for about 5-10 minutes…time will vary with size of squash.  Filling should be browned and bubbly. Serve with pork medallions and enjoy! Oh, and seriously, people? This is the best squash recipe ever.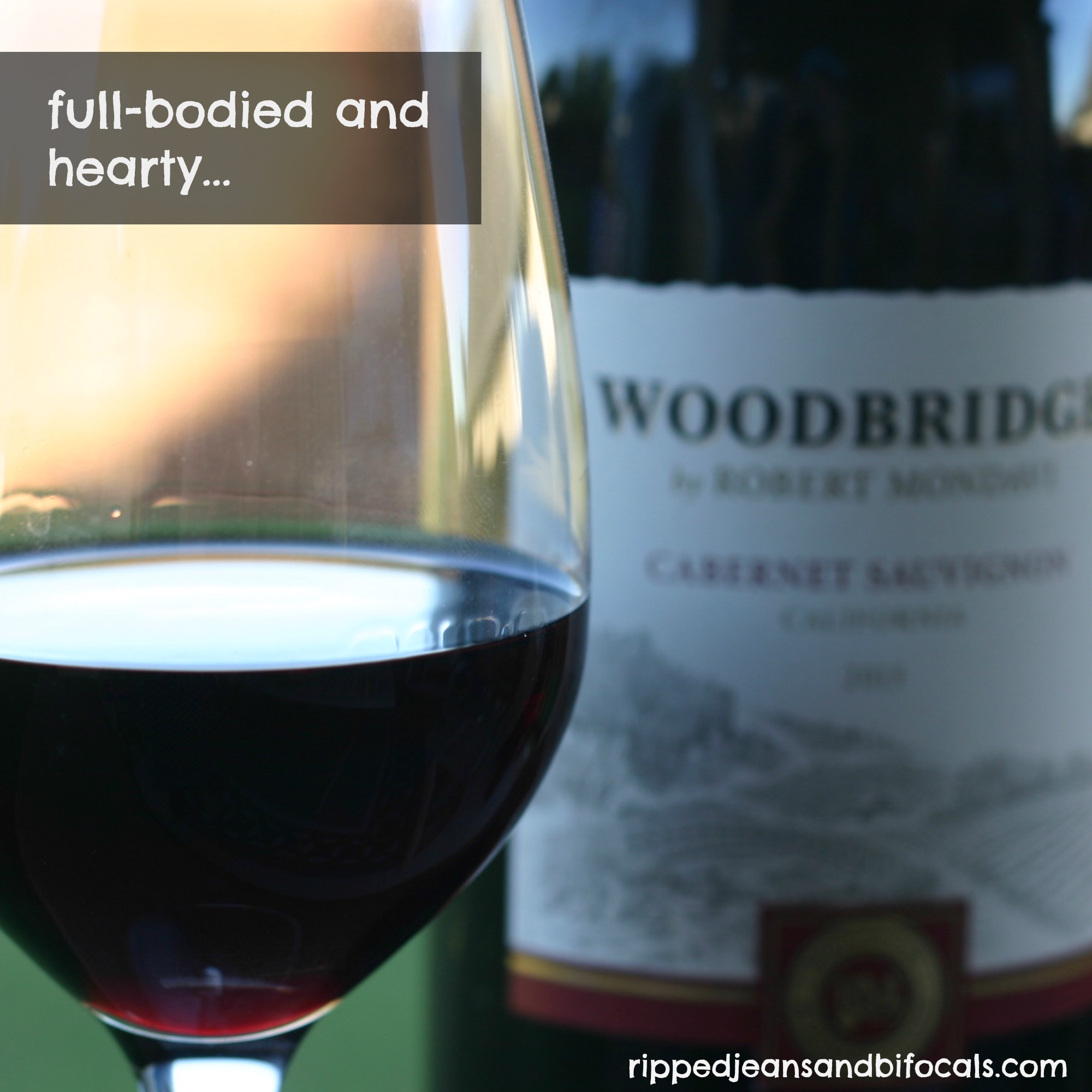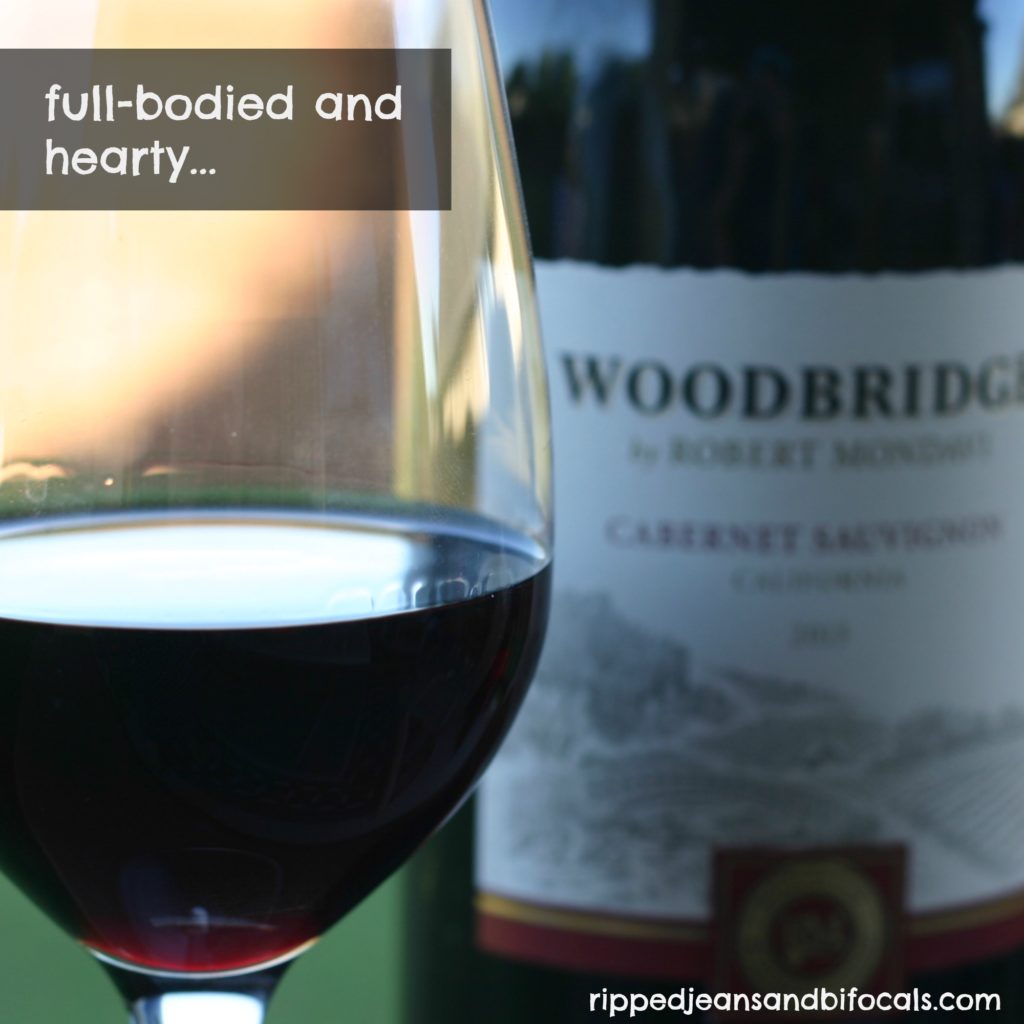 Woodbridge wines were the perfect compliment to this simple yet impressive menu. Red or white goes equally well with pork. I like serving the Woodbridge Lightly Oaked Chardonnay with the soup or as a pre-dinner cocktail and the Woodbridge Cabernet Sauvignon with the main course but there's no hard and fast rule. I like to keep both on hand…some people have preference for red over white and it's nice to be able to offer a choice. For more creative ideas on how to choose the perfect wine for your meal, check out Woodbrige Wine on Pinterest for some "winespiration."
If you have a Pinterest board for party ideas or date night ideas, pin this menu for later!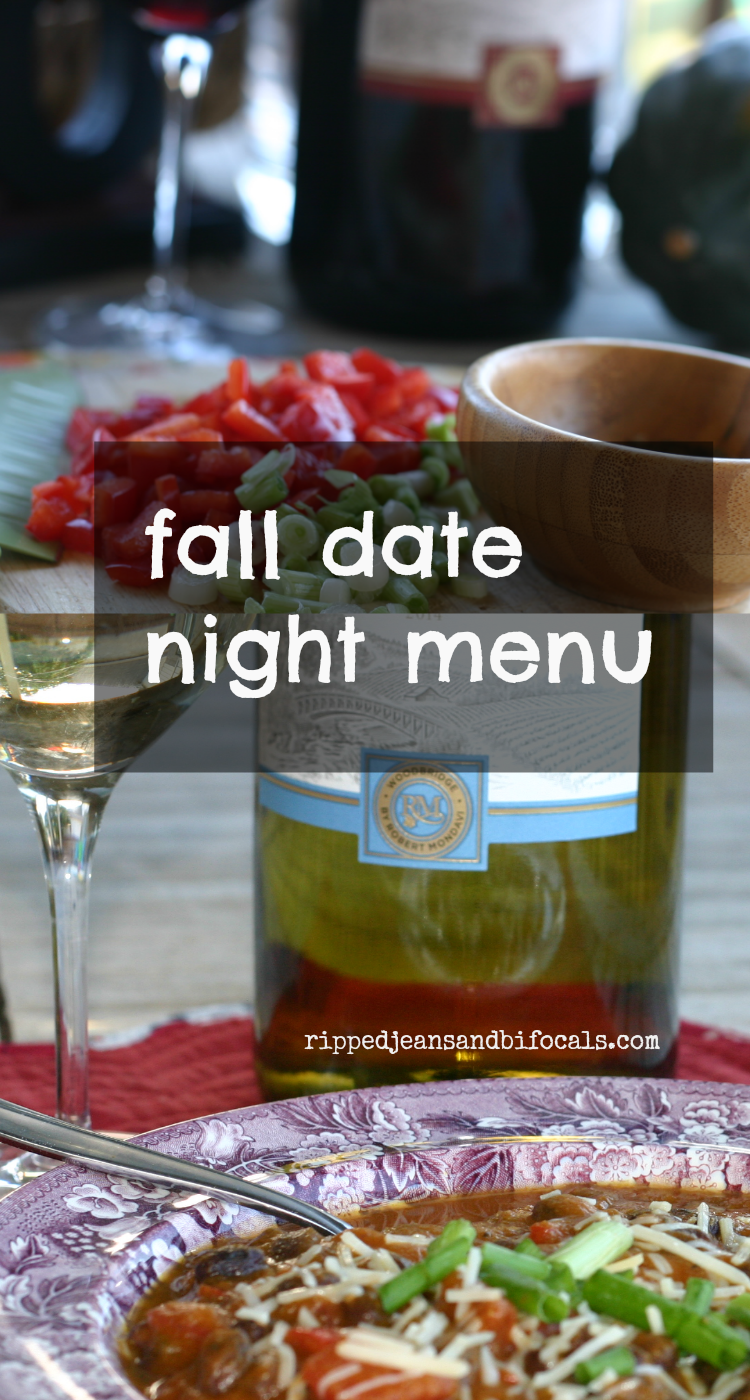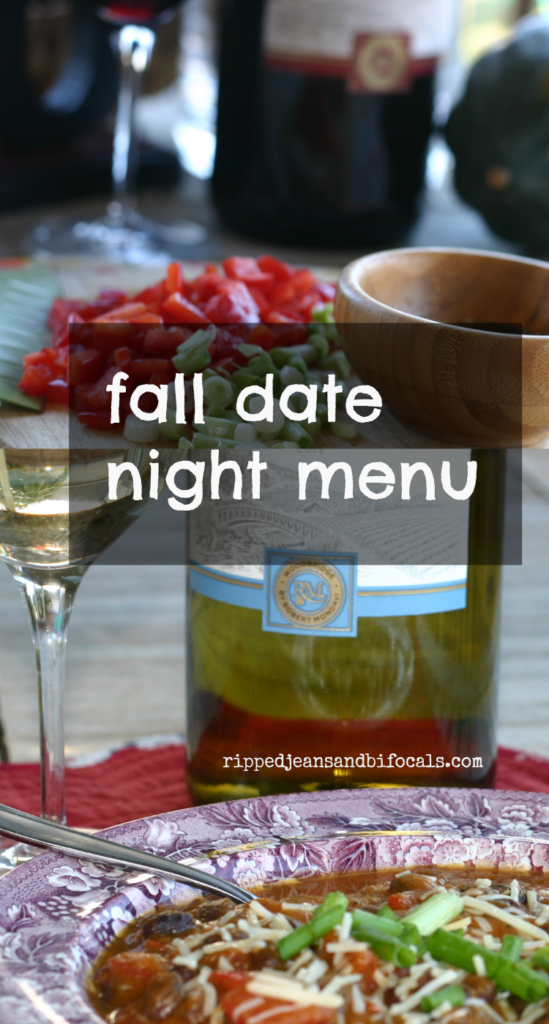 I really hope you try and enjoy these awesome fall recipes. For more cool ideas on how to enjoy a "Halloween for grownups" check out this Simple Entertaining Social Hub and join the conversation.
I know not everyone is a wine lover but for us, the wine selections made these simple dishes pop. Wines don't have to be pretentious or expensive to be good. If you're interested in checking out an in-store wine demonstration on October 30th to learn more about awesome Woodbridge wines, check THIS LIST to find a location near you. If you're out picking up those last little goodies for Halloween night, why not treat yourself?
Thank you for reading! Please follow me on Facebook, too!
Will you vote for me on Top Mommy Blogs? It's super easy! Just click the button below to vote for me once daily! It takes you to the Top Mommy Blogs directory – I promise nothing weird will happen and your clicks help to boost my blog. Thanks for reading!

For more great ideas for crockpot meals, follow my Crockpot Goodness Pinterest Board!
Follow Ripped Jeans and Bifocals's board Crockpot Goodness on Pinterest.