Today's "he said-she said" guest is Alyssa from the blog "Babies, Bloodhounds and Booze, Oh My."  Don't you love that name?  I saw this post on Alyssa's blog last month and I loved it, and she's graciously given me permission to share it with you.  Her description of the life-cycle of a panty drawer will make you laugh or nod your head in agreement…or both. It's so funny that we can make sense of the days of our life by comparing them to our unmentionables.  I'm not sure why I'm calling them unmentionables since we're very obviously mentioning them right here.  So, I'll shut up and let Alyssa mention hers.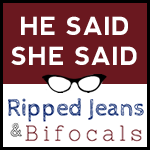 If you dig through the average woman's panty drawer, you'll usually find the same things. The sexy panties, comfy panties, reliable panties, granny panties and that pair you just can't throw away. A panty drawer ages just as we do. It has it's own delicate life cycle.
When you're in the dating game you'll find it mostly full of sexy little things that have a matching bra. You always make sure you have new things from Victoria's Secret once a month. Maybe a few pairs of panties for when you're not feeling so sexy.
Then comes motherhood and it turns into mostly functional panties with a nude thong or 2 for those certain outfits. If you're like me, 2 years later you'll have a bunch of postpartum panties the hospital sent home with you that you have no idea why you kept.
As you gain some sense with age, those sexy panties get pushed further and further back. They meet the pair that you should throw away but for some reason just can't let go. They have no value and probably no elastic. No sentimental attachment and probably a little holey.
Finally, comes the granny panties because hey, you're a granny and you need something to cover you. All about that comfort. Don't want too tight and hurt or too loose and have some weird wedgie bunching.
Related Post: Chin Hair, Poise Pads and the Fun of Forty-something
Maybe they should make days of the week panties for moms. I hardly can remember the date so it would be a huge help. And I will start writing my favorite wine in my panties, you don't need to know my name just how to make me smile if I'm lost.
Find anything surprising in your dresser drawers? I don't dare tackle a man's underwear drawer  any time soon.  Editors note:  I'm totally convinced my hubby would have shorts from 1998 in his dresser if I didn't tackle his drawers.  Ahem.
———————————————————————————————————————————
 Alyssa is a stay at home mom to a 2 year old girl and a 100lb bloodhound. She is bound and determined to make wine part of every meal like in Italy (ah that would be the life). You can find her drunk rambles over at
Babies, Bloodhounds and Booze, Oh My!
where she writes about surviving motherhood, being home 24/7 and the creative and delicious ways she keeps from going crazy.  You can also follow Alyssa on
Facebook
and
Twitter
.
Did you like reading this? Sharing is caring, people! Pin it to one of your favorite Pinterest boards, tweet it, or if you're really fancy, share it on G+, Stumble Upon or whatever the cool kids are using nowadays…I can't keep up. And, don't forget the old standby Facebook. You can also follow my Facebook and Twitter accounts. There are some share buttons below and if you clicked them…well, that would be just awesome sauce. Thank you!