I like small towns and I cannot lie. Christmas activities in Gonzales Texas
I live on the outskirts of San Antonio and although big city life isn't part of our everyday existence, the burbs don't have that quaint, fun, small-town feel that some of the…well, smaller Texas towns do.
This past weekend, my family and I went to Gonazles. If you live in Houston, San Antonio, or Austin, you're in easy driving distance of Gonazles, Texas.
And, if you live in driving distance of this gem of a Texas town, you should come and see what it has to offer.
Awesome Christmas Activities in Gonzales, Texas
And, if your travels are taking you to a major Texas city and you want to cast your net a little bit wider…consider Gonzales. I have lots to tell you about this awesome town but we're going to have to wait on that (please subscribe to the blog if you want to not miss any of my travel posts…if a box doesn't appear to invite you to subscribe, email me at rippedjeansandbifocalsblog@gmail.com with TRAVEL in the subject line and I'll send you a non-spammy and (hopefully) entertaining email about once a month letting you know where in the world we are traveling.
We're a San Antonio family and we have just spent one of the most funnest (yes, most funnest is grammatically correct in my book) weekends in the lovely town of Gonzales.
It's rolling toward mid-December and OMG why does this time of year Go. So. Fast.?
Here are some fun seasonal things you can do in Gonzales right now:
Sweet B's Dessert Boutique
I'm going to give a HUGE shoutout to Sweet B's Dessert Boutique on St. Joseph Street. It's the most adorable place ever.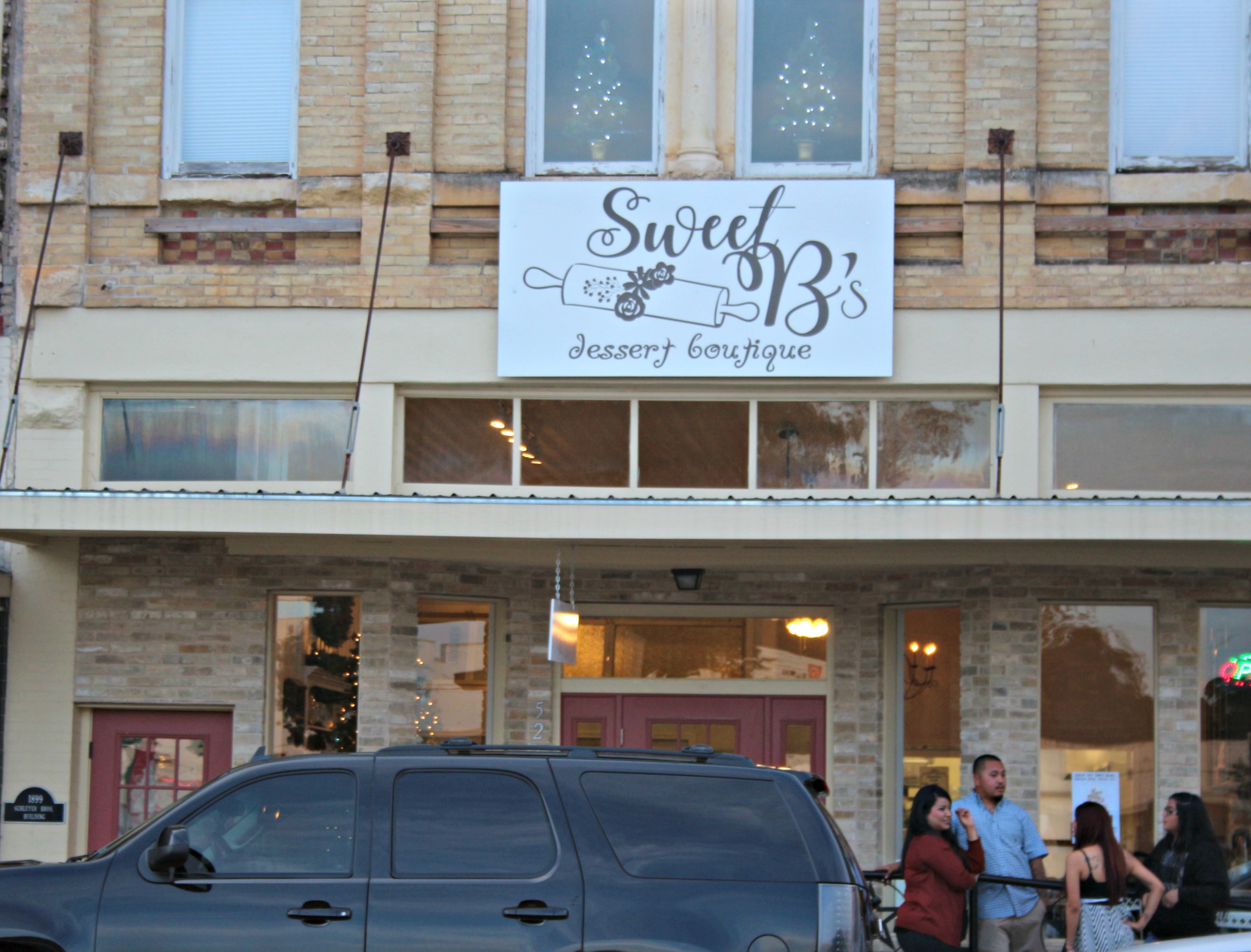 Check out their Facebook page HERE.
We wandered in to Sweet B's kind of by accident. They'd opened up their doors for free cupcake decorating last Friday night and they were very welcoming to our boys. See also they have some GORGEOUS baked goods, hand-dipped ice cream and some seriously cute kitchen swag. I was tempted to walk out with these little babies and only the fact that I cannot stinkin' close the cabinet to my mug cabinet kept me in check:
Sweet B's has some fun opportunities to help you get ready for Christmas. They're offering cookie decorating on December 22nd and 23rd and Gingerbread House decorating on December 16th, December 22nd and December 23rd. The cookie decorating includes a box of 8 cookies decorated for Santa ($15 per person) and the Gingerbread House Decorating includes a homemade, preassembled house, gingerbread tree, gingerbread man and all the icing and decorations you can imagine for $30 per person.
Yes, please for no gross gingerbread in those pre-packaged kits. We plan to be there on the 16th and I totally look forward to helping my kids make the perfect Gingerbread House. And by helping, we all know I mean eat all the gingerbread and "all the icing and decorations you can imagine."
Pioneer Village – Stars in the Village
Pioneer Village is an open air living history museum. It houses a collection of 1800s and early 1900s era houses and buildings from Gonzales County. Visitors strolling through The Village often feel as if they have just stepped into the same era as that of the original occupants of these buildings and that the inhabitants have merely stepped out for a while.
Each structure has been donated Pioneer Village and has been carefully relocated to the grounds for its preservation. Most of the furnishings and equipment found within these structures were either loaned or donated to help represent the cultural lifestyle of the pioneers who settled this area. It gives a great look at what life used to be like before we had so many modern conviniences.
On December 8th and 9th, you can check out Stars in the Village from 6-9 p.m. You'll get an opportunity to see Santa, eat cookies, roast marshmallows, pop popcorn over an open fire (seriously awesome by the way) and see some beautiful Christmas lights. All of the people you'll encounter at Pioneer Village are "in character" and you'll really feel like you stepped back in time.
The price is $8.00 for adults and $5.00 for kids 4-12. Check out their website or call 830-672-2157 because there was a tiny bit of a discrepancy between the Pioneer Village website and the City of Gonzales' website with regard to dates and times.
Pioneer Village is open for regular business most other days of the week (check the website) and I look forward to checking it out in the light of day. We had a blast…except for that moment when my seven-year-old asked me if the 1880's blacksmith shed was "what it was like when I was young." Um…not.
The Dilworth Inn and Suites
We like to day trip and road trip and our general rule is, if we travel an hour and a half away from home, we stay the night. An hour and a half each way equates to three hours on the road which equates to a lot of whining.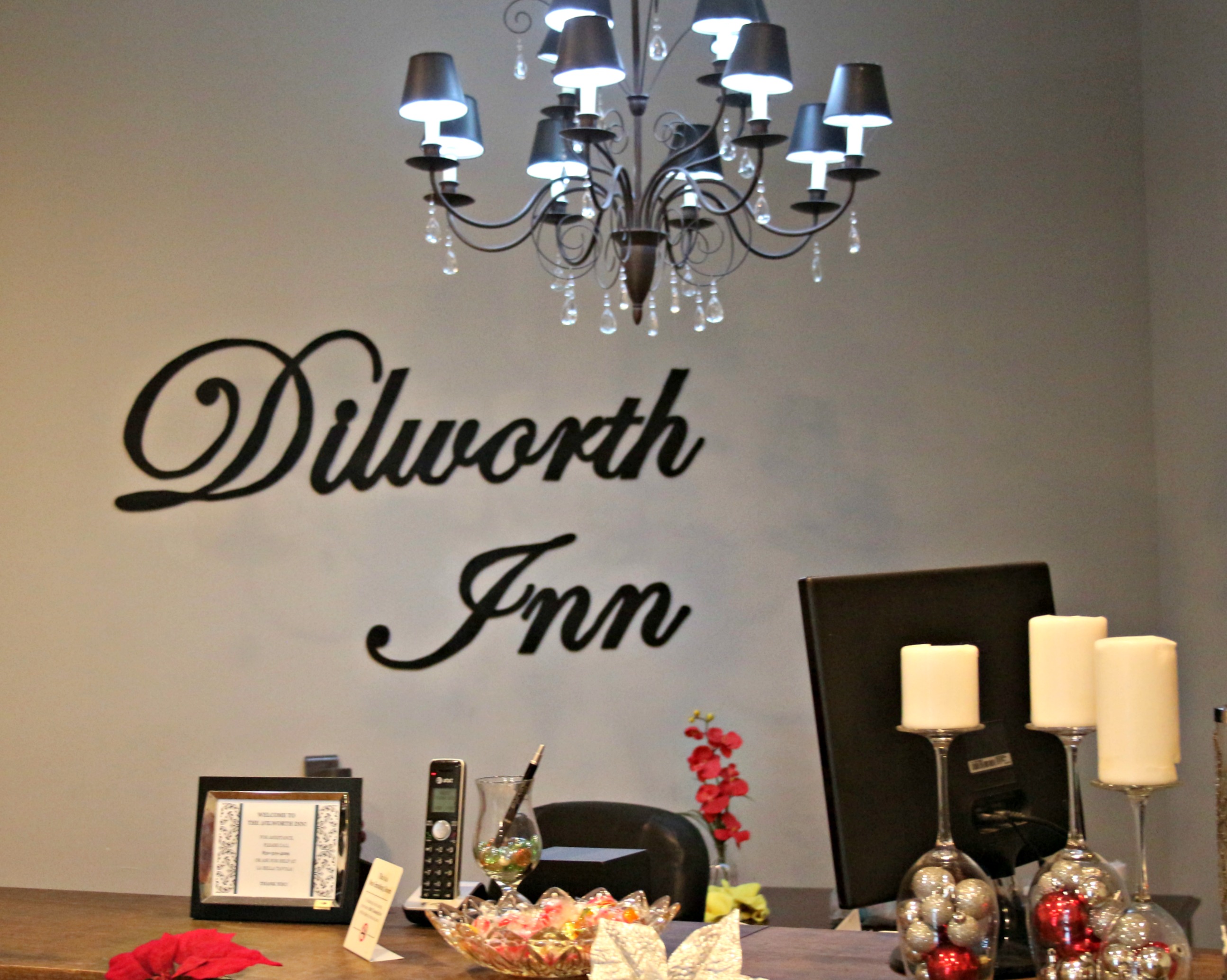 If your travel plans take you to Gonzales, stay at the Dilworth Inn and Suites. This is a cute, friendly, and affordable boutique hotel smack in the middle of downtown Gonzales. Most everything you'd want to do is walkable.
Our room was clean, comfy and well-decorated. The continental breakfast was very robust and generous. Cereals, oatmeal, juices, pastries, hard-boiled eggs, cereal bars, yogurt and, of course, coffee.
The manager Jenny, was very welcoming and helpful and has lots of info on things to do in the surrounding area. And she was wonderful with my kids. As a traveling mom with young boys, I always worry about whether my kids are going to be a bother to other travelers or to the hotel staff. This small hotel provided just that extra touch of "family atmosphere" we needed.
I think the Dilworth Inn and Suites would be a nice place to stay sans kids but it was a great place to stay with kids. We look forward to going back…maybe without the small humans!
For more information on Gonazles, check out the Gonzales Chamber of Commerce and Agriculture. There's a ton of info on their website and if you have questions about things happening in the area, reach out. They are super helpful and friendly. This is Texas, after all.
If you're in Texas this December (or know someone who will be) I encourage you to check out what Gonzales has available for the holidays…and maybe we will see you there!
Parting shot: I want to give a little shout out to The Presbyterian Church of Gonzales.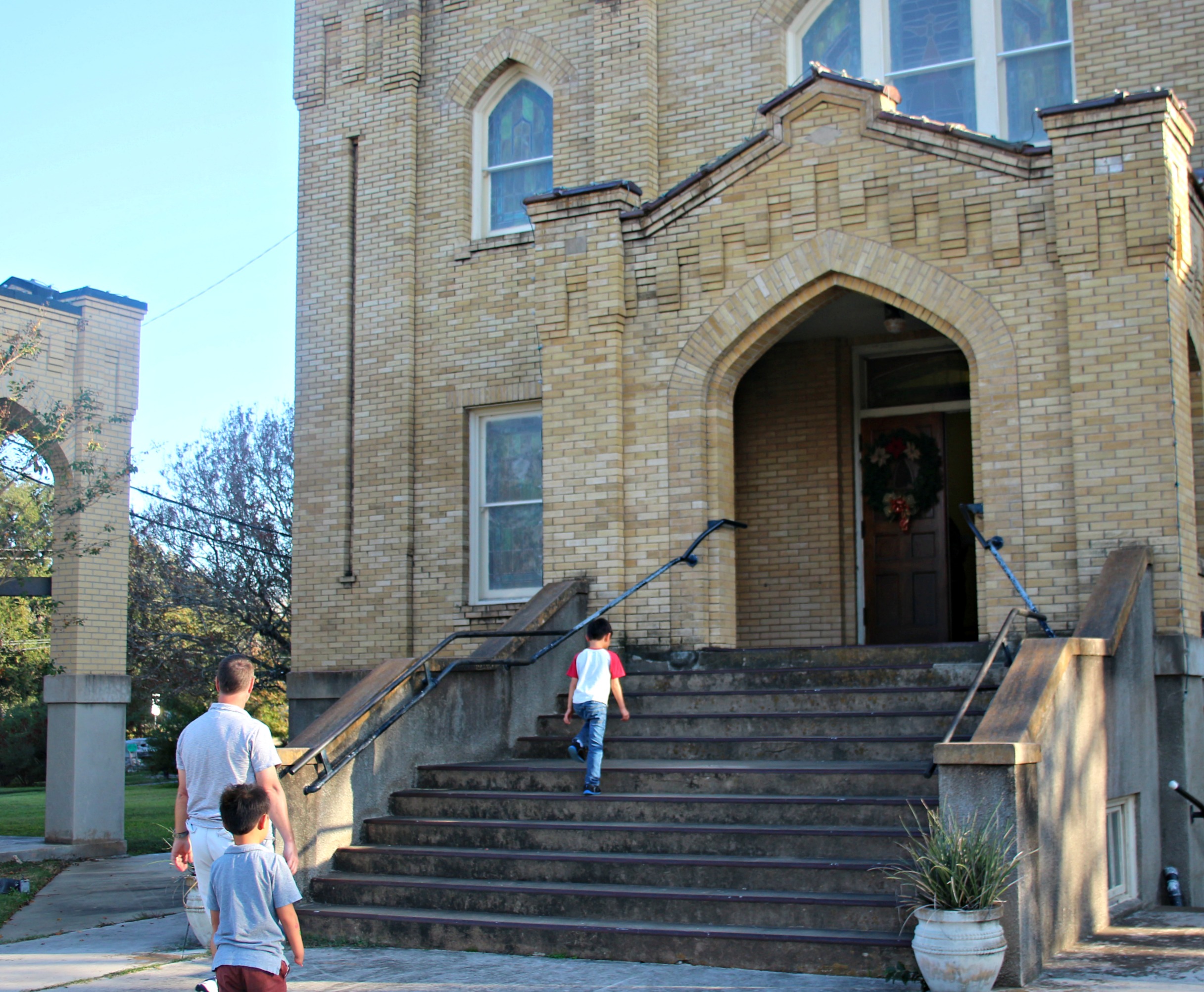 My family and I attended a concert and reception and the congregation gave us the very warmest welcome. We weren't really dressed for a church service and  I was afraid that the fact that one of my kids was laying down in the pew and moaning that he was bored was going to get us some side-eye, but nope. We all got cookies and smiles at the end. If you're in Gonzales during the holidays and want somewhere to celebrate the season, check these folks out. I can totally vouch for the fact that they're nice (and that they make great cookies!)
Stay tuned (and subscribe!) for more info about what you can do in Gonzales the rest of the year.
(Visited 346 times, 324 visits today)