Avengers: Infinity War now available on Blu-ray – Watching at home with younger kids
My two eight-year-old boys have watched most of the Marvel Cinematic Universe (MCU) but not exactly in order. I came to my love of all things Marvel a little late in the game. I was never into comic books but when Marvel released Thor in 2011, I kind of started paying attention. I didn't get completely caught up until late 2017 and I now have a deep, fangirly love for all the Marvel things. That said, I don't think all of the MCU in order is appropriate for younger kids…at least not on the big screen. The series is intricate and complicated and the way the stories weave together is not something you want to answer questions about in a movie theater where people are supposed to not be talking. Besides, my kids are young and although they are budding Marvel lovers (so proud!) I still need to preview a lot of what they watch. Most of the MCU falls into "watch at home" for them. And that's okay, because I don't need much of a nudge to re-watch one of my favorite superhero movies. I've got all the Avengers Infinity War Blu-ray details for you (to include the scoop on all the Avengers Infinity War bonus material) as well as answering the question "Is Avengers Infinity War suitable for kids to watch?" Read on!
Avengers: Infinity War Now on Blu-ray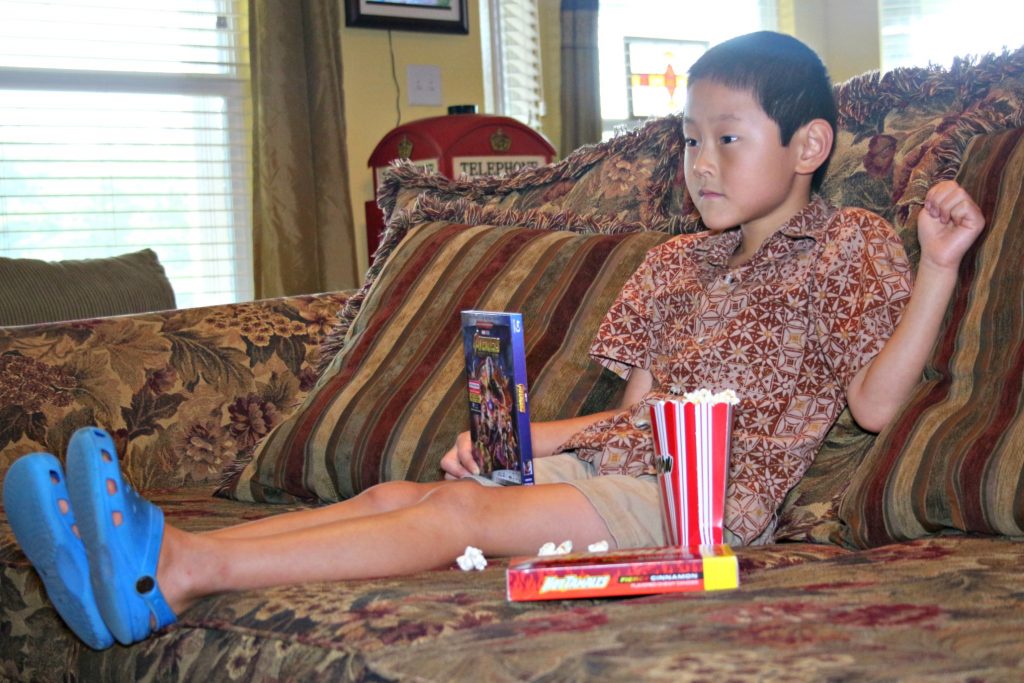 Avengers: Infinity War now available on Blu-ray – Watching at home with younger kids
Avengers: Infinity War is now available on Blu-ray and available for digital download. We've watched it twice with our kids (hubs and I saw it in theaters a couple weeks after the April release) and we've been able to answer most of their questions. See also this movie has prompted a re-watching of both Guardians of the Galaxy movies and lots of dialog between the friends that live in our basket of action figures.
One of the hardest things to explain to kids about Avengers: Infinity War is that the good guys didn't win…at least not this time. I had the opportunity to speak with Trinh Tran, executive producer of Avengers: Infinity War had this to say about that:
"Everybody's just embracing it [the ending] which is really shocking and great because you know, a lot of fan favorites didn't make it, didn't survive the ending. I think the shock is that the bad guy won."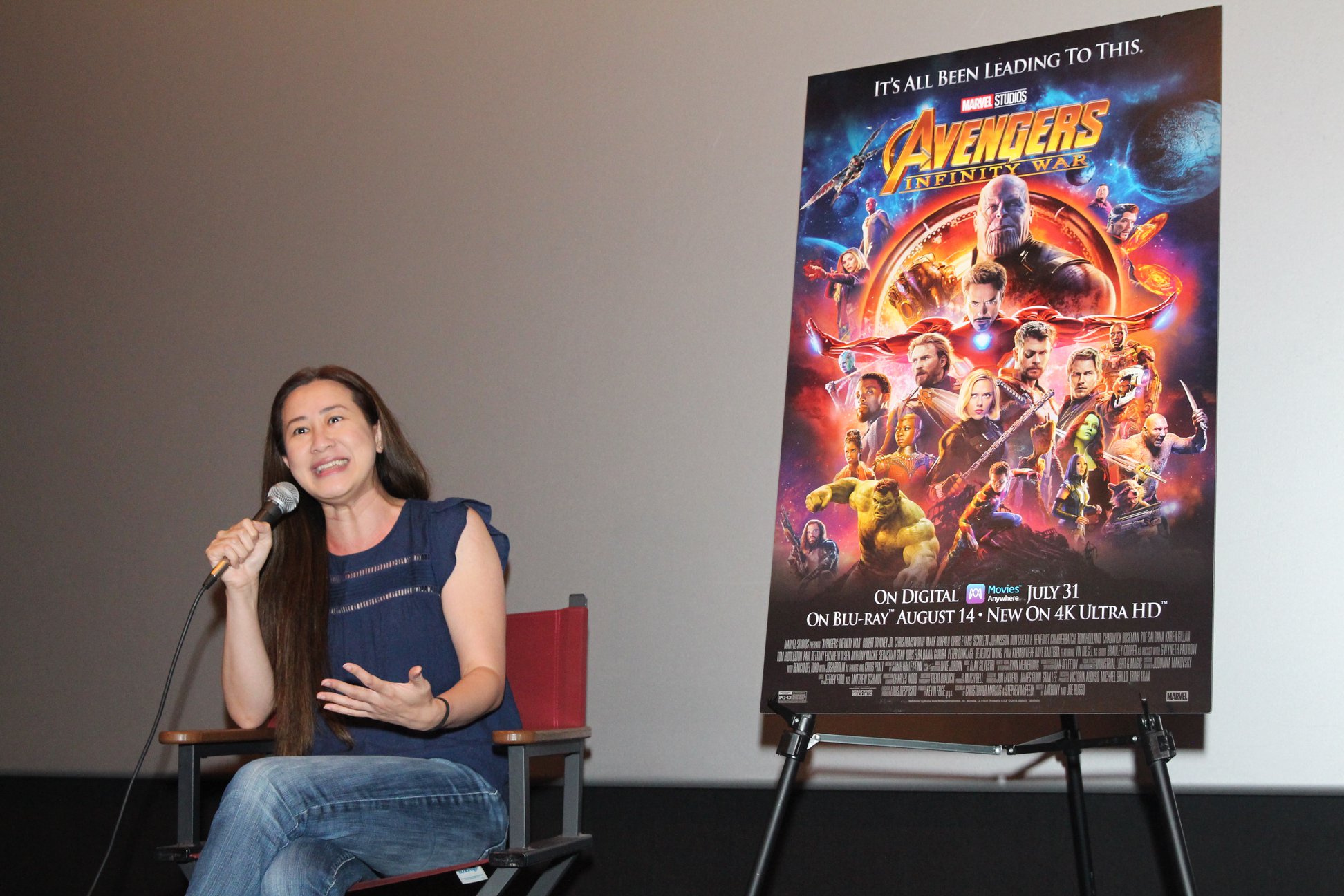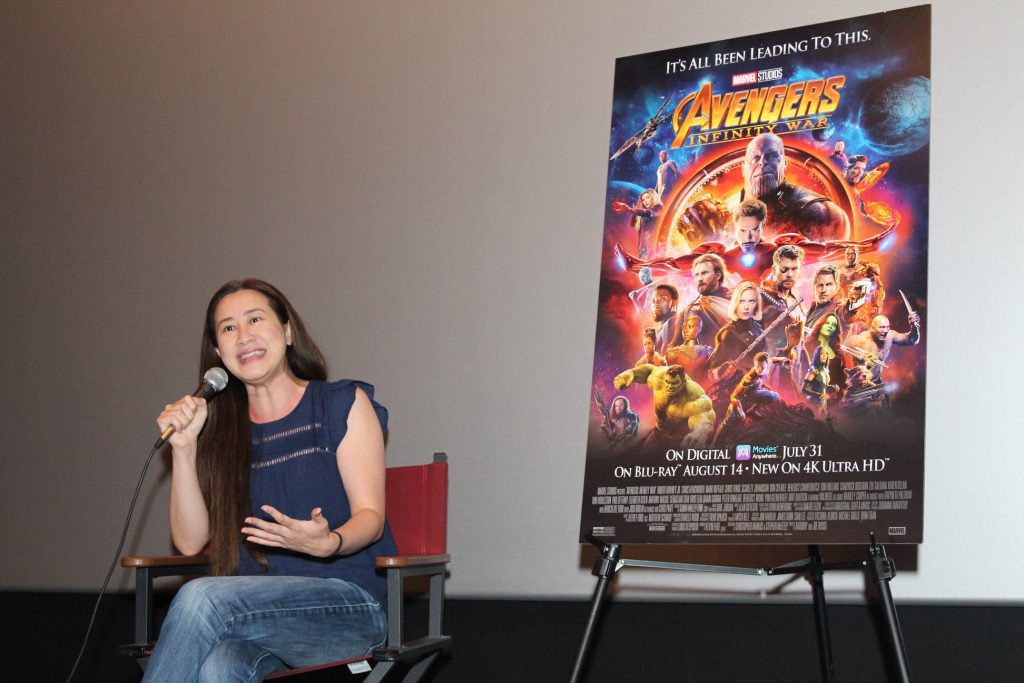 I am not sure if I am embracing the ending but yes, the shock of evil prevailing over good – at least this time – left a lot of Marvel fans in a state of shock. Quill is one of my favorites and although I'm definitely eager for what Marvel has to show us next, killing him off is not something I can be on board with. I still have hope! I know I keep saying that…maybe to keep the little glimmer of "maybe he's just hanging out in the quantum realm or something" alive. In addition to Quill, Thanos erased Gamora, Drax, Mantis, Black Panther, Peter Parker, Dr. Strange (sob), Peter Parker (double sob), Vision, Nicky Fury and a few more. I have to stop. That ending is still a little traumatizing for me.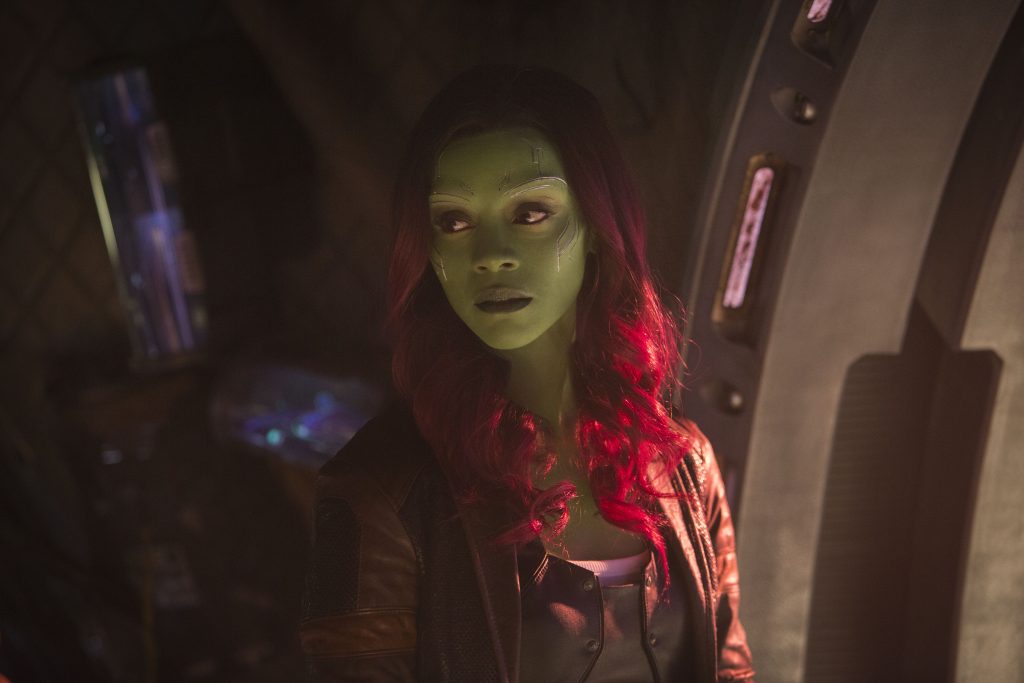 And, if you're mad at me about spoiling the end of the movie for you, I have very little sympathy at this point. The movie came out in April and Marvel fan sites were pretty good at keeping the secret for about the first month but by now, we all assume everyone knows that some of our favorites didn't make it. Sob. Just be thankful I don't spoil the end of Ant-Man and The Wasp for you – but go see it soon and make sure you stay for the mid-credit scene.
I love that we can watch Avengers: Infinity War on Blu-ray in our home.  It's a long, intense movie and we can pause it if the kids get wiggly or need a snack break. The bonus material is also really great…we really enjoyed watching that in our home and if you've already seen the movie in theaters, I recommend checking out the bonus material before you re-watch the movie.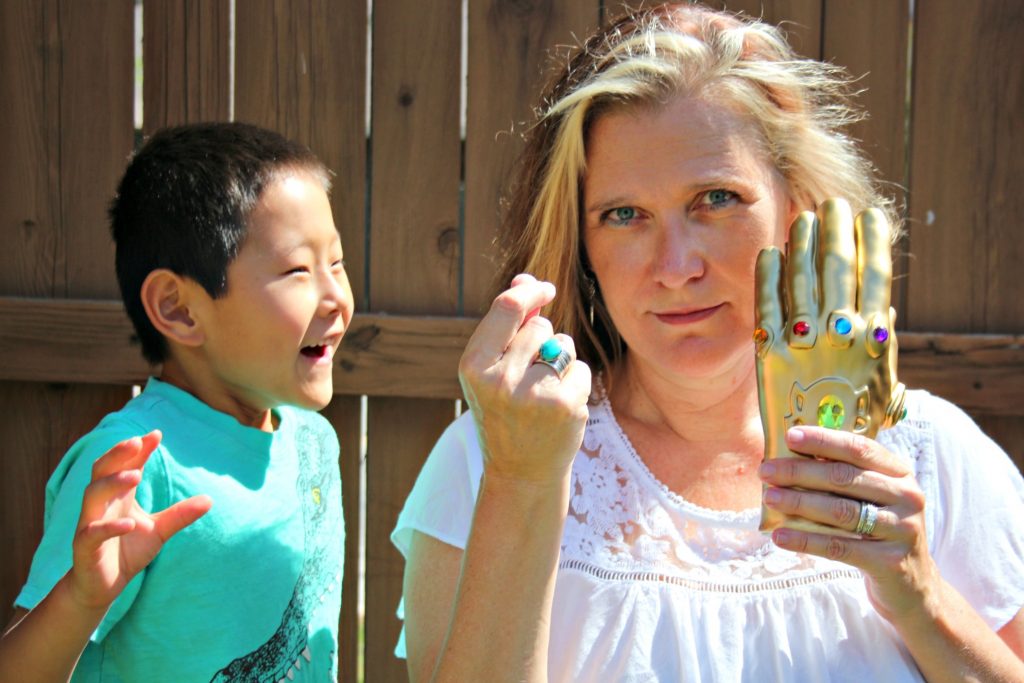 There's over two hours of bonus material on the Avengers: Infinity War Blu-ray disc and I'll break it down for you here:
Featurettes
There are four featurettes included: Strange Alchemy, The Mad Titan, Beyond the Battle: Titan, and Beyond the Battle: Wakanda.
Strange Alchemy includes some discussion and insight into bringing all these different characters together. I didn't watch the Marvel Cinematic Universe in order at first (I've since circled back and re-watched a lot) and I didn't get how everyone was tied together. I didn't realized how The Guardians of the Galaxy were tied to the Avengers until I committed to watching the entire MCU in order…I thought they were a stand-alone franchise for the longest time. Seeing the Guardians meet the Avengers was the thing that I anticipated most about Avengers: Infinity War so I loved hearing the thought process behind these character relationships.
The dynamic between Thor and the Guardians and between Tony Stark and Dr Strange are hilarious and I count those scenes as among my favorite parts of the movie (if its even possible to have favorite parts) so the explanations were great.
The Mad Titan is dedicated to the character of Thanos, as you might expect. There have been pieces of Thanos' story told in both Guardians of the Galaxy and he appears briefly at the end of Captain America Civil War. This featurette include comentary from Joe and Anthony Russo and other members of the production team about how Thanos developed as well as some of the technology that went into creating his character. Because of this character, the Marvel Cinematic Universe will never be the same so I'm glad to get some additional insight into him…even though he's not a character we root for.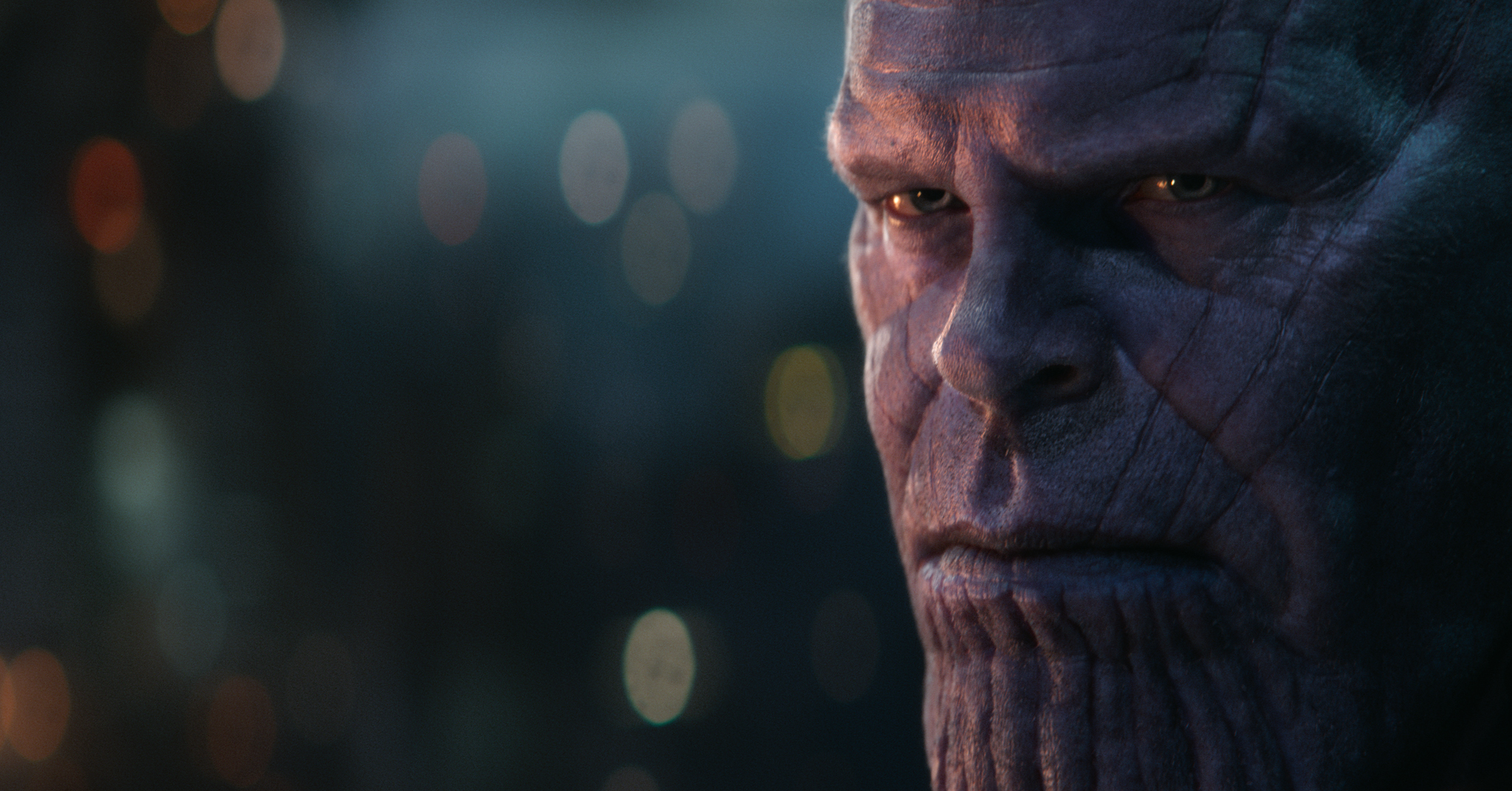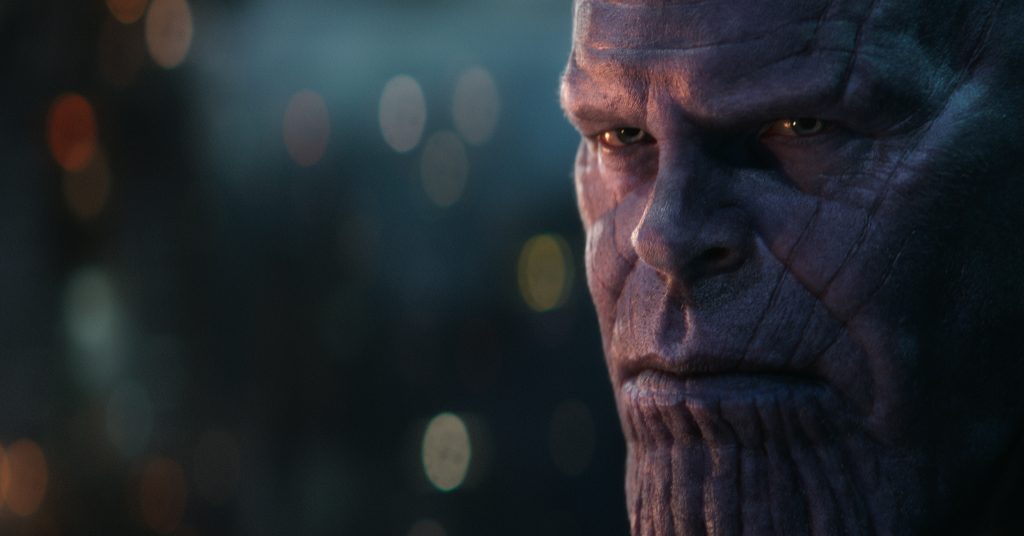 Beyond the Battle:Titan includes comentery from Joe and Anthony Russo, Kevin Feige, Trinh Tran, Victoira Alonso and many more behind-the-camera people that make these movies possible. There are also some vignettes from some of your favorite actors, talking about their role in the film.You'll also be treated to some behind the scenes scenes that give some insight into how the scenes that took place on Titan were made. The scenes that took place on Titan were filmed in a studio in Georgia and the technology is fascinating, particularly how they made the character of Thaos, who is entirely digitial, come alive.
Beyond the Battle: Wakanda includes commentary from Joe and Anthony Russo, Kevin Feige (who describes the battle of Wakanda as the largest battle they've every done in any Avengers movie) Trinh train and many more behind-the-camera people that make these movies possible. There's also some commentary from many of the actors on what it was like to be a part of the filming of the Battle of Wakanda. The battle of Wakanda was filmed on a ranch in Georgia. There's a lot of behind-the-scenes insight to the way that battle scenes were filmed and the challenges faced on set caused by the weather. There's also some fun clips of Christ Hemsworth cutting up on set. He looks like he'd be really fun to work with.
Beyond the Battle: Wakanda was my favorite featurette because it included some insight as to how the producers broke the news to the cast that their characters weren't going to survive the battle.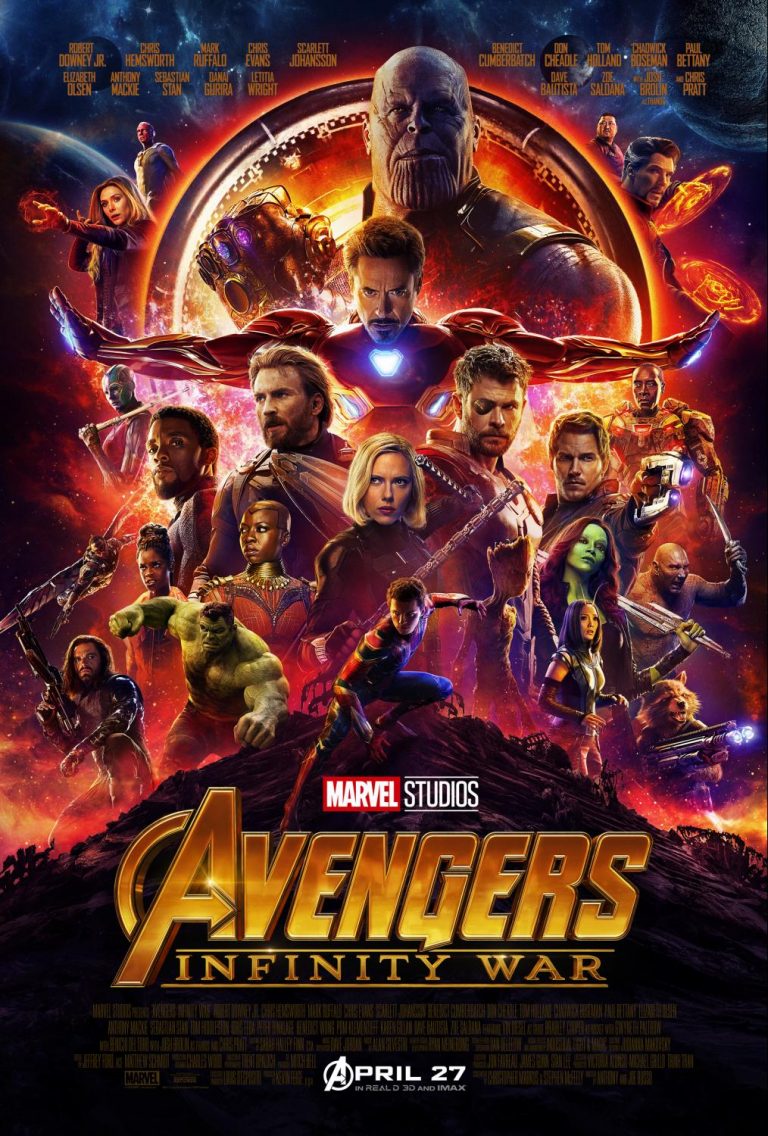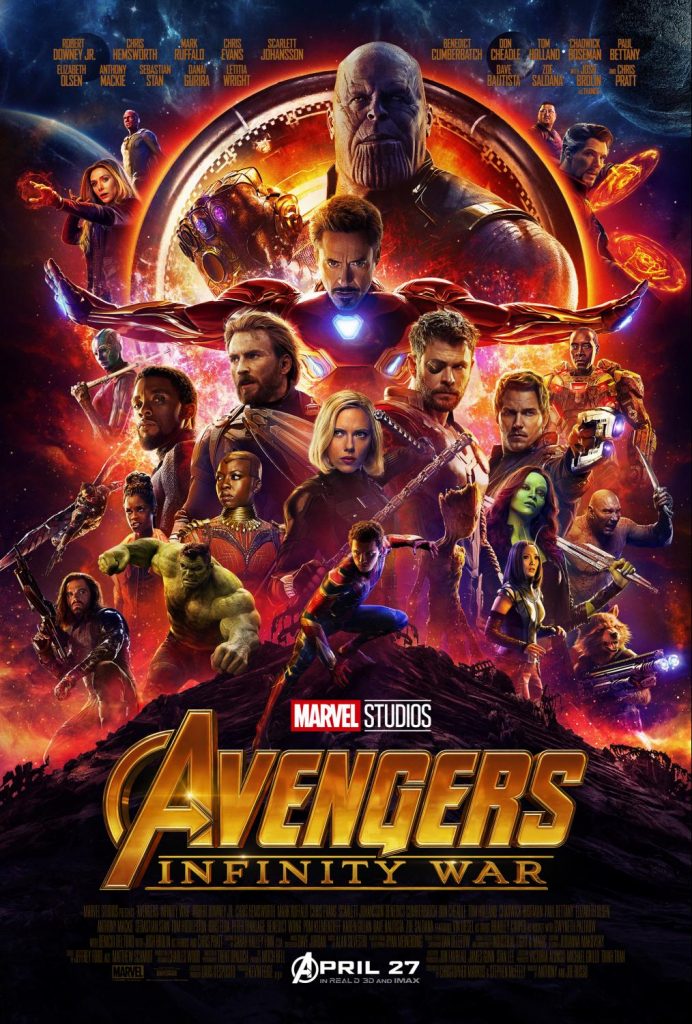 Deleted Scenes
There are four deleted scenes included in the bonus material. I won't give you spoilers but I will tell you that the first was a deleted scene between Tony and Pepper that occurs at the beginning of the movie. The second is a scene between Vision and Scarlet Witch. The third is my favorite just because it's funny and quirky and makes me laugh. It features the dynamic between Drax, Mantis and Peter Quill which is always fun. The Fourth is a flashback scene between flashback and Gamora that shows some more background of their relationship.
While it was interesting to see what landed up on the cutting room floor, I didn't think any of the scenes they left out hit the level of "Aww man, they should have included that one," even my favorite scene from Guardians.
Gag Reel
The gag reel is a gem I could watch again and again. It's just a few short minutes of bloopers and actors hamming it up that will make you laugh and love them more than you already do. The BEST is Anthony Mackie, although it's really hard to have a favorite out of this reel of vignettes.
Audio commentary
The audio commentary allow you to watch the entire film with a near constant stream of commentary from directors Joe and Anthony Russo as well as screenwriters Chris Marcus and Steve McFeely. I would definitely not recommend this on your first (or maybe even your second and third) viewing because insightful as their comments are, it does distract from the story. You do not hear much of the dialog at all if you have the audio commentary on, so you'll need to be very familiar with the story before you select this feature. The Russos and the screenwriters will also assume you know the outcome of Avengers: Infinity War from the get-go.
If you're a die-hard Marvel geek like I am, you will find their injects fascinating. They talk about what is happening on the screen but they also give some insight into the characters, why they wrote the script they wrote, and how the MCU is woven together. They talk about the evolution of the characters throughout the MCU, point out little details of things I missed the first three times I watched (I didn't pick up on the fact that Thanos' fist needed to be closed to use the Infinity Gauntlet. When he was battling Iron Man, Dr. Strange, and Spiderman. I was focused on the action and didn't notice that all the action was focused on doing things that forced him to open his hand but this was talked about quite a bit in the audio commentary. The directors and screenwriters also hinted at the fact that Captain America would have a very prominent role  in the next Avengers movie. Squee!)
Are the bonus materials suitable for kids?
If you're okay with your kids seeing the movie, they're not going to see anything extra in the bonus features that will disturb or scare them but unless your kids are film buffs or really interested in special effects, they probably won't find any of the bonus materials interesting, aside from the gag reel, which we could watch over and over.
Is Avengers: Infinity War suitable for kids?
I had no issues with my two eight-year-olds watching this movie. It has no sexual content or nudity. It does have a smattering of profanity: hell and damn are used pretty liberally and I counted at least once "shit." There are fights, blood, explosions and scary space monster type creatures. I'd say use caution if your child is sensitive or under 10. My kids were fine but they're pretty familiar with the MCU.
Avengers: Infinity War is available now on Blu-ray disc and is also available digitally. If  you've been waiting for the home release of this movie, your wait is over!
I can't wait to see what Marvel has for us next…2019 will bring Captain Marvel and the next Avengers movie. It will be another great year at the movies for sure!
You might also like:
How to watch the Marvel Cinematic Universe