This shop has been compensated by Collective Bias, Inc. and its advertiser. All opinions are mine alone. 
Are you planning on doing any entertaining for the Superbowl? I am and I wanted to take things up a notch this year…and when I say take things up a notch, I wanted to do something more than open a bag of chips and put some soda on a table in the general vicinity of the television.
I wanted to do something that fell between "zero effort" and staying up until three a.m. trying to concoct a Pinterest level 75 project that would result in me fusing my fingers together with hot glue and crying.
I'm happy to report that I've put together a really fun and easy snack stadium that's perfect for your game day celebration. It was easier than I thought, my table looks awesome and I actually had fun putting all this together with my husband. This setup is "me" in an un-fussy, un-cluttered way that will allow me to enjoy the game and the company without getting up to screech "don't touch my centerpiece!!!!" And let's be real, people. The big game is all about the halftime show and the commercials anyway, right?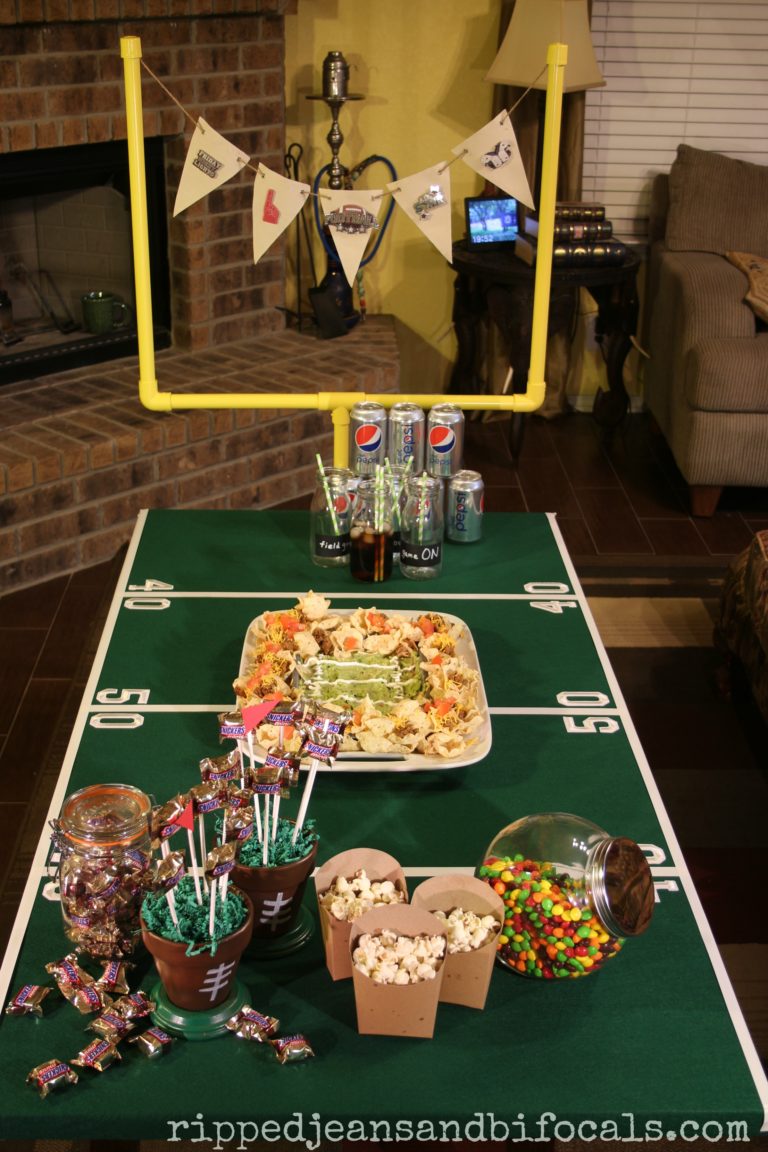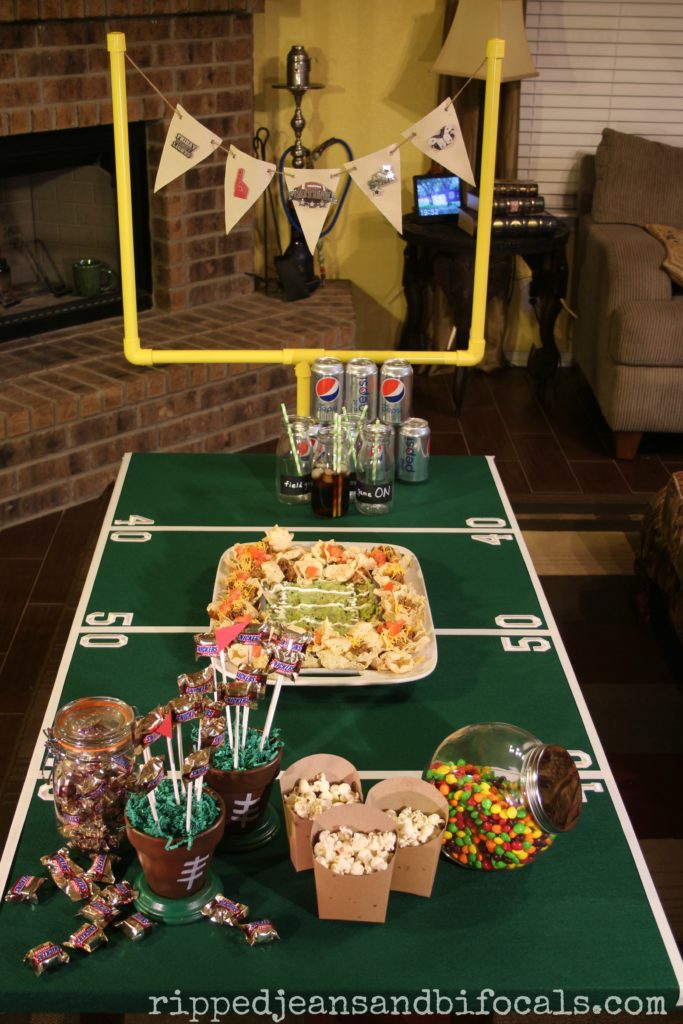 Everyone has their favorite game-watching munchies but I decided to keep things simple and offer plenty of it. The spicy sour cream guacamole with loaded TOSTITOS® Scoops was the MVP and to satisfy everyone's sweet tooth, I had a fun candy buffet with a little popcorn on the side. Ice cold Diet Pepsi™ rounded things out and really, besides good company and luck being with your favorite team, what more do you really need for good quality snackin'?
Table cover:
This was the easiest thing ever to make and it looked like I went to a ton of effort (trust me, the hardest part of this was finding a parking space at Walmart when I went to buy felt.)
I used a 36 x 72 piece of felt to cover my table top (adjust for the size of whatever you're using to serve…this is actually a slab that we placed atop our coffee table and it works perfectly to give us a little bit of a bigger space to serve snacks when we have company.
Tuck the ends in and tape neatly in place – you can also tack it down with glue if you want a more permanent big game party table or use table cloth clips. The tape worked great for us.
I used white electrical tape and stick on numbers to set up my field like this: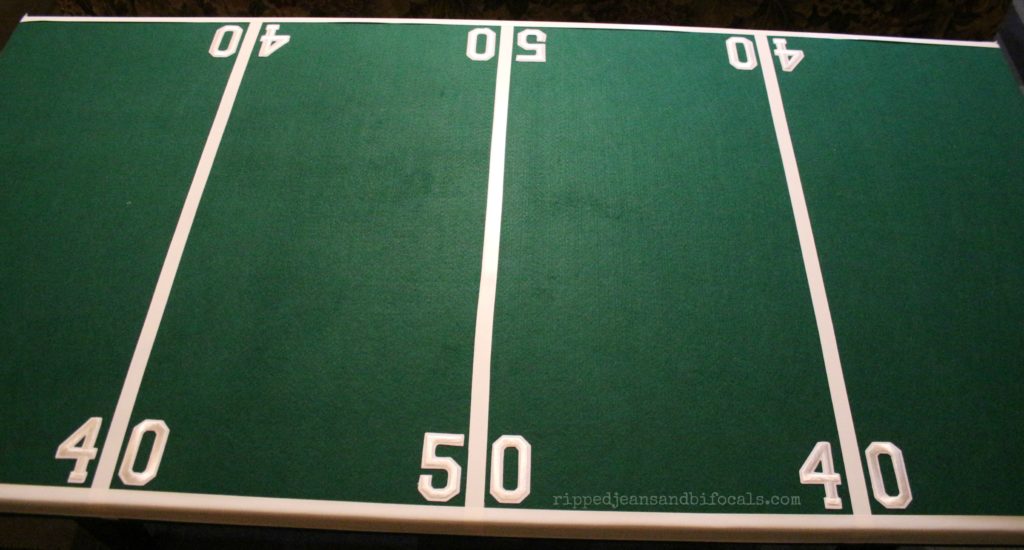 Drink Station:
I used these fun milk bottles with a strip of chalk paper tacked to the front to serve drinks. You can recycle the iced coffee drink bottles that these come in or buy your own. I used a chalk marker to write some fun slogans on the strips and you could have so much fun with this idea. You could let guests label their own and see what happens…you might get some smack-talkin' drink labels but that would be part of the fun, right?  You could serve a variety of drinks this way but we've got good ole Diet Pepsi™ here dressed up with fun straws.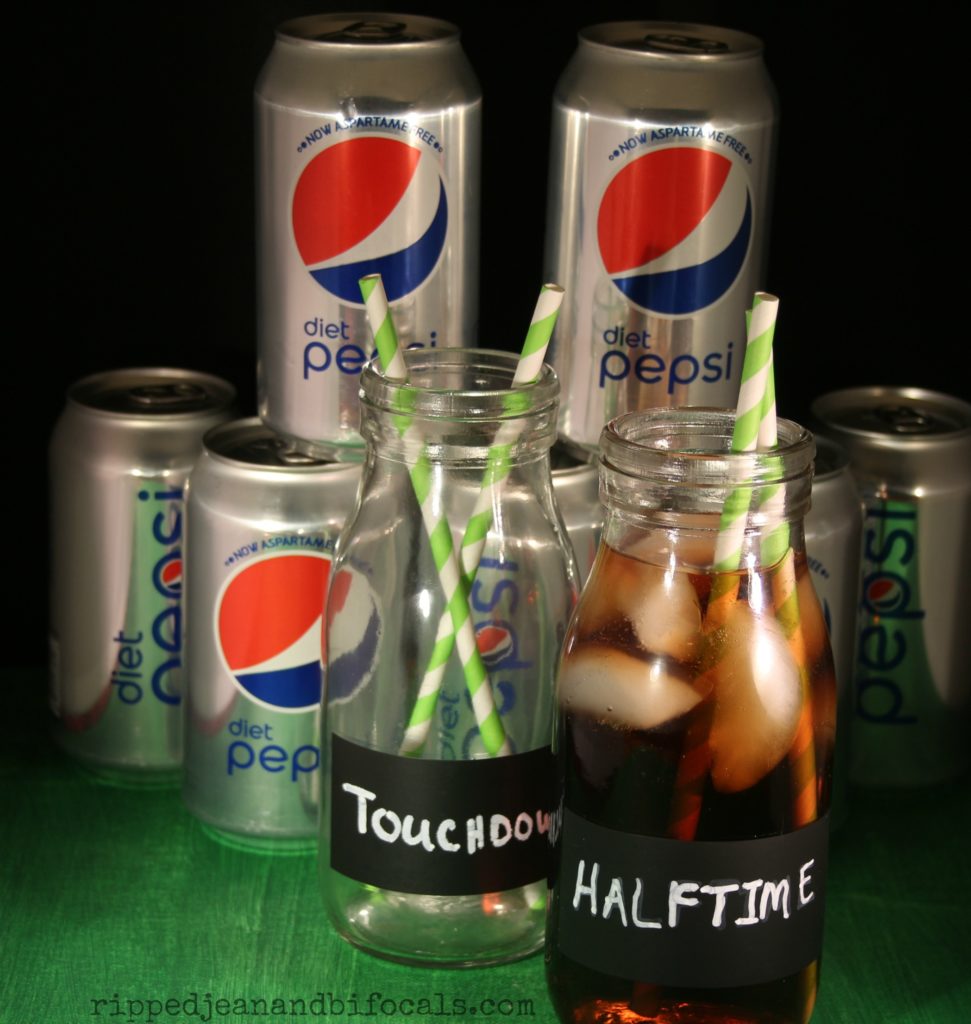 Candy Bouquets:
These football candy bouquets really dress up your table…they also make fun teacher gift if you're one of those slacker moms didn't organize teacher gifts over the holidays. Most kids don't give their teachers presents in January so this is a fun way to change it up – especially if you know your teacher loves football. If you know her team, you can even customize the team colors!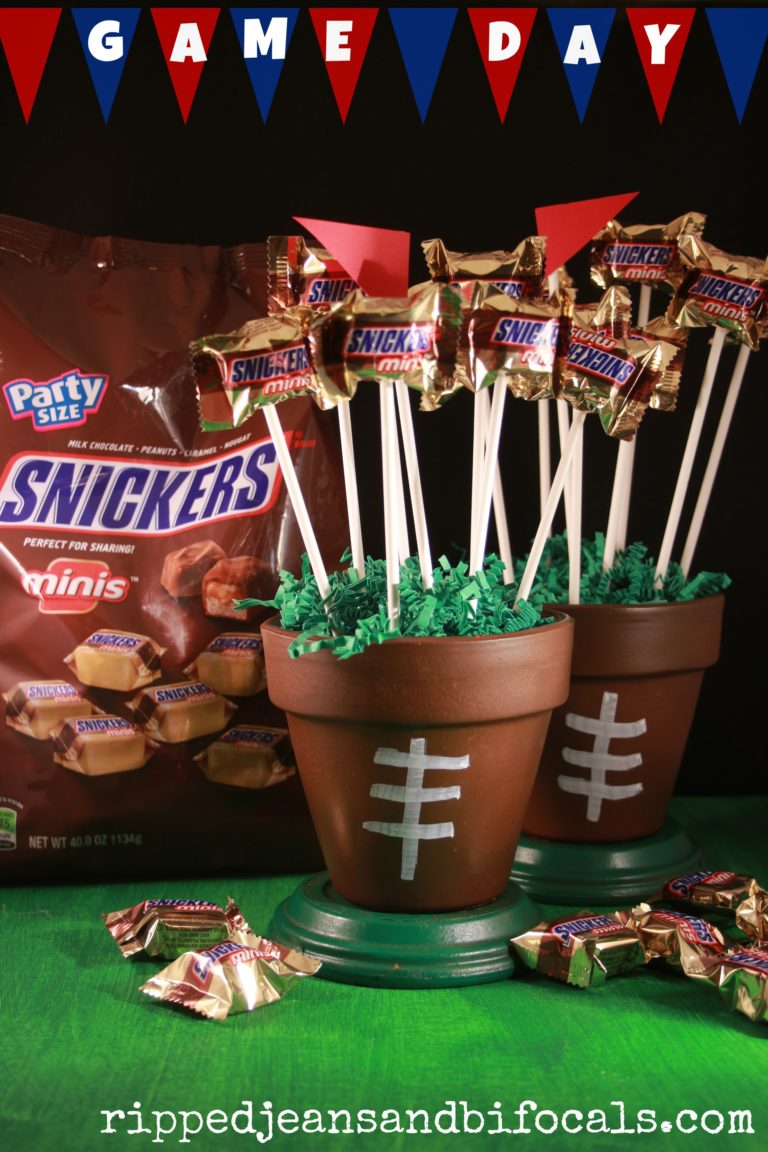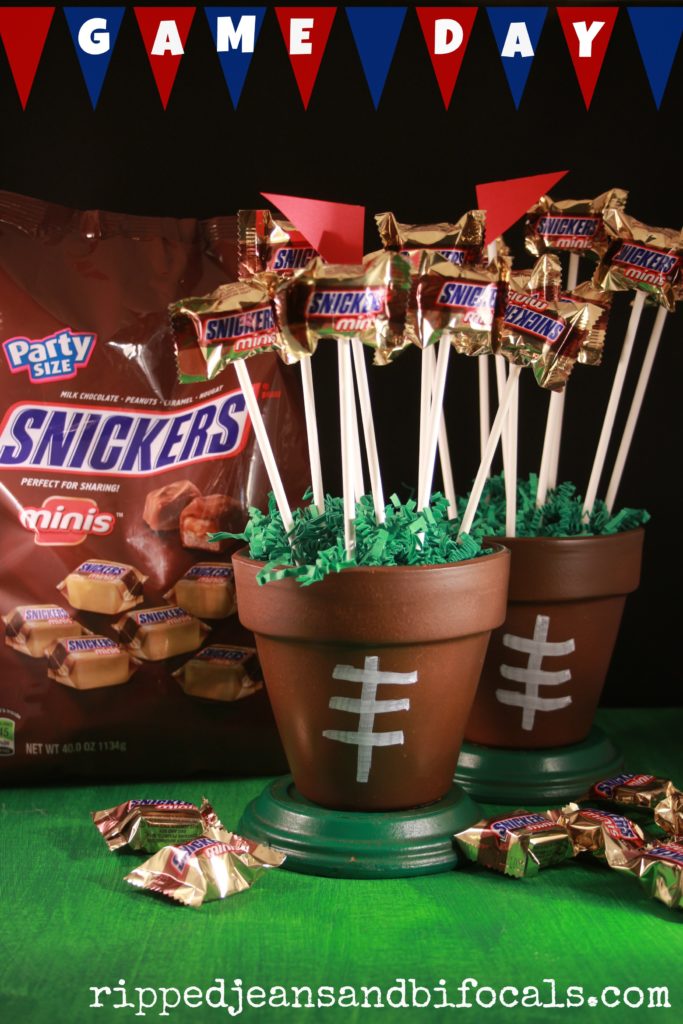 Super easy to make. You can use any sized flower pot but the smaller ones work best. I spray painted the bottom saucers green and the pots "football brown." I used a chalk marker to draw the stitches.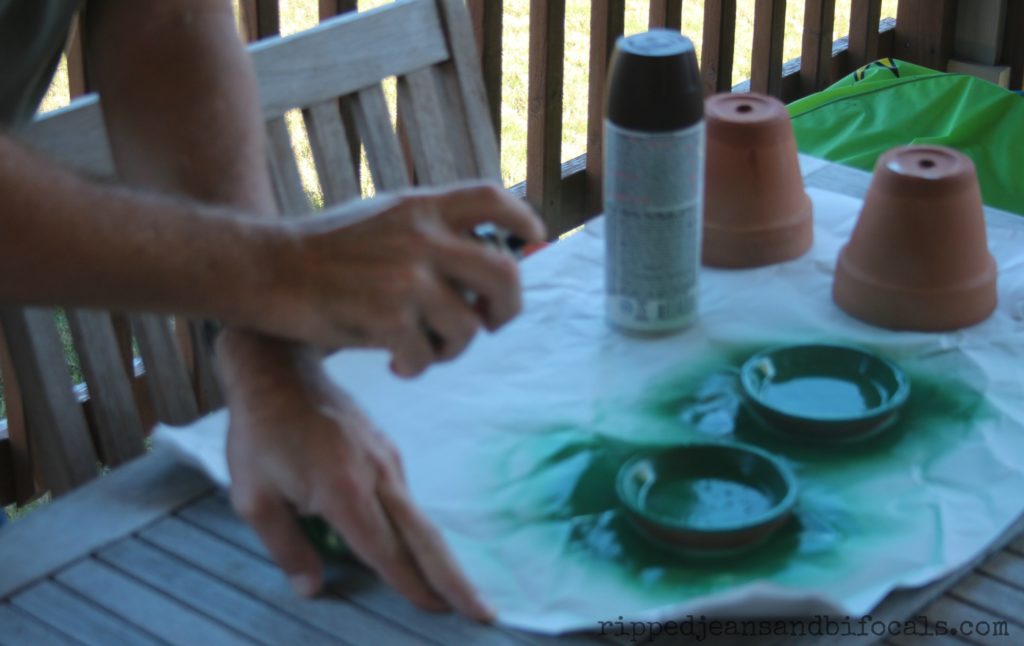 I put a 2.8" foam ball in the bottom and covered the ball with bright green gift crinkles. You could also use green tissue paper or netting but I had these left over from Christmas. If you're going to gift this as a gift, use a little bit of tacky glue to anchor the foam ball and the crinkles down so they're easy to transport.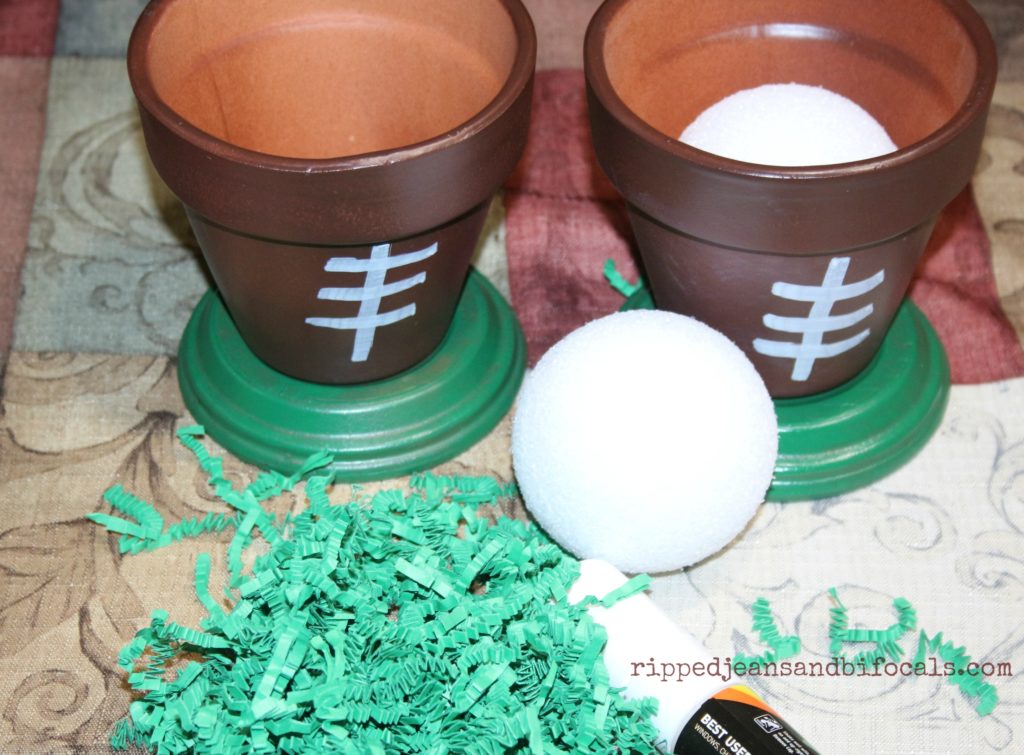 Hot glue SNICKERS® Minis to a lollypop stick – BAM. Just a tiny drop of glue is plenty. I also added some little "pennants" made of craft paper.  You could easily personalize these or use your team colors to make it more fun. If you have some time, these are easy individual party favors to make or, you can have them sitting on a table where guests can snag them as they leave.
Goal Post Centerpiece:
Can I call this a centerpiece since it's technically at the end of the table?  I have to give mad props to my husband for this one. The instructions might look a little bit daunting and complicated but it's really not. We used ten feet of 3/4″ PVC pipe because it was what we had on hand but you could also use 1/2″. You'll also need:
2 90-degree elbows
4 "T" connectors
6 end caps
Cut pipes into the following dimensions:
2 – 23″
1 – 15″
2 – 12″
2 – 6″
4 – 5 & 3/4″
Lightly sand the pipes and give them a coat of yellow spray paint (make sure you get the kind that adheres to plastic.) Here's a picture of the finished product and a reference to what goes where: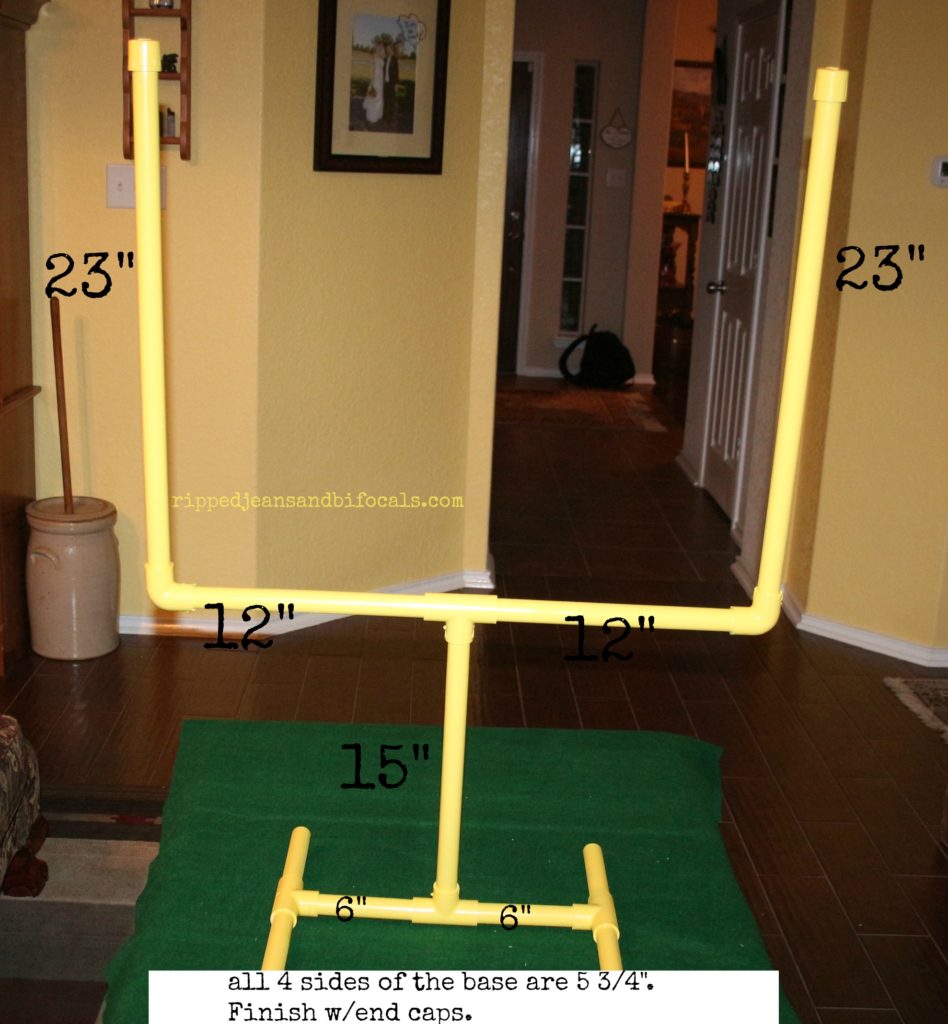 You can hang a banner between from your goal post to go with the theme of your party. The possibilities are endless: add the name of your team, your family name or any football slogan.  This, along with the table covering would be great to recycle for a kid's football-themed party. We used plain a plain burlap/twine banner and dressed it up with football-themed scrapbook stickers here: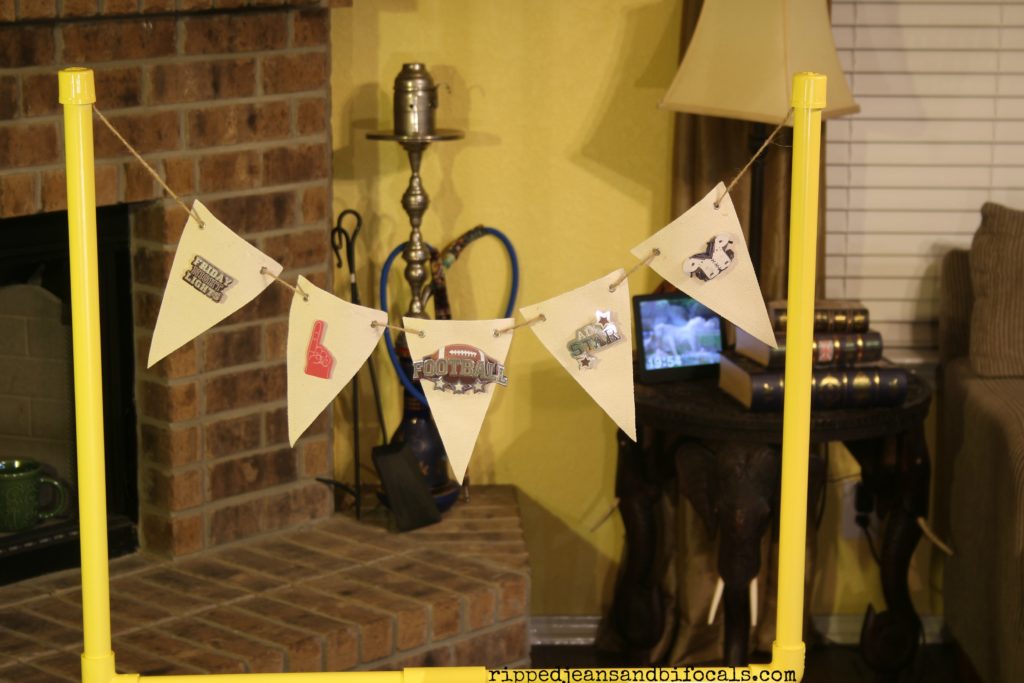 For some extra sweet tooth indulging, you can throw together this easy candy buffet using Skittles® and SNICKERS® Minis and some easy glass containers. I also threw in some popcorn for those who like that sweet/salty combo. That's my favorite.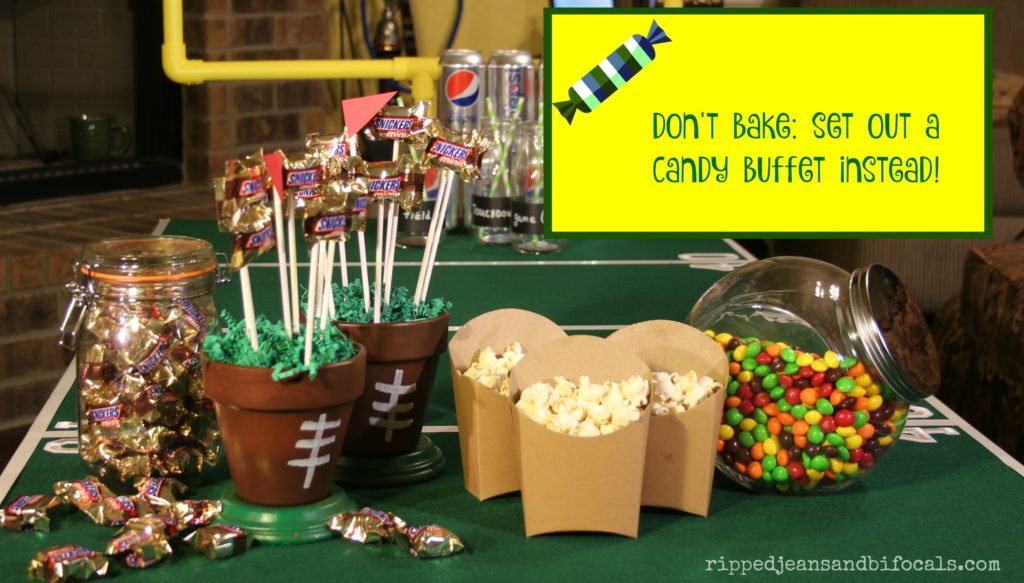 The dressed up TOSTITOS® Scoops with zippy sour cream guacamole was the star of my table.  You can find the full recipe below and it is beyond easy…but you don't have to let your guests in on that. I won't tell.
To assemble, spread the prepared guacamole in a flat rectangular pan. Set the pan on a tray or a serving board that gives enough extra radius for your chips. Surround the guac pan with TOSTITOS® Scoops. Top with 1/2 cup of prepared, seasoned taco meat (this is a great way to use leftovers or just make a little extra when you have tacos for dinner and refrigerate or freeze until game day. I always try to have some extra taco meat on hand for things like this.) Sprinkle 1/4 cup of grated cheese over the warm taco meat and top with diced tomatoes. Spoon about 1/4 cup of sour cream into a plastic baggie and snip off the end. Pipe the sour cream onto the guacamole to resemble a football field.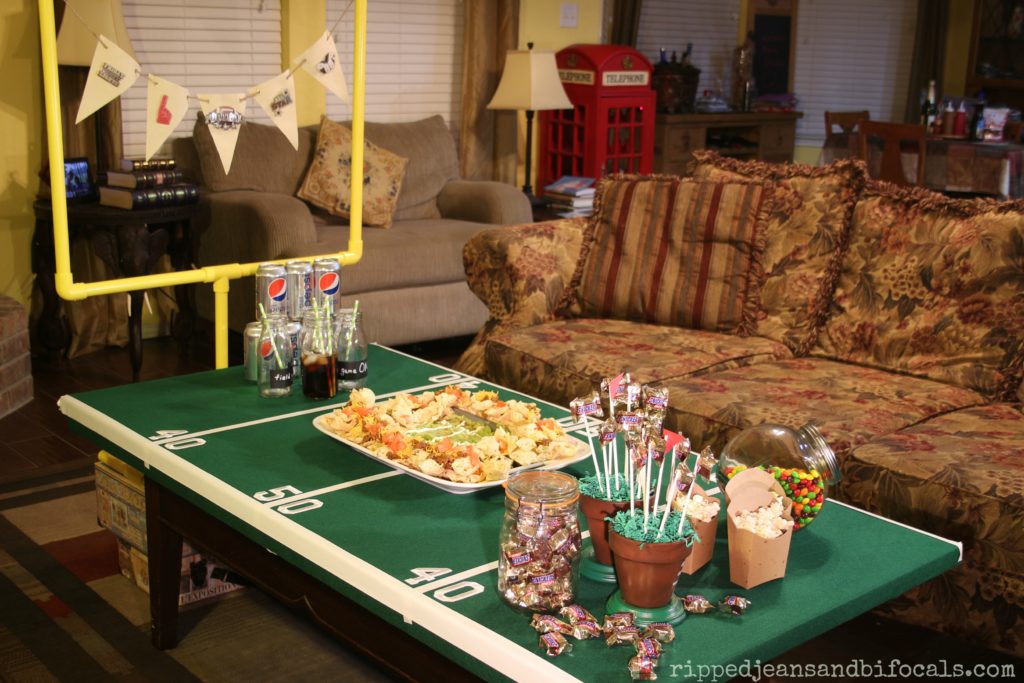 Step back and admire…it won't look like this for very long because your guests will tear this up.  And why not?
This snack stadium took very little time to put together and it involved minimal shopping. Most of the stuff it took to throw this together we had around the house. The rest was easy to buy on Amazon, Home Depot or Lowes, or a craft store like Hobby Lobby.
Throwing together a fun Superbowl party is easier than you think. Maybe this gives you a couple of ideas on how to put something together for your group of football fans!
Zippy Sour Cream Guacamole
Ingredients
14 oz prepared guacamole. You can usually get this in the freezer section or where dips are sold. Some stores may have fresh prepared guacamole in their deli sections as well, especially in the Southwest.
1/4 cup TOSTITOS® Chunky Salsa (medium)
1 cup sour cream
Instructions
Mix ingredients together in a bowl - that's it!
If you like a little extra heat, you can add a few drops of jalapeno juice
If you have a recipe for killer guacamole, try adding the salsa and sour cream in at the end for some extra flavor. Guacamole isn't that hard to make but I always forget to buy the avocados in time for them to ripen before game day, so I take a shortcut.
The result is delish!
https://rippedjeansandbifocals.com/amp-up-your-game-day-table-and-make-the-best-snack-stadium-ever/