This shop has been compensated by Collective Bias, Inc. and its advertiser. All opinions are mine alone. #PowerTheirPlay #CollectiveBias
Moms can be quite the buzzkill sometimes.
"Close that door."
"Put that down."
"Wipe your feet."
"Don't play with your food – just eat."
Seriously, look at some of the stuff we say to our kids from their point of view. I always said I wanted to be the "fun mom" but sometimes, I'm just not very much fun.
Last weekend, our plans to hang out at the pool got nixed last minute due to summer thunderstorms. It was hot. My kids were disappointed and cranky. I decided to try and make it up to them with a fun snack on the patio. Okay, so eating on the patio is never going to be as cool as going swimming, but they consider it a big treat to eat snacks outside. We have enough cover on our patio to dine al fresco meal during a rainstorm unless the wind is really gusty. And don't I sound so fancy when I use words like al fresco? Ha!
I usually discourage the whole "playing with your food" thing. Because it's messy or gross and I usually have to clean up something, like a plate of milk poured over the onions my kid picked out of his meatloaf. If given the choice between eating a sandwich and smushing it up and rolling it into little balls, I'm pretty sure my boys would choose the latter. And that thing with smushing the sandwich? They've totally done it.
Because my kids were so bummed that we didn't get to go to the pool, I decided to make something I knew they'd really like. See also something that was really easy and didn't require much effort on my part.
State Fair® Corn Dogs!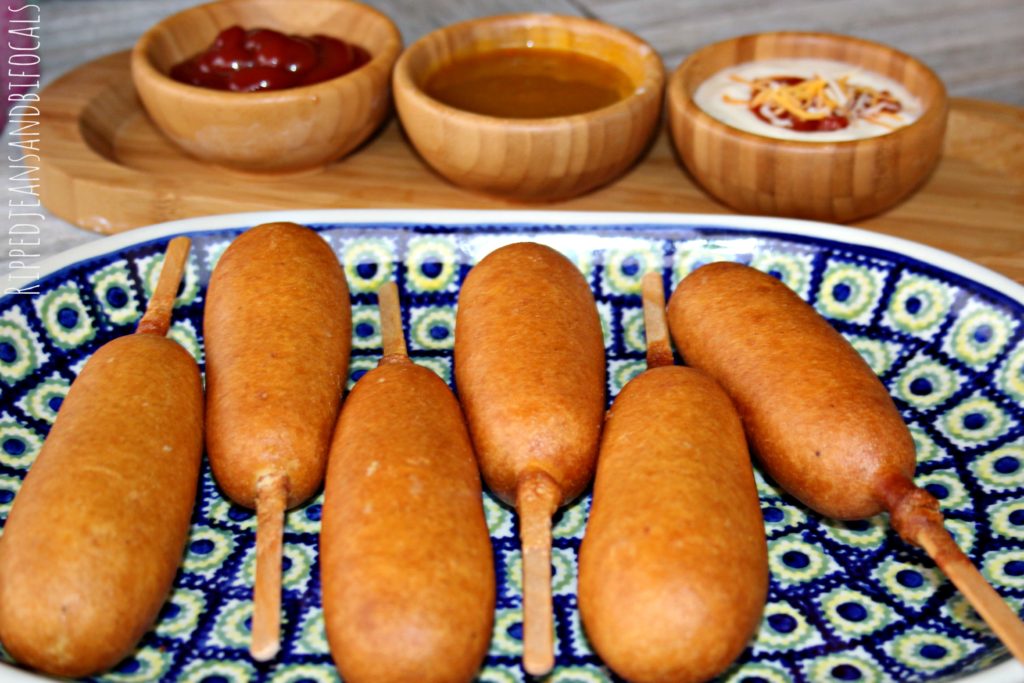 These are great tasting, full of protein and my kids absolutely devour them. I kicked things up a notch by putting together a smorgasbord of fun dips for our corn dogs. I might have used the phrase "play with your food" as I called my kids to the table and you know that got their attention.
This was really easy but it was different, fun and eye-catching enough to enthrall my little dudes and got them super interested in snack time. It also got their mind off the fact that they were disappointed about not being able to go swimming.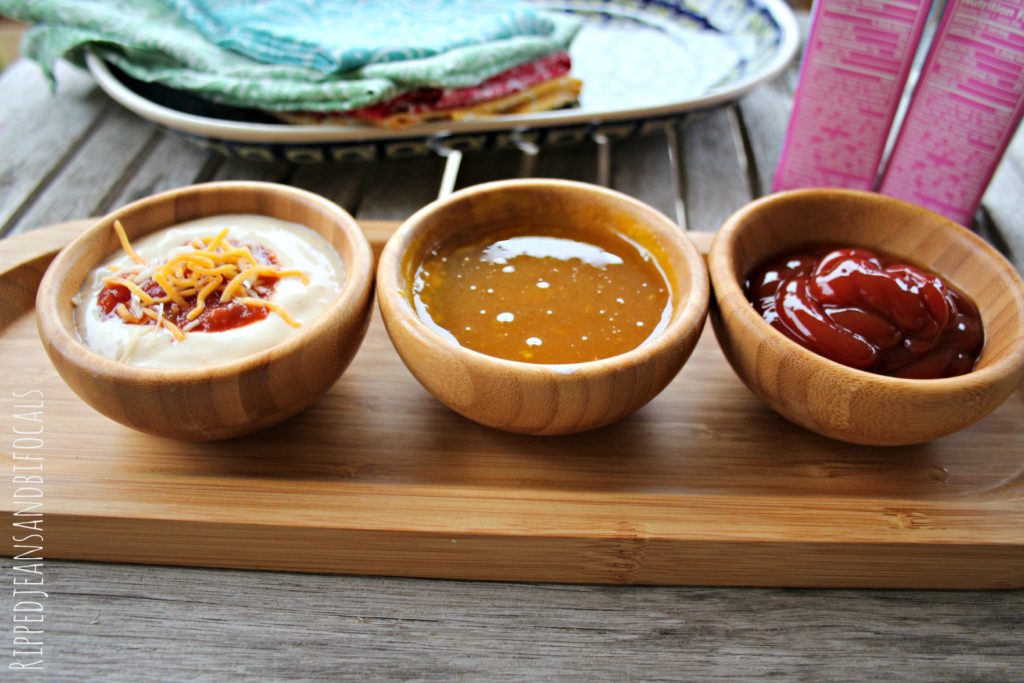 Here's what I did:
Picante Ranch Dipping Sauce– 1/4 cup ranch dressing (we used cheesy ranch because cheese) mixed with 1 tablespoon of mild picante sauce and a pinch of shredded cheddar cheese just for fun.
Mustard Honey Dipping Sauce– I'm not a huge mustard person but I like the occasional dressing or sauce with mustard if it's done right. I call this "mustard honey" instead of "honey mustard" because there's more honey than mustard…1/4 cup of honey to 1 tablespoon of mustard. This makes a sweet, slightly zesty dipping sauce that goes great with the corny part of the corn dog.
Curry Ketchup Dipping Sauce– Again, super simple. I added 1/2 tablespoon of yellow curry powder to 1/4 cup of ketchup. My kids called it "fancy ketchup." It's fun to have something different sometimes.
If you're one of those grownups who thinks corn dogs are "kid food" then maybe these fun dippers might jazz them up a little bit for you. You can easy size these measurements up if you've got a larger crowd. My kids each ate 3 corndogs. Yes, really. I don't know where they put it all.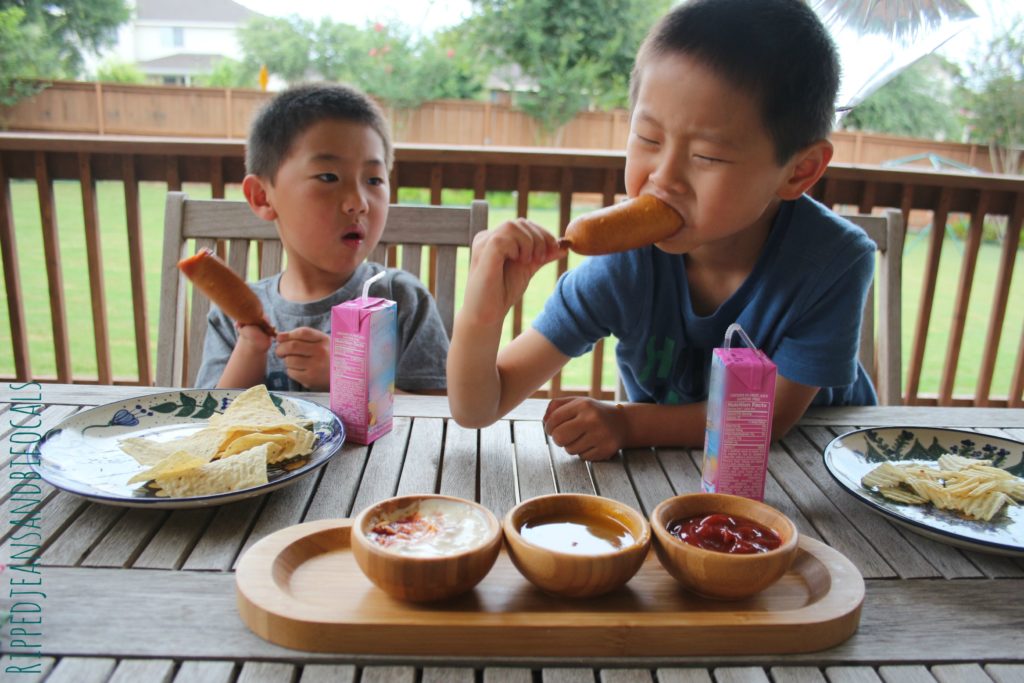 These require no utensils and can be easily microwaved. I always think they taste better if they're oven baked but the microwave is awfully tempting during the hot summer. Who wants to heat up their kitchen when it's pushing 100 degrees outside? Not me.
My kids had a blast "playing" with all of the dipping sauces. They said they liked the picante ranch best and I'd have to agree with them. It was my favorite, too. And you know what? They ate every single bite. Maybe there's something to be said for relaxing your rules once in a while.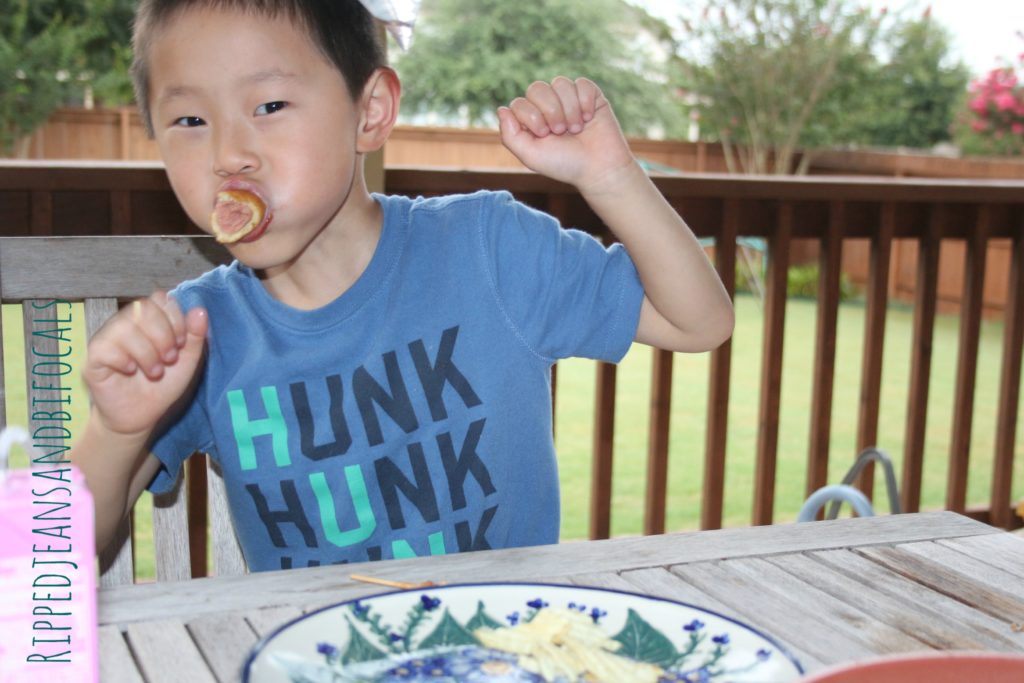 Trust me, I'm not that lenient with my kids on most things. I am constantly nagging them to wipe their feet, pick up their socks and turn the volume down. And yes, most of the time the rule of "don't play with your food" will stick.
But just this once, it was fun to be the "fun mom." We'll have to try this again.
Oh, and if you want to get a little extra mileage out of your fun mom status, try Tyson® Chicken Nuggets. These are 100 percent natural white meat chicken with no added hormones, which is important to me, and these dinosaur Fun Shapes are…well, FUN. These also go great with the dipping sauces listed above and make a great snack or quick lunch. And seriously…you try serving a plate of dinosaurs and telling your kids they can't play with their food. I dare you.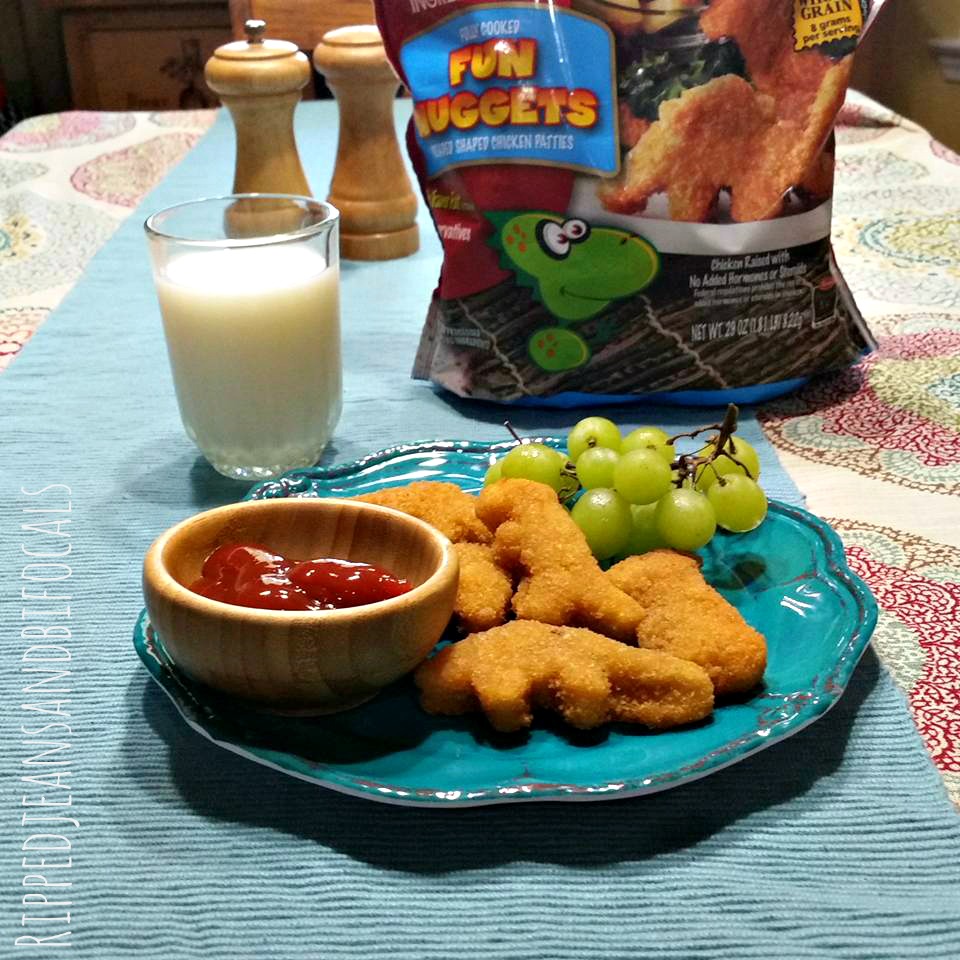 Check out State Fair® Corn Dogs in the frozen section at H-E-B. The frozen food section is a great place for moms to find snacks kids will enjoy that will fill their bellies and fuel their play. You can also visit the H-E-B Coupon Website and download digital coupons. My kids might think I'm the fun mom (for now) but if I can add money saving to the equation? Now that is fun for me. Click HERE to visit the H-E-B Coupon Website and type the item you're looking for into the search box to see the coupons. For example, typing in "Tyson Chicken Nuggets" will score you a $1.00 off coupon!
There's also an H-E-B yellow coupon in the store for $2.00 off State Fair® Corn Dogs! Who wouldn't like that?
Got a parenting survival or snack ideas Pinterest board?
Thank you for reading!
Follow Ripped Jeans and Bifocals's board Parenting Survival Tips on Pinterest.
If you enjoyed reading this post, please give me a vote on Top Mommy Blogs my clicking the button below. It's super easy and helps my site A TON.
(Visited 176 times, 58 visits today)