Ripped Jeans and Bifocals has been online for about 18 months. I'm happy, proud and a little bit in awe of the things I've been able to accomplish. I network quite a bit with other bloggers in groups where we share hacks, tips, and tricks and ask questions "behind the scenes" but I don't often blog about blogging.
I have quite a few readers who are bloggers or who express interest in starting a blog and while I love answering questions when I can, I thought I'd put together a list of my best advice for new bloggers. Some of these are things I wish I'd have known way back when and some are things I've learned by screwing them up royally.
I don't consider myself a blogging expert – for expert advice, I read sites like Blog Clarity, Fabulous Blogging or Living with Batman – but here's some friend-to-friend advice for new bloggers from me to you.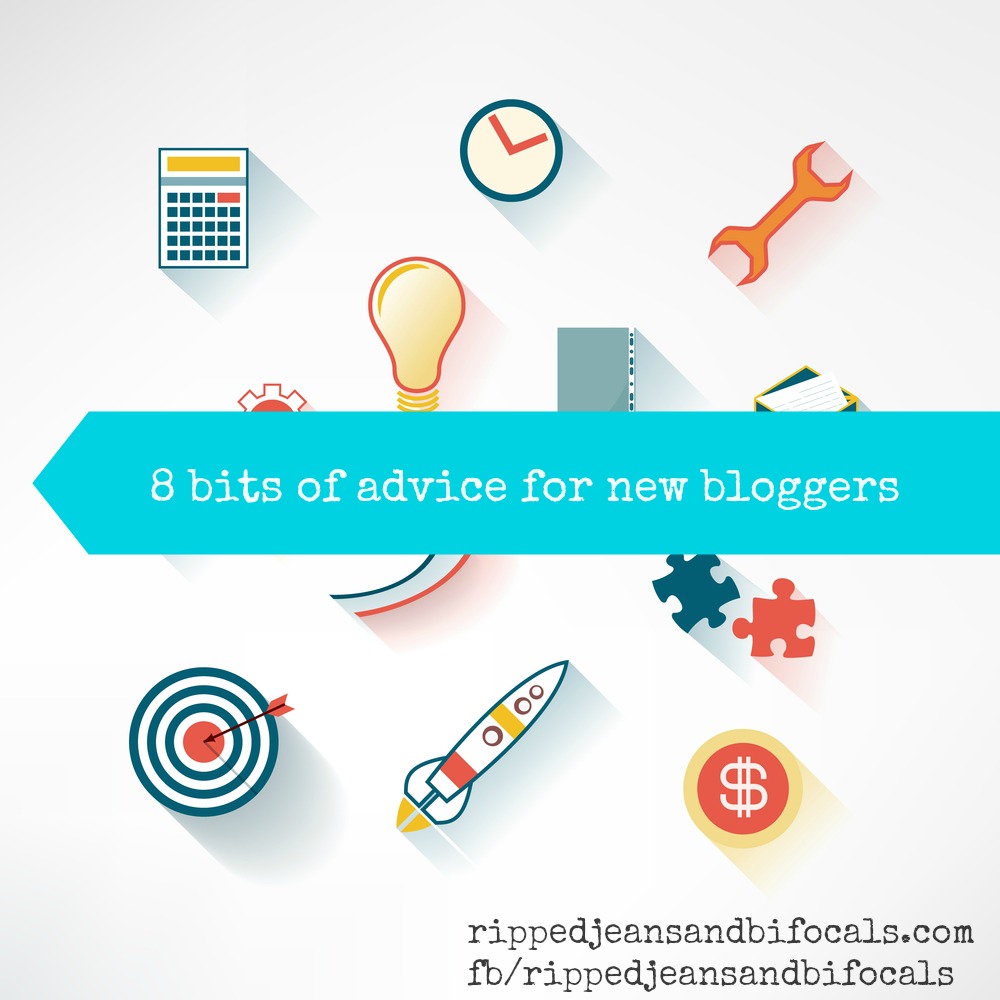 1. Buy your domain.
If you think you might just be dabbling in blogging, there are free platforms through Google (Blogspot) and WordPress. These cost you nothing to set up…but this also means that you're not master of your own domain (tee hee!)
It's very simple to buy a domain and set it up. If you set up a free version now you can always transfer to self-hosted later but it's expensive and a little bit of a PITA. Buying a domain and setting up a hosting plan usually isn't that expensive, so if you try it and don't stick with it, you probably haven't lost that much.
What am I talking about?
Rippedjeansandbifocals.blogspot.com: Not my domain. Google's domain.
Rippedjeansandbifocals.com: My domain.
You can buy a domain pretty inexpensively through Go Daddy or Bluehost and it's not that hard to set up a self-hosted WordPress site…and if you feel it's beyond your scope, there are plenty of people out there who will help you set it up without charging you an arm and a leg.  YouTube is a great source of "how-to's" for blogging.
2. Think long and hard on the name of your blog
I'll tell you a secret…I named my blog on a whim and I've wished a thousand times that I'd have chosen something else.  Ripped Jeans and Bifocals is working for me and I'm branded to the point where changing it (or starting another blog) doesn't make sense for me right now but really think about what you want your site to be called for the long-term before you buy your domain.
3. Check availability of social media accounts before you buy your domain
If you want to start a blog called "Chin Hair Sucks" take a minute to scope out the availability of social media accounts before you buy it.  Is "Chin Hair Sucks" available on Facebook, Twitter, Instagram and Pinterest?  Something similar?  The last thing you want is to have all sorts of different handles…it makes you hard to find on social media once your blog takes off.
4. Have some sort of clue on how to take and edit photos
I'm not suggesting you need to be a pro photographer or graphic designer (I'm certainly not)  but you need pictures to go with your blog posts. Try to get familiar with how to take and edit decent photos before your first post goes live. Don't think you have to be a photography whiz from the get go but bad pictures are a huge detractor, so start off on the right foot.
Some of my earliest blog posts don't have images associated with them and that's a no-no. If you're going to share a blog post, social media needs a photo to pull. You can take good photos with your smart phone, but if you want to be in it for the long haul, invest in a good camera.
Learn what a royalty-free image is and what photos you can legally use. Just because a photo is on the internet doesn't mean you have permission to use it. There are plenty of free photo sites out there and plenty of places to buy stock photos if you can afford to buy them. Don't assume something on Google images is okay to use and read the fine print on what's required as far as crediting the photographer.
I use PicMonkey to edit photos and make graphics. You can also use Canva. There are a ton of apps available for editing pictures you take with your phone.
5. Read other blogs in your niche
If you're going to start a parenting blog, read successful parenting blogs. Same deal for cooking and fitness blogs. Get a good idea of what's out there before jumping in. Check out the way successful bloggers set up their website: where they have their share buttons positioned, how their comment systems are set up and so on.
Networking with other bloggers in your niche is a great thing to do before you start your blog. Subscribe to their blogs, follow (and engage) on their social media. Connecting with a blog similar in nature to what you want yours to be is never a bad thing.
6. Have some goals or expectations for your blog
Do you want to make money? Work with brands? Have your work published on larger websites, such as Scary Mommy or Huffington Post? Just get your words out there?
Think about this before you start your blog. As someone who thought very little about this before buying a domain and publishing content on the internet, I wish I could have a do-over here. I had no expectations and no plan and my first year blogging was all over the place. It was fun, moderately successful and I learned a lot but I felt like I was flying by the seat of my pants. Maybe that's normal?
7. Find a tribe
You're going to need blogging friends. Other bloggers are not your competitors. You can learn a ton from your fellow bloggers and you're going to want support…because your non-blogging friends are probably not going to "get it." Top Mommy Blogs, the SITS Girls and Bloggy Moms are great places to connect with other bloggers.
8. Consider your family's privacy before you start writing
This is especially important for parenting bloggers but I think everyone needs to consider this. Will putting your words, your life and maybe even your personal photos on the internet be a problem for your family? Does your partner have a sensitive job or just plain object to being plastered all over the internet? Will you show your kids' pictures or reveal their true names? These are all things to think about before you share your story online. Privacy may not be important now but it may become important at some point and once it's out there, you can't take it back.
There's always the option to blog anonymously or with a pen name. Many parenting bloggers use nicknames for their kids for their own safety or for privacy's sake. I've been all over the place with my stance on privacy…I can't say what the right answer is for you but it's something to consider before you start.
You might also like:
My thoughts on Internet Trolls
I hope this advice for new bloggers is helpful! If you have specific questions, hit me up in the comments and I'll try to answer or direct you as best I can. My blog was set up and designed by Jen at Beyond Blog Design. Her link always hangs out at the bottom of my homepage and she is worth her weight in gold if you're looking for a designer, a developer or technical awesomeness.
Social Media 101: Pinterest likes vertical images. Use the "pin it" button to pint this image to one of your blogging or social media boards.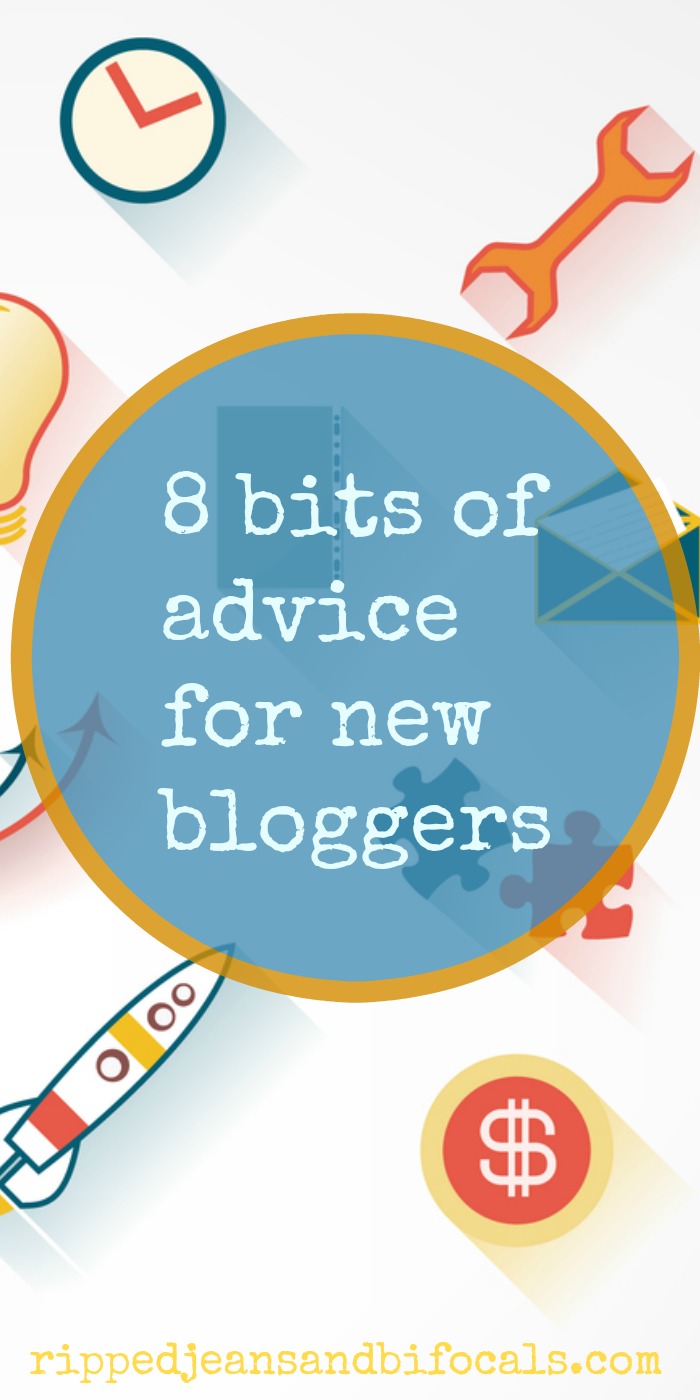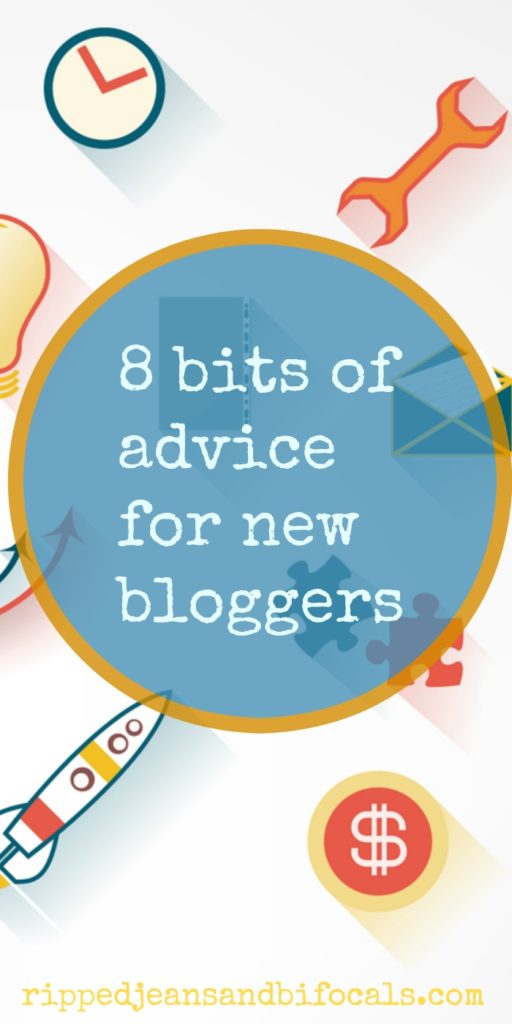 Thank you for reading! Please share this post with anyone you think might enjoy it…maybe a new blogger or someone you know who is thinking of starting a blog? Make sure you're following me on Facebook and Pinterest, too!
Follow Ripped Jeans and Bifocals's board All things blogging on Pinterest.