Branson Missouri is a true gem of a town nestled in the Ozark Mountains. Branson has something for everyone: beautiful scenery, Broadway-quality entertainment, theme parks, shopping, dining, outdoor activities…you name it. It's a great, friendly place for a family vacation and if you haven't checked it out, you should.
As with every vacation, you need a place to stay. I've got 7 very good reasons the Stone Castle Hotel and Conference Center should be your Branson home.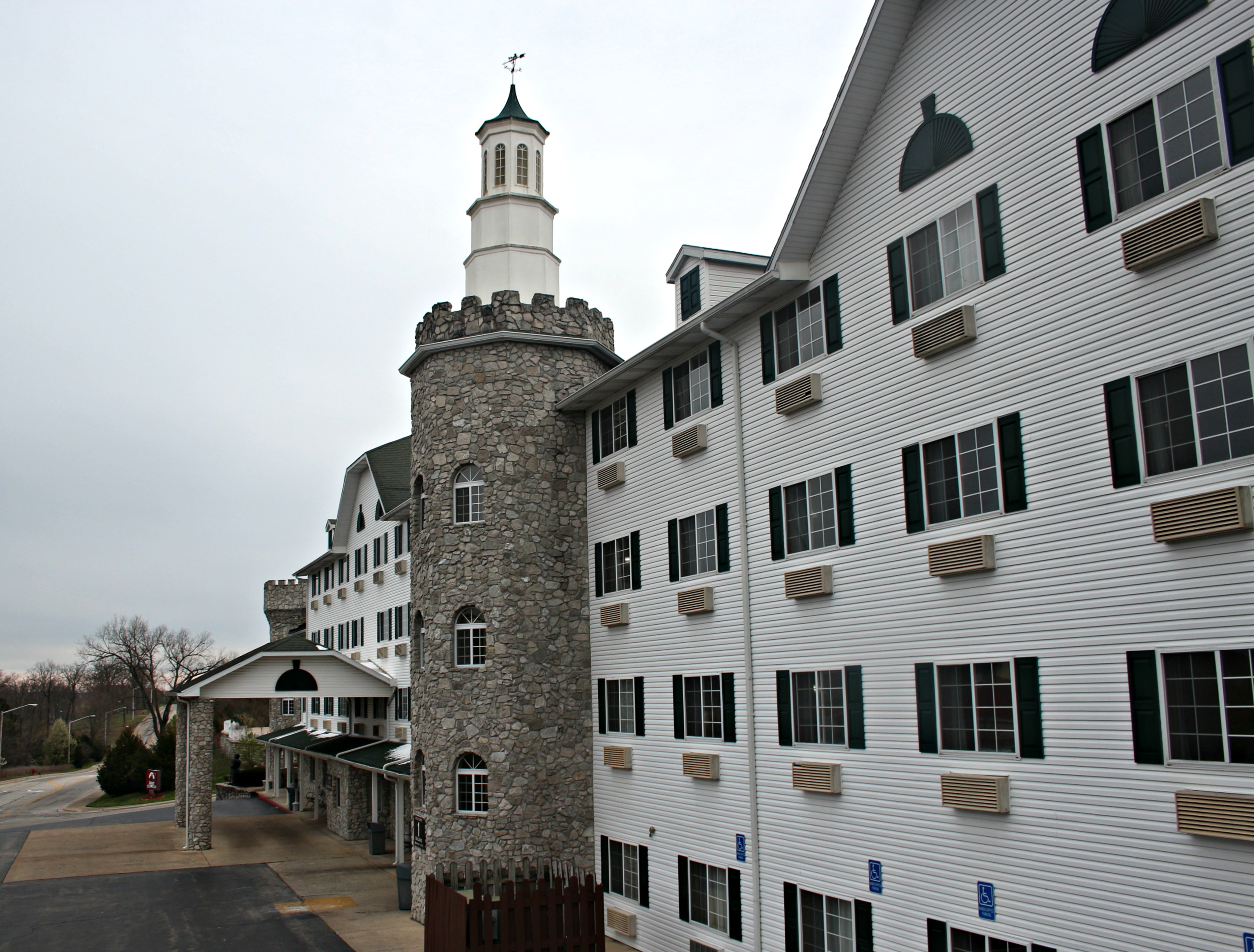 I attended a press trip to Branson, Missouri sponsored by the Stone Castle Hotel and Conference Center. I received complimentary lodging, food, and admission to attractions. All opinions are mine.
Seven Reasons Stone Castle Hotel and Conference Center should be YOUR home in Branson MO
1. Value
The Stone Castle Hotel and Conference Center is a value hotel. If you're a family on a budget but want quality accomodations, you get a ton of bang for your buck here. A standard room runs just $79.00 a night. This gets you two double beds, a small table with chairs and a bathroom with a tub and shower.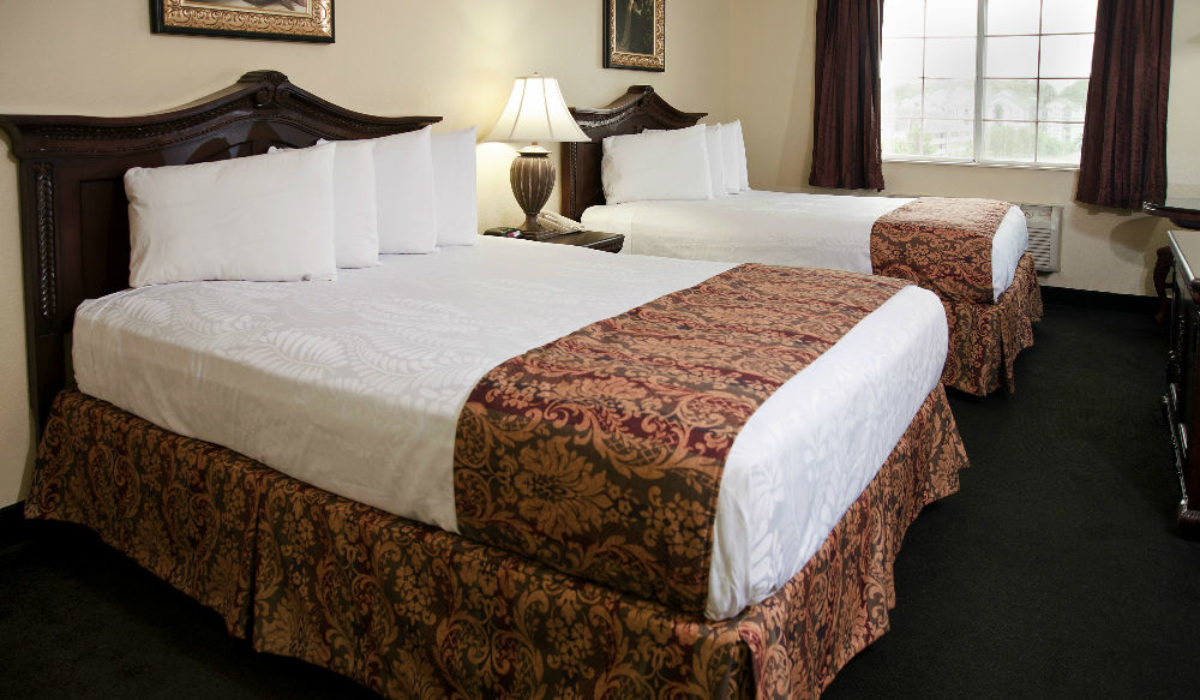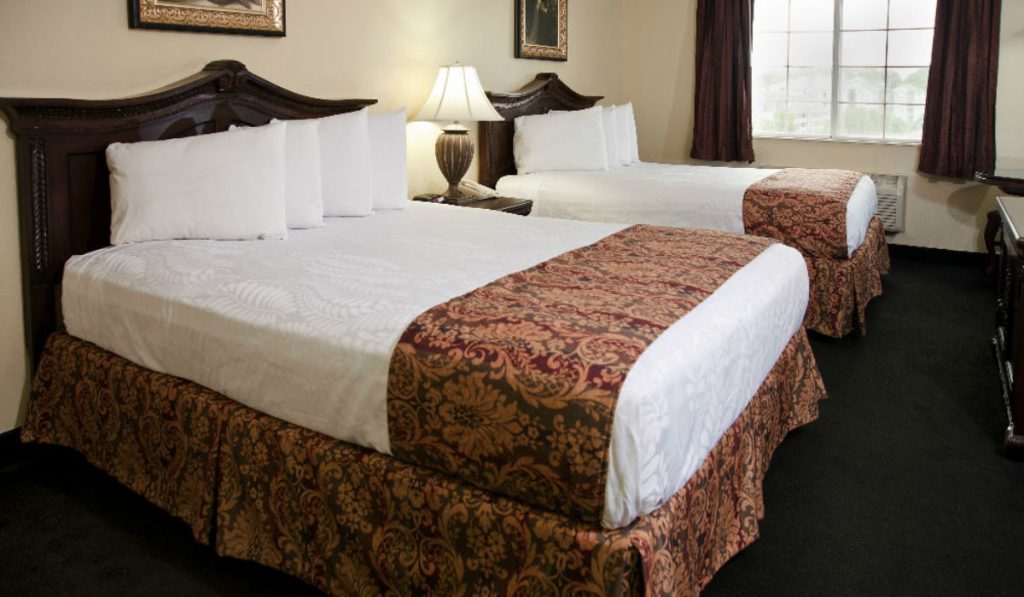 The rooms are amazingly clean, comfortable, and things have been updated recently. All rooms at the Stone Castle Hotel and Conference Center are inside corridor, which is a bonus for me. I will be 100 percent honest: the low price tag of this hotel room caused me to have some skepticism in advance of our visit. While I wouldn't quite call myself a "hotel snob" I do like my luxury and comforts when I travel and the $79.00 a night rate kind of had me going "I wonder what's wrong with this place?"
The answer? Not a thing. The Stone Castle Hotel and Conference Center is exactly what it claims to be: a comfortable, family-friendly place to stay and an exceptional value. Click HERE for a virtual tour.
2. The cleanliness
The rooms and the common areas were sparkling clean. I don't do the white glove test when I travel but I do notice when the housekeeping has been neglected and that is 100 percent NOT the case here. This is the kind of place you can feel good about taking your family (see also letting your kids roll around on the floor) and the cleanliness is a big part of that.
3. The amenities
The number one perk of staying at the Stone Castle Hotel and Conference Center is their free hot breakfast that is included in your room rate. You're going to be busy in Branson. There's a ton to do from taking in Broadway-quality shows to enjoying all the fun at Silver Dollar City (plus so much more.) You need a hot, tasty breakfast that will stick to your ribs and give you the energy for all that fun stuff.
The hot breakfast buffet includes eggs, sausage, biscuits and gravy (my favorite!) as well as an assortment of breads, pastries, cereals and fruit. The breakfast is served up buffet style in a lovely, sunny room full of long tables…so you just might get to make some new friends while you're enjoying your breakfast! There is plenty of friendly staff on hand as well, if you need something.
The one thing that impressed me (well, besides how good the biscuits were!) was that the friendly staff was really working hard to make sure nothing ran out. The breakfast buffet was pretty crowded each morning I was there but I never felt like I had slim pickings, even when I squeaked in right before they stopped their service.
Breakfast included in the hotel price is a huge selling point for our family. We've been known to travel with a stash of granola bars and packets of instant oatmeal to avoid paying high hotel breakfast prices.
Some of the other amenities included at the Stone Castle Lodge and Conference Center are free WiFi, a heated indoor pool and hot tub (a second pool is currently being remodeled) an arcade, and ample, free parking. There is also conference/reunion space available if you need that.
4. Themed Rooms and suites
The standard room met our needs but the Stone Castle Hotel and Conference Center has larger two-bedroom suites available as well. These family suites also offer a sleeper sofa and an extra bathroom, so if you're a large family or doing a multi-family vacation, ask about staying in one of the four family suites.
If you REALLY want to take the fun meter up a notch, check out the themed rooms and themed suites. Themed rooms come with jetted tubs with décor inspired by the golf course, the Australian outback and more. Come on…don't you want to be able to say you slept in a room with a Sherlock Holmes mural on the wall? I admit it – I do!
One word about the themed rooms – most have a pillow-top king-sized bed and a jetted tub in the hotel room. These rooms also have separate bathrooms/shower area but the tub is right there in the room. It's a very cool feature but these rooms are probably more suited to a couple on a romantic get-a-way versus a family. They sure are fun, though.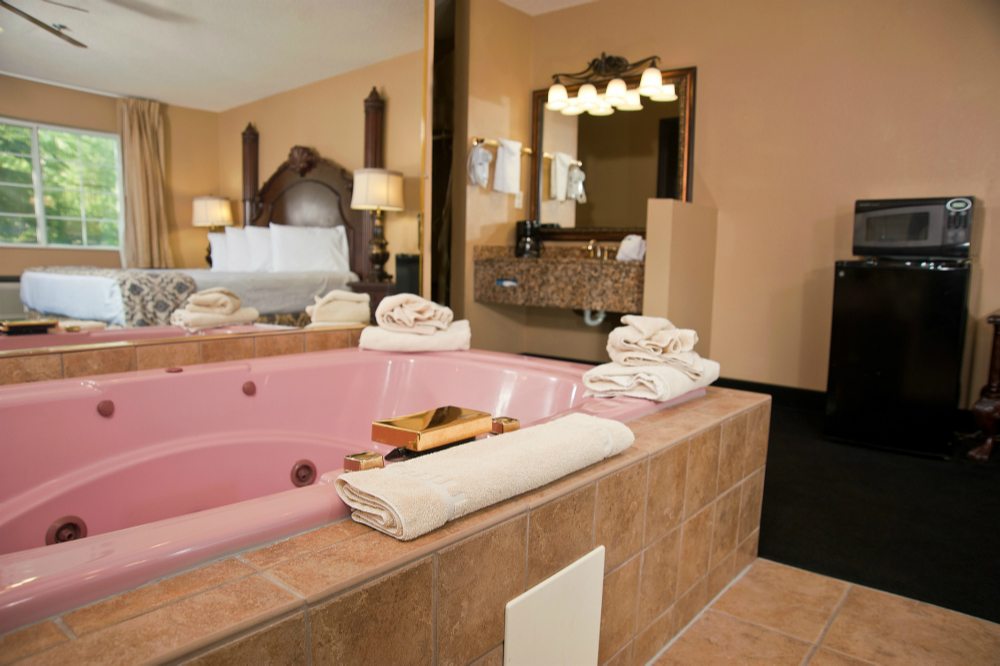 The themed suites offer jetted tubs, king-sized pillow-top* mattresses and extensively themed décor. The themed suites will have a balcony or a living room type seating area…a couple of them even offer turret rooms, which are really cool. All themed suites have a fridge and microwave and most will have a larger TV than what you'd find in the standard rooms.
Finally, the Stone Castle Hotel and Conference Center offers a limited number of kitchenette suites. You might not love the idea of cooking on your vacation but a kitchenette can offer options for families dealing with food allergies or families on a really tight budget. Food is often our biggest expense when we travel and a kitchenette suite is one solution to spending those extra bucks. There are supermarkets within a short driving distance where you can stock up on what you need or purchase forgotten items.
*This may vary in some of the themed suites – check the website for details.
5. Location, location, location
The Stone Castle Hotel and Conference Center is conveniently located near all the action in Branson. Whatever you came to Branson to do: enjoy shows, go to the theme parks, enjoy beautiful Table Rock Lake, The Stone Castel Hotel and Conference Center is a great place to establish base camp.
All of the Branson attractions are within an easy drive (and in some cases within an easy walk!) of the hotel. There is even a winery across the street!
6. Friendly Staff
I can't stress enough how friendly the staff is. On my recent visit I talked to everyone from management to the people who serve breakfast and I got the same level of engaged "let's make it happen" hospitality. No matter where you are going on vacation or how much you are spending, it is really heart warming to stay with people who are this invested in making sure you have a happy stay.
I found this caliber of friendliness everywhere in Branson, so it must be an Ozark thing, but the welcoming atmosphere in the Stone Castle Hotel and Conference Center is really something to be experienced. To say "friendly staff" is a bit of an understatement, so you'll just have to stay here for yourself and experience it. It's like staying with family…except no one asks you awkward questions or complains that you don't call enough.
7. There's a knight out front
As if I haven't already given you enough reasons – ha! I'm a sucker for a knight in shining armor and this one sits still and poses for endless photo opps. You really can't ask for better than that.
The Stone Castle Hotel and Conference Center is my home in Branson. Let it be yours, too.
Read more about Branson:
10 things that are awesome about Branson Missouri