Did you know October is head lice prevention month? Yeah…I know. Every fricken thing has to its own month, apparently…even head lice. And yeah…I know. You're itchy now. Me too.
My friends Lisa and Rabia come up with these awesome prompts for writing "listacles" every week…they call it the Tuesday Ten. Because it's on Tuesday and stuff. They are very smart like that. In "honor" of head lice prevention month today's prompt was "things we dread."
Between paragraph two and paragraph 3, I stopped to scratch my head. 
Here are ten things that make my palms sweat, make my heart beat faster, or in general, just make me a little twitchy.
Bridges
I'm not talking about a cute little footbridge that arches over a babbling brook…like this.
I'm not talking about this bridge, either. This is in my hometown and connects one side of Lackland Air Force Base to the other. My dad used to have a business on this street and I'd see this bridge almost every day.
I'm talking about large overpasses with super high bridges. They freak me out, as a driver and a passenger. I will avoid them when I can but if I have to use them, it helps if I know about them beforehand. The bridge from U.S. Highway 281 South to Interstate Loop 1604 is the worst. The first (and last) time I drove on it was a surprise. It made my heart race and I had the irrational though of stopping on the overpass until someone came to get me.  I got through it but I won't drive that route again.
Clowns
See also puppets. My mom has a vintage Howdy Doody puppet that scares the shit out of me. She doesn't have it displayed in her house at the moment but it freaked me out so bad that I used to ask her to put it away when I'd come visit.  Clowns are just creepy. Have you ever seen American Horror Story Freak Show? Creepiest. Clown. Ever.
The PTA
PTA moms scare me, especially the ones with the clipboards. Any conversations that contain the terms fundraiser, box tops or carpool lane monitor elevate my blood pressure. I wrote THIS POST last year about taking over the PTA. My kids just started kindergarten and I'll be the first to admit, these bitches scare the snot right out of me.
You're probably thinking I'm a real piece of work about now, aren't you?  You would not be wrong in that assessment…
Getting my teeth cleaned
Okay, this doesn't scare me, per se, but it is something I dread. My teeth are really sensitive and I think people who want to use those little instruments of torture in other people's mouths are just a little bit sadistic and I question their life choices. Besides, I hate when someone talks to me in the smug little voice and challenges my dedication to flossing.
The space inside my own head
I'm being serious here for a minute, people. I struggle with ANXIETY and I just started meds a couple of months ago. I'm feeling better than I was but some days are still really hard.
Large, strange dogs
I'm probably more of a cat person than I am a dog person, but I like dogs…mostly. I got bit in the face by a dog when I was about four and I used to have a recurring dream when I was a child about being chased by a big dog.  Big, barky dogs make me pretty skittish.
Flying
I am a lifetime member of the white knuckle flying club. I don't let that stop me from flying, in fact, I travel as often as I have the opportunity to do so. I can't sleep on planes and turbulence freaks me out. My seatmates have been surprised a couple of times when I've jumped into their lap…although I think one guy kinda liked it. Bottom line: if I'm in the seat next to you, I am sorry.
Rickety carnival rides
The Ferris Wheel at the county fair. The Tilt O Whirl thingie at that little carnival that pops up in the parking lot of Walmart that you get suckered into going to because you can't drive by fast enough and your kids see it? You know the ones where the rides look like their held together with fishing line and chewing gum operated by someone who is under the influences of multiple controlled substances?  I'll ride these things on occasion but I find myself bargaining with God every time the ride's about to start. "If you just let me live through the horror of this ride, I promise I will eat better/be kinder/never bite my nails again/cuss less."
Cocktail party-ish situations where I have to make small talk
I am not shy but I'm a card-carrying introvert. I mean…I don't really have a card that says I'm an introvert but maybe I should get one. It might say this:
"Hello, my name is Jill. I swear I don't hate people, I'm just socially awkward. Please don't let my resting bitch face scare you." If I have a purpose or if I'm hosting something, I'm less awkward but the words "mix" and "mingle" scare me.
Our cheese slicer
Yeah….this doesn't make any sense.  Our marble cheese slicers bother me and I won't use it. This is a holdover from my husband's single days and it makes perfectly symmetrical slices…not like the hack job I do with the kitchen knife. I refuse to use the cheese slicer…that's so weird, right?  I don't like the electric can opener, either.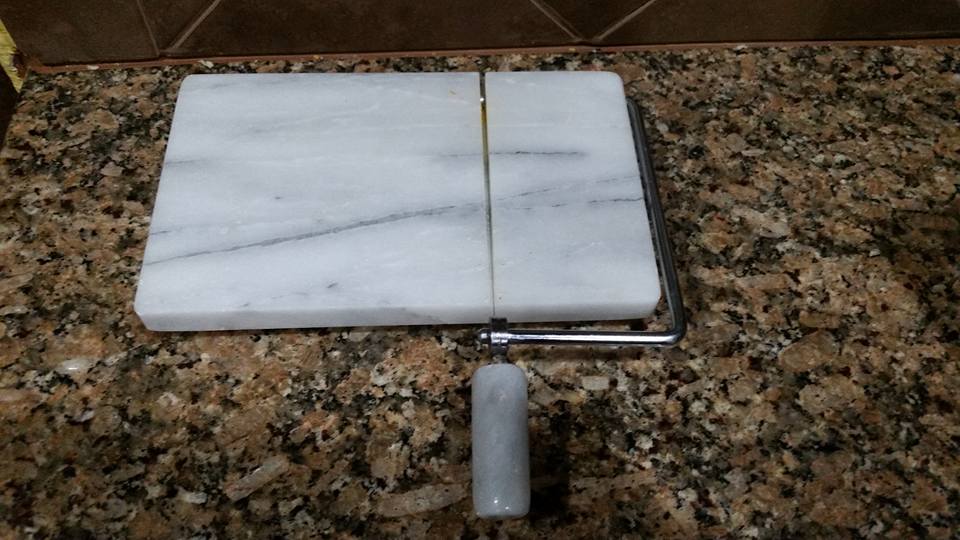 So there you have it…ten things that freak me out. I could probably come up with more. I almost added head lice to the list but that's just like giving the big nanny nanny boo boo to karma, right?
Thank you for reading! Keep up with me on Facebook!
Will you vote for me on Top Mommy Blogs? It's super easy! Just click the button below to vote for me once daily! It takes you to the Top Mommy Blogs directory – I promise nothing weird will happen and your clicks help to boost my blog. Thanks for reading!
I'm on Pinterest, too! You might want to follow my Parenting Survival Tips board…there really are some good ideas…most of them aren't mine, but there are some good ones!
Follow Ripped Jeans and Bifocals's board Parenting Survival Tips on Pinterest.
(Visited 659 times, 180 visits today)