Do you ever have trouble figuring out what to buy for the people on your Christmas list? (Raises hand.) Do you say things like "what do you get for the person who has everything?" or, "so-and-so is so hard to buy for?" (Raises hand again.) If you're looking for gift ideas (especially the last minute variety) check out my list of experiential gifts to give in San Antonio. And, if you're not in San Antonio, this list will still give you some great thought starters for experiential gifts close to your home.
10 Experiential Gifts to Give in San Antonio
I really love Christmas. I love the lights, the decorations, the cookies, the singing and the general feeling of goodwill. What I don't love is the idea of adding more stuff to the clutter I already have. That's why I'm such a fan of experiential gifts.
I love the idea of giving someone a memory so much more than I like giving them things. After an overly commercial, expensive Christmas in 2015, I made the commitment to myself to give my family experiences instead of giving them things that they'd break, outgrow or grow tired of. I don't mind spending money on a nice gift (although I do love me a good deal) but I'd rather put my pennies toward making memories and giving memories.
This list of experiential gifts in San Antonio is by no means all-inclusive. When considering an experiential gift, sit down and brainstorm about things your giftee likes to do or wants to do. What have they always wanted to do that they might not be willing to shell out cash for? Some of the best gifts I've gotten have been experiences: theater tickets to shows I probably wouldn't have splurged on, theme park season passes and tickets to Disney on Ice (that was a good one!)
Although this list is (mostly) specific to experiential gifts to give in San Antonio, it gives you good ideas for any locale. Most of these things probably have a parallel in your city.
1. Theater
Theater tickets make great gifts. We love going to the shows at The Majestic but good seats can be a little pricey. If you're looking to give a really nice gift and you're stuck for ideas, check the box office and see if any upcoming shows appeal.
If you want to kick things up a notch, include a restaurant gift card and voila – you've given someone a really amazing night out.
For children, check out the Magik Children's Theatre. The Magik brings children's books alive on the stage. They also offer sensory friendly performances and "theatre for the very young" which is geared toward children under five. Single show and season tickets available.
2. School of Rock
School of Rock San Antonio is for aspiring musicians who love rock n' roll. School of Rock has programs for adults and kids of all ages so if you know someone who is looking to tap into the potential of their passion for music, maybe the best gift is making it possible for them to receive lessons.
3. Love to Swim and Tumble
Love to Swim and Tumble has three locations in San Antonio. They offer indoor swim classes for all ages – from infants to adults. They have open swim, birthday parties, summer camps and various tumble programs designed to build self-esteem and improve coordination. Love to Swim and Tumble offers online registration, military discounts and an onsite shop.
Everyone should learn to swim. My kids have been to camp at Love to Swim and Tumble and they do great with timid swimmers.
4. Sea World
If you'd like to gift a day pass or season pass to SeaWorld San Antonio, you can check out the different ticket options HERE.
For the ultimate experiential gift, give the marine mammal lover in your life with an encounter at Discovery Point.
You can have an incredible up close and personal encounter with a dolphin, Beluga whale or sea lion and you'll come away with a deeper understanding for these awesome marine mammals. See also, you'll be telling everyone you meet for the next several weeks that your Discovery Point Adventure was "pretty freaking amazing."
I got in the water with Cisco, a 9-year-old Bottle-nosed Dolphin a couple of years ago and it goes down as one of my most epic experiences ever.
I've been waiting for my son Zack to get tall enough to do this with me – this makes a very special experiential gift for any occasion.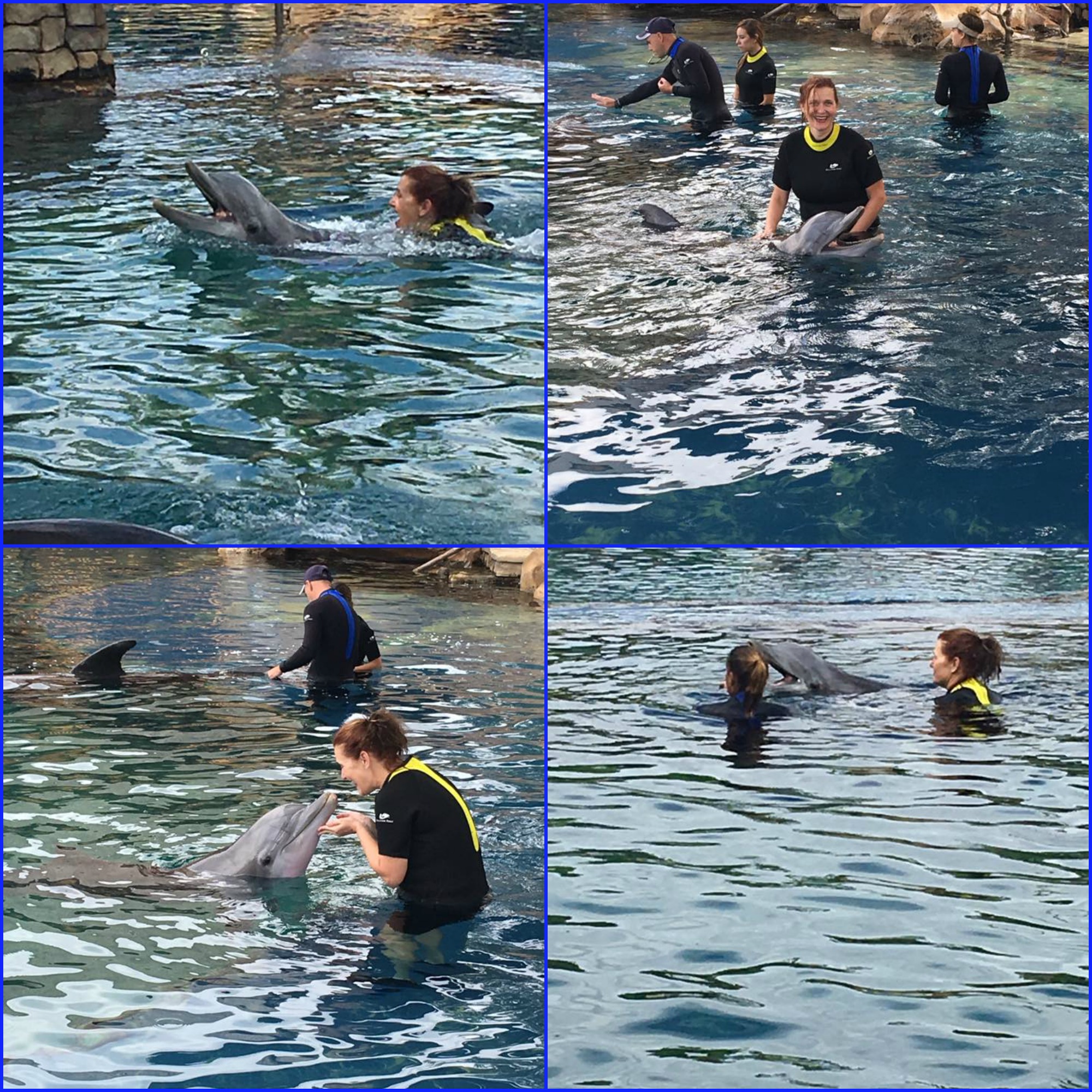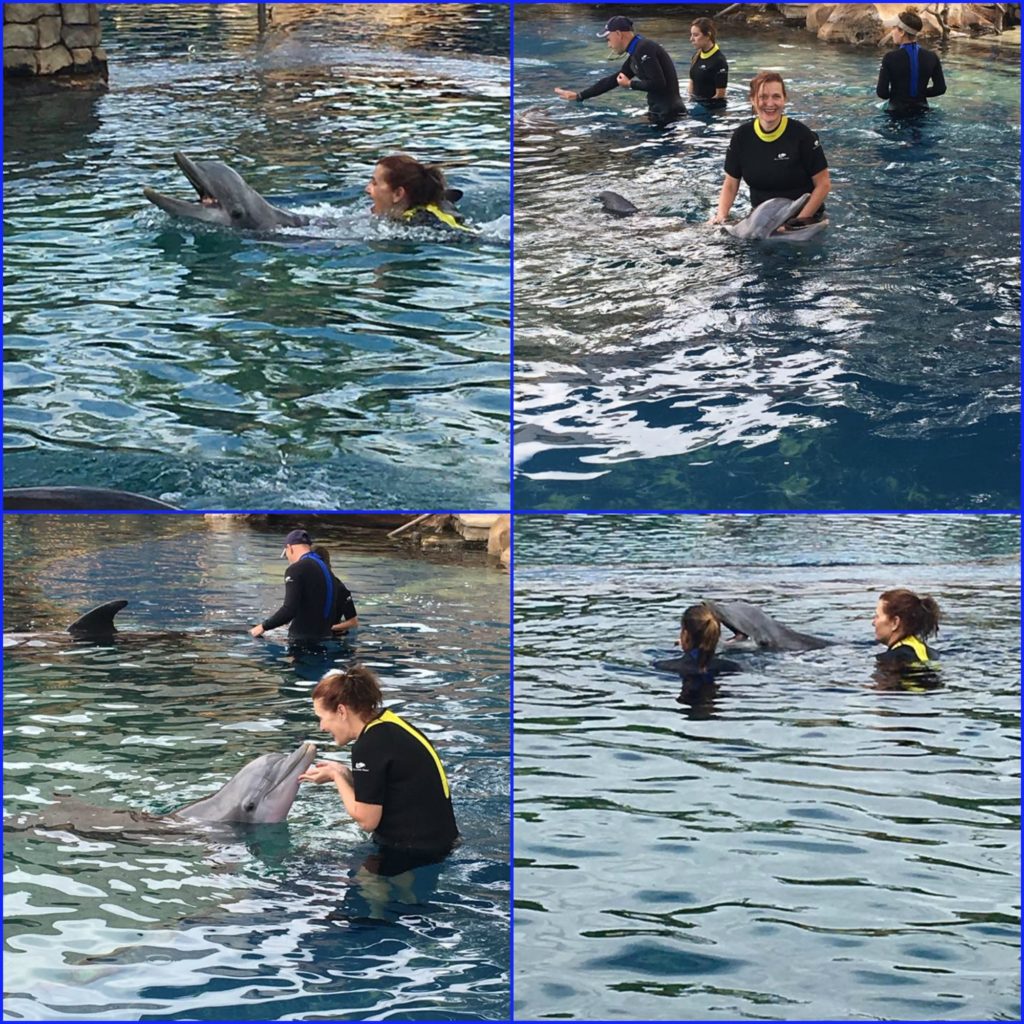 I got to spend 30 minutes in the water with Cisco and his amazing trainers. I got to pet him, feed him, kiss him and in return for all this attention, Cisco let me hitch a ride on his back.
Yep. Pretty freaking amazing.
I would do it again tomorrow if I could. I'm so grateful for SeaWorld Texas for including me as part of their media day. Also? This whole wetsuit thing? Holy cow, y'all. I managed to get in and out of this thing without assistance or injury but I SERIOUSLY DON'T KNOW HOW. There should be a prize for that – I'm thinking I should at least get cookies!
5. Six Flags Fiesta Texas
Six Flags Fiesta Texas is AWESOME. We've lived in San Antonio since 2014 and we've gone to Six Flags Fiesta Texas every year. They're great about keeping things fresh and updating the rides. They also have a first rate water park.
You can buy day passes, season passes or memberships.
6. San Antonio Zoo
The San Antonio Zoo is open all year around. They have special events during Halloween and Christmas – aptly named Zoo Boo and Zoo Lights. With the relatively mild temps in San Antonio, the "colder" months are ideal for a visit to the Zoo. You can gift a day pass (great stocking stuffer) or purchase a membership.
7. Museums
My favorite San Antonio museum hands down is The Witte Museum. The Witte features scientific and historical visits for the whole family to enjoy. You can check out their website for current exhibits and activities. Memberships are available.
The Doseum is an interactive children's museum. It has a ton of cool exhibits to stimulate interest in STEM as well as an outdoor play area and water play area. This is also a great place to have a kid's birthday party. You can find out about what's on at the Doseum HERE.
8. Spas
Who wouldn't like the gift of pampering? Two of my San Antonio Favorites are the Latana Spa at the JW Marriot and the Woodhouse Day Spa in The Quarry.
If you want to get a little further outside San Antonio, check out Spa Django at the Hyatt Regency Lost Pines Resort and Spa. Spa Django is hands down the best spa I've been to in Texas. It's about a 90-minute drive from San Antonio so it can be done as a day trip but I recommend staying and checking out the entire resort.
9. Movie Tickets
Movie tickets make a great gift! Most theaters sell gift cards or movie passes for gift giving. You can also check out Fandago.com for gift-giving options. And, I'd be totally remiss if I didn't mention the IMAX Theater and Rivercenter Mall. If you haven't seen Alamo – The Price of Freedom are you really even a San Antonian?
San Antonio has lots of theaters dotted all throughout the city – Santikos and Regal are the main franchises but there's also EVO Entertainment and Alamo Drafthouse.
10. Babysitting!
If your experiential gift isn't kid-friendly, consider adding on babysitting or providing some babysitting as a gift on it's own. We use Time Out Sitters. They've been our go-to babysitting service for about three years and we can't recommend them enough.
If you're not in my neck of the woods, I bet you can find things in your area that are along these lines. Also, come and visit me!
Thank you for reading!