Hey there! My name is Jill Robbins. I'm a wife, mom, freelance writer, blogger, speaker and producer. Don't I sound so fancy? I mean fancy in the "totally not wearing yesterday's mascara and sweatpants with oatmeal stains" sense of fancy. At least I'm hoping it's oatmeal but we all know it's probably snot.
Welcome to my little corner of the Internet where you won't find all the answers but where the question should always be "would you like wine with that?"
I write stories about life after adoption, getting older, and a general hodgepodge of stuff parents like. I'm not a professional chef by any means but I do know my way around the kitchen and you'll see recipes on here from time to time.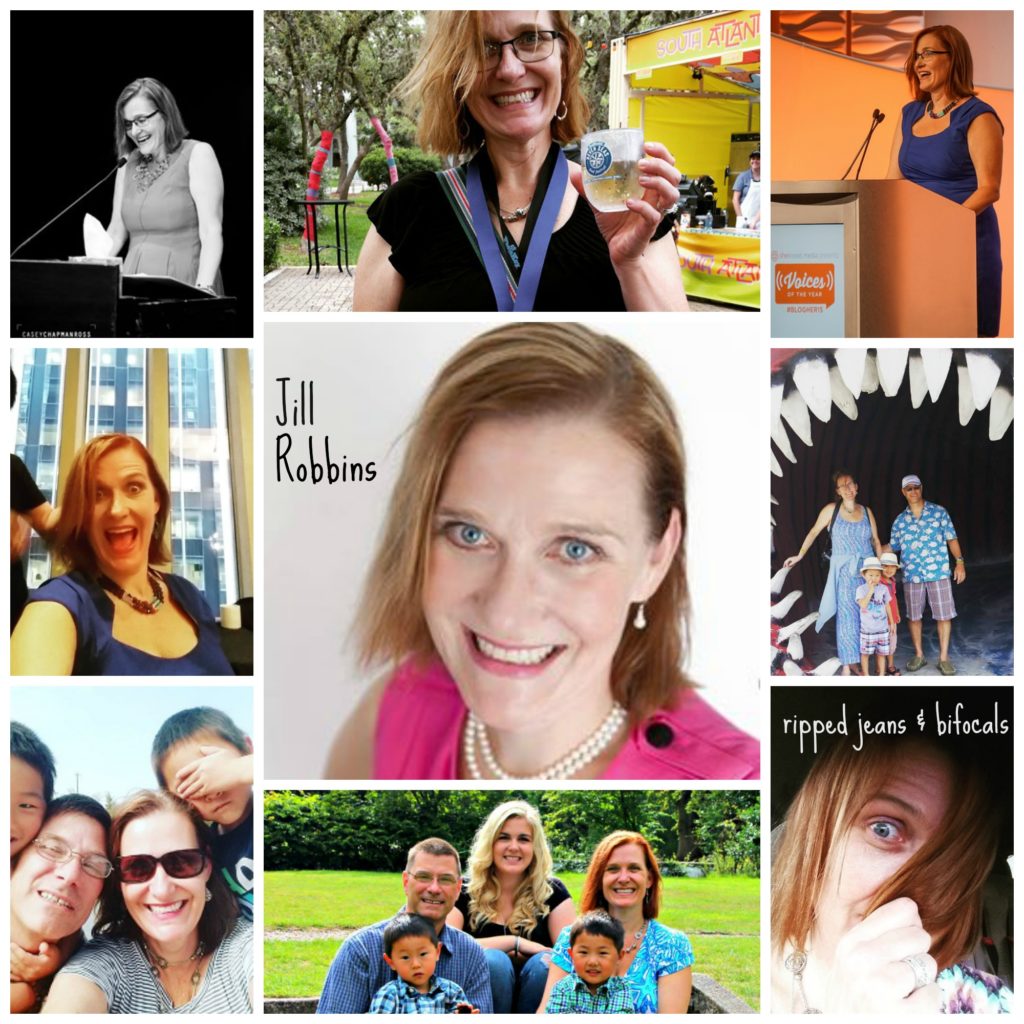 I'm a mom to three kids: one from the vagina and two from China. I'm a wife, a Texan, coffee worshiper, lazy runner, student of human behavior, published author and speaker. If you're the kind of person who likes to find the funny in the mundane aspects of parenthood, aging and life in general, you will like it here.  If you take yourself too seriously or have a stick up your backside, ya might wanna move along.
Check out a few of my most popular posts on this blog:
An open letter to my sons about peeing in the toilet
Yes, my kids are real brothers. Really.
Why my kids don't celebrate Saint Patrick's Day
You can check out what I'm up to by following me on Facebook and Twitter.  I am also a huuuuuuuuuuuge Pinterest junkie.  Come and check out my boards…and I mean that in a way that's totally not weird:
Visit Ripped Jeans and Bifocals's profile on Pinterest.
If you hang out on this page long enough, a little box will fall out of the sky and invite you to invite me in to your inbox.  My newsletter shows up in your inbox every Sunday night and keeps you up to date on my writing, public appearances and what I find funny or share-worthy on the Internet.
Stick around.  I'll make you laugh or roll your eyes or make you say "ooh I  do that, too!"
Random facts about me:
Doughnuts are my favorite food ever. EVER. I hardly eat them because if I eat one, damn it, I'm eating about six.
I am an introverted extrovert…or an extroverted introvert. I always get that confused. I'm not shy but I like my social interactions in small doses…and I'm super awkward at parties because I never know what to do with my hands.
I am a smell person. My favorite smells are cedar, books and Love's Baby Soft. Shut up. Don't make fun of me.
My worst trait is impatience. My best? I'm an optimist…I try to find the positive in every situation.
My email is rippedjeansandbifocalsblog@gmail.com.  You can also hit "reply" to my Sunday newsletters. I love to hear from my readers!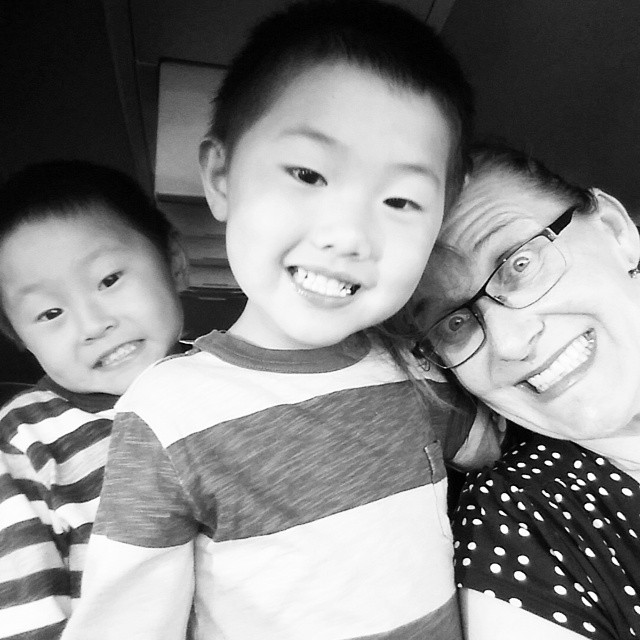 Welcome! I am glad you're here.
Jill
This blog is managed by Ripped Jeans and Bifocals LLC and all content is copyrighted. If you want to use an image from this site, please ask. I'll usually say yes, but don't be a douchebag that steals my content, m'kay?
Ripped Jeans and Bifocals LLC Privacy Policy
This Privacy Policy was last modified 8/1/2015. This page informs you of our policies regarding the collection, use and disclosure of Personal Information we receive from users of the Site. We use your Personal Information only for providing and improving the Site. By using the Site, you agree to the collection and use of information in accordance with this policy. Information Collection And Use While using our Site, we may ask you to provide us with certain personally identifiable information that can be used to contact or identify you. Personally identifiable information may include, but is not limited to your name ("Personal Information"). Log Data Like many site operators, we collect information that your browser sends whenever you visit our Site ("Log Data"). This Log Data may include information such as your computer's Internet Protocol ("IP") address, browser type, browser version, the pages of our Site that you visit, the time and date of your visit, the time spent on those pages and other statistics. Create your own Privacy Policy Download as HTML. Create for mobile apps. + more features and benefits Disclaimer: Legal information is not legal advice. Read the disclaimer. Cookies Cookies are files with small amount of data, which may include an anonymous unique identifier. Cookies are sent to your browser from a web site and stored on your computer's hard drive. Like many sites, we use "cookies" to collect information. You can instruct your browser to refuse all cookies or to indicate when a cookie is being sent. However, if you do not accept cookies, you may not be able to use some portions of our Site. Security The security of your Personal Information is important to us, but remember that no method of transmission over the Internet, or method of electronic storage, is 100% secure. While we strive to use commercially acceptable means to protect your Personal Information, we cannot guarantee its absolute security. We will notify you of any changes by posting the new Privacy Policy on the Site. You are advised to review this Privacy Policy periodically for any changes. Contact me if you have questions about this Privacy Policy.
(Visited 10,875 times, 3,607 visits today)